What I Eat In A Day with Thistle During Busy Summer Months
Thistle is a plant-based meal delivery service offering breakfast, lunch, and dinner
All of their foods are packed with powerful nutrients, phytochemicals, and antioxidants
Each meal is pre-made and ready to eat or ready to heat as soon as it's delivered to your door
Read below to see what I got from Thistle this week and how it really tasted
Lately, I've made the choice to stick to a nutritious diet. Bye-bye, greasy takeout and frozen meals!
I've really been trying to cook fresh daily, but there are times when I just don't have the time. That's when I rely on Thistle - they provide plant-based, nutritious, ready-to-eat meals delivered right to my doorstep.
I discovered Thistle through my friend, who's a nutritionist – she's always keeping me up to date on nutrition and has told me to try out Thistle a few times. Ever since my first box, I've been hooked.
After long work weeks or coming home from a vacation, I love to stock up on Thistle meals. It's nice to settle back into the day-to-day without being stressed about an empty fridge or not knowing what to cook.
To give you a better idea of what Thistle is all about, I'm going to show you what was in my latest healthy haul for the week. Here's what I'm eating with Thistle: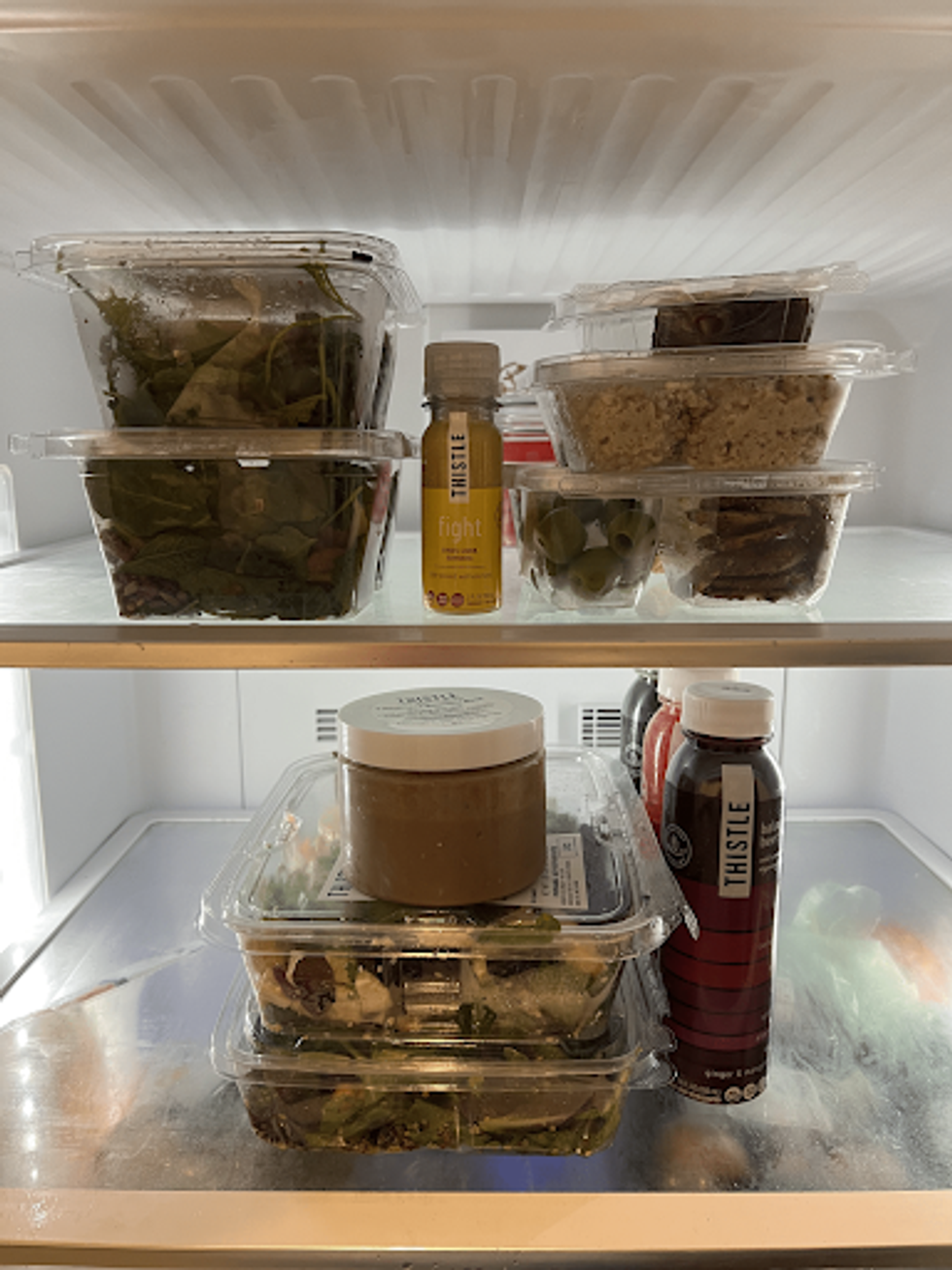 Breakfast: Steel Cut Oats with Berry Lemon Compote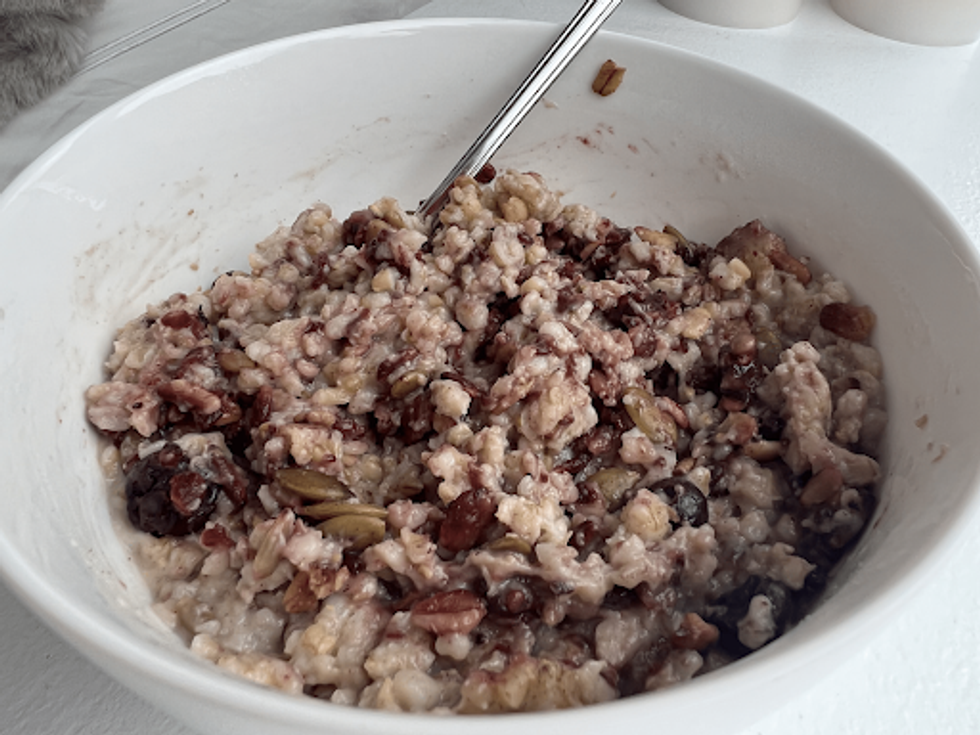 Although oatmeal isn't the most exciting dish, the Berry Lemon Compote made this a surprisingly delicious, hearty breakfast - not to mention that the seeds added a nice crunchy texture that made the oatmeal genuinely mouthwatering.
The serving size was perfect – it kept me satiated for hours. Plus, oatmeal serves as an excellent source of dietary fiber and has many health benefits, such as lowering blood sugar and cholesterol. I took Thistle's Fight Shot with lemon and ginger afterward – it gave me the kick I needed at 7 am. I was ready to start the day!
Lunch: Banh Mi Salad Bowl with Sesame Baked Tofu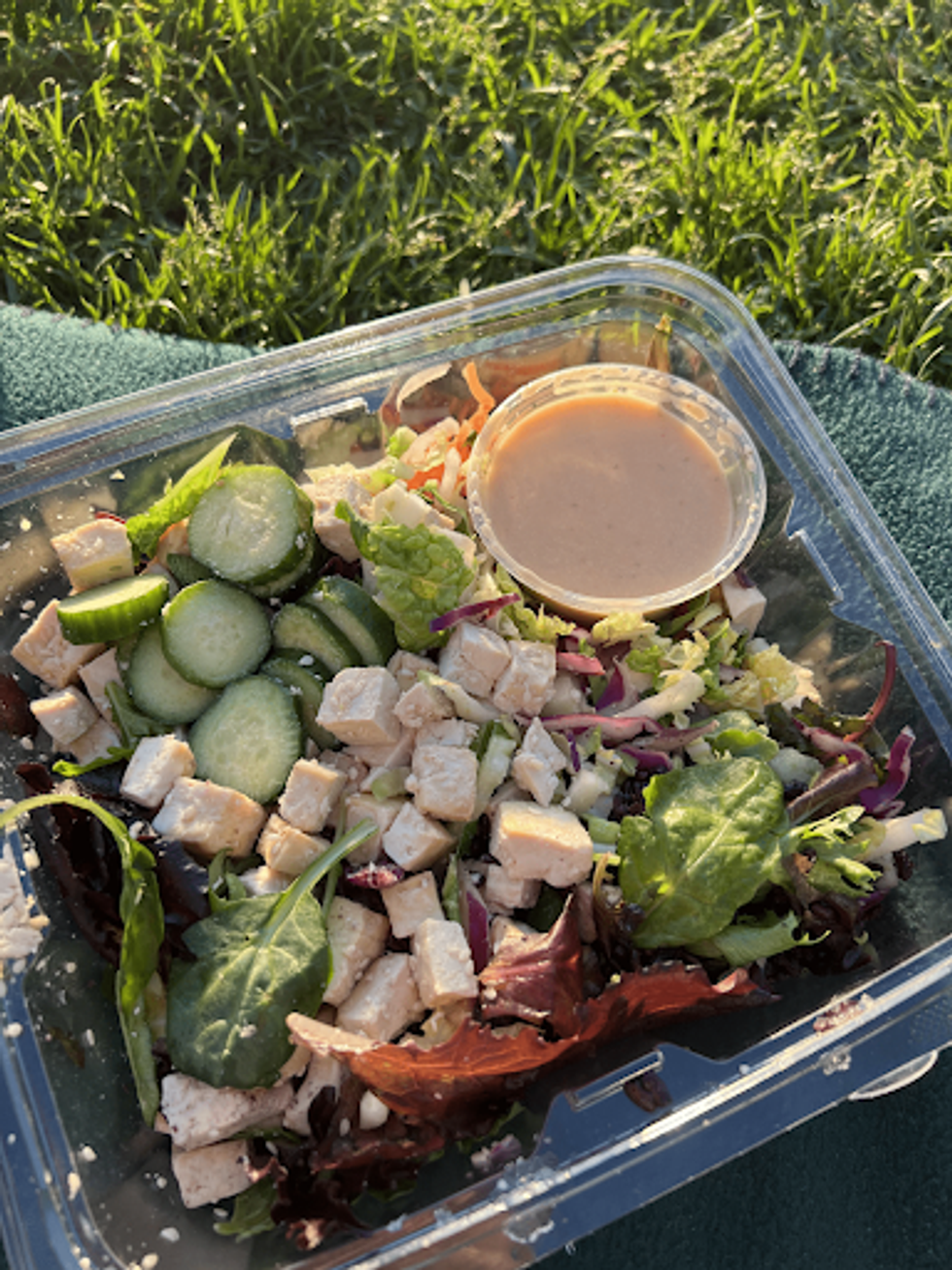 To me, there's nothing better than a nutritious bowl for lunch packed with veggies and a good source of protein. Thistle's Banh Mi Salad Bowl with Sesame Baked Tofu is vegan, gluten-free, and dairy-free and includes 24g of protein!
Thistle'smeals are packaged to bring on the go, so I was able to enjoy the bowl in the park while getting some sun. The crisp greens topped with shredded cabbage, cucumber, radish, and carrots were exactly what I needed to gain new energy for the day.
Afternoon: Mezze Platter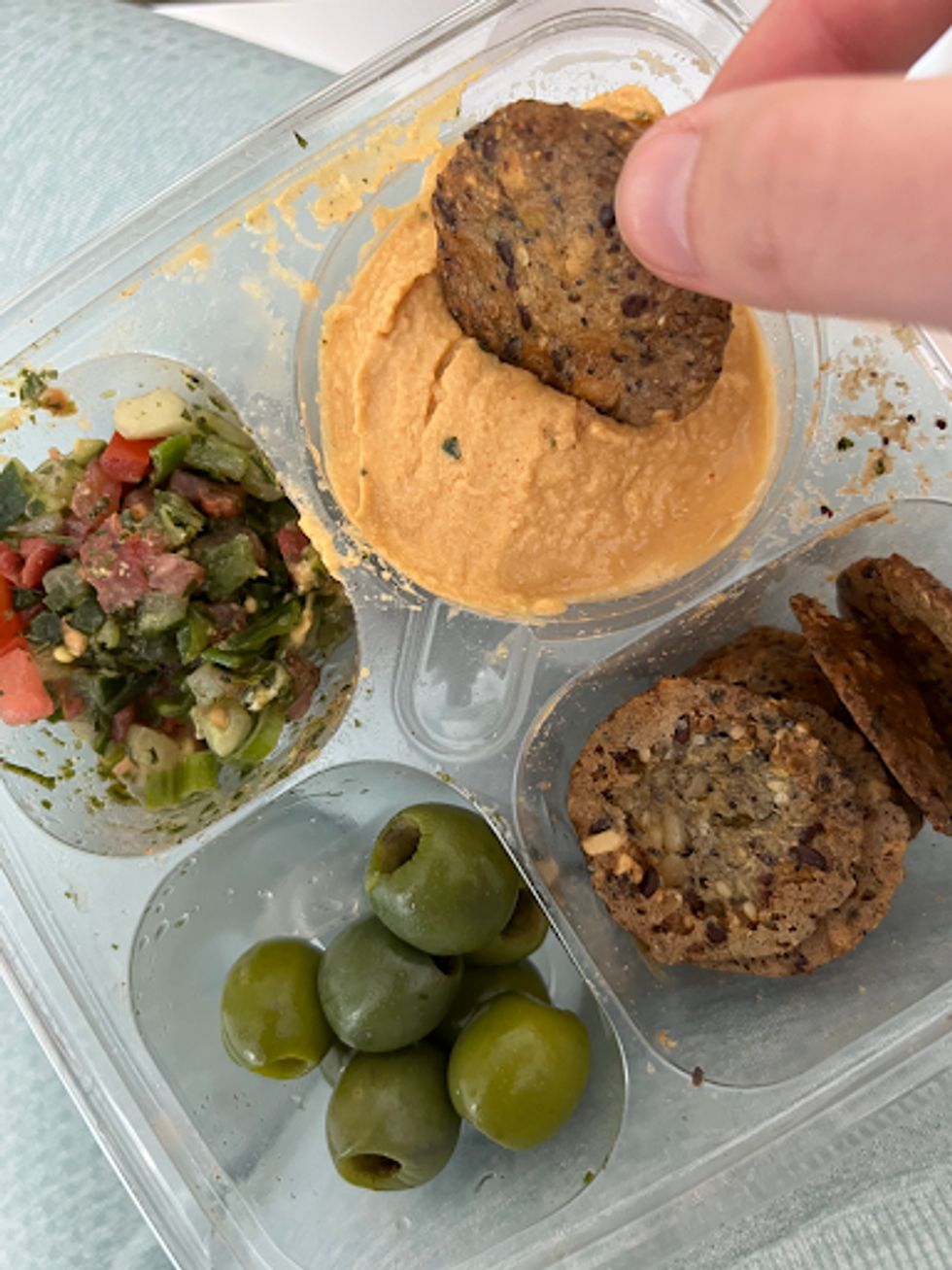 Instead of snacking on chips or chocolate, I snacked on Thistle's garlicky, tangy, and savory hummus that had an incredibly smooth texture and paired unbelievably well with the seed crackers.
I had Thistle's Mezze Platter right after I got back from the gym, and it really helped me control my cravings – it was the perfect amount of food for an afternoon snack without feeling too heavy!
Dinner: Adobo Rice & Veg Bowl with Adobo Pinto Beans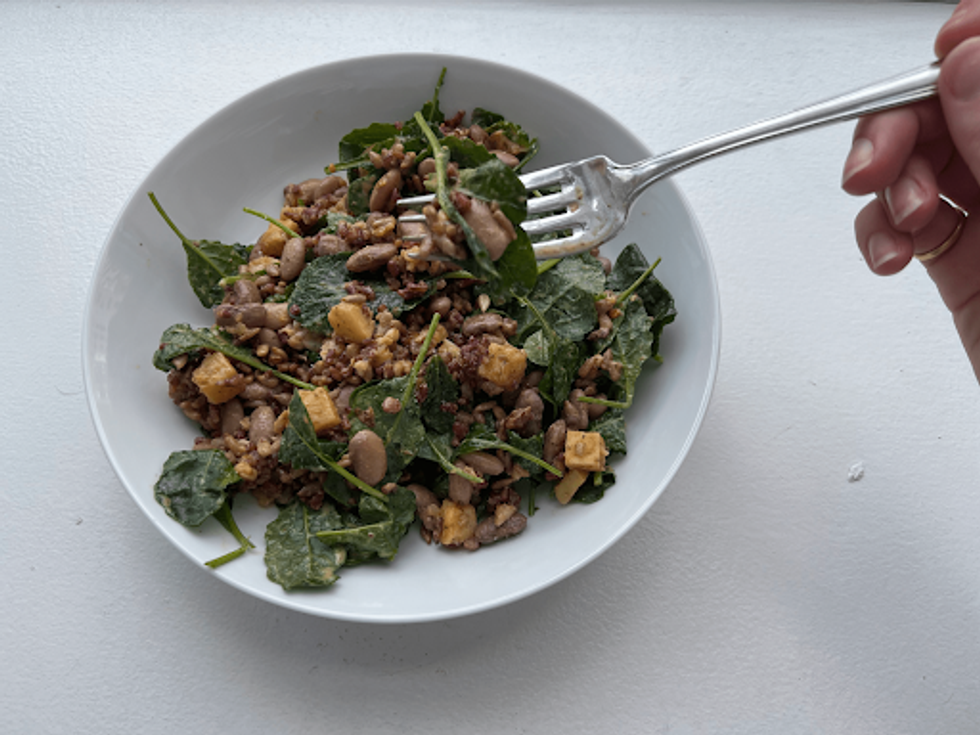 I like my dinners warm, so I heated the Adobo Rice & Veg Bowl in a pan for about 2-3 minutes which was super easy. I honestly would've had no time to prepare this nourishing, balanced meal myself, so I appreciated that it was sitting in the fridge, ready for me to eat.
My favorite part of this meal was the dressing. It was a cool chipotle ranch dressing that tastes sooo good. I would put this on everything! Plus, there were 23 grams of protein in this meal - all derived from plants! It's so nice not having to think about what's for dinner.

Dessert: Almond Cherry Moringa Fudge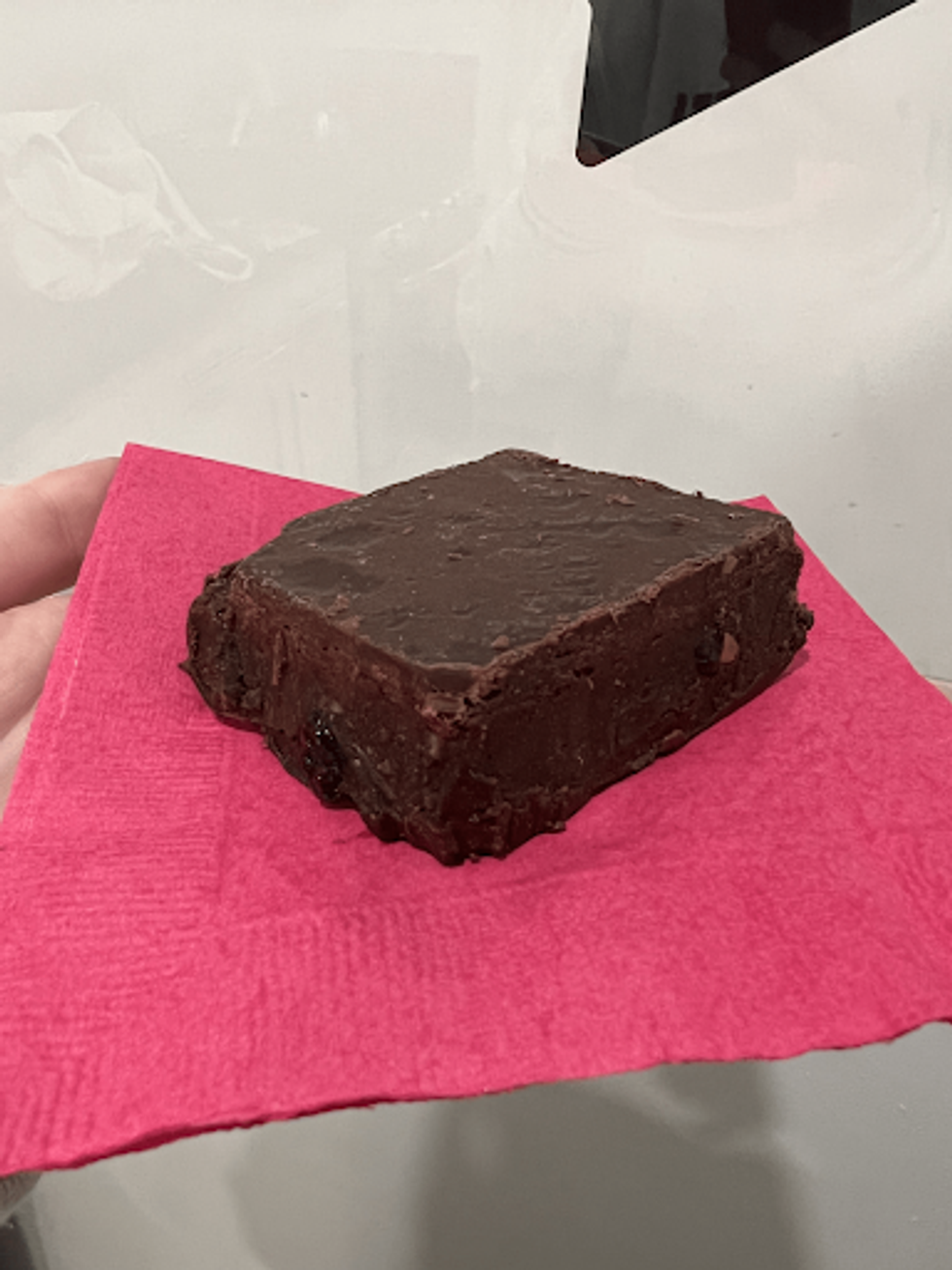 I didn't expect this to be so delicious because it's gluten-free and made with unsweetened dark chocolate, but it was so thick and fudgy! It tasted unbelievably good! I only ate half of it to satisfy my sweet tooth and kept the other half for the next day.
Thistle's desserts let me indulge guilt-free! So instead of shoving sugar-packed, high-calorie cakes into my mouth, I enjoy their light desserts that are 100% vegan.
The Verdict - I'm a happy subscriber!
Thistleis the ideal solution for anyone wanting to maintain their healthy habits without the cooking stress.
Their meals are super creative, nutritious, and delicious. Plus, Thistle helps me reduce my food waste since all their dishes are perfectly portioned.
Signing up is super easy, and the subscription is flexible. Their meal plans start at just $42 a week ($11.50 per meal!), and I can choose how many meals a week I'd like to get delivered! And, of course, I can pause or opt-out anytime.
Next week's menu includes Patatas Bravas Scramble, Southwest Sweet Potato Taco Salad, Jollof Rice Bowl, and a Carrot Gold Muffin – I honestly can't wait to try these!
Want to give Thistle a try? Our friends at Thistle are extending a limited time offer to our readers: Limited Time Only: Follow this link to save $120 off your first 5 weeks of Thistle Meal Delivery!