Is Thrive Causemetics Worth The Price? Here's Our Verdict.
Today our editors will be reviewing Thrive Causemetics — the vegan and cruelty-free makeup that's been making noise in the beauty world. Keep reading to find out about the products, our editor's first impressions, and the final verdict…
1. The Products
Thrive Causemetics is a cruelty-free, vegan makeup brand. They offer makeup for your eyes, face, cheeks, and lips.
We will be looking at the following:
Infinity Waterproof Eyeliner™ in Lauren (Black Matte)
Triple Threat Color Stick™ in Mieko (Soft Pink Shimmer)
Buildable Blur™ HD Creaseless Concealer in Medium Tan (Warm Gold Undertones)
Liquid Lash Extensions™ Mascara in Brynn (Rich Black)
2. First Impressions
We've always been curious about whether or not smaller makeup brands are on par with big name brands. Could Thrive Causemetics compete with the Fenty Beautys and Charlotte Tilburys of the industry? And even so, is it ever worth splurging on new brands when you can just shop at the drugstore? I mean, at the end of the day, mascara is mascara. Right?
We hadn't heard too much about Thrive Causemetics, until we came across their mascara when scrolling. Their Liquid Lash Extensions™ Mascarawon Allure's Best Of Beauty Awards in 2020 and went viral for transforming the appearance of lashes.
Even with the glowing reviews, we still weren't convinced any mascara could be that good, so we did some research on the brand. When we checked out Thrive Causemetics' website, we noticed how innovative their products are.
The Infinity Waterproof Eyeliner™ has an ergonomically angled smudge tip for smooth, effortless blending — pretty genius.
The Triple Threat Color Stick™ is a three-in-one – a blush, highlighter, and lip shimmer. So versatile.
The Buildable Blur™ HD Creaseless Concealercomes in an inclusive range of 24 shades, too.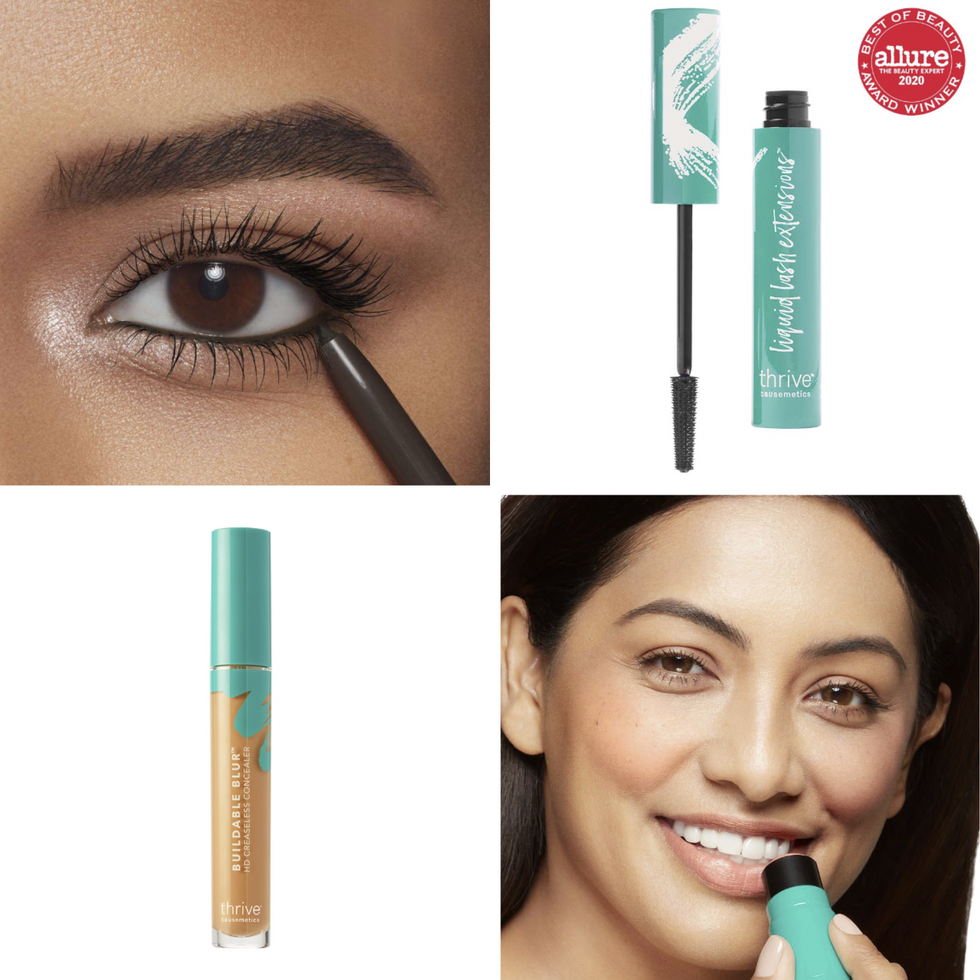 We started to see the hype around Thrive Causemetics, so we ordered the products to get a proper idea of how it's going.
3. The Verdict
Our order arrived right on time and the gorgeous teal packaging had us so excited to put Thrive Causemetics to the test.
How can waterproof eyeliner be so easy to blend? Answer: The Infinity Waterproof Eyeliner™'s ergonomically angled smudge tip. Once the eyeliner is applied and blended, it does not budge.
The Triple Threat Color Stick™ looked great on our cheeks and lips for a natural glow. This product stays on all day without fading and is a purse-staple.
Then we checked out the Buildable Blur™ HD Creaseless Concealer. It melts into your skin beautifully, genuinely didn't crease, and our shade match was perfect — our dark circles were practically gone!
If we could choose a standout product, it would be the Liquid Lash Extensions™ Mascara. It really does make your lashes look longer than ever. And it doesn't flake OR smudge, even after a long day — no wonder it's a best-seller.
We've already ordered more products to review from Thrive Causemetics! We're trying out the Infinity Waterproof Eyeshadow Stick™ which creates a smooth eyeshadow application in just one swipe, and their Brilliant Eye Brightener™ which boosts radiance and diffuses the look of fine lines.
Our verdict is that Thrive Causemetics lives up to the hype. Check them out now, you can thank us later!