My Thrive Causemetics Must-Haves For This Holiday Season Revealed
TODAY ONLY: 🎉 Get a FREE FULL-SIZE PRODUCT + FREE SHIPPING on Thrive Causemetics orders $60+!🎉 Follow this link to shop before this offer ends!
Thrive Causemetics is a vegan beauty brand with a wide range of makeup and skincare available online.
They have been on the rise since their Liquid Lash Extensions™ Mascara went viral on TikTok and won the Allure 2020 Best of Beauty Award for Best Tubing Mascara.
Ever since I discovered them online, I wanted to try their products. So when I saw their incredible holiday sales, I had to stock up.
Read below everything I got for $57
Being the beauty addict I am, I'm always excited to switch up my makeup and try new products and trends. And the best time for new makeup discoveries is during the holiday season. Because all my favorite beauty brands offer incredible sales — yaaay!
Since I came across Thrive Causemetics' viral Liquid Lash Extensions™ Mascara video online, I've been dying to test it.
Thrive Causemetics is a vegan, cruelty-free makeup powerhouse — they've been on a mission to help communities thrive by donating millions of products and dollars to multiple causes such as women fighting cancer, surviving domestic abuse, emerging from homelessness, veterans adjusting to life outside of the uniform, or LGBTQ+ communities.
Every holiday season they offer fabulous makeup sets for unbelievable prices. I ordered their Everyday Chic Eye Trio Set for only $57 (originally $72). Here's what I got: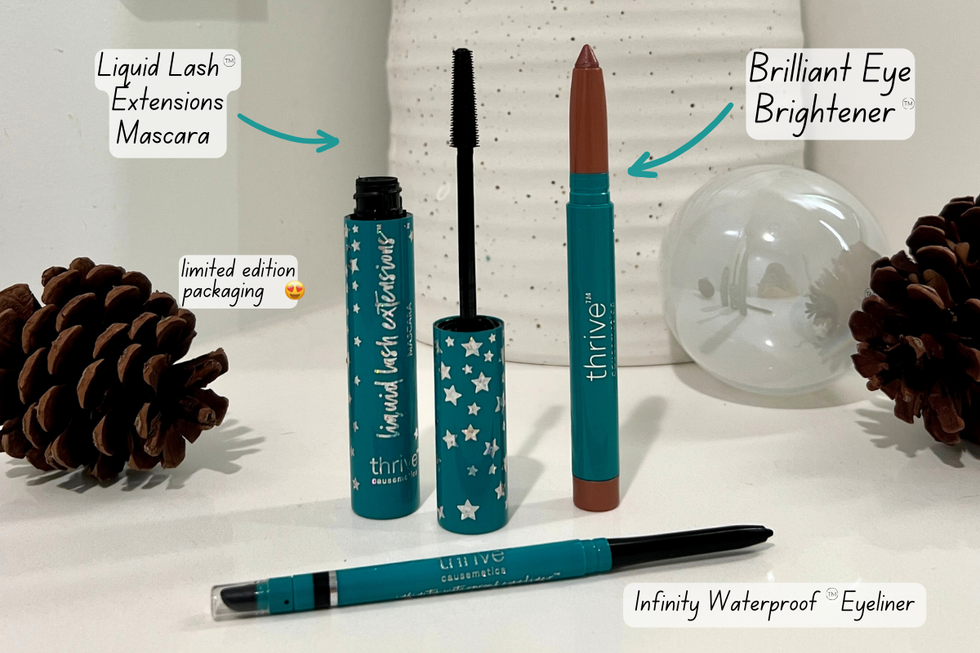 The first product I tried was the Brilliant Eye Brightener™.
And let me tell you, I'm obsessed with its creamy texture which makes the application super easy. The cream-to-powder finish brightens the eyes instantly.
I followed their tips and applied below the brow bone and in the inner and outer corners of the eyes. The Ring Light Technology™ had my eyes looking more awake than ever before. This is a new must-have for all my morning meetings because the application is super quick and easy and the results are exactly what I was looking for.
I can also swipe it across the lid and use it as an eyeshadow. Not to mention that its ingredients like natural macadamia + meadowfoam seed oil hydrate the skin deeply and smooth fine lines. It's available in 16 shades ranging from nude tones to beautiful pastels, so there's something for everyone.
Next, I used their Infinity Waterproof™Eyeliner.
To be honest, I disregarded eyeliner for years because somehow I always ended up with a faint formula that dragged on the skin and didn't deliver on performance or pigmentation. So, I was really curious about this one.
Surprisingly, Thrive Causemetics' Infinity Waterproof™Eyeliner glides extremely smooth onto the lid and its fine tip allows for precision. It also has an angled smudge tip on the other end of the liner if you prefer a smokier style.
Thrive Causemetics uses Semi-Permanent Micropigments™️ in many of their products, including this liner, so it's smudge-proof for all-day wear. It also sets in just 30 seconds, which is enough to fix any mistakes and doesn't mess up while waiting, unlike other liners that take forever to dry. It's available in 8 shades — matte and shimmer shades — which are pretty unique.
I finished my natural eye makeup look with the Liquid Lash Extension™ Mascara (Limited Edition Packaging)
First off, the limited edition packaging it comes with is so cute — it really gets me into the holiday mood. Back to the mascara — I was a little skeptical if it would live up to its hype. And to be honest, I thought it would just be like any other mascara I've tried in the past.
But the results are undeniable!
Thrive Causemetics' Liquid Lash Extension™ Mascara is dermatologist + ophthalmologist tested and approved. Just one coat gave me the effect of falsies, and its Flake-Free Tubing Technology™ lets me add on a few more without clumping — there's nothing worse than clumping mascara.
Also, if you've never tried a tubing mascara before it's a game-changer. It washes right off without leaving you with any residue or raccoon eyes — why aren't more mascaras like this?!
Overall, I'm very satisfied with the results and will definitely try more of their products!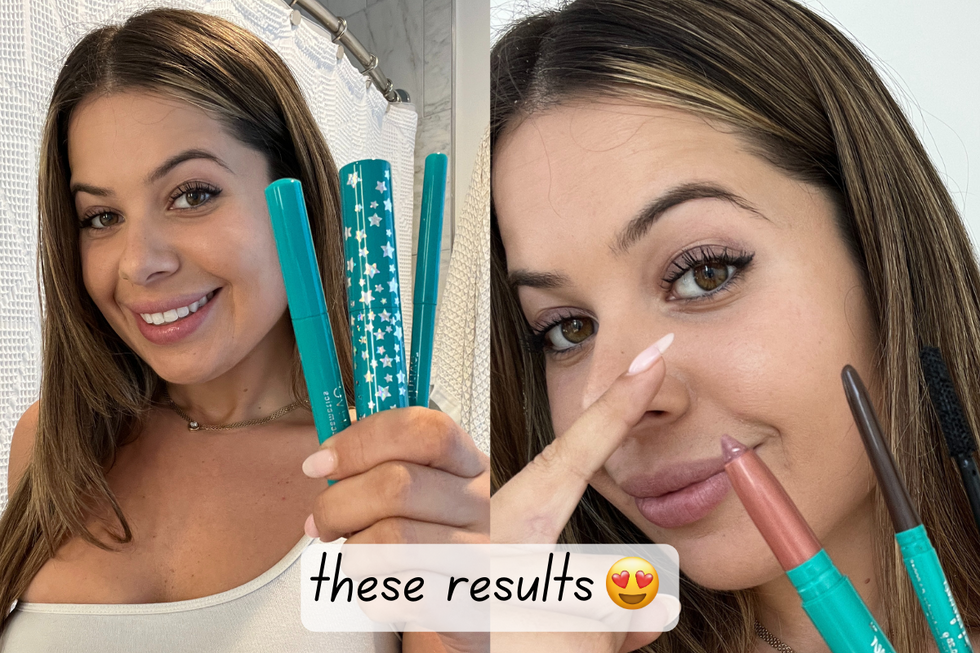 Thrive Causemetics' products are made from high-quality ingredients. They deliver results you can expect from luxury brands but without the high price tag. Plus, their products are designed to be really easy to use, so even if you don't have much makeup experience, you'll get the look right!
I'm a big fan of vegan makeup, especially when it's done right — and Thrive Causemetics checked literally all my boxes. So, take advantage of their holiday sets now, and stock up on your favorite products!
🎉 TODAY ONLY: Get a FREE FULL-SIZE PRODUCT + FREE SHIPPING on Thrive Causemetics orders $60+! Follow this link to shop before this offer ends! 🎉