Why Thrive Causemetics Is Your One-Stop Shop For Mother's Day
Thrive Causemetics is a vegan beauty brand with makeup and skincare lines available online.
Known for their Liquid Lash Extensions Mascara™; an Allure 2020 Best of Beauty Award Winner for Best Tubing Mascara and viral TikTok presence.
They have a range of everyday essentials and bundles to help you save.
Read below for their Mother's Day sets rundown and get them for up to 15% OFF now.
Mother's Day is right around the corner andThrive Causemetics is getting us in the spirit! Whether you're a mom yourself, looking for the perfect gift for your own mom, or even just a plant mom, this is one you do not want to miss.
Thrive Causemetics has made a huge name in the beauty world with their high-quality, cruelty-free, vegan products, and now they're officially our go-to makeup and skincare brand.
Thrive Causemetics is offering three bundles valued at 15% off the full price FOR A LIMITED TIME ONLY. Here's everything you need: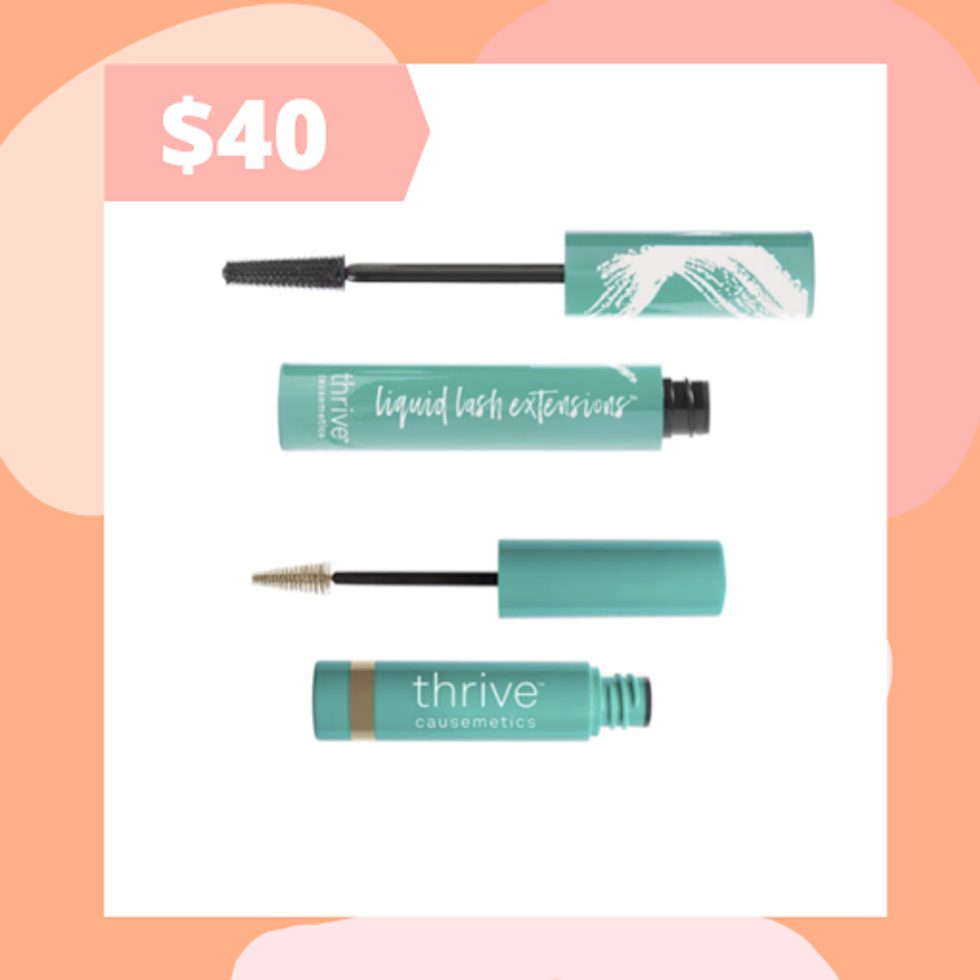 Essential for you, essential for your mom, essential for everyone. Whether you're full-faced glam or like to keep it lowkey and natural, this set is an absolute must.
It includes their viral, award-winningLiquid Lash Extensions™ Mascara and their amazing Instant Brow Fix™ Semi-Permanent Eyebrow Gel.
Thrive Causemetics' Liquid Lash Extensions™ Mascara is a fan-favorite that needs to be in every makeup bag. Thanks to its Flake-Free Tubing Technology™, this mascara doesn't clump, flake, or smudge, giving you the biggest lashes ever. It comes in three classic shades - Brynn (Rich Black), Nola (Deep Blue), and Crystal (Brown Black).
Fuller lashes need fuller brows and Thrive Causemetics' Instant Brow Fix™ Semi-Permanent Eyebrow Gel gives you just that. With its Semi-Permanent Micropigment Technology™, your brows will tint over time, letting you achieve more fluffy and voluminous brows. The brow gel comes in three shades: Christina (Light to Dark Blondes); Audrey (Dark Blondes to Medium Brunette); and Serena (Dark Brunette to Black).
These products are the definition of essentials. Get this set now for only $40 (valued at $48!!).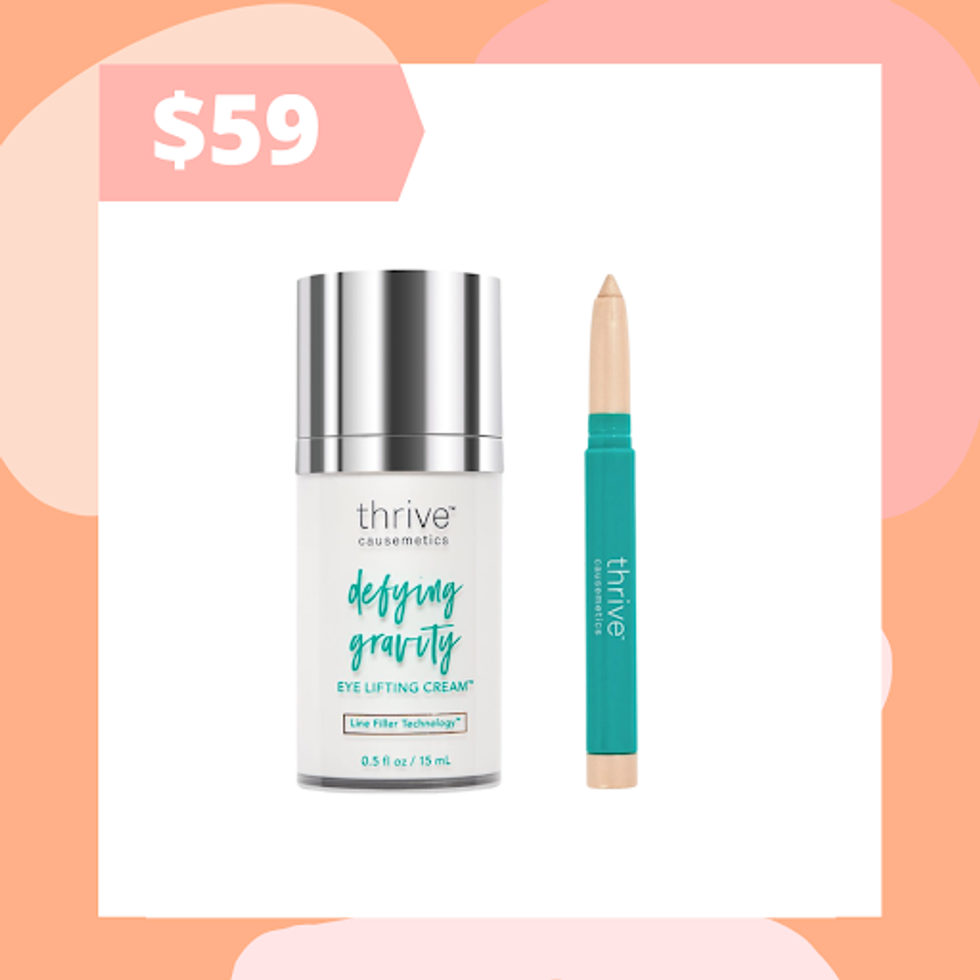 This eye duo can wake even the tiredest of eyes up.
The Brilliant Eye Brightener™ comes in 13 shades that deliver the ultimate lift. This cream to powder highlighter stick is great on the go - apply easily to the inner+outer corner of your eyes and above + below the brow bone. It uses Ring Light Technology™ that immediately awakens the eyes and provides a soft glow while the natural emollients like macadamia and meadowfoam seed hydrate and smooth fine lines
Partnering perfectly with the Brilliant Eye Brightener™ is Thrive Causemetics' Defying Gravity™ Eye Lifting Cream. Packed with natural emollients and with 100% of users reporting their eyes looked more smooth and refreshed*, this eye cream will lift, tighten, and brighten the skin around your eyes. Every mom's dream duo!
Valued at $70, but on sale for $59 right now, you can ditch the dark circles for good.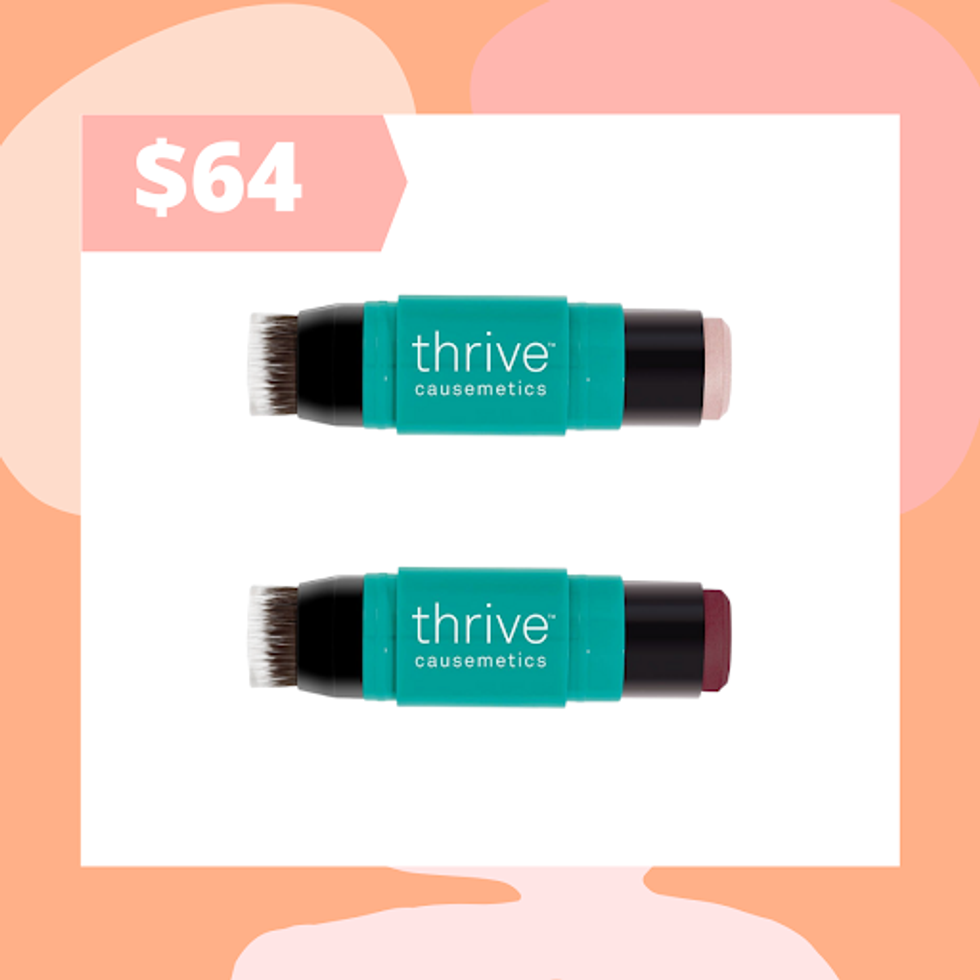 Busy moms and busy non-moms alike, need this duo.
The ultimate one-stop-shop, the Triple Threat Color Stick™ is one of our absolute favorites. It's a multi-purpose cream stick that gives you all-over natural color wherever you choose to apply.
You can use it on your face as a highlighter, blush, or extra lip color, or even apply on your body for a radiant highlight. The built-in brush makes blending quick and easy, too.
Thanks to its Semi-Permanent Micropigment Technology™, any color you apply is smudge-proof, waterproof, and stays all day, wherever you go.
This duo is $64, while typically priced at $72!
Don't miss out on the perfect time to snag Thrive Causemetics' essentials! We love them for their clean beauty commitment, charitable giving, and next-level products – and we know moms will, too!
TODAY ONLY: Get FREE SHIPPING on all orders and up to $15 OFF on select Mother's Day sets with code MOM! Follow this link to shop!
*In a clinical consumer perception study on 32 women who used Defying Gravity™ Eye Lifting Cream for 4 weeks.