My Favorite Products From Thrive Causemetics Revealed
Whenever the seasons change, I have a makeup MOMENT. It's the perfect time to try different color palettes and shades.
Aaaand since I'm the resident MUA in my friend group - always an eyeliner handy and ready to try the latest look - I decided to share my newest faves with you.
I've come across so many 'meh' releases that I'll save you from, BUT thankfully I also found some absolute GEMS! My current go-to brand is Thrive Causemetics - nailing everything from mascara to glossy lip serums.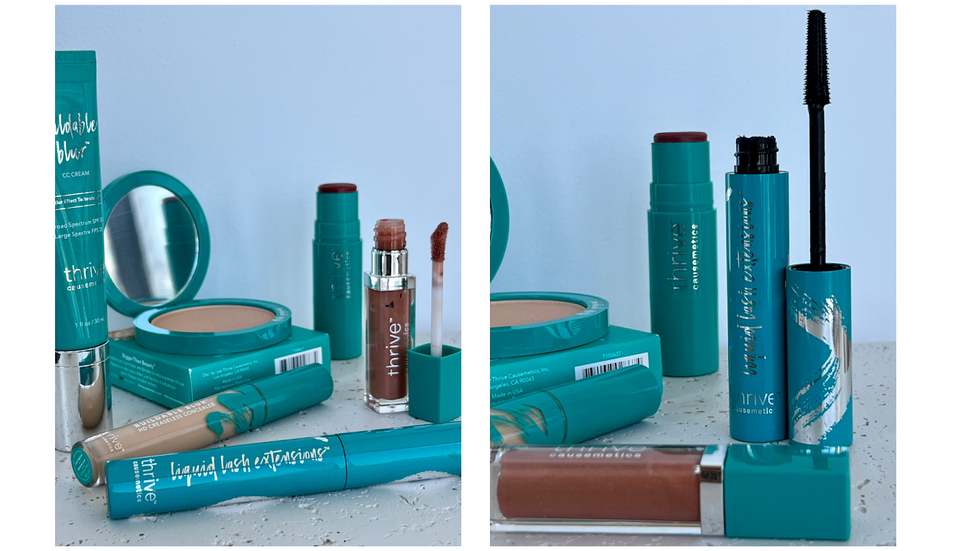 Here are some of my must-buy products that are deserving of a spot in your line-up too:
Liquid Lash Extensions™ Mascara– $24
I don't know about you, but mascara is one of those products I'm particularly picky about.
I used my Limitless Lash Mascara from Ilia for as long as I can remember. But then I saw this girl on Instagram coating her lashes in Thrive Causemetics Liquid Lash Extensions™ Mascara until they were super long and fluffy, and I knew I needed it.
It completely exceeded my expectations! No clumps, flakes, or smudges and a ridiculously long lash effect that looks so good they're like falsies.
It's available in three different shades, dermatologist and ophthalmologist tested and approved, and most importantly, removing Thrive Causemetics' mascara works effortlessly with warm water and cloth – you don't even need makeup remover – a dream come true.
Infinity Waterproof Eyeliner™ – $22
My last eyeliner kept breaking, so I thought I'd pick up the Infinity Waterproof Eyeliner™ because of its thousands of 5-star reviews. It goes on so smoothly, and I love that it's thick enough so that I don't have to keep going over it. Plus, $22 is super affordable.
I don't wear eyeliner every day, but when I do, I need it to last. I recommend it to everyone because it's waterproof and smudge resistant and the deep black color gives everyone's eyes that classic, gorgeous pop.
Glossy Lip Hydrating Serum™ – $26
I never leave my house without a gloss in my purse. So the Glossy Lip Hydrating Serum™ in Ruth is my new go-to. OMG, it's so creamy and lightweight, and I love the subtle color. It's non-sticky and super hydrating, so it doesn't dry your lips.
First I line my lips with the gloss' Lip Contour Applicator™ and then fill in the gloss – sooo easy. It's great by itself and can top off any makeup look!
Triple Threat™ Color Stick – $36
When I stumbled across Thrive Causemetics' Triple Threat™ Color Stick, I wasn't convinced. For some reason, I doubted I'd use it for my face, lips, and body. But I'm glad I gave this stick a shot! Its small size and multi-function are genius, especially if you like to travel as much as I do. I love that it comes with a built-in brush, perfect for diffusing and softening color for a flawless, natural finish when on the go.
It's formulated with vitamin E, evening primrose oil, and sunflower seed oil to deliver essential vitamins for a healthy glow – it's fantastic for sensitive skin!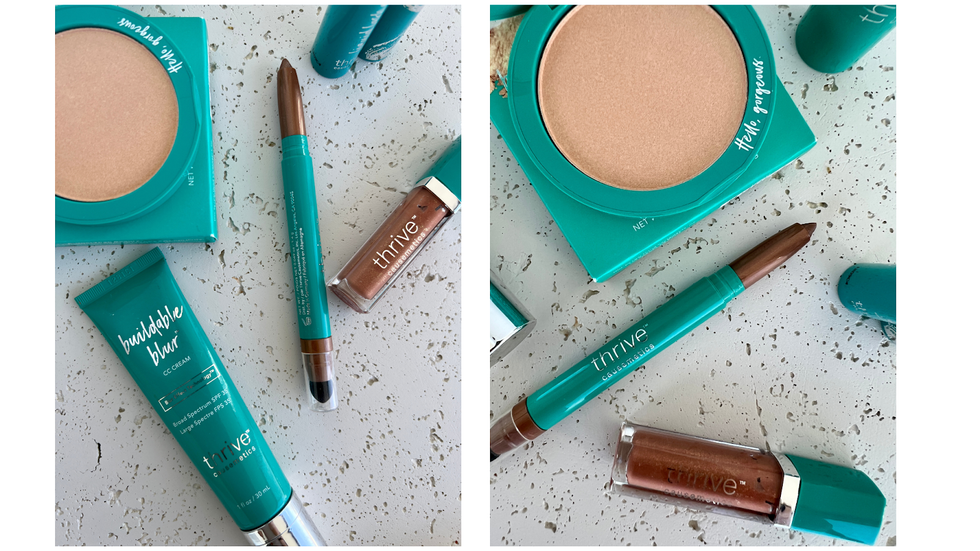 Brilliant Face Highlighter™ Skin Perfecting Powder – $34
Using a little highlighter on your cheekbones is on trend and I don't think it's stopping anytime soon. And when using it correctly, you can draw attention to the high points of your face, giving it a soft, subtle glow. But be careful; using too much highlighter or choosing a bad product can make you look like a disco ball, and you don't want that, trust me!
I think Thrive Causemetics nailed it with their Brilliant Face Highlighter™ that won't settle into fine lines and pores but creates a natural glow on the skin while smoothing its texture – I'm addicted!
Buildable Blur™ CC Cream Broad Spectrum SPF40 – $38
Thrive Causemetics' products are all paraben-free, sulfate-free, formulated without phthalates or fragrances, and 100% vegan. That's why I initially ditched my old CC cream and switched to the Buildable Blur™CC Cream Broad Spectrum SPF 40. I use it as a foundation, and sometimes pair it with their Filtered Effects™ Soft Focus HD Setting Powder when I want to go for a fuller makeup look.
In addition, the CC Cream provides instant hydration and sun protection which is super important – not just in the summer! In terms of finding your match, it's available in 28 inclusive shades, so you can get the right one for your skin tone.
Thrive Causemetics offers fantastic high-quality products that have won prestigious awards, such as the Allure Best of Beauty Award and the Glamour Best Clean Beauty Products Award. If you're looking to stock up on makeup, I highly recommend you give Thrive Causemetics a try
JUST FOR YOU: Get FREE SHIPPING on all Thrive Causemetics orders $35+ and a FREE makeup bag with any purchase! Follow this link to shop!