Everything I Got From Thrive Causemetics For Under $100
Thrive Causemetics is a vegan beauty brand with a wide range of makeup and skincare available online.
They have been on the rise since their Liquid Lash Extensions™ Mascara went viral on TikTok and won the Allure 2020 Best of Beauty Award for Best Tubing Mascara.
Ever since I saw the video, I wanted to try the brand, so when I was restocking makeup for fall I decided to try Thrive Causemetics
Read below to see the 4 products I got for under $100
The weather is cooler, the lattes are hot, the leaves are crunchy and I can finally wear jackets again — my favorite season has finally arrived: FALL!
What I love most about fall, apart from the Pumpkin Spice Latte from Starbucks, is all of the fashion and beauty trends — I'm always excited to switch up my makeup and try the next big beauty hack.
A while ago I came across Thrive Causemetics' viral Liquid Lash Extensions™ Mascara video online. I didn't know if it was worth the hype, but my friend said the mascara is one of her favorite ' TikTok made me buy it' items, and I've been curious about the brand ever since.
Turns out Thrive Causemetics is more than just a vegan, cruelty-free makeup powerhouse — they've been on a mission to help women thrive by donating millions of products and dollars to multiple causes such as women fighting cancer, surviving domestic abuse, emerging from homelessness, veterans adjusting to life outside of the uniform, or LGBTQ+ communities.
After doing my research I thought this would be a brand worth a full haul, so I ordered some of their best-sellers and a few new launches that looked amazing for fall. Here's my honest review of Thrive Causemetics:
When I saw this liner I got so excited — the smudged eyeliner trend from the nineties is coming back, and this is the perfect product for that.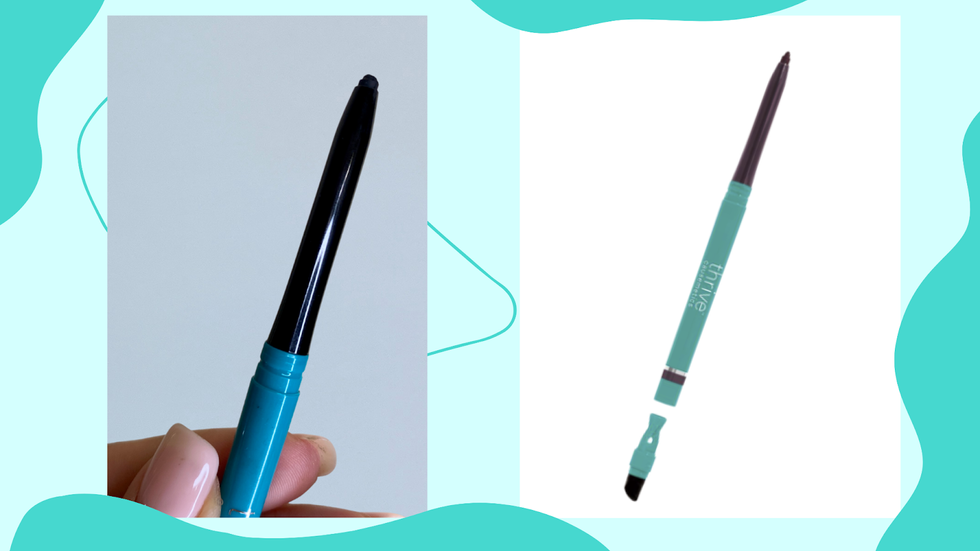 I got it in Lauren (Black Matte,) and I apply it and used the angled smudge tip for smooth, effortless blending up my lid. I'm used to smudging with my fingers, but this tip is so much more precise. I achieved the look I wanted super quickly.
It doesn't fade or transfer at all, which is super rare — I don't look like a panda at the end of the night! Thanks to the the Semi-Permanent Micropigments™, the Infinity Waterproof Eyeliner™ doesn't budge.
Next, I put on the Pumpkin Spice Latte Liquid Balm Lip Treatment™ ($26).
First of all, this smells amazing — the blend of warm cinnamon, ginger, clove and smooth
vanilla is so autumnal and instantly gave me cozy and comforting vibes.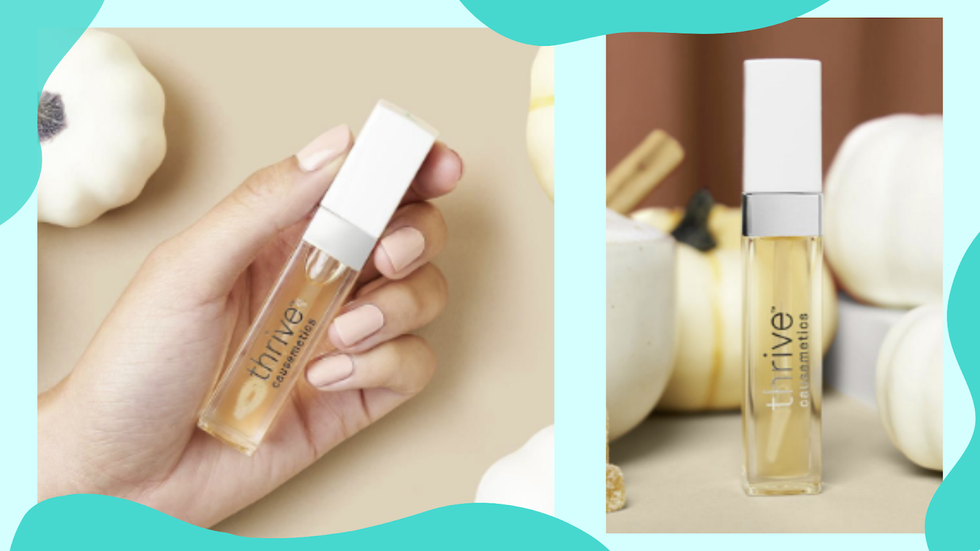 It looks like a juicy gloss, but it's a nutrient-packed lip serum with Abyssinian seed oil, sesame seed extract, essential fatty acids and antioxidants, plus Lip Filler Technology™, to keep my pout moisturized and plump during the colder months.
My lips look stunning now — so glossy and voluminous, I'm ditching those drugstore chapsticks and generic glosses. This balm completely hydrates without leaving any of that dreaded sticky residue.

Then I finally tried the famous Liquid Lash Extensions™ Mascara ($25) — would it live up to the hype?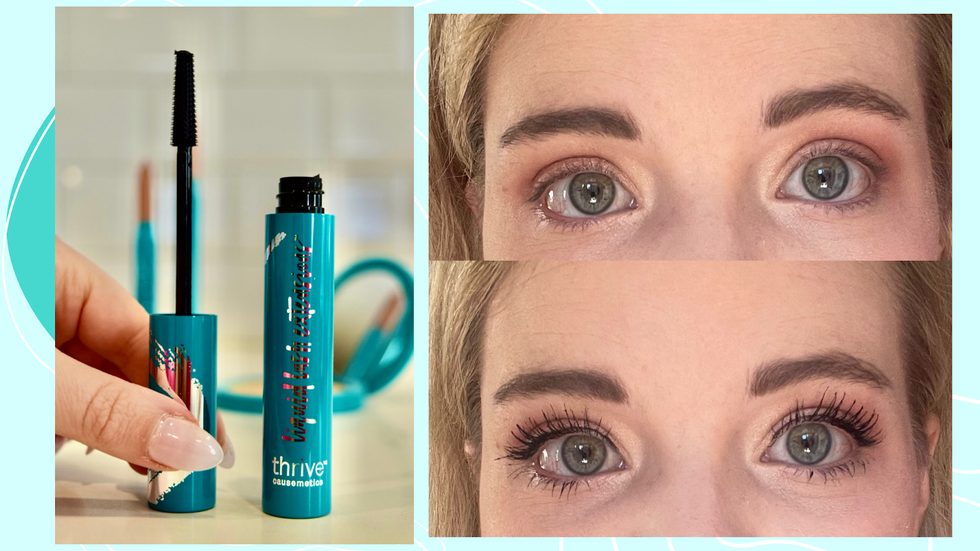 Turns out, it would. This mascara really does give you a false lash effect. I got it in Brynn (Rich Black), but it comes in shades Crystal (Brown Black) and Nola (Deep Blue) too.
My lashes have never looked so long! It's flake and smudge proof, yet super simple to remove. I love that it contains ingredients that moisturize and encourage the look of healthy, strengthened lashes like Caster Seed Oil, Shea Butter, and Youth B5 Complex to help nourish them in the long run. There's a reason this popular mascara is award-winning.
And last but not least: the Brilliant Eye Brightener™ ($25).
I love the shade Stella (Champagne Shimmer), which I ordered a few weeks ago.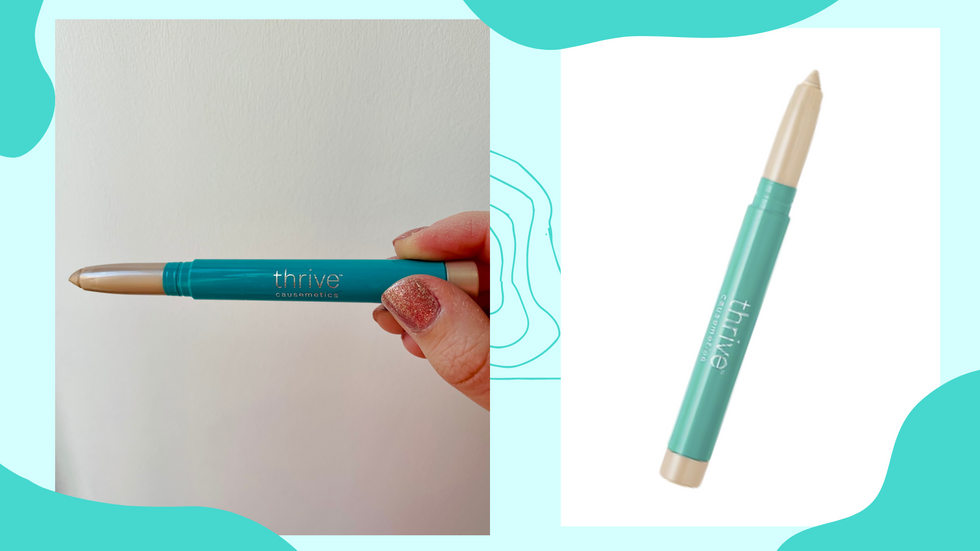 I've never used anything like this before! It's a unique cream-to-powder highlighter stick — I put Stella on the inner corners of my eyes and my brow bone, and its shimmery formula immediately brightens my look.
Muna looks gorgeous on the lid and is easy to apply for a super quick eye look. These sticks feel great on my skin and are super easy to throw in my bag for any touch-ups when I'm on the go.
Overall, I'm very impressed with Thrive Causemetics.
This line is so unique, affordable, high quality and perfect for my fall makeup routine. Thrive Causemetics really puts effort into creating products that are designed to be super easy-to-use yet effective — plus vegan & cruelty-free, with ingredients that are good for you.
If you're looking for a makeup brand you can count on for your fall essentials and beyond, I'd highly recommend Thrive Causemetics.
🚨TODAY ONLY:🚨 Buy One, Get One 50% OFF on select Thrive Causemetics sets + a FREE makeup bag with any purchase! Follow this link to shop!