The Bed, By Thuma Is The DIY Job That Anyone Can Do And Actually Enjoy!
My husband and I have creative jobs, but that does NOT mean either of us are particularly crafty.
Still, when we had some extra time to spend on redo-ing our bedroom, we decided to DIY. It was the last room in our place that needed to be done, and we had a loose vision in mind, so we got to work.
We painted the walls a beautiful cloud gray, and almost went to the ER when we forgot to open the windows. We attempted to build a shelf, and after 3 days of success, heard a crash in the middle of the night. We really wanted a bedroom that reflected our taste, but the DIY movement was not for us - I still get shells in my eggs half the time, so I should've known.
When it came to our bed, we were looking for DIY headboards, but everything was too complicated. We just wanted something simple.
Looking through interior design blogs, we found what looked like the perfect bed. It was clean-looking, timeless, with crisp lines, a wooden frame, and a Dark Charcoal PillowBoard (a minimalist headboard alternative). Sophisticated, but ever so simple.
It was by Thuma, which we'd never heard of, so we were skeptical they were just some pop-up company. We saw they also offered a Light Linen PillowBoard, which we liked even better.
It was gorgeous, but there was a DIY element - you apparently put the bed together. It's inspired by Japanese master craftsmanship and comes in multiple pieces. The website kept reassuring us it would only take about 5 minutes, but we were fresh off our own DIY disasters, so we weren't sure.
But after days of looking at the bed, we'd fallen in love with it. The design was even environmentally conscious - it's made from up-cycled rubberwood and other mindfully selected materials like eco-fi felt. Plus, their packaging uses only recycled cardboard, and they don't use any styrofoam.
It matched our bedroom so nicely, and they promised it had a lifetime warranty, so we ordered it on a whim. It could be the guest bed if we weren't impressed.
It arrived, and we brought it into the bedroom - the color of the wood was stunning in person. We double-checked, and it's only real wood - no veneers or MDFs. We took out all the pieces, and definitely felt overwhelmed for a moment. Then, we read the instructions and had put the pieces together before we knew it.
The Bed uses Japanese joinery, which is naturally noise minimizing and removes all unnecessary hardware, so assembling it couldn't be easier. Also, if we ever moved, it'd be easy to disassemble, too.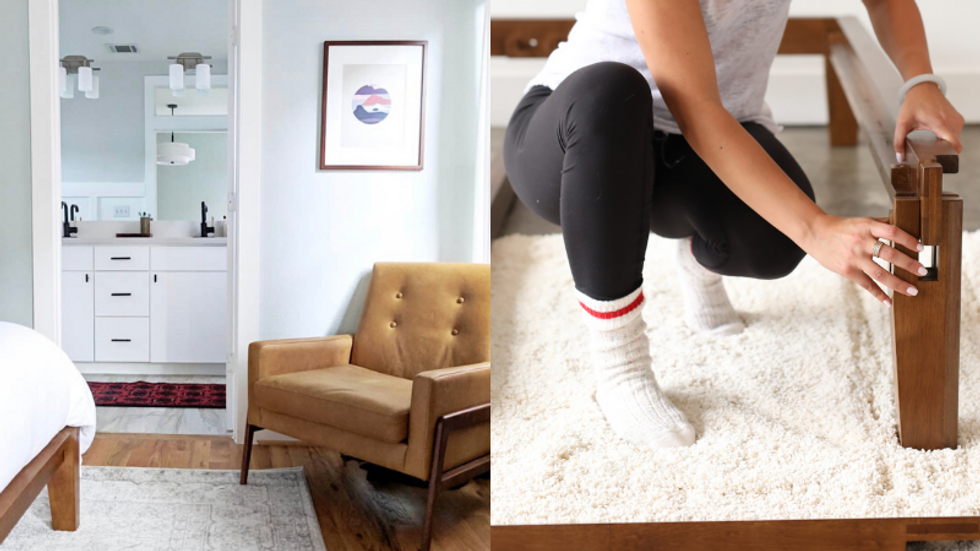 The Bed is magnificent. With the new wall color, it inspired us - we realized we needed a huge painting on one wall, and the wooden dresser we had in the attic would only need a refinishing.

With such solid pieces, we can confirm it's high-quality. It's quiet, strong, and supportive.
My husband's a graphic designer, and he always used to say that simple is way harder - there can be no distractions, and every element has to be perfect. Thuma's achieved that, and it looks absolutely incredible. We couldn't have found a better bed.
Elevate Your Bedroom Today With The Bed, By Thuma