Some people just love the brisk winter weather while others want to hibernate until springtime surfaces. Many folks just can't take the bone-chilling temps, slushy and slippery mess, and shorter days, and a portion of people even get a case of "winter blues," making wintertime a legitimate downer.
As per Psychology Today, "An estimated 5 percent of Americans experience seasonal affective disorder(SAD) a type of depression that sets in during the shorter days of fall and winter and lasts until spring." And even if you don't think you're afflicted with this type of depression, wintertime can still put a damper on your mood.
Before resorting to hermit-mode until you can go outside without a pair of mittens, consider these tips from folks who brave the cold and make it through the nasty weather with positivity. Even a few adjustments and changes of behavior can make winter much more tolerable. No season should be SAD season.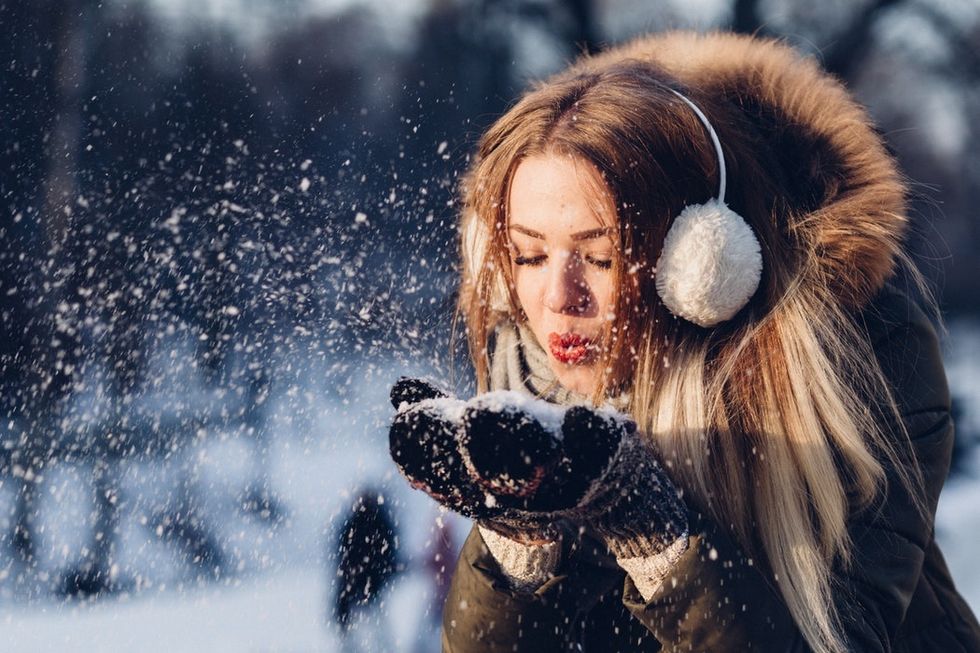 unsplash.com
A nod from Norway
In parts of Norway, it can be quite dark during the winter months. The daylight hours are shorter, and many people face the harsh realities of SAD. "The period between November 21 and January 21 in Tromsø is known as the polar night, or dark period, but for at least several hours a day it isn't strictly speaking dark, but more of a soft twilight," as per a piece in the The Atlantic.
Such gloominess has the potential to make inhabitants less-than-gleeful, but they have found ways to stay chipper until the seasons change. "Embracing winter" is a tactic to help make this darker period much lighter, figuratively, of course.

"Liking winter was associated with greater life satisfaction and being willing to undertake challenges that lead to greater personal growth. Adopting a more positive attitude really might help to ward off the winter blues."
Take this approach when your dreaming of palm trees and sandy beaches in the dead of winter and instead embrace the best of what the season has to offer. Think snowmen, skiing, sledding, and stews. Winter can be wonderful if we use this half-full approach.
What's all the hype with hygge?
The Danish people may just be onto something with the concept ofhygge. Not familiar with this term? Hygge is, "a Danish word used when acknowledging a feeling or moment, whether alone or with friends, at home or out, ordinary or extraordinary as cozy, charming or special."
When hygge is applied in the wintertime, battling through the blizzards and "brrrs" makes the cold weather much more bearable. The ability to have, "a conscious appreciation, a certain slowness, and the ability to not just be present – but recognize and enjoy the present," allows Danish folks to feel just fine when winter comes around. Being in the moment allows them to enjoy themselves, even if they're snow-covered and shivering.
As per Hygge House, "Danes created hygge because they were trying to survive boredom, cold, dark and sameness and the undefinable feeling of Hygge was a way for them to find moments to celebrate or acknowledge and to break up the day, months or years. With so many cold, dark, days, the simple act of a candle glowing with a cup of coffee in the morning or a home cooked evening meal with friends can make a huge difference to one's spirit."
The meteorologists' methods
As reported by The Washington Post, Daryl Ritchison, a meteorologist from frigid Fargo, ND suggests, "Go outside more frequently, being outside more gets you acclimated to the conditions faster." He also recommends, "Find time to exercise, even walking in a mall helps, besides the health reasons, it tends to help fight the winter blues if you stay active."
Jackie Purcell, also a meteorologist from Anchorage, Alaska suggests, "Plastic bags used like socks before you put on boots or shoes can add an extra layer of dryness, if not a little warmth in a pinch." No more cold feet when it comes to stepping out Mid-January!
Russian recommendations
Winters in Russia are brutal, yet the people of the land seem to survive the sub-zero temps just fine. What's their trick to keeping their cool… or shall we say warmth?
As per Sovietcity, "They prepare, expect the worst and just get on with it. In Russian winter nobody leaves the house unless they are dressed properly. Getting ready is like preparing for an Arctic expedition, it can take quite some time. Thermal long johns, jeans, a T-shirt, a few layers of sweaters, fleece and then a Gore-Tex coat to keep out the snow and rain. It's also essential to wear a hat, scarf and gloves."
Another suggestion from The Guardian's Natalia Antonova… banish the blues in the bedroom! "If there is one upside to bad weather, it is that it gives you an opportunity to stay in and have more sex. Life is very short, and if you have the slightest excuse to spend any extra naked, satisfying hours in the company of another human being, you should probably do it." Sure beats shoveling!
The explorer's examples
Will Steger is a polar explorer. If he can survive the harsh elements in areas like the North Pole and Antarctica, a few icy days in New Jersey or Long Island don't seem that terrifying. The warmer you keep yourself, the better you'll feel, thus less of a chance of feeling down when the mercury heads in that direction.
Steger suggests, "Cover all exposed skin. Wind dries and chills any exposed skin, and robs heat from your body as it sneaks into your clothing, replacing warm air with cold, making you feel cold." He also recommends staying well-hydrated. It helps the body to stay warm. Drink up and warm up!
Fueling your body properly is another way to keep those winter blues at bay. It's no wonder so many of us indulge come holiday season more than we do in mid-August, save for swimsuit season and all.
AZ Centralrecommends, "Eat well to provide the necessary heat-producing fats to survive (places like) the North Pole." If an extra serving of mom's meatloaf or a piece of warm apple pie helps you ward off winter's woes, go for another bite. Those biting temps will find it harder to penetrate those few pounds you've packed on. Just don't go overboard or you may have yourself feeling blue because you can't zip your pants!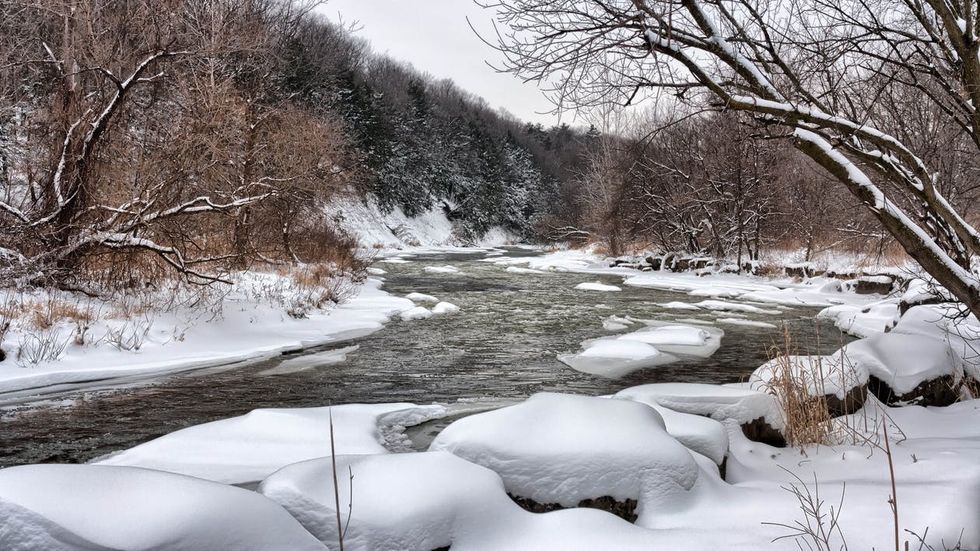 pexels.com
Winter blues are a bummer, but try these SAD-stumping suggestions and see if the season is more survivable this year.