Turmeric has been a popular spice in Indian and Asian cuisine for thousands of years, but lately, this colorful spice has been showing up in unexpected places. You can find turmeric milk lattes available in many coffee shops, turmeric tonic shots, turmeric juices, and a wide variety of turmeric supplements available at your local health food store. Turmeric is having a moment in the wellness world.
Often called "the golden spice", this beautiful bright yellow spice comes from grinding down the roots of a flowering plant known as the Curcuma Longa. Turmeric is delicious. It has a warm, earthy flavor that livens up curries, stews, vegetable dishes, poultry, meat, and fish. But these days turmeric is even being added to smoothies, lattes, fresh juices, and face masks.
There are over 15,000 published manuscripts on the health effects of turmeric and according to the National Institute of Health, over 50 new studies are added each week!
The scientific community is obsessed with turmeric. Specifically the healing properties of the active ingredient, curcumin. Curcumin is an anti-inflammatory and studies are suggesting it's capable of healing everything from Alzheimer's to cancer. One report that summarized the results of clinical trials following participants who took curcumin medicinally for 50 years, claimed curcumin has "promising effects" on a long list of ailments. A few of these ailments included cardiovascular disease, cancer, Crohn's disease, arthritis, irritable bowel disease, and diabetes.
Cucurmin is a specialized antioxidant that's been shown to effectively reduce inflammation. You've probably heard that inflammation is known to be the root cause of most diseases. Including more turmeric to your diet can help ward off and even improve the symptoms of a wide range of chronic diseases. Less inflammation also means clearer skin!
There are a lot of delicious and even convenient ways to enjoy turmeric. But which is the most effective?
Robin Berzin, MD, and founder of Parsley Health say that in order to get the anti-inflammatory effects of curcuminoids you need to get about 500 to 1,000 milligrams a day. You can take a turmeric supplement to make sure you easily meet your curcumin quota, but you can also incorporate this golden spice in delicious recipes.
When cooking with turmeric, there are about 200 milligrams of curcumin in 1 teaspoon of ground or fresh turmeric. 500 milligrams of curcumin a day is enough to keep inflammation at bay. Aim to get about 2 ½- 3 teaspoons of ground turmeric a day into your diet. You can also combine black pepper and turmeric for an added immune boost. Black pepper increases the bioavailability of turmeric by as much as 2,000%!
Here are 4 tasty ways to enjoy the healing qualities of turmeric:
Turmeric Milk Latte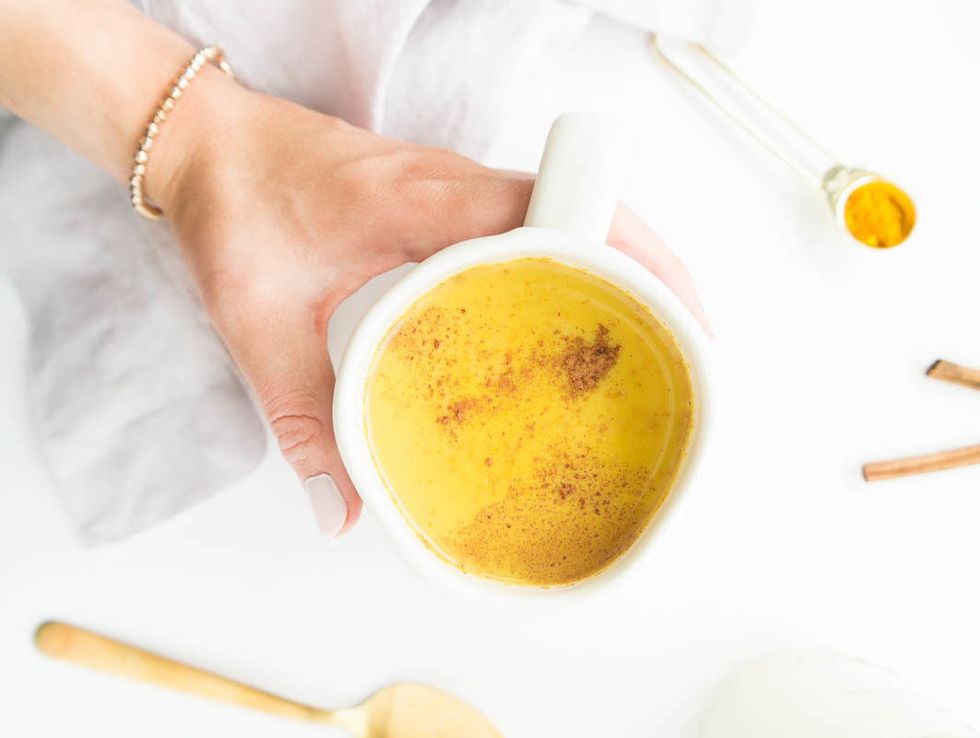 Turmeric Golden LatteThe Glowing Fridge
Turmeric latte's are easy to find in most health food stores and even coffee shops these days. Here's a golden latte recipe that you can make at home. This tasty, healing drink is a healthy alternative to coffee in the morning and also makes a great afternoon pick me up.
Sweet Potato Turmeric Miso Soup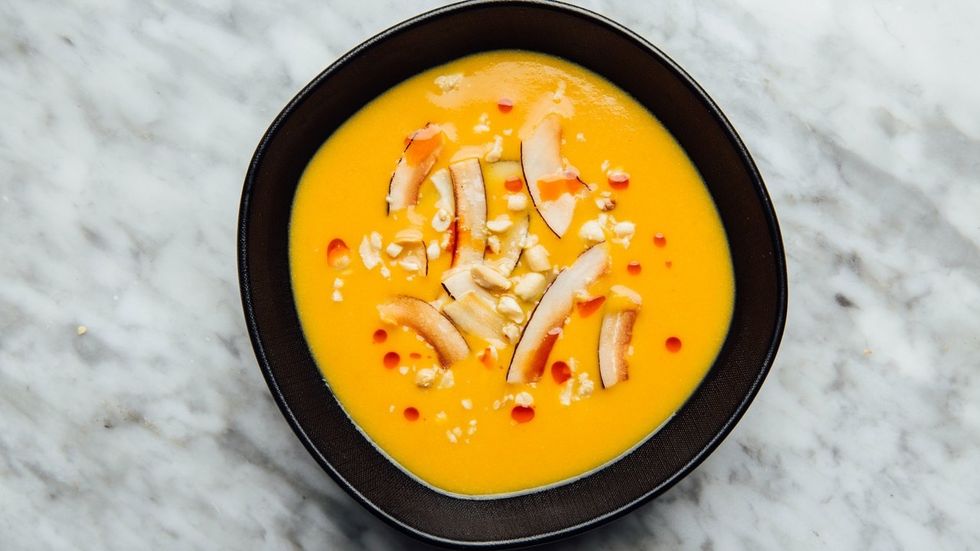 Turmeric Sweet Potato Miso SoupBon Appetit
This healing, colorful soup is perfect for lunch or a light dinner. Miso, sweet potato, coconut milk and turmeric make a delicious, creamy soup topped with crispy coconut flakes. Don't overheat while cooking though! You'll loose the delicate taste of the miso if this soup is heated to high.

Turmeric Tonic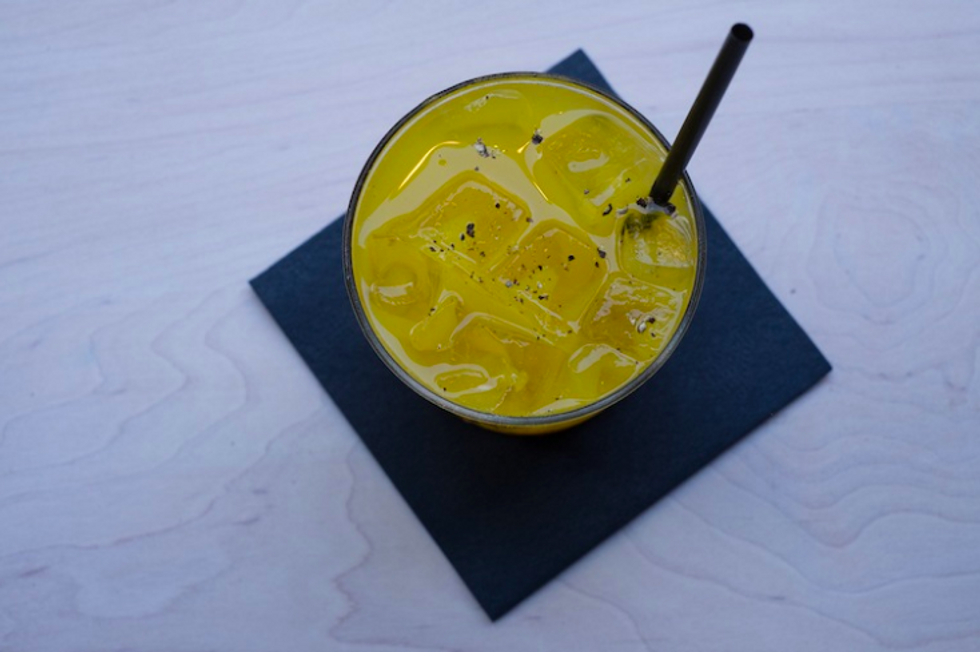 Turmeric TonicWell and Good
Start your day with this turmeric, black peppercorn, honey, ginger, and lemon juice tonic. It's a killer combination to fight off inflammation and promote good gut health. Remember, black pepper and turmeric taken together increases the absorption of cucurmin, the powerful antioxidant found in turmeric, by as much as 2000%.
Jeweled Rice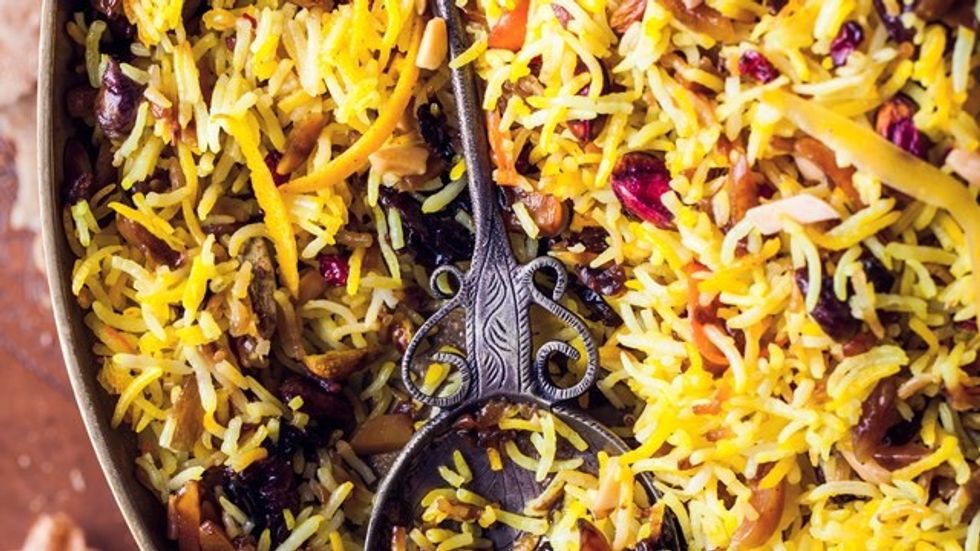 Turmeric Jeweled RiceBon Appetit
This is a classic Indian recipe that's easy to pair with other dishes. The key to this recipe is getting the rice crispy, slightly browned, and even a bit crunchy. It's a little time consuming, but so worth the effort! Consider upping the turmeric measurements to 2 teaspoons to get the most anti-inflammatory benefits.