Skincare can be fun: face masks, jade rollers, brightly colored formulas in exquisitely packaged bottles, and so much more. Suncare, however, hasn't had its mainstream moment. Until now.

---
Vacation is a super-hot suncare brand, not just for its effective formulas, but also for its cool collabs, versatile product types, and fantastic nostalgic branding. There's something for everyone, from oils to creams, sprays, and more.
But undoubtedly, the brightest star from the Vacation lineup is the SPF 30 Classic Whip. And it's finally back in stock.
The SPF 30 Classic Whip is a full-coverage body sunscreen with a twist: it comes in a whipped cream canister and spreads like a chilly dollop of cool whip. Yummm.
Finally, your mom won't tell you to go easy on the whipped cream! Although, you definitely don't want to spray this into your mouth — save that for late-night trips to the fridge with a can of actual whipped cream.
It's even recently received a co-sign from Kim Kardashian, who posted her full Vacation haul on her Instagram story with the caption, "Actually obsessed with this whip sunscreen it's insane."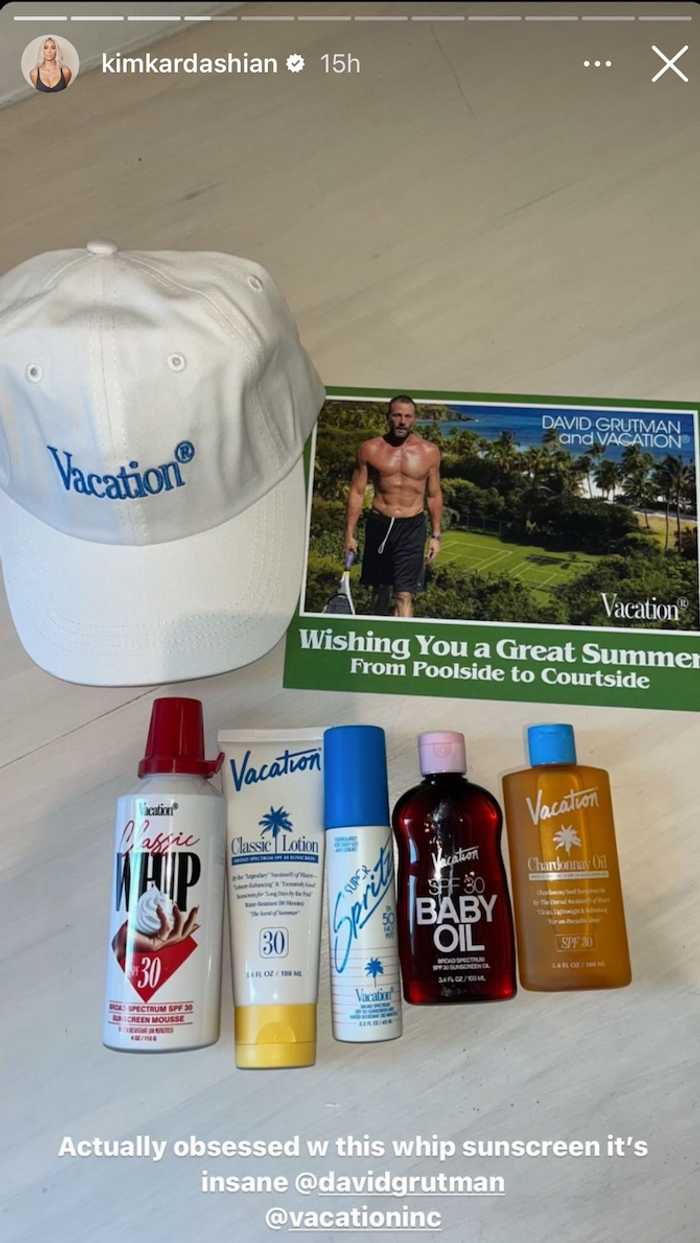 via @KimKardashian on Instagram
This novelty delivery system makes sunscreen fun. As a skincare enthusiast, I'm a firm believer in application and reapplication. But I can't say I've ever been jazzed at the process until this fun, fresh, foamy whip formula.
After quickly garnering viral fame for its cool texture, videos of people applying this summery sunscreen spectacle are everywhere. No surprise that Vacation can't keep this visually delicious product on their virtual shelves.
For months, there was a disappointing SOLD OUT box under the product. Over 2,000 people signed up for the waitlist. But now, the news we've all been waiting for: it's restocked!
You can finally get your hands on it — run, don't walk.
According to a recent press release, Classic Whip has been a labor of love from many experts across industries.
"Dr. Elizabeth Hale, Board Certified Dermatologist and an SVP of the Skin Cancer Foundation, oversaw its performance and efficacy; renowned scientists at Honeywell supported the development of the formula with their Earth-friendly Solstice® Propellant; and engineers from Clayton Corporation (the iconic company that actually invented Reddi-wip years ago) helped develop the first-of-its-kind packaging to recreate the experience of whipped cream for cosmetics."
Made with love, get ready to slather on this sensational sunscreen all summer long. Check out this inimitable product before it sells out again HERE.