5 Symptoms Of Low Testosterone
Getting your health in check should be the one thing you do for yourself this year.
Exercise, diet, and a positive mindset are all good steps but sometimes, it needs to go further than that.
Many of us ignore those nagging signs when something is not right. Sometimes, we face hormonal issues that require more than just a change in lifestyle to fix. We need to start putting our health first and with Vault Health doing exactly that, it has never been so easy.
Vault Health is a leading health care provider that specializes in personalized, at-home, virtual, and telecommunication consultations, testing, and treatment plans for men. Vault providers specialize in men's health, offering treatment plans for many different health conditions and issues, with a focus on testosterone levels.
Testosterone is the primary male sex hormone, responsible for regulating many of the key processes in the male body. As many of us know, testosterone levels can decline with age (as young as 30 years old), and there are many causes of low testosterone levels.
It can be hard to immediately know when you're suffering from any deficiency, so how do we know if we have a testosterone deficiency? Knowing the most common and up-to-date symptoms is the first place to start.
Here's the latest list of symptoms associated with low testosterone from the American Urology Association;
1. Decreased Intimacy Desires
Decreased sex drive and erectile dysfunction (ED) are some of the most obvious signs of low testosterone, but with more and more treatments, rectifying this issue is easier than many think.
2. Low Energy
Feeling fatigued, struggling with lower endurance, struggling to get out of bed, needing more coffee to get through the day, the afternoon slump hitting harder than ever, or your physical performance not at the same heights as what you are used to, all indicate low energy and possibly low testosterone.
Low energy can be caused by so many factors in our lifestyle, but men experiencing low testosterone levels may certainly be feeling the effects of fatigue in their daily lives.
3. Cognitive Dysfunction
Some symptoms aren't as physical as ED or fatigue but feeling like you have reduced motivation and concentration or a "Brain Fog" could be linked to low testosterone. Along with increased irritability, mood swings, and even depressive thoughts when coupled with other symptoms warrant a test for a testosterone deficiency.
4. Loss in Bone Density
Research shows that one-third of men over the age of 50 who present with a testosterone deficiency also show a loss in bone density. Which led to the recommendation that men who present with low-trauma bone fractures have their testosterone measured.
5. Obesity
If you have noticed a significant weight gain, particularly around the midsection, which cannot be explained by a lifestyle change in your diet or activity, it could be as a result of lower testosterone levels.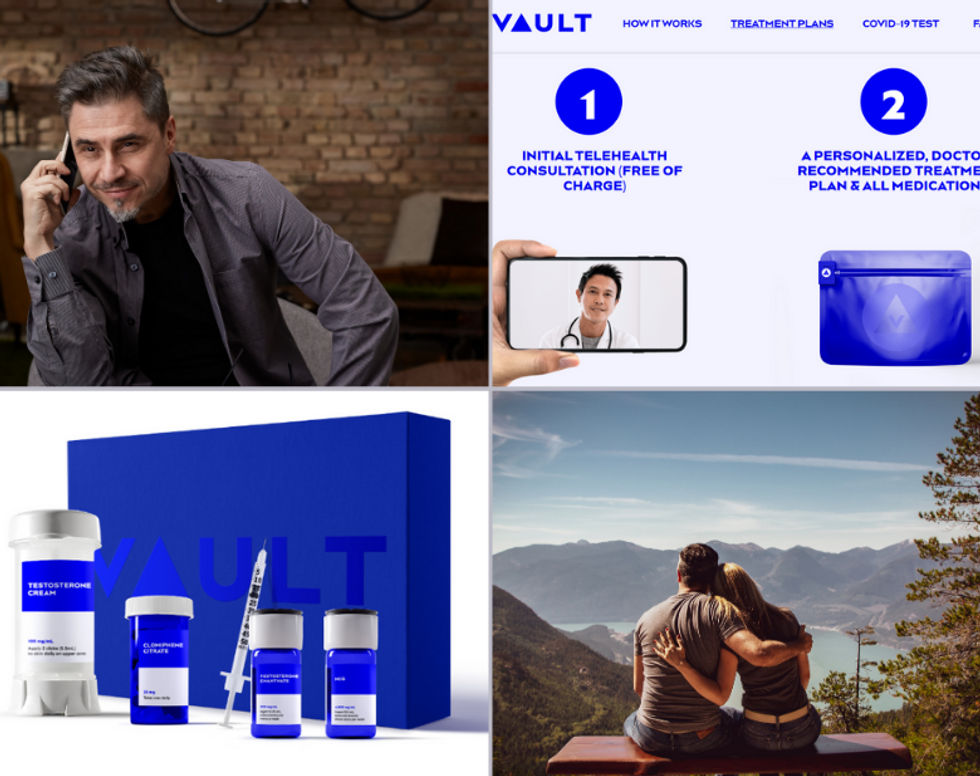 Obesity can be caused by many things, including diabetes, and can have many effects on the body, one being lower testosterone levels in men. Obese men are almost five times more likely to have low testosterone than men who are not obese, and men with diabetes are more likely to have low testosterone too.
These signs and symptoms don't have to be scary or worrying, it is important as men we are aware of them for our own health. And if you are experiencing any number of the above symptoms and need to know the next steps to take, know that Vault Health is here to help and to make the whole process simple and easy.
After a quick few questions on their diagnostic quiz, Vault Health will schedule a time for you to virtually, or over the phone, meet with a medical provider. They'll learn more about your symptoms and organize an at-home blood drawn by a phlebotomist to measure your testosterone levels.
Once your Vault Medical Provider has reviewed your results, they will talk you through your treatment options. Vault offers testosterone treatments in many forms, such as pills, subcutaneous self-injections, and creams.
If you decide to go with one, Vault will build a customized treatment plan to deliver your prescription medication right to your doorstep in discreet packaging. And all of this can be done from the comfort of your own home.
You'll also receive ongoing support including regular check-ins after starting treatment. Plus, there's 24/7 access to medical practitioners if you have any questions.
Taking charge of your testosterone deficiency doesn't have to be scary, confusing, or an inconvenience to your life when you choose