Fast Facts About Our Editor's Favorite Hair Wellness Brand
Getting thicker, fuller looking hair has officially never been easier.
Ditch the damage, the breakage, and the split end-age. Vegamour's lineup of plant-based powerhouse products is bringing back healthier-looking hair.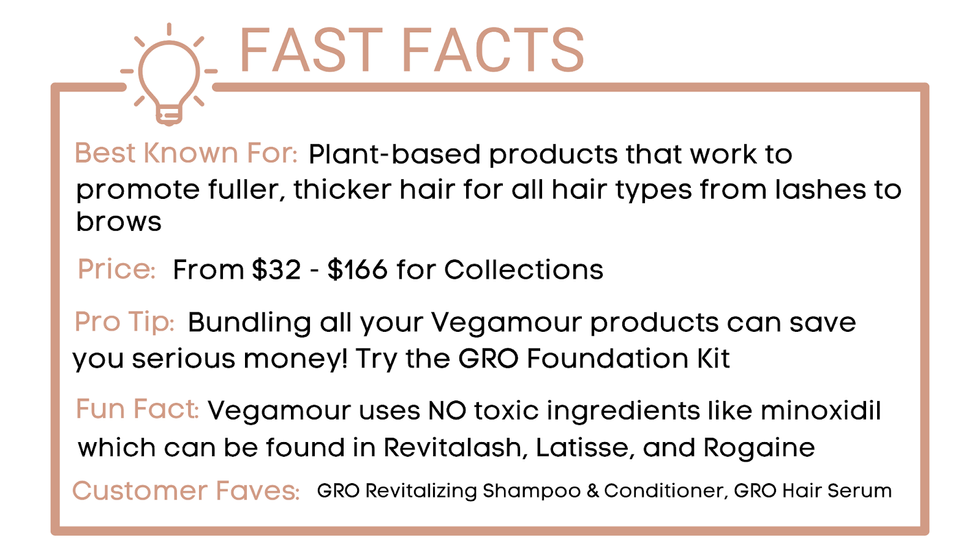 We've cleaned the hair out of our brushes one too many times – and that's this week alone. Between finding hair in the shower drain, in the sheets, and clinging to our socks and the backs of our shirts, enough is enough!
Luckily, we recruited help from our favorite hair wellness brand, Vegamour. They offer a robust line of products designed to promote fuller looking hair from lashes to brows, and, of course, our heads.
Vegamour's holistic approach to hair wellness is a case study in using premium, clinically-tested, vegan products. Their GRO Revitalizing Shampoo and Conditioner features their proprietary Karmatin™. This vegan keratin works to repair general cuticle damage and hair frayed by heat and coloring – i.e., Vegamour's secret ingredient that gives you those luxurious locks.
Beyond their viral shampoo and conditioner, Vegamour's lineup includes GRO Hair Serum and Biotin Gummies. Packed with biotin, folic acid, vitamins A, C, and E, and vitamins B-5, 6, and 12, the gummies work to stimulate new cell growth and keratin production. Plus, the strawberry flavor is amazing! No matter your preferred routine, Vegamour has something that works for you.
The GRO Hair Serum and the Shampoo and Conditioner use plant-based ingredients, including mung bean to help fortify cells, curcumin facilitates growth, and red clover which is clinically proven to prohibit the production of DHT.
They offer a super subscribe-and-save option that saves you up to 20% and all your products will be delivered every 30 days!
Vegamour is our only pick when it comes to stronger, fuller looking hair. Their plant-based and cruelty-free ingredients combined with innovative tech and undeniable results are our ultimate go-to to beat thinning hair.
JUST FOR YOU: Get 20% OFF Vegamour SITEWIDE with code BEAUTY20 at checkout! Follow this link to shop before they sell out!