I Used To Think There Was No Remedy For My Hair Until I Tried This All Natural Serum

I used to think that when it came to aging, there was no use fighting mother nature. I was okay with the greys that peppered my hair, and even with the fine wrinkles around my eyes—if nothing else, I was healthy and exercised regularly, and didn't look older than my age. But when my hair started to thin out in my late 40s, I started to really panic about age for the first time. I didn't know what to do because I felt unattractive without my healthy head of hair. My confidence really plummeted.
When a friend told me that I could stimulate growth naturally with a VegamourHair Serum, I was skeptical—I'd already tried vitamin supplements (totally ineffective) and homemade protein egg masks, but nothing helped. So I wasn't sure how much of a difference it would make for me. And the last thing I wanted to do was use a bunch of harmful chemicals.
But after browsing their site, I saw that Vegamour is natural and vegan, and has been proven to work just as well or better than brands that rely on chemicals or animal hormones. Apparently, their products work by stimulating your body's natural ability to produce hair. My first thought was: Could it really be that easy? And then: What if it's really that easy? Although I still wondered if it was too good to be true, I can say that I liked browsing their site. I felt like they were speaking to real women like me, and didn't promote some impossible standard of beauty.
Vegamour
Vegan Haircare
Free of Sulfates, Silicones, Parabens, Gluten, & Artificial Fragrances
Shop Now!
Vegamour has lots of different hair products like gummies, supplements, and serums. They even have variations that include hemp oil (something I've heard is a godsend for helping with pain and inflammation). My skepticism hadn't totally gone away, but I knew I had to try it for myself to be sure. So, I ordered the GRO Hair Serum to put it to the test.
When I was younger, I had the thickest, longest dark hair. So the fact that it was thinning made me feel like a completely different person. So, despite my healthy disbelief, I was actually pretty hopeful when my delivery arrived. The serum is safe for everyday use since it only has natural ingredients like mung bean and red clover (which is apparently a powerful source of phytoestrogen—who knew?). I knew that fixing my hair would take some time, so I decided to give it at least 3 months before coming to any conclusions.
By day 45, I noticed that the roots of my hair looked a little less patchy, and my strands were less brittle. I could wear my hair up and not feel self-conscious. The problem wasn't totally gone, but the improvements so far were noticeable.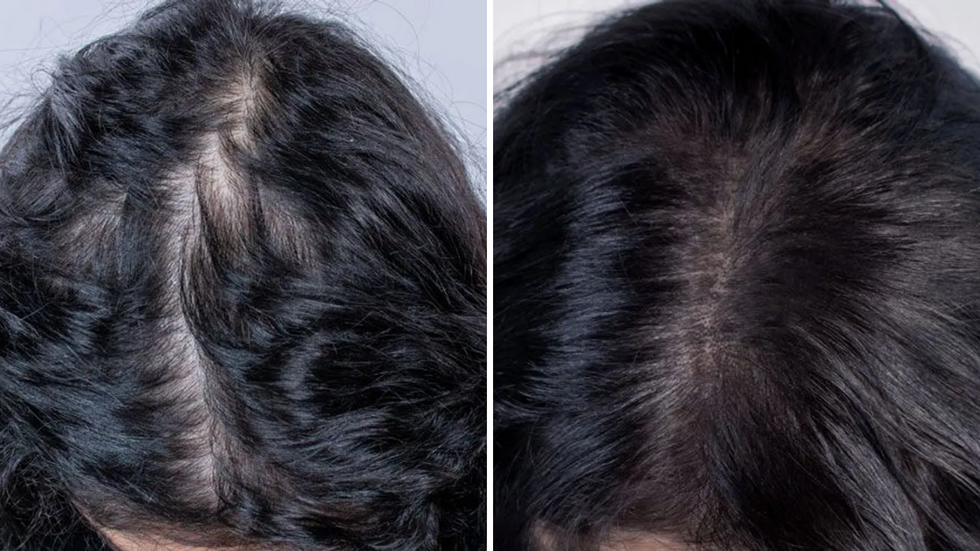 I was so happy with the progress that I decided to sign up for the subscription, so I never have to worry about running out and slowing down the results. Plus, it saved me $8 every month. I was so happy with Vegamour's Hair products that I also decided to treat myself to their Gro+ Advanced Lash Serum. I've always wanted longer eyelashes, and because I totally trust Vegamours natural products, I couldn't wait to try it.

Now both products have become a part of my daily routine, and the results speak for themselves. Friends have even been asking me about how I got my hair and lashes to look so good, wondering if I'd tried a new brand of makeup or hair growth hormone. I know some women like to keep their beauty secrets hush-hush, but now that I've found something that really works, I want to shout it from the rooftops. Aging might be natural, but so is Vegamour, and there's no reason why every woman shouldn't be in on the good news.
Just For You:Starting 8/27 and for a limited time only, get 25% off absolutely everything with code Save25!