The Delicious, Immune-Building, Supplement You Need For Thick & Lustrous Hair
I think about everything too much. And then I think too much about thinking about everything too much, and then I think how much I'm thinking and then - aargh! It's a vicious cycle.
In the past few weeks, my mind has been….strong, so I have not been sleeping well and I noticed my hair looks different. My hairline looks farther away and my hair doesn't look shiny the way it used to.
Online research suggested that my compromised hair health might stem from poor diet - check; high stress levels - duh; and an overall internal imbalance - ya think? To rescue my hair, I should eat protein, complex carbs, and take a supplement. Bingo!
I went for the vitamins at the back of my cabinet, but they were expired. That's how bad I'd been at taking them.
I asked my friends if they had any recommendations for vitamins that A) could support hair growth and B) I'd actually remember to take, and one friend recommended getting Vegamour's hair growth powder delivered to my home.
Right off the bat, that sounded weird to me, but she said you just mix a scoop in a drink once a day. That sounded way more pleasant than taking horse pills, but what was in it?
I took to the website to find out. Vegamour's mission is to provide vegan hair growth solutions without harmful ingredients. Sounded great! The powder was full of vitamins, minerals, and adaptogens:
Vitamins A, B, C, and Zinc
Selenium - includes the potential to slow the body's over-active responses to certain aggressive forms of cancer
Turmeric - holds amazing anti-oxidant, anti-inflammatory, and anti-microbial properties. Turmeric is known for its health benefits all around the world
Ashwagandha - decrease markers of inflammations
Resveratrol - has been shown to inhibit the rhinoviruses (HRV), the main cause of common colds
Horsetail - known for its anti-inflammatory, antibacterial, antimicrobial, antioxidant, coagulant, demulcent, diuretic, and astringent activity
Cystine and cysteine - modulate immune system
Grape seed extract - increases antioxidant levels in the body and bloodstream, counteracts effects of free radicals, protects heart tissue and the cardiovascular system and promotes a healthy immune system to fight bacterial and viral infections.
Vegamour's GRO Hair Boost Adaptogen Supplement seemed like such a practical, time-efficient way to consistently get the nutrients my hair and body needed. Plus, it's vegan, safe for everyday use, no toxins, no hormones. But the best part is - there should be visible results as soon as 90 days.
And . . . mmm, yummy flavors - Berry, Matcha Green Tea, and Chai Latte. I ordered a one-time monthly batch of the Chai Latte at $68 - just over $2 a day. If I don't like it, I can return it at any time, so I figured, what's to lose?
When the powder arrived - at my door, thank you, Vegamour! - I immediately stirred a scoop into my almond milk - delicious!
That weekend, I scrolled through the GRO Hair Boost Recipes from Vegamour's blog. Everything looked delicious!

That week I tried Pumpkin Chai smoothies (improves hair re-growth), Maple Chai Smoothie Bowls (for hair strength), and the ambrosial Pineapple Chai Smoothie (for shiny hair).
Then I sat on my deck with a smoothie, looked up at the sky, and tried to relaxxxxxx.
When the following month swung around, subscribing was a no-brainer - I saved $10 a month and got free shipping!
I'm now a full-on Vegamourfan - I haven't missed my daily drink once and I actually fell in love with the Matcha Green Tea (I still love you, Chai Latte) - and what a tremendous improvement.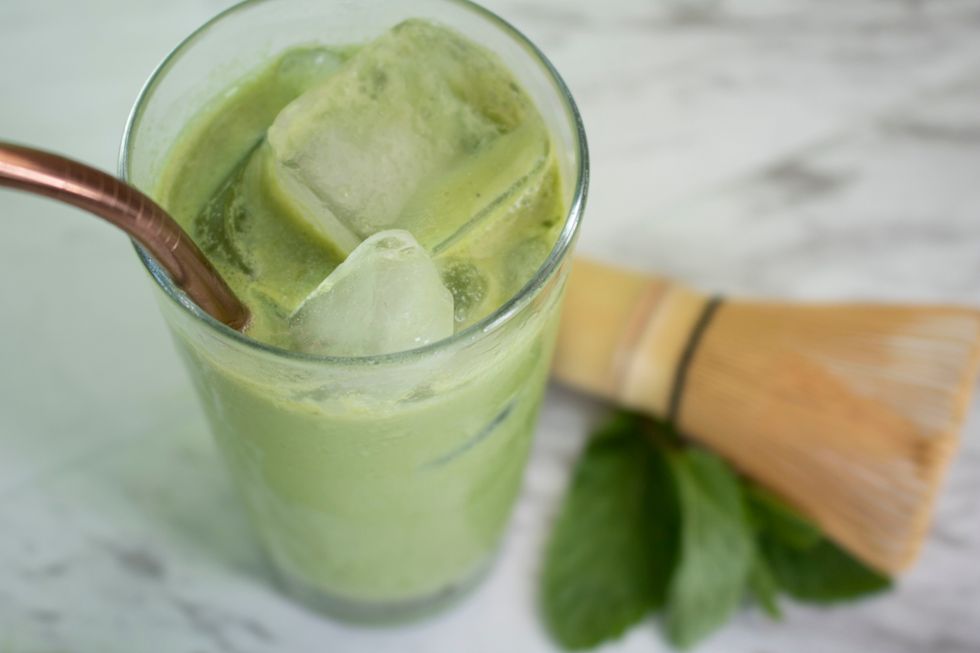 I feel stronger, my hairline looks better, and my hair feels and appears noticeably fuller. Just the fact that I'm taking better care of myself has also made me feel so much calmer.