Our Editors Tried Vegamour's Top 3 Products For Fuller Looking Hair. Here's Our Review.
Hair loss is a part of life. We all lose hair, it would be unnatural if we didn't. And while we can't control everything about our hair we can focus on our hair wellness.
Without a clear routine we found that our hair often fluctuates from an A+ hair day to a call for serious damage control. It's a struggle for anyone to find the optimal regimen, with the right products.
As beauty editors, we set out to do just that and luckily we found Vegamour.
Vegamour's holistic approach combats thinning and breakage while boosting shiny, healthy-looking locks. They use scientifically-proven ingredients and offer clinically-proven outcomes with visible-results after 90 days.
Here are our top three recommendations from Vegamour: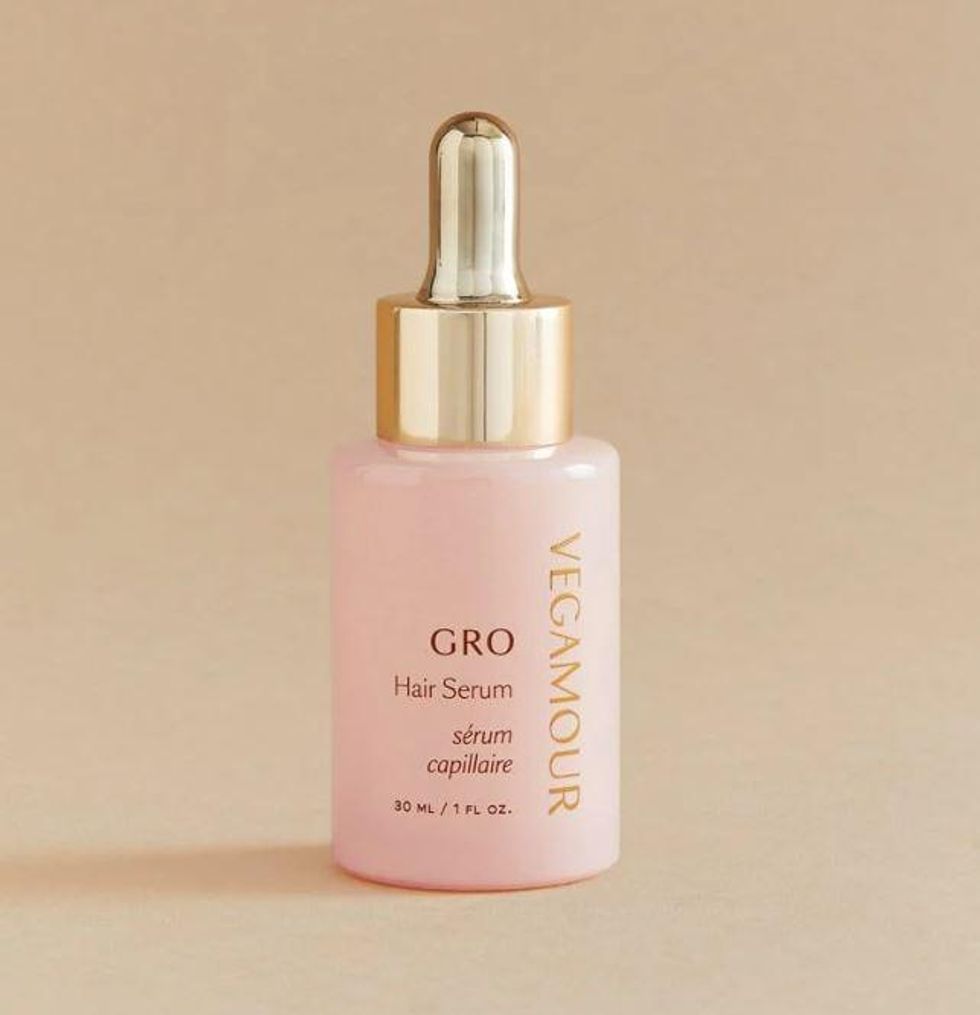 What It Is: A plant-based, vegan, cruelty-free, multi-tasking serum. It contains phyto-active ingredients like mung bean, curcumin, and red clover, which are rich in vitamins, antioxidants, and have anti-inflammatory properties.
What It Does: This serum supports a balanced follicular system from the inside out. It soothes the scalp and revitalizes roots while improving hair growth in targeted areas.
Price: $48.00 with subscription (delivered every 30 days)
Our Thoughts: Hair loss is caused by a variety of factors — stress, hormonal changes, poor scalp health, lack of sleep, and more. So, having a go-to hair wellness product is essential. Vegamour's Hair Serum is clinically-tested to reduce signs of shedding and increase the appearance of hair density — giving you those luscious locks you've always dreamed of. Vegamour's double-blind clinical study reveals that users saw an increase in hair density by up to 52%.*
GRO Hair Serum is our hair savior. Massage a few drops into your scalp daily — simple and easy. Since there's no rinsing, it's a straightforward process that you can incorporate into your daily routine.
We especially love that Vegamour doesn't contain Minoxidil — a common ingredient in hair loss treatments like Rogaine. While it may be effective, this chemical can have harsh side effects such as headaches, acne, inflammation, and even sexual dysfunction. On the other hand, Vegamour is 100% vegan, clean, and cruelty free which means that their products are formulated without sulfates, silicones, parabens, gluten, or artificial fragrances used.
GRO Revitalizing Shampoo and Conditioner Kit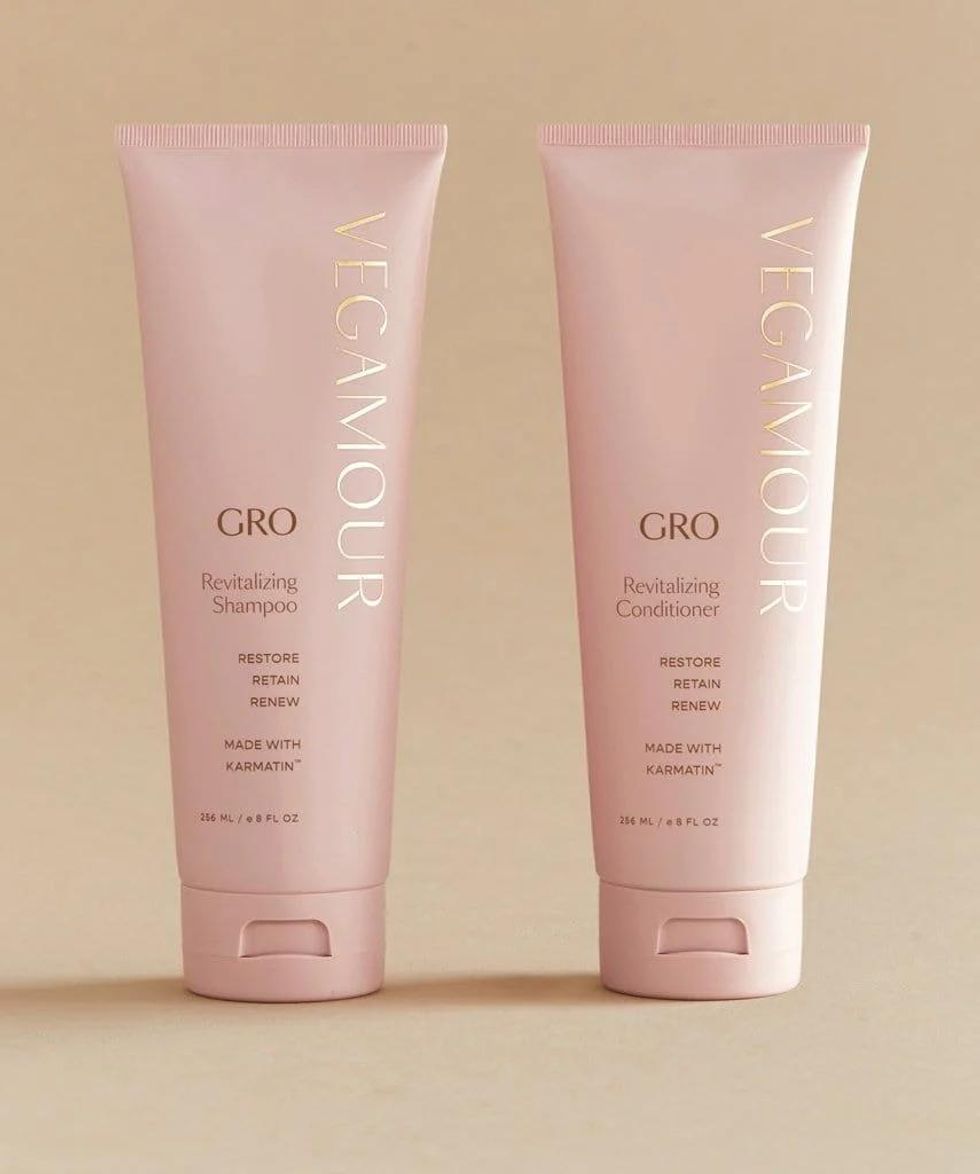 What It Is: This clean and color-safe hair wash duo is made with Karmatin™(vegan keratin), wild harvested marula oil, organic murumuru butter, and ximenia oil.
What It Does: Works on all hair types to restore shiny and healthy-looking hair. Utilizing microencapsulated vegan b-SILK™ protein, it physically bonds with follicles and remains on the strands to ensure nourishment.
Price: $74 with subscription (delivered every 30 days)
Our Thoughts:Shampoos and conditioners are the foundation of a quality hair care routine. Vegamour's power-packed formula goes above and beyond by soothing and strengthening damaged hair cuticles. Once we swapped out our generic shampoo with Vegamour, the difference in our hair and confidence was significant.
Plus, you can use these every time you wash your hair. The Karmatin™ is fantastic for protecting your hair from damage caused by heat, oil, and dust in your day-to-day life.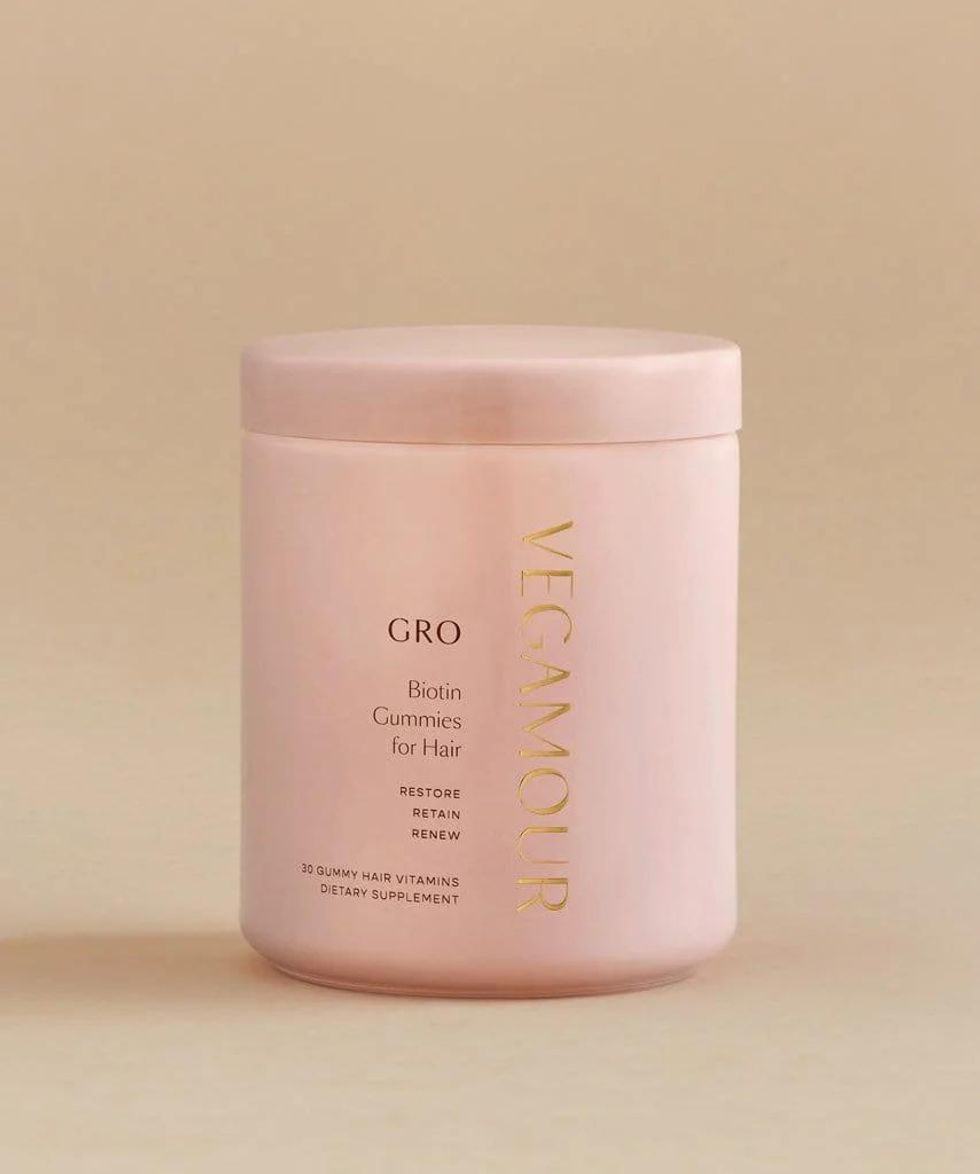 What It Is: These strawberry-flavored, vegan Biotin Gummies contain biotin and folic acid, as well as vitamins B-5, 6, and 12, supporting your body's keratin and collagen.
What It Does: Vegamour's brilliant Biotin Gummies provide Vitamins A, C, and E which work to neutralize follicle-damaging free radicals — while zinc helps promote and maintain scalp health.
Price: $30 with subscription (delivered every 30 days)
Our Thoughts: For overall hair wellness, take a 360° approach. Vegamour's GRO Biotin Gummies allow you to do just that by taking an interior approach that's yummy and easy to incorporate into your daily routine.
Like any real change, you need to stick with the gummies to see visible results. While everyone's different, Vegamour claims that you can see results in as soon as 30 days. We strongly recommend you subscribe so you receive convenient deliveries — and free shipping!
Final Thoughts
Your #HairGoals are more than possible with these
Vegamour
must-haves on your side. Vegamour can help tackle the root cause of damaged hair and repair it from
within
. The gummies, serum, and shampoo + conditioner duo provide everything you need. Plus, results are undeniable!
Vegamour's streamlined hair care allows you to simplify and effectively take on your hair wellness. Try our favorites for yourself and see how you can make every day a great hair day.
JUST FOR YOU: Get 20% OFF Vegamour SITEWIDE with code BEAUTY20 at checkout! Follow this link to shop before they sell out!


*Results from a double-blind, in-vivo clinical study involving 40 subjects over 150 days.