Cards. Candy. Chocolates. Flowers. Valentine's Day has become synonymous with showing your affection through gifts and expensive prix fixe dinners for two at dimly lit restaurants. But, it doesn't have to be! Whether you go all in for this lovers holiday or try your best to dodge happy couples kissing in the streets, Valentine's Day is a great excuse to indulge in some seriously good food.
Instead of going out this year to celebrate, we suggest you stay home, crack open a bottle of wine and cook up a storm instead.
Restaurants can be overly crowded, and overpriced on Valentine's Day, and finding a menu that's both romantic and vegan can be like finding a needle in a haystack. Why not snuggle up with your main squeeze or get dressed up and throw a dinner party for friends instead? No matter what your relationship status is, Valentine's Day is all about enjoying good food, good wine, and good company.
Here's the perfect meatless menu to make for a very vegan Valentine's Day for two, or for a crowd of friends:
Appetizer: White Bean Crostini with Pesto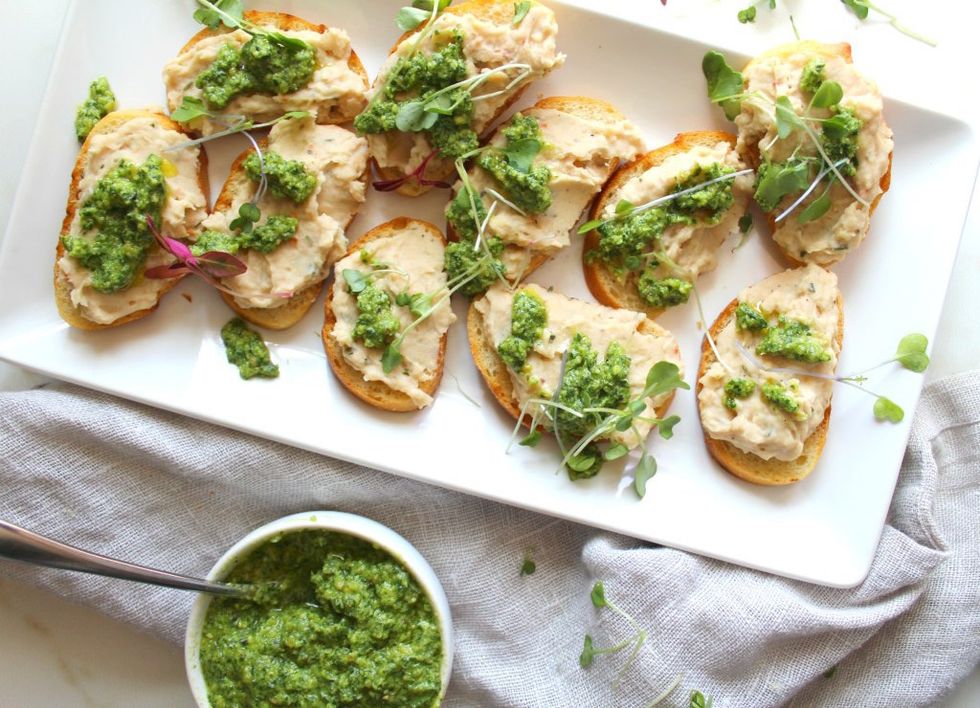 Vegan Valentines Day Appetizer RecipeThe Savory Vegan
This vegan crostini recipe is the perfect thing to make for guests to munch on while you put the finishing touches on dinner. A delicious, creamy spread served on a toasted baguette is always a hit. Cannellini beans, olive oil, rosemary, thyme, and garlic are whipped together to make the tasty white bean dip. The basil packed pesto skips traditional parmesan for a vegan variety instead. Top your crostini with micro greens or even a chopped nut like pistachios for an added crunch.
Salad: Seared Radicchio and Roasted Beets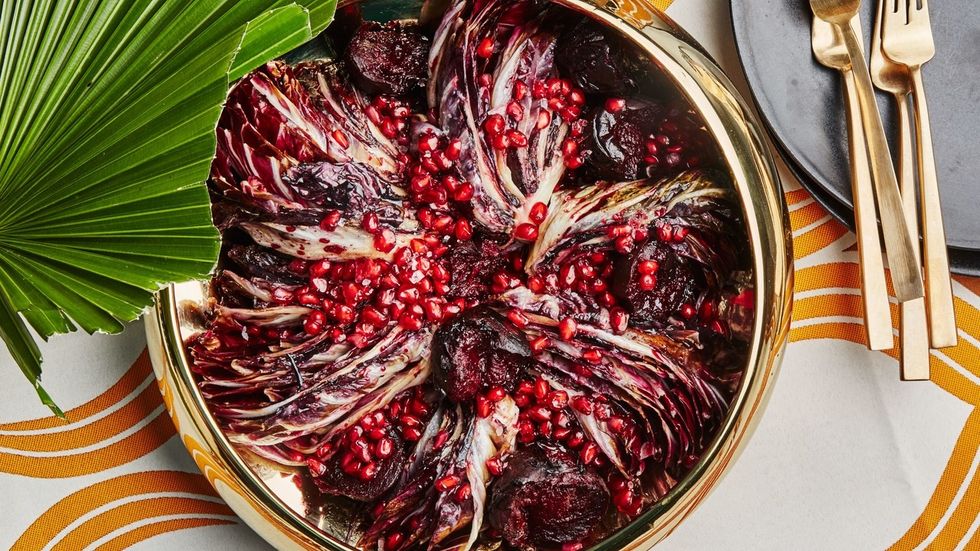 Vegan Valentine's Day Salad RecipeBon Appetit
Instead of throwing together another traditional green salad, why not serve up a beautiful, red winter inspired salad? This seared radicchio and roasted beets recipe from Bon Appetit is festive and absolutely delicious. It's also surprisingly simple to make.
The beets are roasted until slightly charred for added sweetness and the radicchio is pan fried until the edges are slightly browned. Browning means more flavor! The cooked veggies get drizzled with a delicious pomegranate dressing and then topped with flaky sea salt, a little olive oil, and beautiful, crunchy pomegranate seeds. Yum!
Main: Zucchini and Roasted Tomatoes with Pasta and Dried Olive Flavor Shake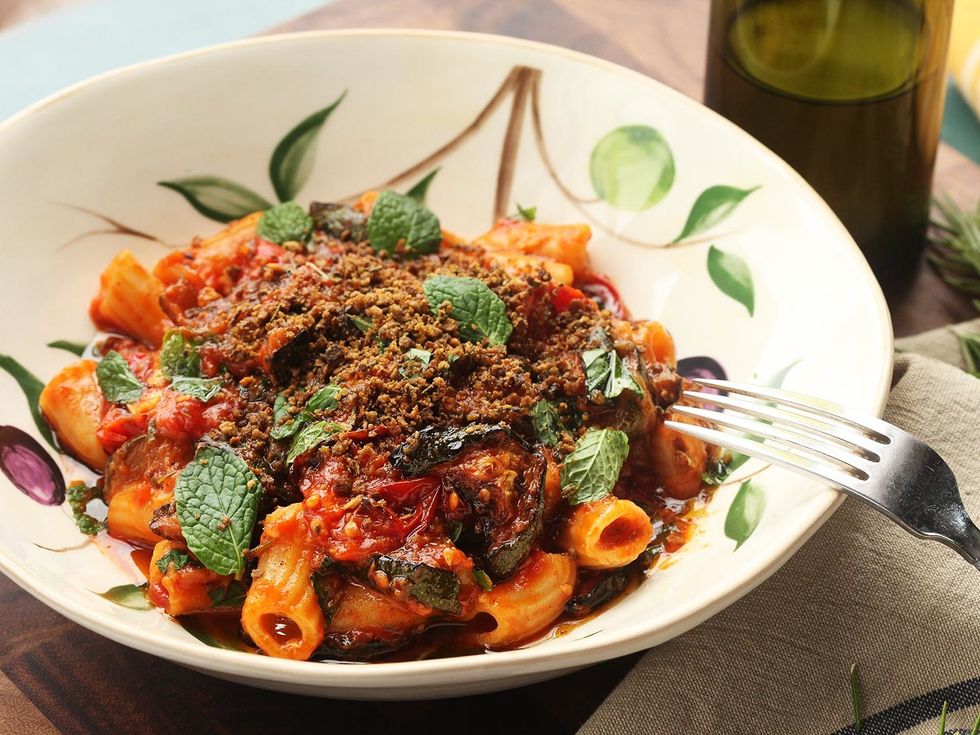 Vegan Valentines Day Dinner RecipeSerious Eats
This vegan pasta recipe is full of flavor! It's earthy, herby, and indulgent. The perfect components for a romantic valentine's day dinner. Sure, this is a pasta recipe, but the slow roasted zucchini and tomatoes are the real stars here. The rigatoni is really just a carby vehicle to enjoy the mouth watering sauce.
Slow cooked garlic and rosemary are infused in the olive oil to bring flavor into every bite and the tomatoes are roasted at high heat to bring out concentrated flavors. The finished dish is topped with a homemade dried olive and miso shake, but you could just as easily top this pasta with more herbs or vegan parmesan instead.
Dessert: Vegan Chocolate Chia Mousse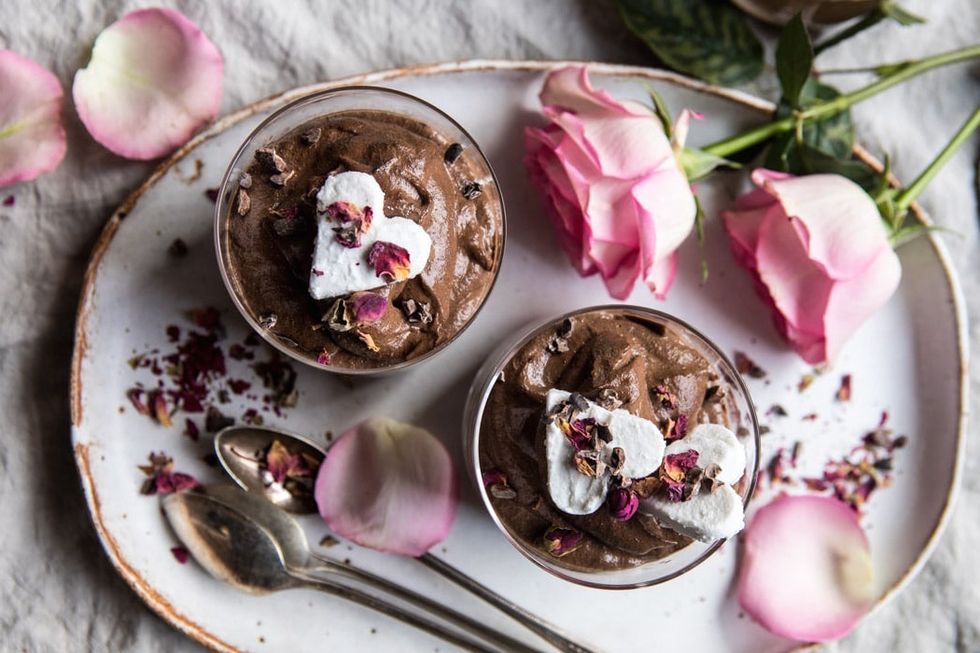 Vegan Valentines Day Dessert RecipeThe Half Baked Harvest
Nothing says Valentine's Day like chocolate right? This chocolate chia mousse recipe from The Half Baked Harvest is the perfect vegan dessert recipe to make this February 14th. Even though this mousse recipe is vegan you would never guess when tasting it!
Like any good mousse should be, it's chocolat-ey, silky, smooth, and indulgent. The best part is it also only takes 6 ingredients to whip up and can be made the night before. Top the finished product off with a homemade coconut cream, aquafaba, or extra cacao nibs and dried rose petals!