Why A Washable Rug Is The Best Thing We Bought For Our New Home
My husband and I had the same furniture from our very first home — back before the dog and the kid. So when we moved into our new place, we had to upgrade everything.
Before the new furniture and decor arrived, my friend, Brooke, had us over for a dinner of spaghetti and meatballs. Our daughter's five and a little sloppy, but Brooke said that she could get as messy as she wanted — the rug was washable.
I was surprised — it was gorgeous! A deep green with a giant tiger on it, it had that maximalist look you only see on home blogs. She'd invested in a Ruggable.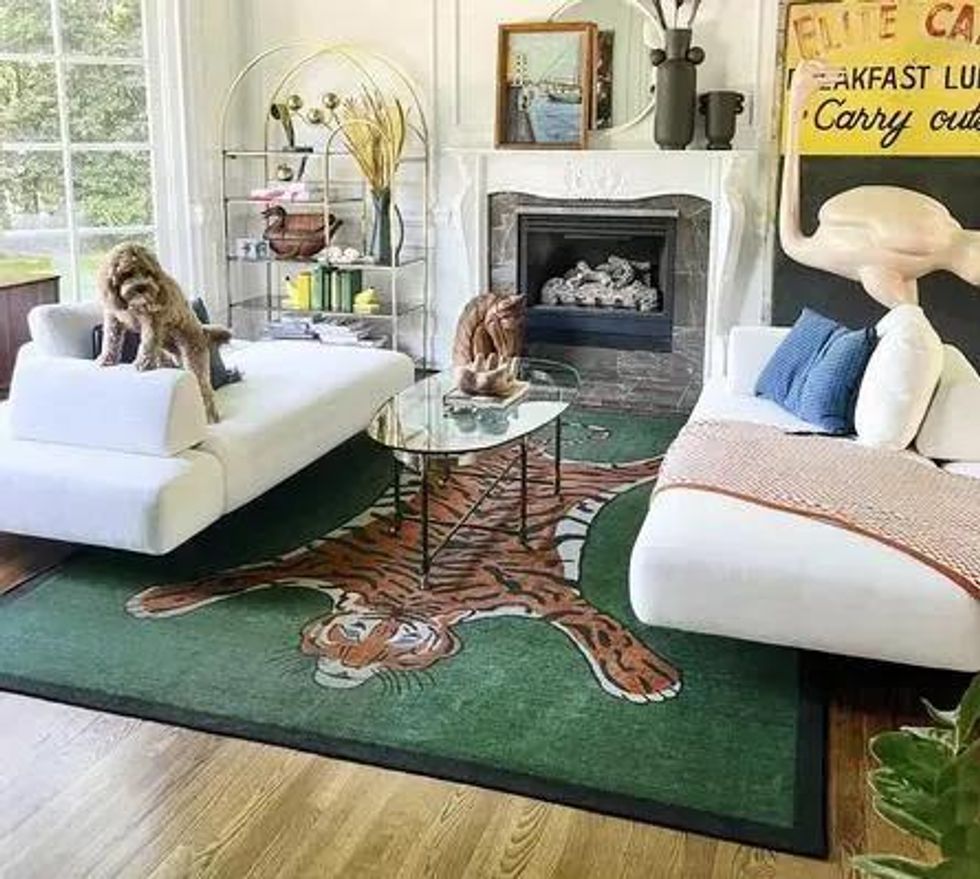 She said her son had spilled cranberry juice all over it a week ago, but there wasn't a trace.
When I got home, I had to see if Ruggable was right for us. Their rugs come in every possible size — from doormats to 9x12. And then there's the amazing range of colors and patterns — 1000+ designs. They are so much better than the rugs I've seen on other websites. I still wasn't sure if I believed the durability, so I took a look at some reviews:
" Aesthetically this rug has exceeded our expectations and its softness was a happy surprise. We are so glad that it has been so easy to clean – with 4 little kids and a new puppy it's so important to know that our investments are worthwhile!" — Lindsay, Damali Black & White Rug
⭐⭐⭐⭐⭐
" We love this rug and Ruggable was so easy to work with; they delivered a high quality rug at a great price, and it came in just as promised. We would highly recommend Ruggable and this rug to you." —Thomas F., Harlequin Trellis Natural Navy Re-Jute Rug
⭐⭐⭐⭐⭐
I was drawn to a beautiful, patterned 3x5 rug — the Kira Delft Blue Rug — for the front hall with the Cushioned Rug Pad for extra comfort. For indoor/outdoor use and under doorways, you can order a Classic Rug Pad. This patented two-piece system means you always leave the pad in place and simply wash or swap out the top layer.
I figured if I liked it, I'd go back for more. If I didn't, or it still smelled like wet dog after a wash, they have a fantastic return policy.
Ruggable
Lightweight and washable rugs
Over 1500 styles in various patterns and colors
Shop Ruggable now!
My rug arrived on time and was easy to assemble. My husband and I unrolled the rug and the Cushioned Rug Pad, stacked them on the floor, and voila. The material is different from my other rugs — more sturdy, but still cozy. I was so happy with the color — it instantly brightens up the space.
I almost wanted to spill something on it just to test the washing capability. But soon enough, my son ran through the house in his muddy boots. I had my excuse!
I grabbed the top cover, and dropped it right in the wash. After a spin in the dryer, I was pleased to see that it wasn't wrinkled and the gorgeous blue hadn't faded at all.
But most importantly, no stains!
Once that sunk in, I felt such a sigh of relief. We're doing our best to dog-proof and kid-proof our home with things we like that will last, but it's hard. Knowing we got one aspect right makes a huge difference.
Next up? A kitchen runner — maybe with the same pattern as my friend Brooke or one of the subtle Star Wars, Disney, or Marvel patterns to surprise my husband. The best part is, since the cover is easily swappable, we can mix up the patterns as often as we like.
I can happily say Ruggable washable rugs are the only rugs we're ever going to buy from now on!