Why I Went With Coterie Over Bamboo Diapers
This post is in partnership with Coterie. We only endorse products we believe in.


Editor's Note: There will never be enough diapers around when there's a baby. It's even worse if you're a working parent juggling baby duties with a busy schedule who's looking for the softest, most convenient, diapers that are free from harsh chemicals…
Before Coterie
By the time my two youngest daughters – Kelly and Nia – came around, I didn't know where to start with diapers. So many moms told me which brands they use like Dyper and a few new brands my sister-in-law kept raving about.
I considered picking up a tower of newborn diapers from Dyper and quickly realized what an investment diapers is. On average, a benign $13-$15 single-pack purchase adds up to $3000+ over your baby's first few years! Way more than that tech-powered stroller or luxury car seat – not to mention the outrageous environmental impact.
Of course, I wanted to be sure I chose the best for my baby, my wallet, and the planet. I initially considered Dyper for the plant-based, bamboo materials and their stance against harmful chemicals and irritants.
But then, after doing some research, I learned that toxic chemicals are always needed to convert bamboo into viscose, resulting in more pollution and other environmental worries*.
I was shocked! In a frenzied state, I decided against diapers that contain a high amount of chemicals like bamboo diapers and took to the internet. There had to be other alternatives besides Huggies.
Luckily, I came across Coterie – a diaper brand creating eco-friendly diapers with double the capacity of their competitors, a quicker-wicking tech, and faster drying time. And they can help parents and babies get a better night's rest.
After reading through all their information and customer reviews, Coterie sounded exactly like what I needed. I figured that I had nothing to lose and made my first purchase.
After Coterie
Unlike other sustainable diaper brands, Coterie is extremely transparent about the materials and tech that go into their natural diapers. They're free of fragrance, lotion, latex, dyes, alcohol, rubber, heavy metals, parabens, phthalates, chlorine bleaching, VOCs, and animal testing.
The first thing I noticed immediately was how great Coterie diapers fit Kelly. And I'm already a big fan of their classic, yet minimalist, design. My partner noticed they're a bit higher in price, but after each of us got through work calls without a diaper break, we agreed it was well worth the investment.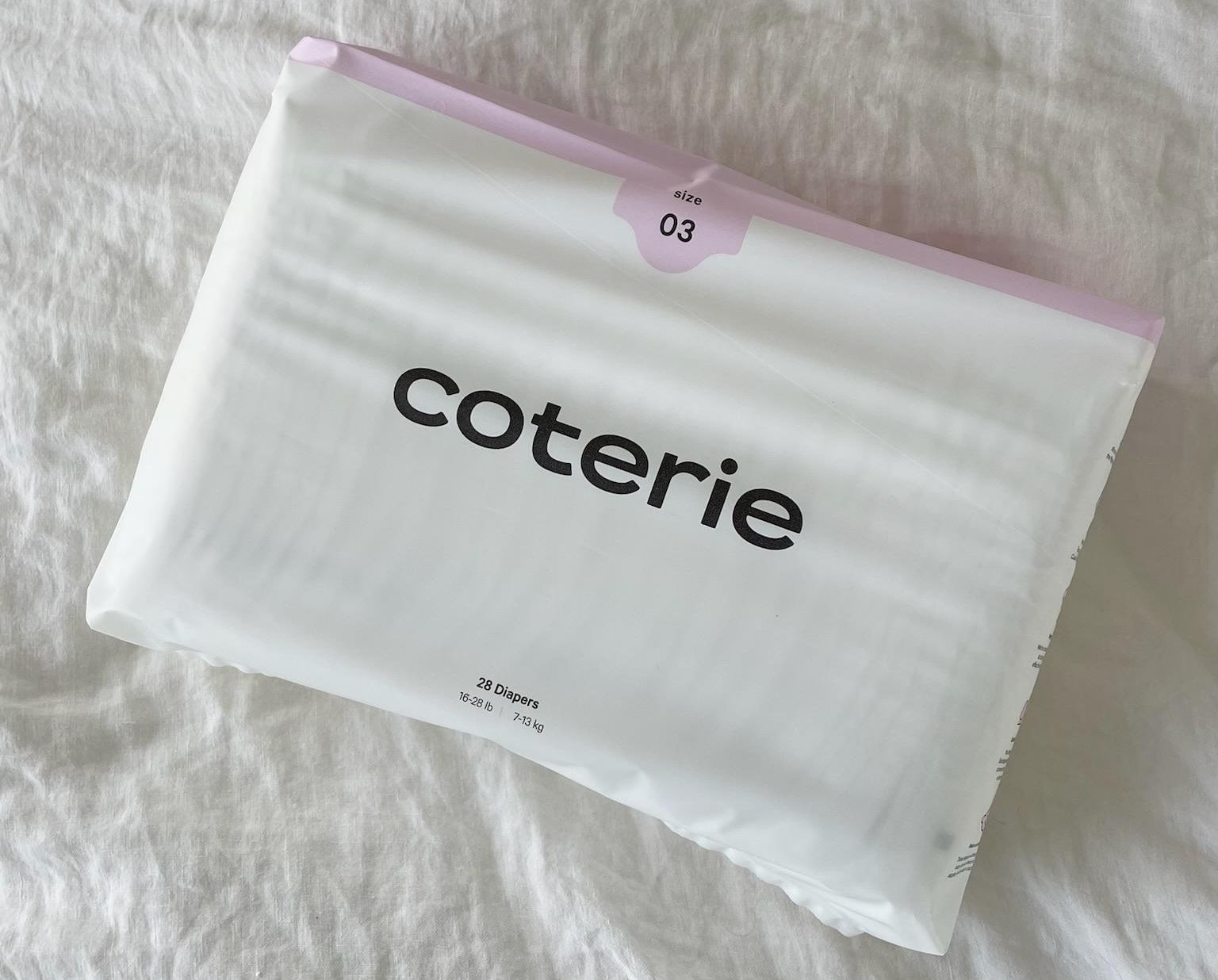 Coterie offers free standard shipping on orders over $49 and 10% savings on subscriptions and SMS order management. Super helpful for us busy parents who want to save money. Their flexible subscription service means I have one less thing to stress about; I'll never run out of diapers again!
When it comes down to it, Coterie is the best-of-the-best. Now that I know precisely what's in my baby's nighttime diaper – and now that she's not waking up at 4 am every night… I've never slept more soundly.
Takeaway
There isn't a better diaper on the market. I felt that Coteriediapers are more sustainable than those bamboo alternatives, plus the absolute best for our baby girls. Coterie really is the Tesla of diapers!
If you're looking for high-quality diapers that prevent messes, keep your little one dry, and protect your baby's delicate skin from rashes and irritation, then Coterie is the brand for you.