Why Splendid Spoon Is My Key To Being Kinder To Myself In 2022
I love the fresh start of a new year, but I'm not always sold on the resolutions. Some years I put together a whole list and completely forget about it halfway through January. So this time I wanted to focus on one easy(ish) long-term goal; be kinder to myself.
My job is hard, the year's been hard - I just want to treat myself with extra kindness and see what I can manifest. To get into the right mindset, I'm signing up for a plant-based meal delivery service so I've got healthy, nutritious meals covered and spend all my 'what's-for-lunch?' energy on living smarter.
Here's how I'm being kinder to myself this year:
1. Eat Breakfast
I don't eat breakfast on a regular basis, which makes no sense because I love breakfast foods. I go through a box of granola bars like that, so when I'm out or don't have time to whip up some scrambled eggs, I kind of just wait until lunch.
This year, I'm carving out time for the first meal of the day, every day. But even on my busiest days, I'm stocking up on high-protein, low-sugar smoothies from Splendid Spoon. Blueberry Coconut, Mint Chip, Strawberry Chocolate; what a delicious way to begin the day.
2. Practice Mindfulness
My weekly screen time report for my phone is through the roof. To cut down, I really need to do only one thing at a time; no scrolling while the tv is on, no scrolling while eating, etc. That also means not eating at my desk or mindlessly snacking while watching tv.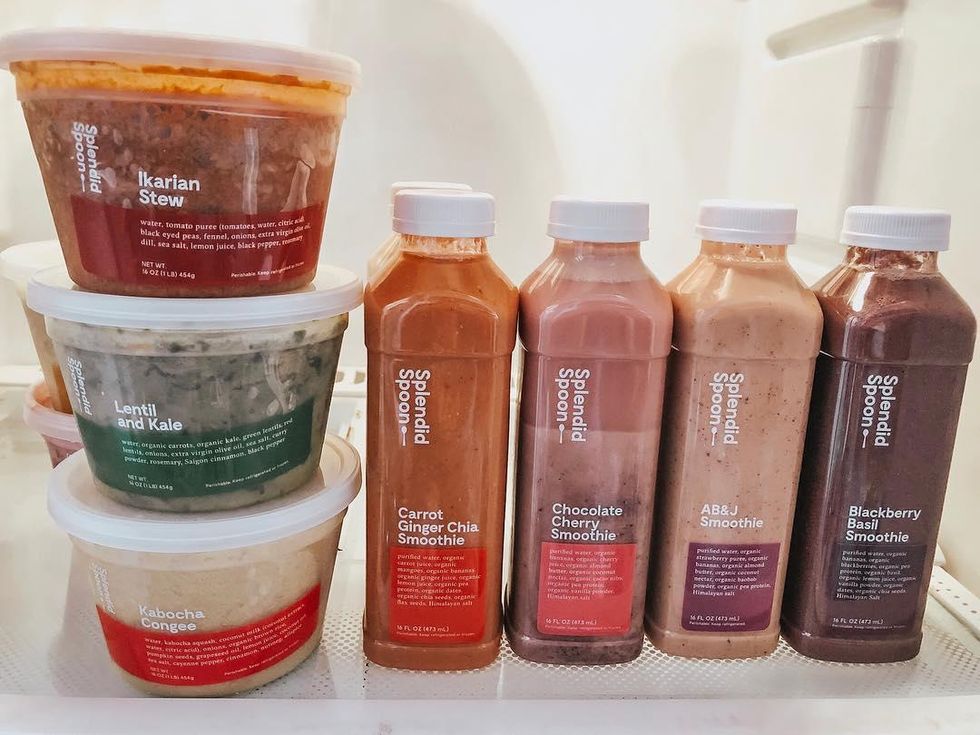 3. Cut Down On Processed Foods
Sometimes life gets busy and eating processed foods is inevitable! But with a little planning, I have to focus on foods that fuel my body as well as fill me. When I'm not buying last-minute takeout 4 times a week, there's plenty of room in my budget for healthier foods like Splendid Spoon. Incorporating various plant-based meals and sources of protein and superfoods can boost your immunity. I also just feel better overall when I eat better.
I'm so excited to see what I might unlock for the year merely by treating myself with kindness; packing myself a delicious breakfast or allowing for a half hour of television without slurping down a quick meal.
It's hard to make big changes on your own, which is why I'm eager to start Splendid Spoon. The Signature Breakfast, Lunch + Reset Plan let me mix and match 5 smoothies and 5 bowls along with 5 light soups for their 1-Day Reset to jumpstart mindful eating. With Creamy Butternut Squash Noodles or Green Tomatillo Soup to power me through the day, I feel more confident that I'll make better, healthier choices for myself.
The folks at Splendid Spoon are extending an exclusive new years offer to our readers! Follow this link and get $50 Off !