Editor's Pick: Why We're Endorsing The Juggernaut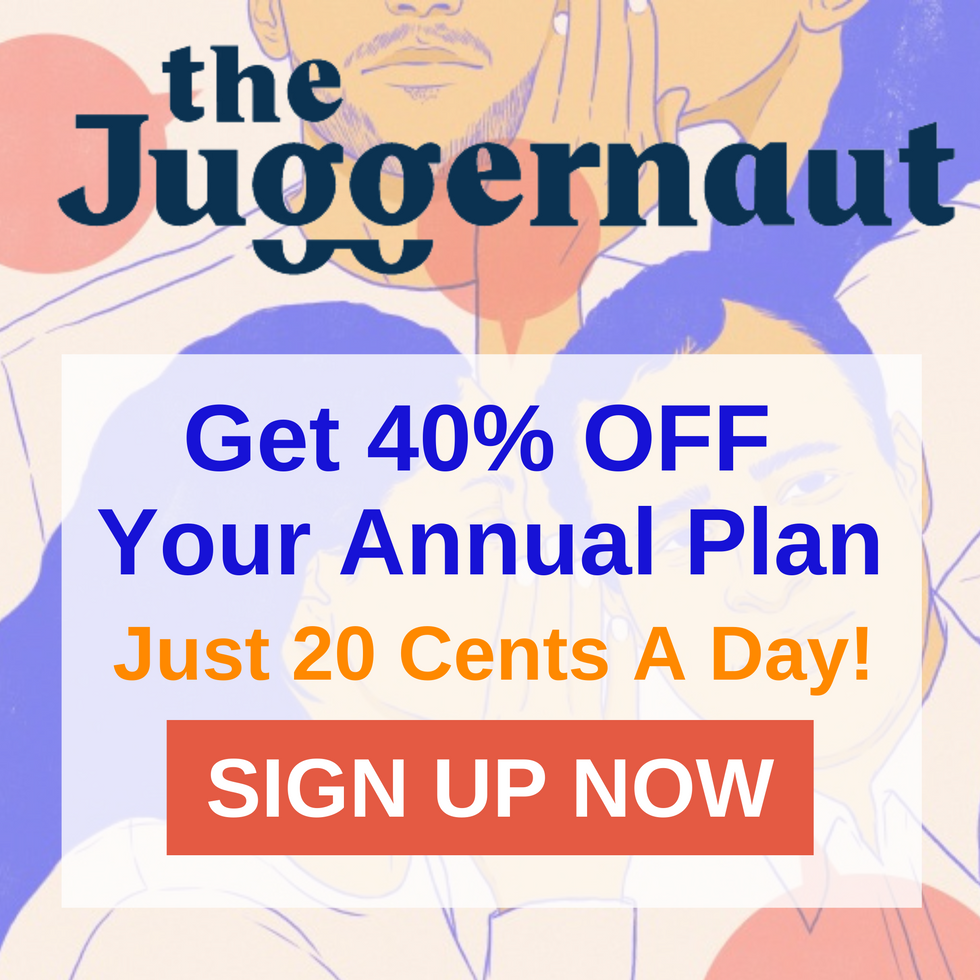 Our editors love to read as much as they write and we've decided to spotlight our favorite publication: The Juggernaut. Not only are they breaking ground with their articles, but they're inspiring us daily. Here's our rundown, review, and everything you need to know about this publication that's shaking up the monotonous media industry:
What It Is
What began as a free newsletter highlighting the news, achievements, and key issues in South Asian culture, The Juggernaut has snowballed into a reputable and revolutionary journalistic hub that focuses on everything South Asia.
Editors' Picks
Their topic selection is incredibly diverse, but to give you a taste of their offerings, here are some of our recent favorites:
The Rise of Sexy South Asians on Screen — the history of Hollywood's stereotypes of South Asian Americans and recent breakthroughs of how they are finally getting the sexy storylines they deserve
South Asians in Therapy: Challenging Norms and Taboos — the social expectation of South Asians to power through grief and trauma, and how a new generation is reclaiming their mental health
How Amar Bose Engineered Today's Sound — yes, that Bose — a fascinating history of a Bengali American kid who transformed the music landscape
You'll find articles on culture, politics, history, business, tech, and so much more.
The Paywall
Writers, editors, website designers, photographers — it all costs money (trust us, we know). Instead of relying on ad revenue and clickbait to drive traffic, The Juggernaut pays their staff responsibly and quickly thanks to reader-support. They can invest in their journalists, illustrators, and photographers to grow their careers and collaborate to cover new and exciting topics.
The Juggernaut is all about transparency when it comes to their subscriptions, which start as low as $1.40 a week — less than a cup of chai. Plus, they offer student, lifetime, annual, and monthly subscription plans, but the annual plan is the most popular.
Why it Matters
Taking a look at the top 40, top box office hits, top publications, top CEOs…. you're bound to find increasing South Asian representation. But not everyone is telling South Asian stories with depth and nuance. The Juggernaut is for everyone, but focuses on the population that's fastest-growing in the U.S. and the world's largest diaspora, but one of the least represented in mainstream media. (When we say South Asia, think folks originally from India, Pakistan, Bangladesh, Nepal, Sri Lanka, Bhutan, the Maldives, Afghanistan, and sometimes Burma.)
The stories featured in The Juggernaut aren't being told anywhere else, and we're so happy to support a publication that is helping to inform and shine a spotlight on the stories we need to know.
Cranking out some of the finest journalism on the web, we love The Juggernaut. Their stories are authentic, fascinating, balanced, and provide a point of view that's lacking in American — and global — journalism and media.