For anyone who has never heard of Gilmore Girls: on behalf of all GG fans, we're sorry. You're probably growing sick of all the fast-paced Rory and Lorelai-style GG talk, full of opaque cultural references, and have a lot of questions. Like, "Is the show really just about a mother and daughter? For 7 seasons?!?" The answer: No. There's some cute boyz thrown in here and there. But seriously, Gilmore Girls is the perfect comfort food; Lorelai offering up a powerful portrayal of the constant juggling act of being a single mother, and Rory delivering a touching coming-of-age tale complete with romance, an Ivy League education, and a strong cast of supporting characters. We're here to break down the Stars Hollow world for you and why you should binge watch the 153 hour-long episodes ASAP.
The Show's Legacy:
Gilmore Girls has such a lasting impact because of its more down-to-Earth storytelling approach. When you give summaries of each episode, you quickly realize not much happens in them. And that's exactly why the show sticks with you. As the show meanders through its plot lines, you feel like you're growing with the characters in real time. Palladino, the creator, writer, director, and executive producer of the show, does a good job of playing with American norms and ideas surrounding the female coming-of-age story. Rory does fit into a lot of neat boxes: a studious student, doesn't drink or do drugs, respects her elders, but then there are the occasional moments Rory steps outside of that box, like when she loses her virginity to Dean, who is engaged to another woman, in the most causal of ways. Add to that the fact it's one of the few shows portraying a three-dimensional single mother, and you get a groundbreaking feminist work.
The Must-See Episodes
"Love, Daises, and Troubadours" (Season 1, Episode 15): The finale of season 1 features an hilarious B-plot of Star's Hollow's in-resident troubadour raising a fit when a second troubadour comes to town. It's the best example of how this heartfelt show can occasionally have some hilarious, absurdist plot lines.
"The Big One" (Season 3, Episode 16): Paris delivers one of the most memorable television monologues ever when she finally loses it (double entendre, hehe) and delivers a Shakespearian soliloquy basically centered around the question, "Did I not get into Harvard because I had sex?" Sames, girl. Sames.
"Here Comes the Son"n (Season 3, Episode 21): A Jess centric episode? Yes, please. Originally meant to be the backdoor pilot for a Jess spinoff, this episode sees Jess travel to San Diego to find his father. There's tons of brooding and eye-rolling and we're here for every second of it.
"We've Got Magic to Do" (Season 6, Episode 5): This episode focuses on Rory and Emily's dynamic, Rory proving she can do just about anything when she takes over the Daughters of American Revolution party planning. Typical Rory. One golden moment: Paris asking Rory for money.
The Fashion:

Gilmore Girls aired during 2000-2007, which is arguably the most gaudy fashion years in American history. For Rory and Lorelai, any and all prints went together, corduroy could be worn as anything, and you could never have enough denim in your life. Watching the show today, it's fun to look back on all the suburbia YSK fashion filled with bootcut jeans, sweatsuits, and cut-off shorts.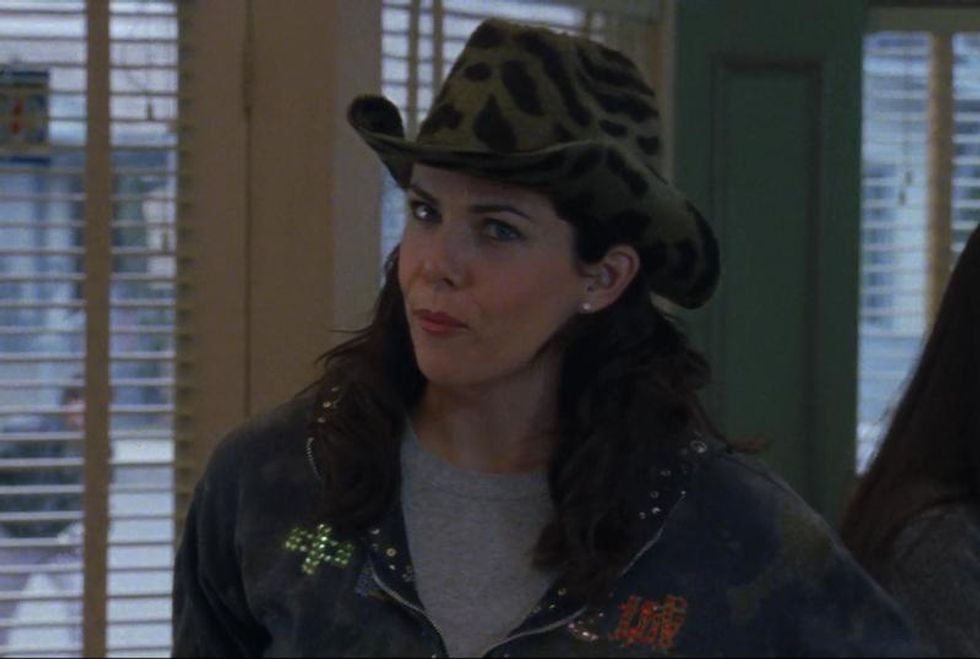 We know the leopard print hat is the first thing that catches your eye, but be sure not miss the bedazzled (Juicy Couture?) hoodie.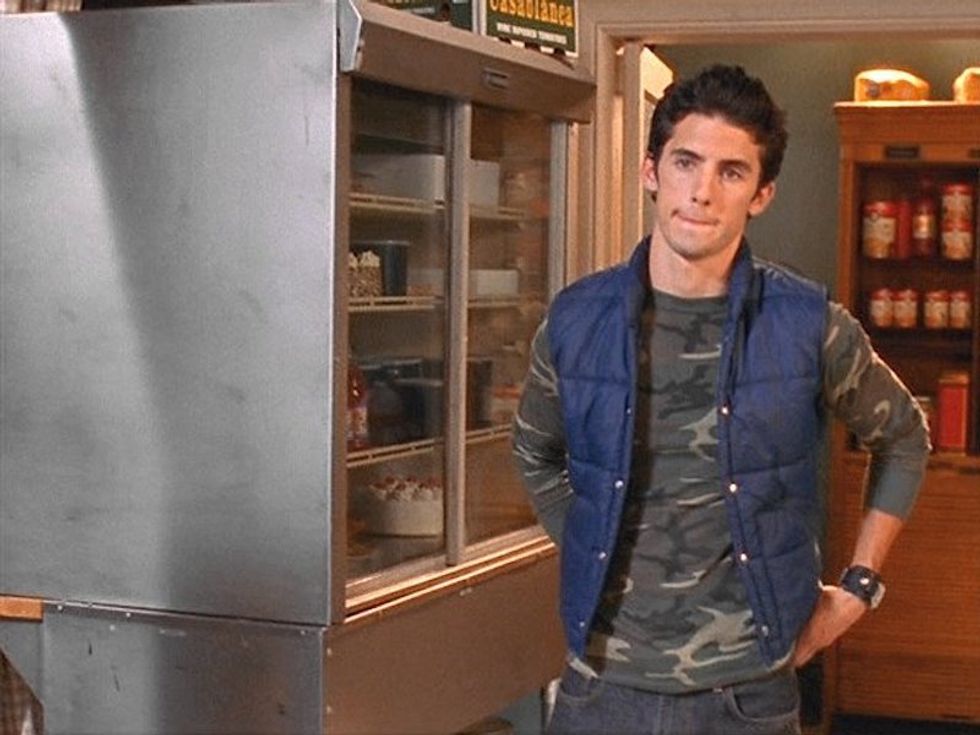 While Rory and Lorelai we're oft fashionably challenged, Rory's bad boy love interest "Jess", played by Milo Ventimiglia, delivered some cute Y2K fashion. I mean, who else can rock a puffer vest and camo so effortlessly? P.S. here's a cute fashion take on the look.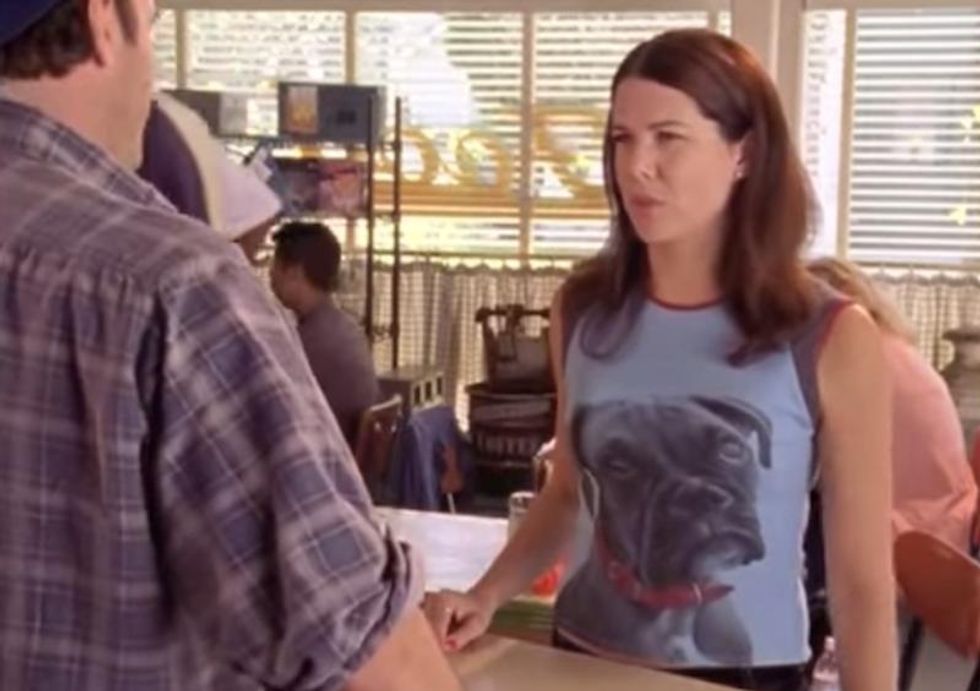 Throughout the show Lorelai was a staunch advocate of tight, awkwardly fitted clothes. Rather it'd mini-skirts or high rise shirts, Lorelai knew how to look as if she had outgrown all of her clothes.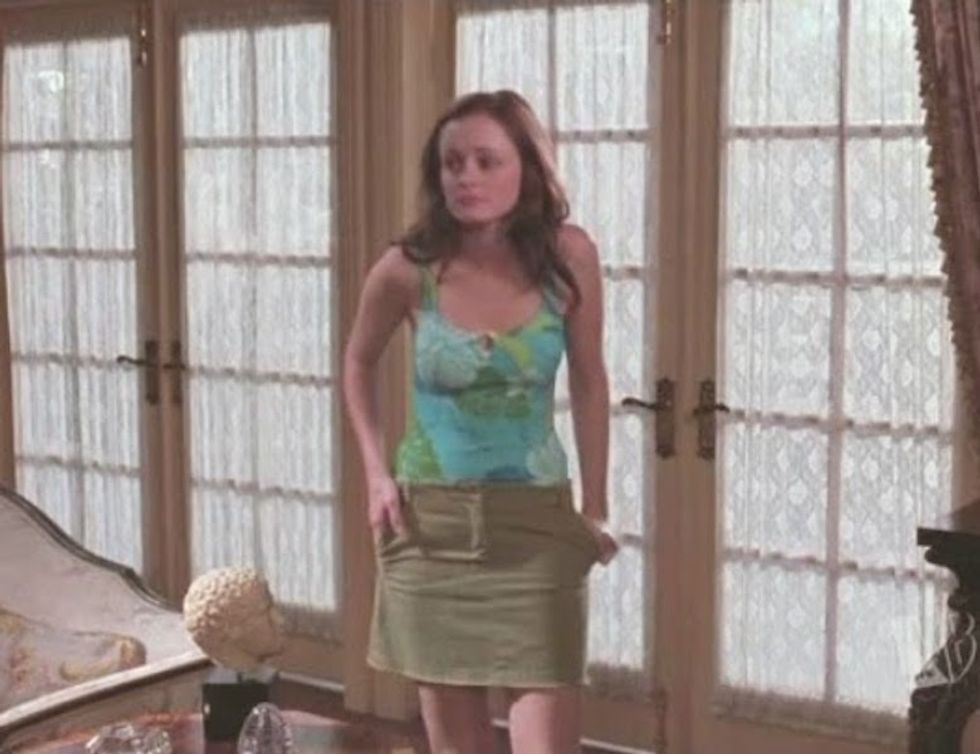 Rory looks about as uncomfortable in this outfit as we do looking at it.
Recommended Readings:
As you make your way through the show, there's is plenty of supporting materials to make the experience even better. The fandom around Gilmore Girls is pretty serious. It's as a ride-or-die as the fan clubs surrounding superhero movies, which is pretty impressive considering there is 0 CGI in the show.
Some things to fan-created goodies to check out as you plow through the show:
Gilmore Guys: This podcast of one experienced Gilmore Girls fan and one newbie features guest appearances from practically every cast member on the show and offers a lot of quirky behind the scenes trivia.
Gilmore Girls and the Politics of Identity: Essays on the Family and Feminism in the Television Series: For the academic, this book features some serious cultural analysis of themes in Gilmore Girls. For example, one essay examines "the role of food and its consumption as a narrative device throughout the show's development, evaluating the ways in which food negotiates, defines, and upholds the characters' gendered and class performances." It makes for a great, intellectual read and adds a lot of depth to the series.
The Soundtrack:Make your way through the songs playing softly in the background throughout the show with this bomb fan-made Spotify playlist.
So somehow bend time and find a way to cram 173 episodes in before Friday. Because if you thought the Gilmore Girls talk was at a fever pitch now, just wait until after the new episodes premiere. There's going to be a lot of GIFS and a lot of memes, and you don't want to miss out on them. Maybe you can watch two episodes at once? Put your Rory thinking cap on and figure it out!