Why You Should Be Taking Real Food Multivitamins
The older we get, the more we realize that we may not be getting our essential vitamins and minerals from our diets alone. In fact, even if you follow a perfect diet, it's still near impossible to consume all vital nutrients. Daily vitamins are an indispensable hack for those looking to boost their wellness and overall health.
And while pills, powders, and gummies line the shelves at the local store, we've recently discovered a fantastic new way to easily incorporate vitamins into our diet: GEM.
GEM Daily Essentials are bite-size vitamins packed with all your essential daily nutrients. Unlike brands like Ritual or Athletic Greens, or traditional drug store brands you have to remember to gulp down each morning, GEM is made with real, whole-food ingredients that you eat! Think about GEM as your wake-up snack. Just much, much better for you.
Since we'd never seen a multivitamin made from real food before, we decided to take a deep dive and see how GEM differs from your average one-a-day.
Here's everything you need to know:
WHAT is in it?
GEM Daily Essential bites are real-food vitamins loaded with a blend of all your must-have nutrients.
All ingredients are carefully selected to provide support for specific needs. The Daily Essential Citrus Ginger flavor features a wide range of 15+ whole-food-sourced ingredients that help with everything from digestion to skin and brain health, including:
Beta-Glucan
Black Pepper
Citrus and Turmeric
Pre- and Probiotics
Stone Fruit
Vitamin D3
Zinc
WHY should you take it?
92% of Americans are nutrient deficient. Incorporating vitamins into your diet is fundamental to maintaining optimal health. However, not all vitamins are created equal.
While pills, powders, and gummies are popular since they have a low price point and are easier to manufacture, your body actually prefers absorbing nutrients from real food. GEM is one of the most natural ways to efficiently and effectively include vitamins in your diet. While most vitamins are made with synthetics, fillers, added sugar, animal products, and other harmful ingredients, GEM has a holistic approach. Their vitamins are clean, simple, and easy to eat.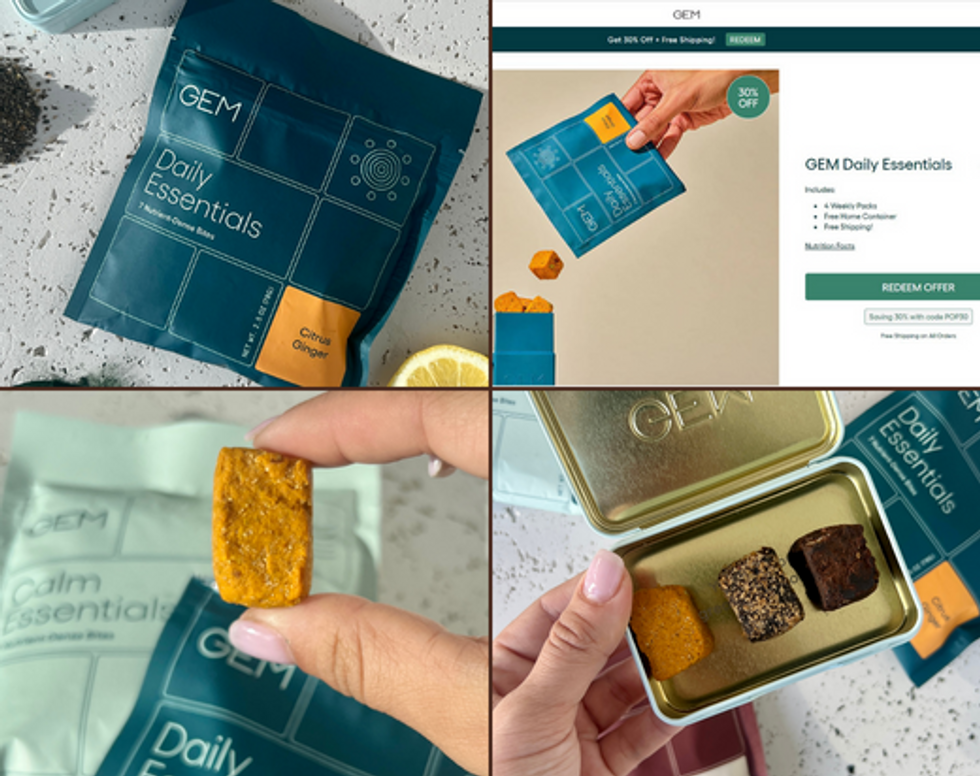 HOW does it differ from other vitamins?
Unlike traditional vitamin brands, GEM's philosophy is that food is medicine. Supported by a trusted board of scientists, doctors, and researchers, they're committed to kaleidoscopic health, meaning everything they do – from planetary sustainability to ingredient selection – is designed for whole-body nourishment.
Their Daily Essentials includes TLC for digestion, mood, and immunity, as well as probiotics, D3, zinc and turmeric.
No swallowing, no mixing, no fillers.
WHO should take it?
Everyone and anyone looking to take their vitamins in a healthier, more natural way.
Since GEM is completely vegan, gluten and soy-free, this is perfect for anyone with pesky gluten or dairy allergies.
GEM is also ideal for those who are tired of swallowing pills every morning. And as we age, the morning lineup of pills can get out of control. Eating these flavorful bites is super easy to incorporate into any routine.
WHEN should you take it?
While we love having our daily bite with our coffee, you can also take it at night. GEM Daily Essentials are ingenious – no refrigeration needed – so you can take these on the go on those hectic days.
We're absolutely obsessed with GEM's Citrus Ginger Daily Essentials and can't wait to try their lineup of Sleep Essentials and Calm Essentials.