Working Out Regularly Was Hard: Here's Why I Tried BodyBoss
As long as I can remember, I've felt about 10 pounds away from a confident body. Whether it's making sure I bought the high waisted swimsuit to hide my tummy or wearing cardigans to cover my arm flab, I just never felt 100% confident in my own skin. After I had my first child, Libby, I gained another 20lbs and found myself feeling really unattractive and uncomfortable in my new-mom body. It was a really rough time for me emotionally, my daughter became the absolute light of my life and gave me a whole new kind of joy, but I was also exhausted all the time, and the extra weight made me feel really insecure. I knew I needed to finally find something that could help me transform my body, so I could be a confident and healthy example for my daughter growing up.
I started doing some research, but I really didn't think I could find a program that would work for me, especially since I hate going to the gym (comparing myself to all those pink sports bra wearing 20-year-olds? No thanks) and now that I had Libby I didn't have time to anyway. I was chatting with some of the other moms on my new-mom Facebook support group, and they recommended BodyBoss. It's a fitness program you can do entirely at home, without equipment, and without a fancy smart TV. It's a book that explains everything along with videos that guide you through a 12 week program of HIIT strength training exercises--intense sessions that are less than 30 minutes each day, three days a week. I looked online and a lot of women seemed to like the #BossEffect, they even posted before and after pictures of the amazing results they saw in a matter of weeks.
I didn't think I would have the motivation to do workouts on my own, or I would do them wrong. But, the pictures online were real, with real women just like me achieving their goals. Plus, they had a really active online community where hundreds of women help motivate and support each other. It was hard to argue with the results staring me in the face, so I decided to be brave for Libby and take the plunge. I ordered the BodyBoss Fitness Guide, and poured myself a glass of wine to cheers myself for taking the first step.
The first day I tried the workout, I was really nervous. And I'm not going to lie; it was hard! Even though I found the first few sessions challenging (I didn't realize how out of shape I was!), I was impressed that I had an easy time understanding exactly what I was supposed to be doing because the book used pictures to make everything really clear. After the first week, something magical happened: the workouts started getting easier. Each week I found I had more energy, was stronger, and less sore. That amazing feeling of getting a little stronger each week ended up giving me the motivation I needed to complete the whole 12 week program.
After completing the 12 weeks, I lost four inches of stubborn belly fat from my waist, and was two jeans sizes smaller. I was more toned and stronger than I ever had been when I used to rely on dieting and cardio, and the super foods and recipes were so yummy, I got this whole new level of energy and confidence. Even my husband noticed and complimented me, a lot. BodyBoss really made all the difference, because they let me work out on my own time, without going to the gym. Now I don't shy away from mirrors, I don't feel like I need to keep the lights off when I'm around my hubby, and I feel like a strong woman my daughter will be proud to call Mom.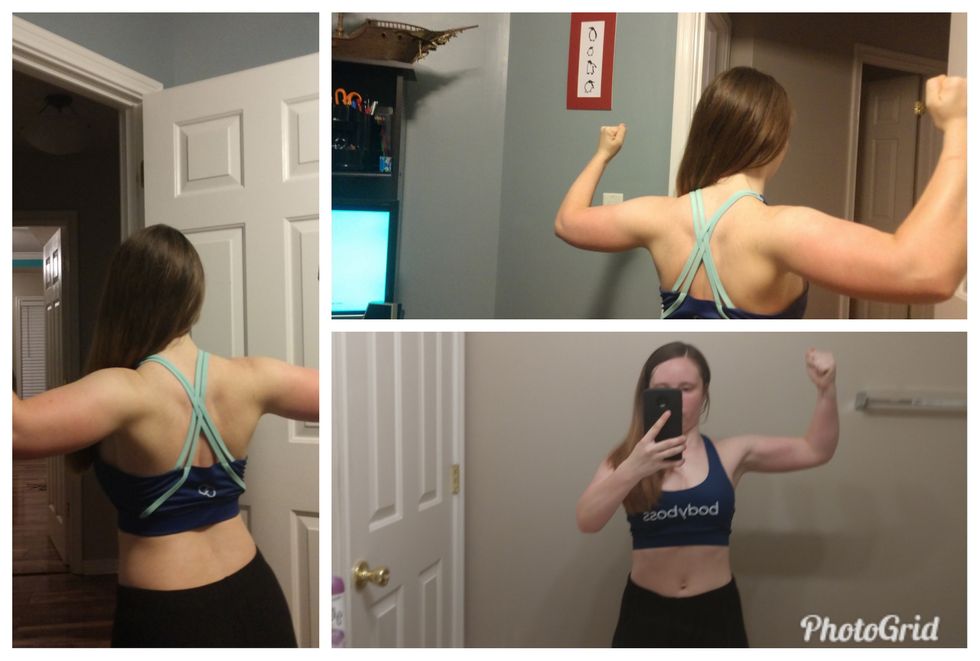 Update: 2019 is your year to be the best you! Our friends at Bodyboss are offering a special promotion to our readers. Follow this link and ENTER GE20 to get 20% off of your first order today!