Here's Why I Turned To Yumi Vitamins For My Children's Needs
My kids used to eat all the mashed peas in the world when it was all they were given, but now that they're older and they understand choices, I'm struggling to get them all the fruits and vegetables their growing bodies need.
The kids - Katie, 4 and Evan, 6 - want sugary cereal for breakfast, chicken nuggets for lunch, and frozen burgers for dinner. Sometimes I fight them, sometimes I give in.
I've been trying to sneak in some greens and fruits here and there, but I usually find a pile of the greens left untouched when I clear their plates. As a precaution, I picked up some chewable multivitamins from the drugstore.
I hoped it was helping, but the other day I decided to look at the label and make sure all the ingredients are actually good for the kids. Looking at the ingredient list, I was shocked that I could only recognize about 2-3 items!
It made me think about what my kids are actually ingesting. Did each ingredient contribute to their overall growth and health, or are there just a bunch of things in there to make them taste good?
With all the frozen food my kids were eating, they needed the vitamins even more. But I was done with drugstore brands.
A friend of mine was facing the same dilemma with her kids, and she recommended Yumi Vitamins. Yumi might be known for their high-quality baby food and kid snacks, but they have a new Multivitamin Biteamin, which comes in Black Currant flavored gummy droplets.
While researching, I found that Yumi vitamins provide 21 key vitamins and minerals from 15 different fruits and vegetables (and I had heard of every single ingredient!). Their vitamins include iron for developing brains, Vitamin C, and Vitamin D for immunity, and so much more.
These gummies have no added sugars, fillers, artificial colors, or flavors. Every ingredient is recognizable; organic spinach, organic broccoli, organic shiitake mushroom, organic cranberry...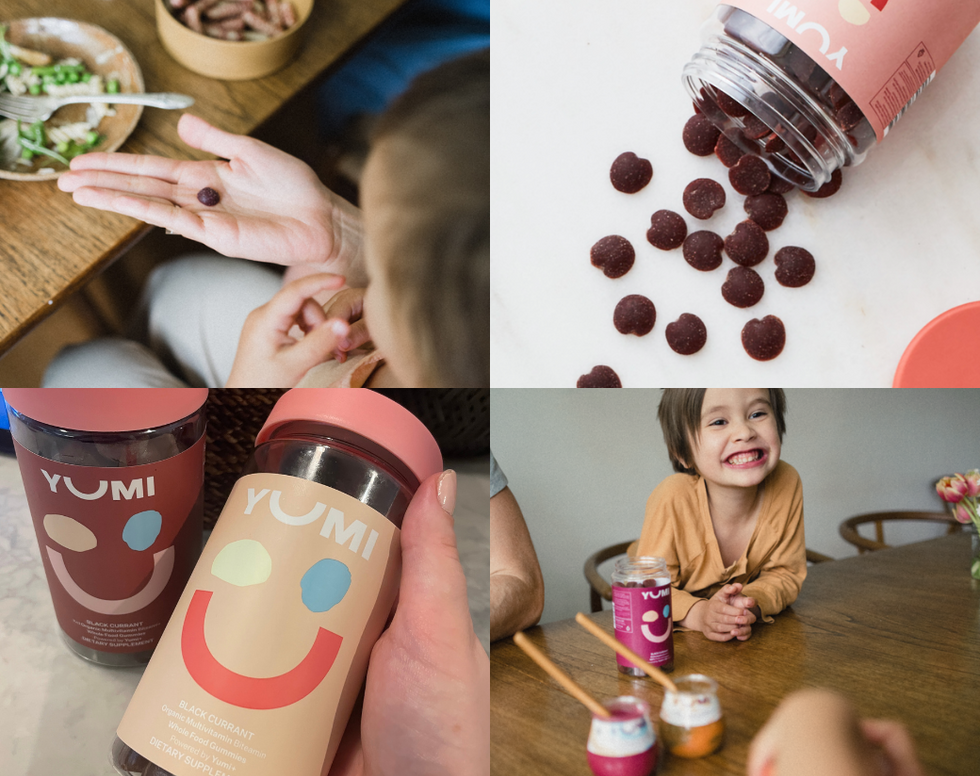 I decided to order a bottle; if my kids liked them, I had the option to subscribe and save.
The purple bottles arrived, and I couldn't resist trying one myself - yummy! I told my kids they didn't have to like them, but they did have to try them. They each took a gummy, and were super happy!
It's been a few months, and I'm thrilled they've got the immunity boost for the winter, even if they go a little too hard on the carbs and sweets now and again.
It's tough to feed picky children a well-balanced diet that they enjoy, but with Yumi 's multivitamin, I'm done worrying about what they're eating. I know that they're receiving all the vitamins and minerals they need to be healthy and grow strong.