Yumi Vs. Cerebelly - Which Should You Choose For Your Baby?


When it comes to feeding your little one, mealtimes can be a struggle. Every parent knows the juggling act of sourcing, prepping, and cooking well-balanced meals on top of all the rest of their day-to-day.
Each child is different, and the most challenging part about feeding your baby is finding nutritious, convenient, and - ultimately tasty - meals.
Over the years we've watched baby food subscriptions rise to the forefront of parental needs. We decided to look into which should be at the top of every family's list. Right away, we noticed the biggest names out there - Yumi and Cerebelly.
We put both brands to the test, comparing quality, selection, price, and convenience - a parent must-have.
Here's what we found out:
Key Similarities:
Both have pureed baby food
Both allow you to choose your recipes first then they send already prepared baby food right to your door
Both test for heavy metals and are winners of the Clean Label Project Purity Award
Both are gluten-free, organic and non-GMO
Key Differences:
All of Yumi's offerings are vegan | Cerebelly has vegan options
Yumi's menu includes blended (6+ months) to finger foods (11+ months), whole food snacks like Fruit Leathers, and a toddler multivitamin. Cerebelly offers Purees, Smoothie-inspired pouches, and Smart Bars for 5 to 25+ months
Yumi lets you receive 1, 2, or 3 meals per day | Cerebelly has a range of bundles from 14 - 56 items a box
Cerebelly delivers every 2 or 4 weeks| Yumi delivers weekly
Yumi is free of the Big 9 Allergens (no milk, eggs, fish, crustacean shellfish, tree nuts, peanuts, wheat, sesame or soybeans) | Cerebelly is free of 8 Allergens (they still include sesame)
Yumi comes in BPA-free plastic jars | Cerebelly uses BPA-free plastic pouches
Yumi costs $3.75 per meal with free shipping | Cerebelly costs $2.46 per puree and smoothies, and Smart Bars start at $4.24 per meal
Yumi Overview
Yumi's blended baby foods contain everything your kid needs nutritionally during the most formative months of their lives. We love how their unique menu is divided into 7 stages, providing an easy guide to feeding your baby.
Start with thin single-ingredient purees at six months and continue all the way to nutrient-dense bites for your little one. Yumi is designed to help your baby start on solid foods in the best way possible while taking the stress out of cooking and prepping for parents.
Their mission, ingredients, and process are all great, but what matters most on the day-to-day are taste and convenience. Yumi delivers blends that babies adore, including Butternut Squash, Broccoli & Pear, Sweet Potato Cheesecake, and Bell Pepper Apple Bowl. Thanks to Yumi's unique Chef Series (yes, a Michelin-star chef designs your baby's food!) - and new quarterly recipes - your baby will never be bored.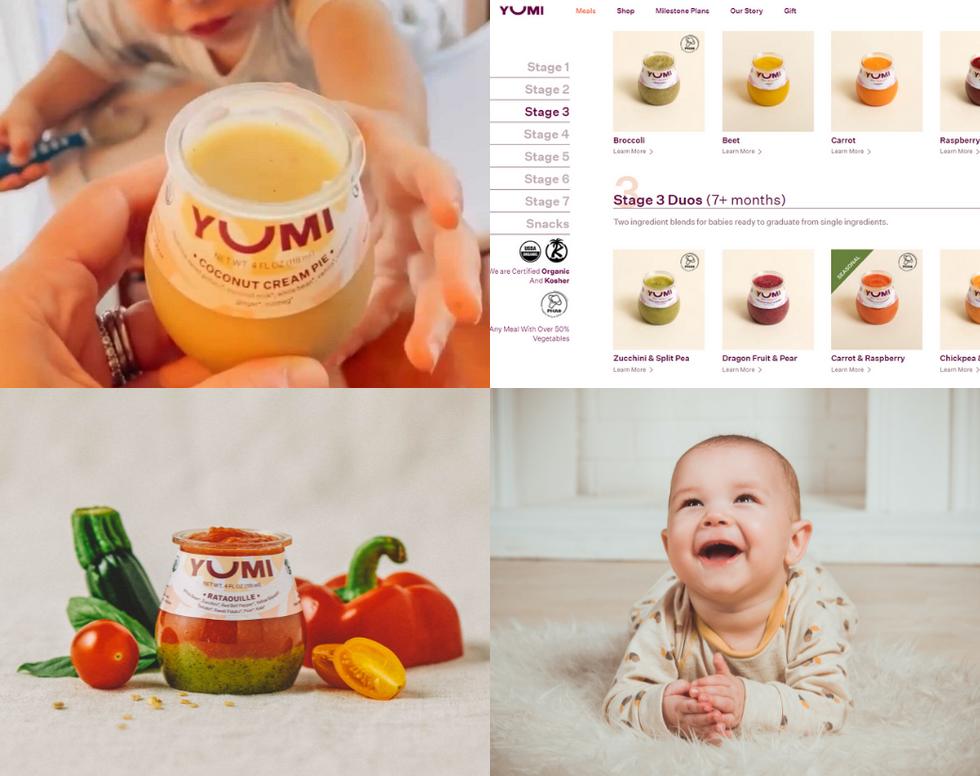 Yumi ships fresh purees weekly, packed to stay cool as it makes its way right to your door. You can't find this level of service anywhere else, and it really does make a difference. No running to the store last minute. Yes, every busy parent needs an excellent grab-and-go option. We are super impressed by Yumi.
Cerebelly Overview
Cerebelly encourages babies and toddlers to eat healthy with a wide range of purees and smoothie-inspired pouches. Similar to Yumi, they focus on providing the right nutrients, at the right ages in order to achieve developmental milestones. All their foods are organic, non-GMO, dairy-free, gluten-free, with no sugar added. Plus, they have many vegan options.
After you fill out their quiz, Cerebelly sends you science-backed recommendations. You choose between different flavors, including sweet potato mango, white bean apple pumpkin, and spinach apple sweet potato, until your newborn turns 3. From there you can continue to fuel your toddler with Smarts packed with 15 brain-supporting nutrients and 3g of protein.
Cerebelly lets you choose between Small, Medium, Large, and Family Boxes to bundle your baby's meals. Schedule your delivery every 2 or 4 weeks, straight to your door.
Final Note:
At the end of the day, Yumiwon us over. Cerebelly is great but just can't quite keep up with Yumi's amazing menu and speedy delivery time.
Yumi immediately caught our eye with their emphasis on The First 1,000 Days. Health and medical professionals have agreed that the first 1,000 days of a child's life are essential to the development of their brain, body, metabolism, and immune system. That means what you're feeding your little one is more important in those days too.
In terms of our baby's food, we trust Yumi. If your family is trying to navigate a hectic schedule, solid foods and are determined to find the healthiest meals out there, then Yumi is for you, too.