An Honest Review Of Everything I Got From Thrive Causemetics For Only $92
Here's My $92 Thrive Causemetics Haul. Read My Honest Review
Thrive Causemetics is giving FREE SHIPPING on all orders $35+ & a FREE makeup bag with any purchase! Follow this link to shop!
Thrive Causemetics is a vegan beauty brand available online.
Known for their Liquid Lash Extensions Mascara™, winning the Allure 2020 Best of Beauty Award for Best Tubing Mascara, and viral TikTok presence.
Read below to see everything I got for only $92 and how it worked out.
When it comes to makeup, Thrive Causemetics has completely changed the game for me. This vegan, cruelty-free makeup goes beyond delivering great products. Since their founding in 2015, they've been on a mission to help women truly thrive. They've donated products + funds to over 200 non-profit Giving Partners that support women and their communities. They support women fighting cancer, surviving domestic abuse, emerging from homelessness, and women veterans. Thrive Causemetics' Bigger Than Beauty™ initiative is not only admirable but Thrive Causemetics is always incredibly transparent about where your money is going.
Since I've already fallen head over heels after my first Thrive Causemetics haul, a second one was in order. I wanted to test out products that would be a must this spring and finish transitioning out the dregs of my old drugstore makeup.
Here's what I thought about my experience with Thrive Causemetics Round Two:
I'm already a massive fan of the Liquid Lash Extensions™ Mascara. There's a reason that it's so popular and after trying it myself - I was convinced it deserves every award. Just like they said, with just a couple of coats I got the look of lash extensions. And to take it off all I need is warm water and a washcloth.
This time around, I still had my original tube of mascara, but here's how it looks from my first try: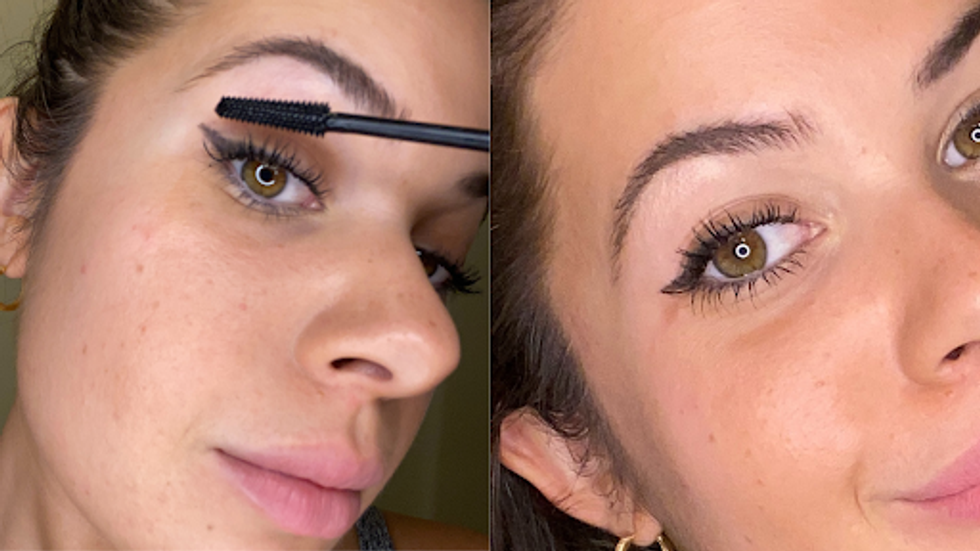 Crazy, right?! So for my next Thrive Causemetics splurge, I decided to test out a new look with all my new products.
With spring here and summer on the way, I've been looking to incorporate more SPF into my routine. This CC Cream was the most obvious solution, but I still had my doubts - in the past, these multi-purpose creams hadn't worked out for my skin and often smeared off.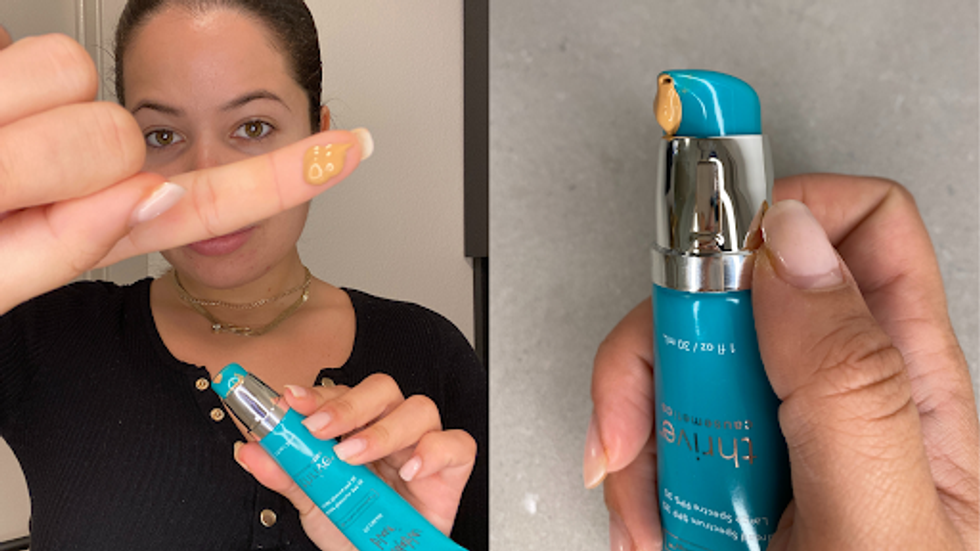 However, the Buildable Blur™ CC Cream Broad Spectrum SPF 35 has completely revolutionized my routine. It's only $38 and truly delivers as a foundation, sunscreen, and moisturizer in one.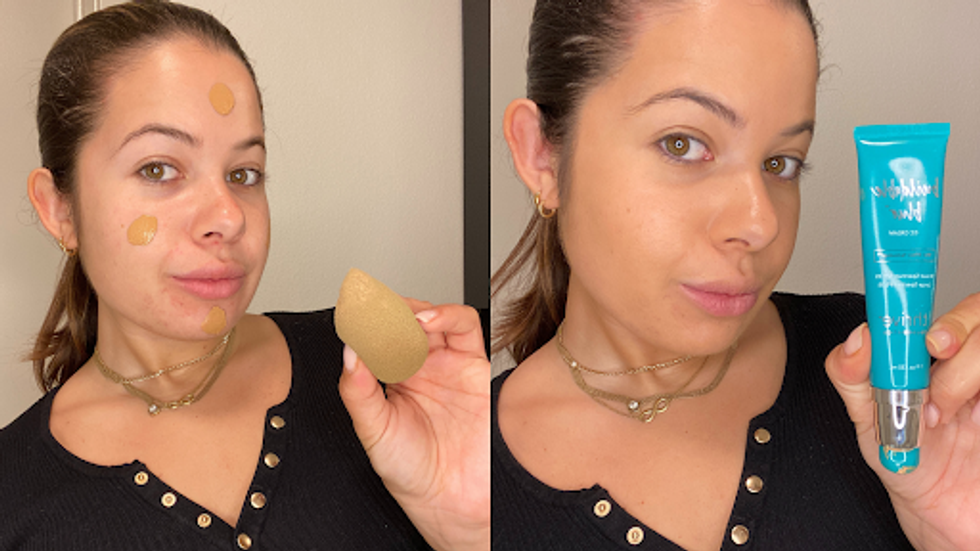 Let me just say: ZERO complaints from my skin after applying. It has a second-skin texture, and I loved their use of vitamin C to brighten and even out skin tone and flaxseed extract to soothe and soften skin.
I used 2-3 pumps of the Buildable Blur™ CC Cream Broad Spectrum SPF 35 for medium coverage. I'd never used a CC cream that matched my skin tone so well or a brand with an array of shades that work for me all year round (in the summer, I'm tanner - in the winter, a bit paler).
Thrive Causemetics makes their CC cream in 18 inclusive shades. All I had to do was answer four questions to find my match - Natural Beige (Neutral Undertones)! I'll definitely be applying this cream whether I'm doing a full-face or a natural look.
This concealer turned out to be a real treat. The CC cream did such a great job with my under-eye circles that I even used the concealer as a contour.
The Buildable Blur™ HD Creaseless Concealer comes in 24 inclusive shades and costs only $28. I ordered Deep Rich (Warm Golden Undertones).
Right off the bat, I love the ultra-lightweight formula. If you're going to apply it to your under-eyes, this concealer is the way to go since it's also crease-proof and waterproof. Plus, they made it with sensitive skin in mind.
As someone who suffers the occasional acne flare-up, I was relieved to learn that it's also made without any parabens, phthalates, sulfates, and synthetic fragrance (like all of Thrive Causemetics' products).
I applied dots at my temples, hollows of my cheeks, and jawline. Their applicator is easy to use thanks to its contoured and flexible structure. Then I simply blended it out with a sponge, and voila!
I get a great contour and an added hydrating boost of vitamin E and Coconut Emollients from this skin-first formula.
It comes in 7 shades, and I went with Ruth (Taupe Shimmer). But there are options like Jean (Baby Pink Shimmer), Maya (Deep Blue Red), and Pamela (Brown Mauve). I could see myself wearing any one of these from day to night.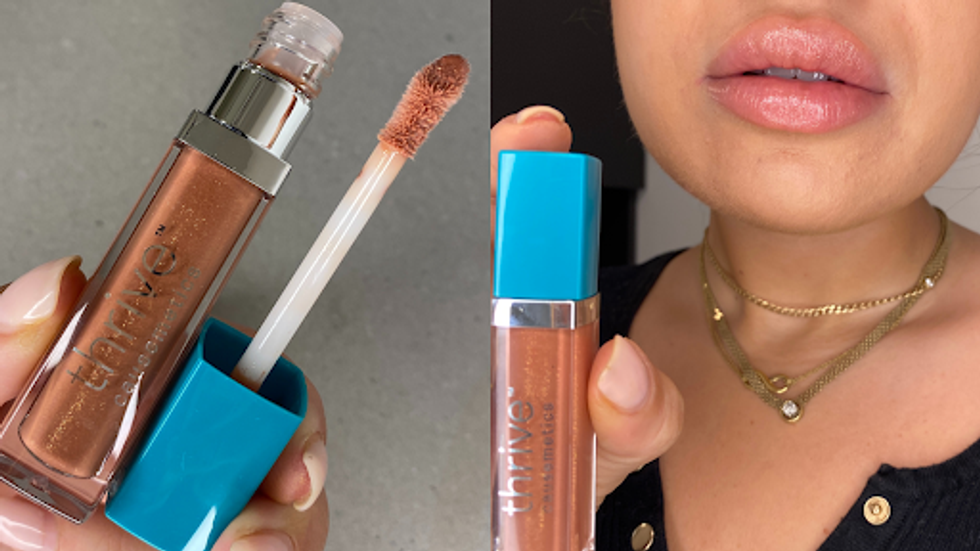 This gloss is $26 and so worth it. It's far more than merely adding a slight shimmer to my lips. I get a hydrating serum, lipstick intensity color, and the brilliance of a gloss all in one. I never thought I'd find one lip product to cover all my bases until now - goodbye to layering three different products from three subpar brands.
A quick swipe on the lips unleashes Time Released Hyaluronic Microspheres™, which provides instant hydration for softer, fuller-looking lips. Their formula also includes the Youth B5 Complex™ - sodium hyaluronate + vitamin B5 that plumps skin and replenishes moisture. It's so effective that I've noticed I'm no longer have to reach for my chapstick anymore!
Thrive Causemetics is more than just their (amazing) mascara. They've got your skin covered with effective, safe products from A to Z.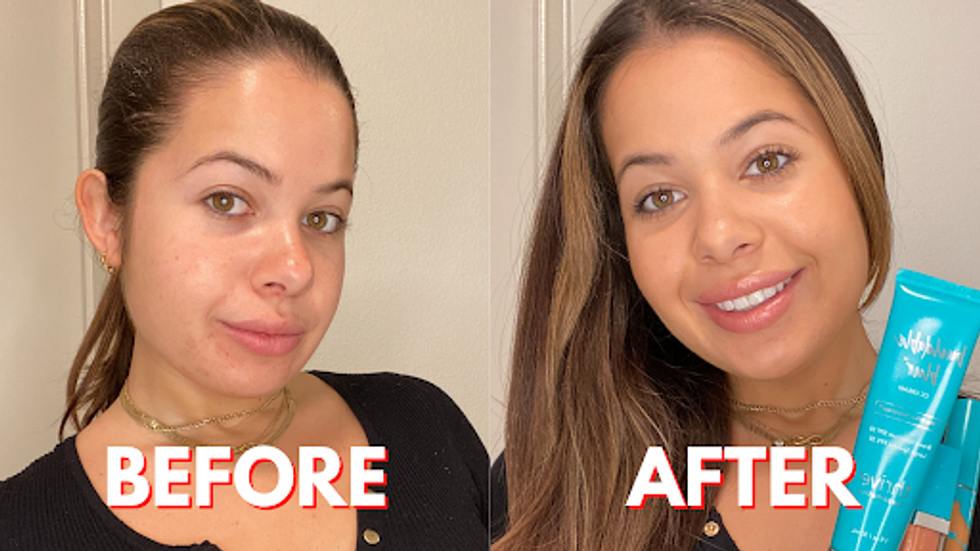 I can achieve a quick and flawless natural look or go for glam with these essentials. I'm excited to collect the rest of their line and shades in many more mini hauls.
Thrive Causemetics is proof that vegan makeup works when it's done right. I'm more of a fan now than ever of this leading beauty brand. Get your haul on and add your spring must-haves now!
JUST FOR YOU: Thrive Causemetics is giving FREE SHIPPING on all orders $35+ and a FREE makeup bag with any purchase! Follow this link to shop!