Why The Bed, By Thuma Is Your Key To Coziness
It's happening. The mornings are chillier, the days are getting shorter. With fall upon us, we'll be spending more time indoors, so it's important we want to be indoors. A cozy and welcoming atmosphere can make all the difference between a space that's merely a house and the place that you call home. That's why a new bed was our top priority.
We were looking for something with both comfort and style; an oasis from the stresses of life where we could truly relax. We researched high and low, online and in-person, and decided on an elegantly simple platform bed frame - The Bed, By Thuma.
We were immediately taken with its sleek style and minimalist design, and we really appreciated that it's made from real, high-quality wood, is shipped in eco-friendly packaging, and is Greenguard Gold certified.
The Bed's smooth curved edges, The PillowBoard, and roomy under-bed storage are impressive. It arrives in three easy-to-carry boxes, so there's no problem getting it into the house and maneuvering it around tricky staircases.
Assembly? We aren't what you'd call mechanically skilled. Luckily,
The Bed, By Thuma
is simple to assemble, thanks to its Japanese joinery, a timeless technique that interlocks the base and creates a built-to-last platform that is sturdy, supportive, and naturally quiet. It literally takes
five minutes
to put together—and to disassemble should we ever move. No tools required!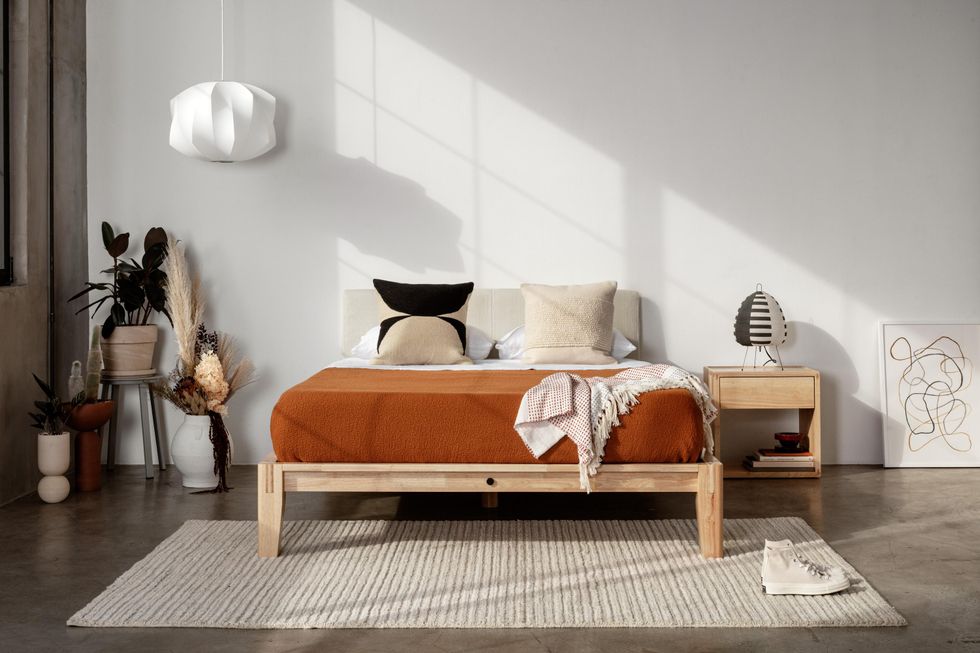 The double-strength slats are lined with eco-fi felt to prevent slippage and provide optimal mattress support and breathability.
Finally, The PillowBoard adds a finishing touch with a washable linen-weave cover that comes in two options—Light Linen and Dark Charcoal. Simply slip it into place between the mattress and the wall, and you're ready to lounge.
We've also never had a bed that gave us better sleep. It offers real support, no noise when we move around, and true restfulness. We can easily imagine a lifetime of pleasant shut-eye thanks to The Bed, By Thuma. And why not? It's built to last a lifetime and even comes with a lifetime warranty. There's also a 100 Day Trial period, so there's nothing to lose sleep over.
But if you're anything like us, it's a keeper. The bedroom should be a serene retreat, and The Bed is the first step to making it feel like ours.
Do yourself a favor and get The Bed, by Thuma. Thanks to The Bed, we're ready for fall and whatever it brings!