With Valentines day coming up, your heart (and probably someone else's too) is likely on your mind. Sure February 14th is a celebration of love, but the month of February is also American Heart Month and barley just happens to be great for this blood pumping organ. While we can't promise these barley recipes will cure your heartache, we can promise they'll help lower your blood pressure and improve your cholesterol levels.
Some of the recipes below might even help enhance your sex drive!
This cheap, super grain is packed with B vitamins, fiber, iron, zinc, and a decent amount of protein. Barley is an ancient grain that's known to help fight inflammation and reduce the risk of developing heart disease by controlling cholesterol levels and even helping with weight loss. It's a great grain to start your mornings since it's full of heart healthy and inflammation fighting benefits AND hearty enough to keep you full until lunch.
Although the barley recipes below are good any time of day. Especially when it's cold outside. Beat the winter blue with these warm, hearty, winter bowls.
Here are 3 delicious barley recipes for breakfast, lunch, and dinner. Your heart and your stomach will thank you.
Barley Breakfast Bowl with Mixed Berry Compote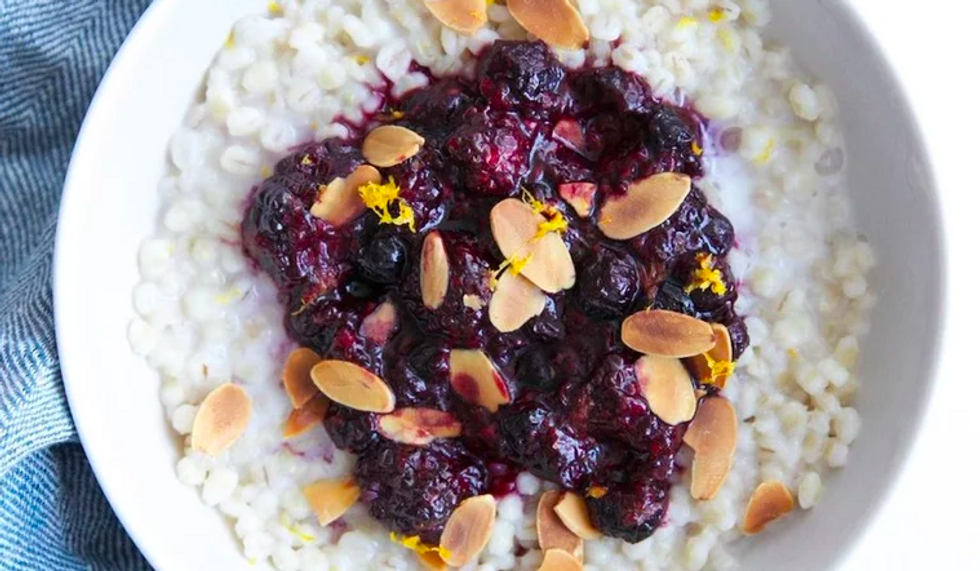 Barley Breakfast Recipe with Berry Compote Real Simple
If you're looking for an updated twist to your go to breakfast, try swapping oatmeal for barley. This comforting breakfast barley bowl from Real Simple will warm you up and fill you with all the heart healthy benefits of barley plus a little natural sweetness. Mixed berries, orange zest, honey, and chia seeds make a sweet, and easy to whip up, berry compote. Top it off with your favorite oatmeal toppings like almonds, cinnamon, brown sugar, and fresh fruit.

Blood Orange, Roasted Root Vegetable, and Barley Salad
By Eat Simply, Eat Well for Food52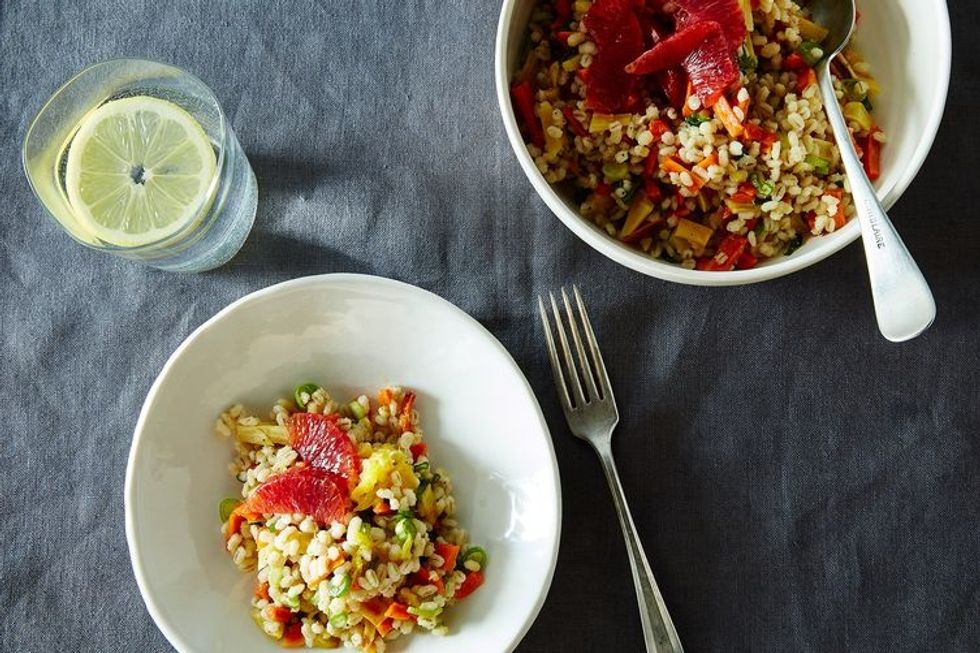 Citrus and Roasted Root Barley Salad RecipeEat Simply Eat Well/ Food 52
This barley salad is anything but boring. It's also the perfect salad to make to celebrate some of winters freshest produce. Roasted root vegetables like parsnips and carrots are tossed with barley and seasonal citrus like blood oranges. Everything is mixed with an olive oil, flaxseed, and orange juice vinaigrette that will help brighten up any dreary winter day. It's a hearty, earthy winter salad that's filling enough on its own for lunch, but would also make a great side salad to steak, salmon, or roast chicken for dinner.

Beef and Barley Soup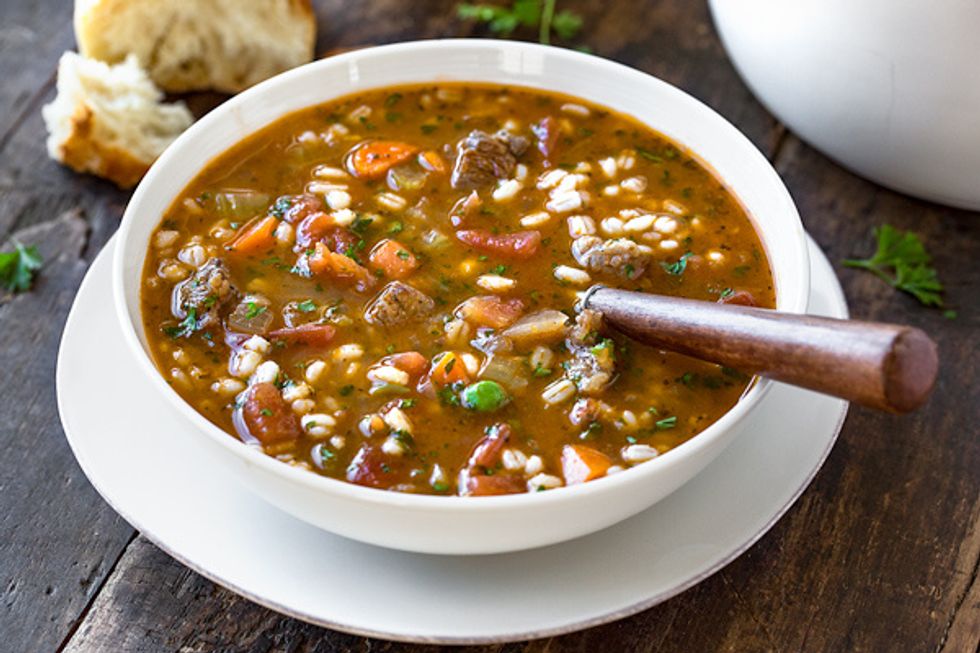 Beef an Barley Winter Soup RecipeA Cozy Kitchen
Beef and barley soup is a classic winter recipe and for good reason. Yes, it might remind you of your grandmother or seem a bit outdated but it's been around for decades (possibly centuries?) because it's delicious, comforting, and really good for your health. Did you know that meat can actually enhance your sex life (link when published)?
This soup is hearty enough to serve alone, with a side of crusty bread, a glass of red wine and maybe one of these delicious fall, winter salads. If you're feeling a cold coming on you can substitute your usually chicken noodle soup for this healing recipe instead. The heart healthy benefits of barley, combined with all the vitamins and minerals in the simmered vegetable and beef broth will have you feeling better in no time. You'll be happy to have leftovers.