Dips are the underrated star of most parties and usually the first thing you think to grab with a snack for midday munchies at home. No matter how fancy your spread may be you can always finds guests at a party dipping away. Crudites, pita chips, crackers, even a fresh slice of bread, are all really just a carby-vehicle for the main attraction. The dip!
As much as we love guacamole, salsa, hummus, and a classic cheese dip- why not spice things up a bit? Instead of serving the same expected dips try mixing up things up with these mouth watering recipes. From pumpkin goat cheese with caramelized onions to dukkah spiced yogurt these dips are anything but boring.
Here are eight of the best dip recipes that are perfect to make for a party or to simply enjoy at home! Don't let your crudities get lonely. Dip away with some of the tasty recipes below.
---
1.) Easy Muhammara Dip
Muhammara is a spicy pepper dip originally from Aleppo, Syria. It takes smoked red bell peppers and mixes them with the sweetness of pomegranates, the acidity of lemon juice, and the bite of blended walnuts. The result is a smoky, sweet, and zesty dip that's worthy of scooping on a fresh pita chip or even adding onto a salad or sandwich for more flavor.
This recipe by The Minimalist Baker only has 10 ingredients and 15 minutes of actual prep time. Instead of serving hummus go for a Muhammara Dip! It's sure to be a new party favorite.
Recipe by The Minimalist Baker
Serves: 6 Prep Time: 15 mins Cook Time: 45 mins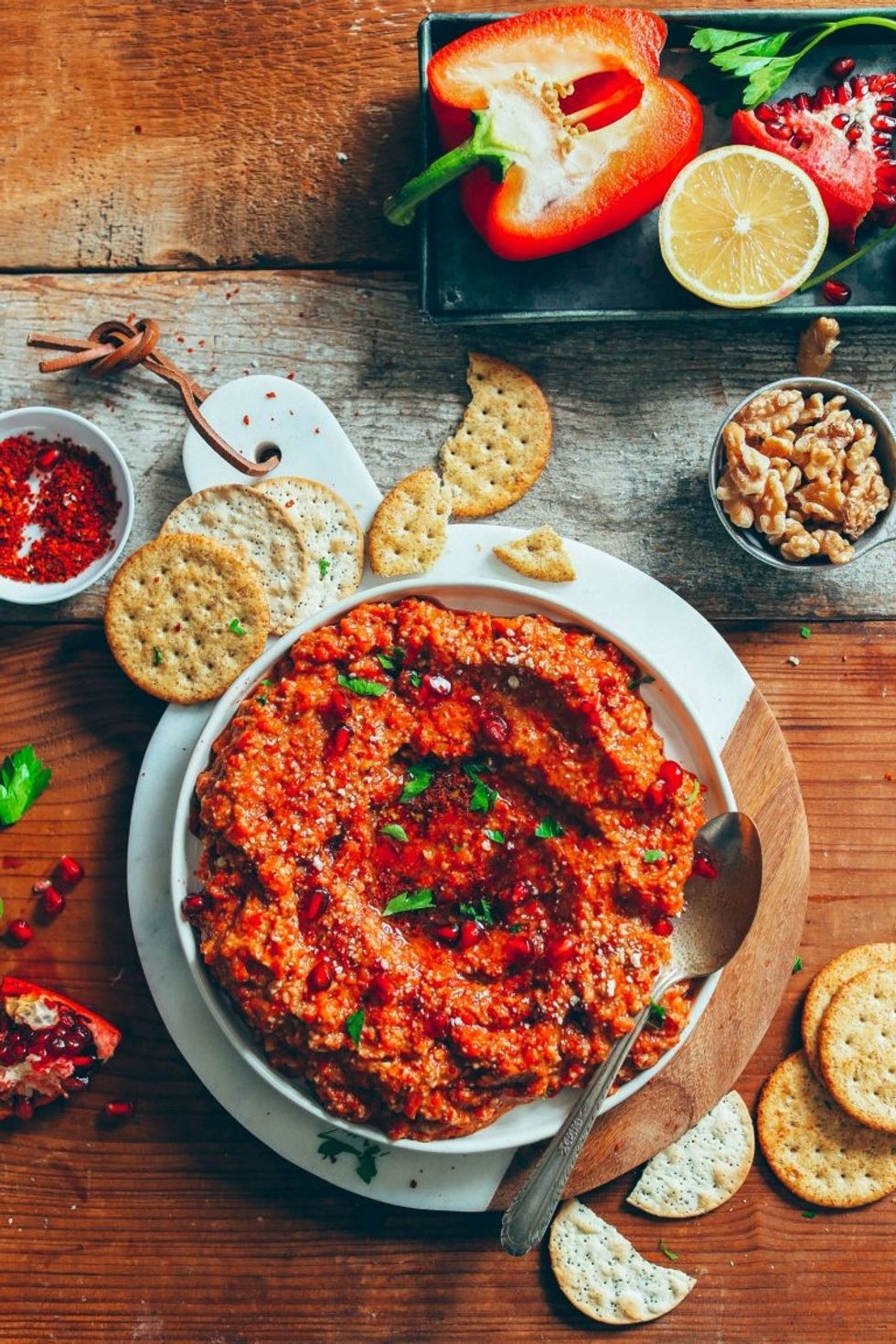 Muhammara Dip and Crackers by The Minimalist BakerThe Minimalist Baker
2.) Roasted Garlic Parmesan White Bean Dip
Here's a creamy white bean dip that's extremely addictive! The roasted garlic adds a nice depth of flavor to this dip and the parmesan gives it a nutty bite. It's the perfect dip to serve with raw veggies or pita chips. You'll be tempted to put the celery stick down and just dig in with a spoon!
This recipe by Stephie Cooks only uses 7 ingredients and is super easy to whip up. Make a big batch and you'll have something delicious to snack on all week long.
Serves: 6-8 Prep Time:10-15 mins Cook Time: 25 mins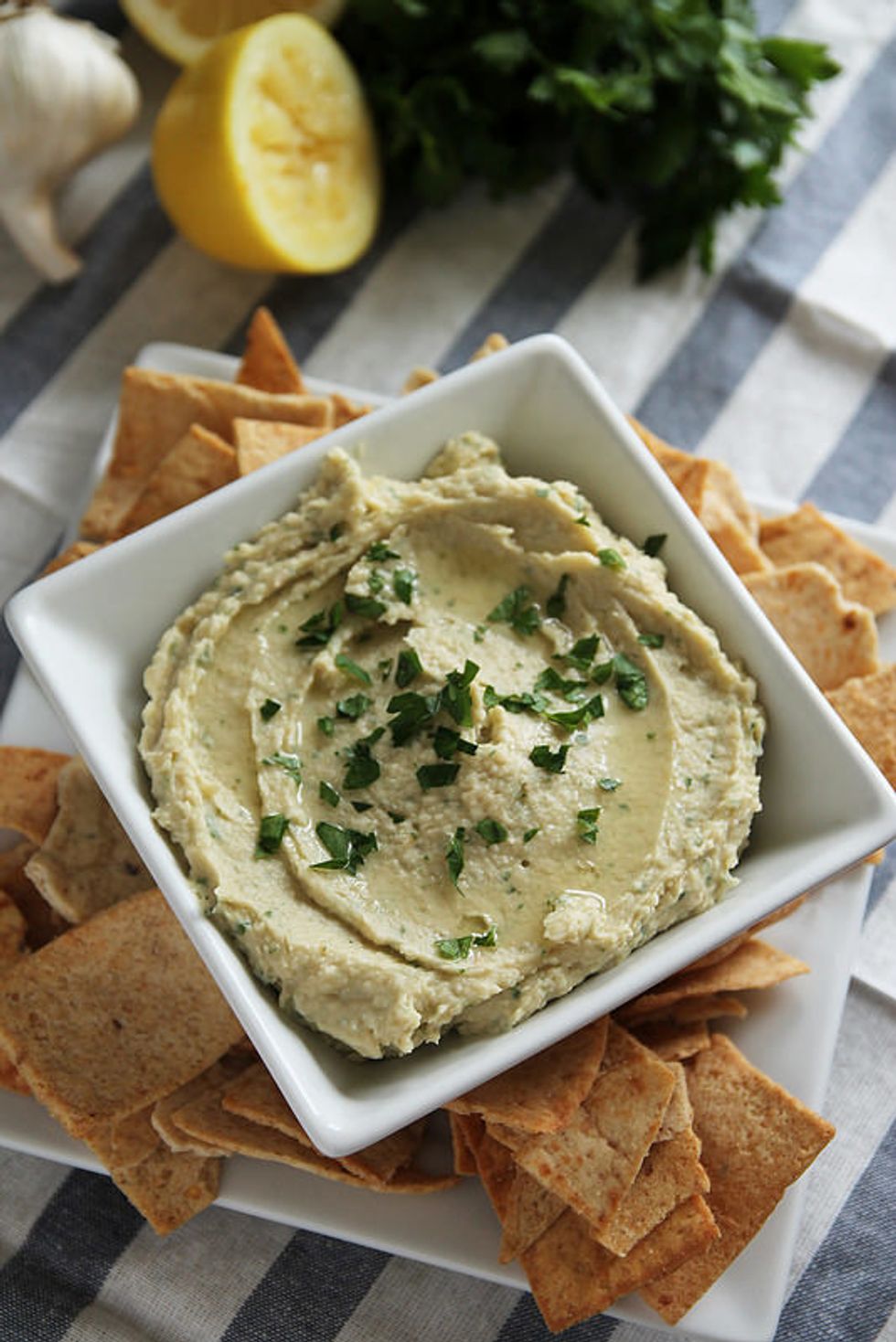 Roasted Garlic Parmesan White Bean Dip and CrackersStephanie Cooks
3.) Roasted Beet and Walnut Dip
This colorful dip by the Bon Appetit test kitchen begs you to put the mayo and sour cream-based dips away! If you're looking for a creamy dip so good you won't be able to tell that it's actually healthy for you too, this dip is it. Roasted beets are processed together with creme fraiche, walnuts, caraway seeds, sherry vinegar, and dill into a smooth and yummy spread.
Dip your veggies sticks in. Spread it on a sandwich or crostini. Eat it with a spoon. It's so, so good. And good for you!
Serves: 4-5 Prep Time: 15 mins Cook Time: 45 mins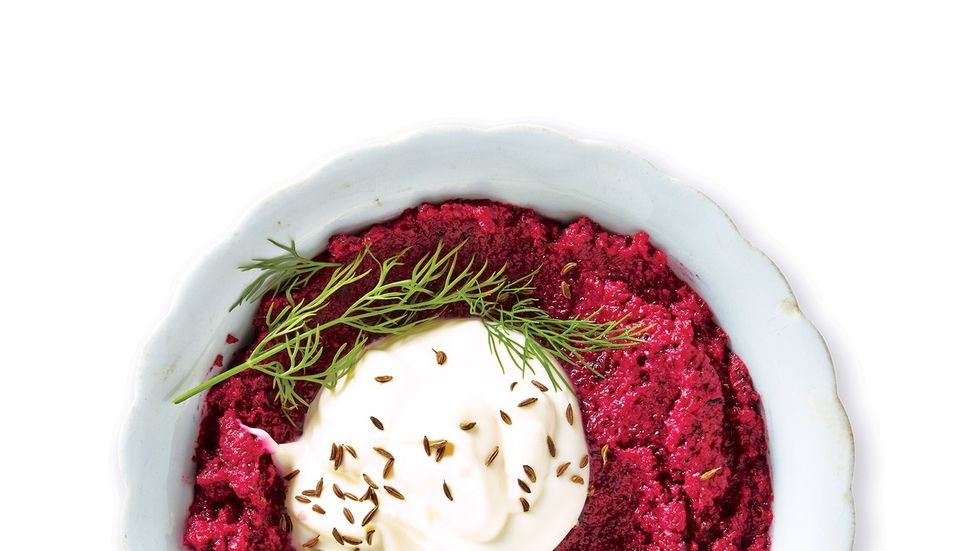 Roasted Beet and Walnut DipBon Appetit
4.) Margherita Pizza Dip
What's pizza dip? It's a gooey cheese dip topped with tomatoes and herbs. Dip a crostini in and you've got a deconstructed pizza. This recipe by The Half Baked Harvest takes things up a notch by using creamy burrata and roasts the tomatoes to really bring out their sweetness. The result is a dip your party guests won't be able to stop indulging in. It may not be the healthiest dip around, but it packs a punch of delicious flavor that's well worth the calories.
Recipe by The Half Baked Harvest
Serves: 8 Prep Time: 15 mins Cook Time: 25 mins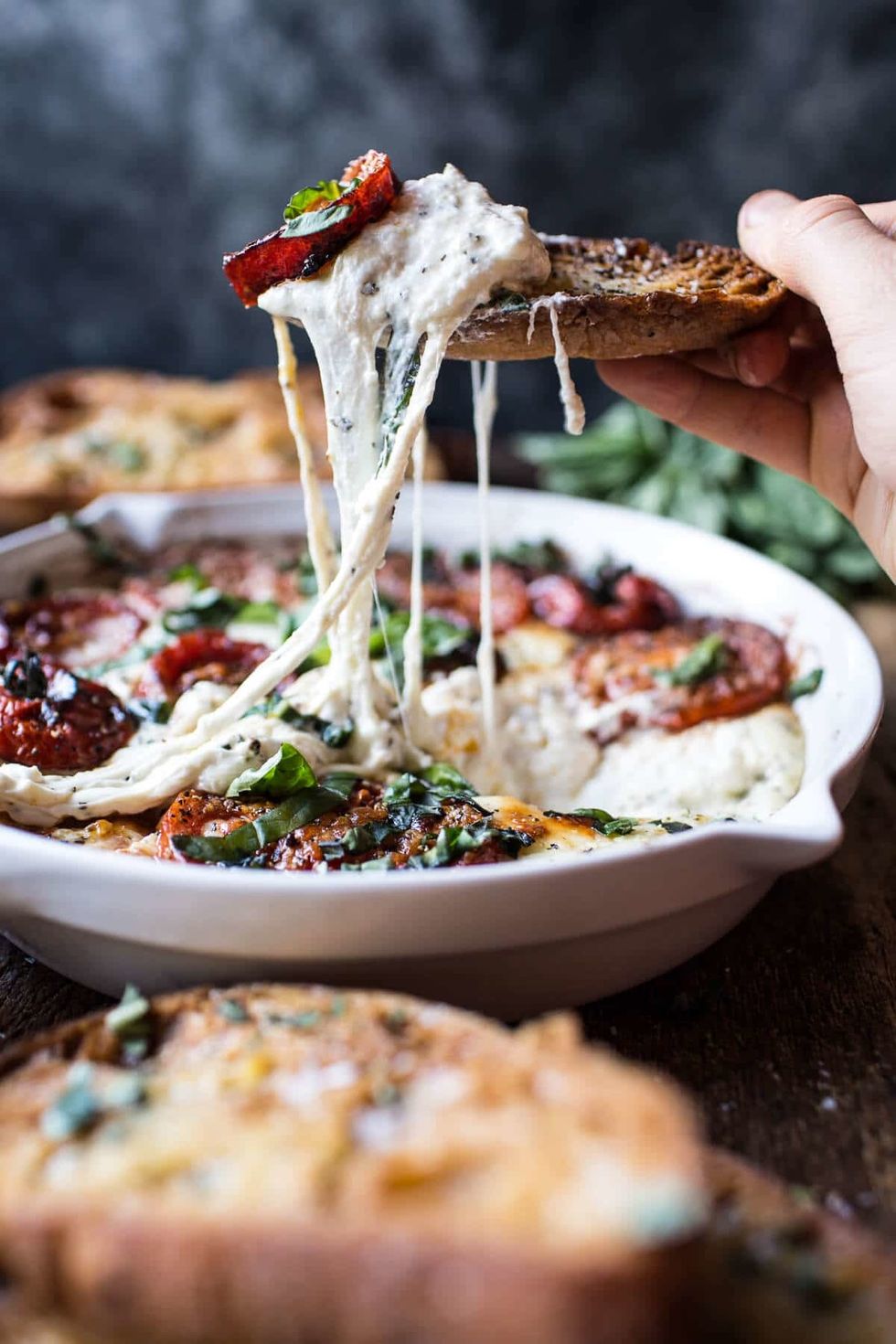 Margherita Pizza Dip and Crostini The Half Baked Harvest
5.) Dukkah Spiced Yogurt Dip
Dukkah literally means "to pound" in Arabic and in this dip recipe it's pistachios, hazelnuts, coriander, sesame seeds, cilantro, and dried orange peel that are ground together into a delicious spice mix. It turns yogurt into a simple but tasty dip and can also be sprinkled on salads or eaten as a yummy snack on its own. If you don't have all the ingredients on hand for the spice mix in this recipe by Love & Lemons, feel free to substitute with other nuts and spices.
Makes: ¾ cup of Dukkah Total Time: 20-25 mins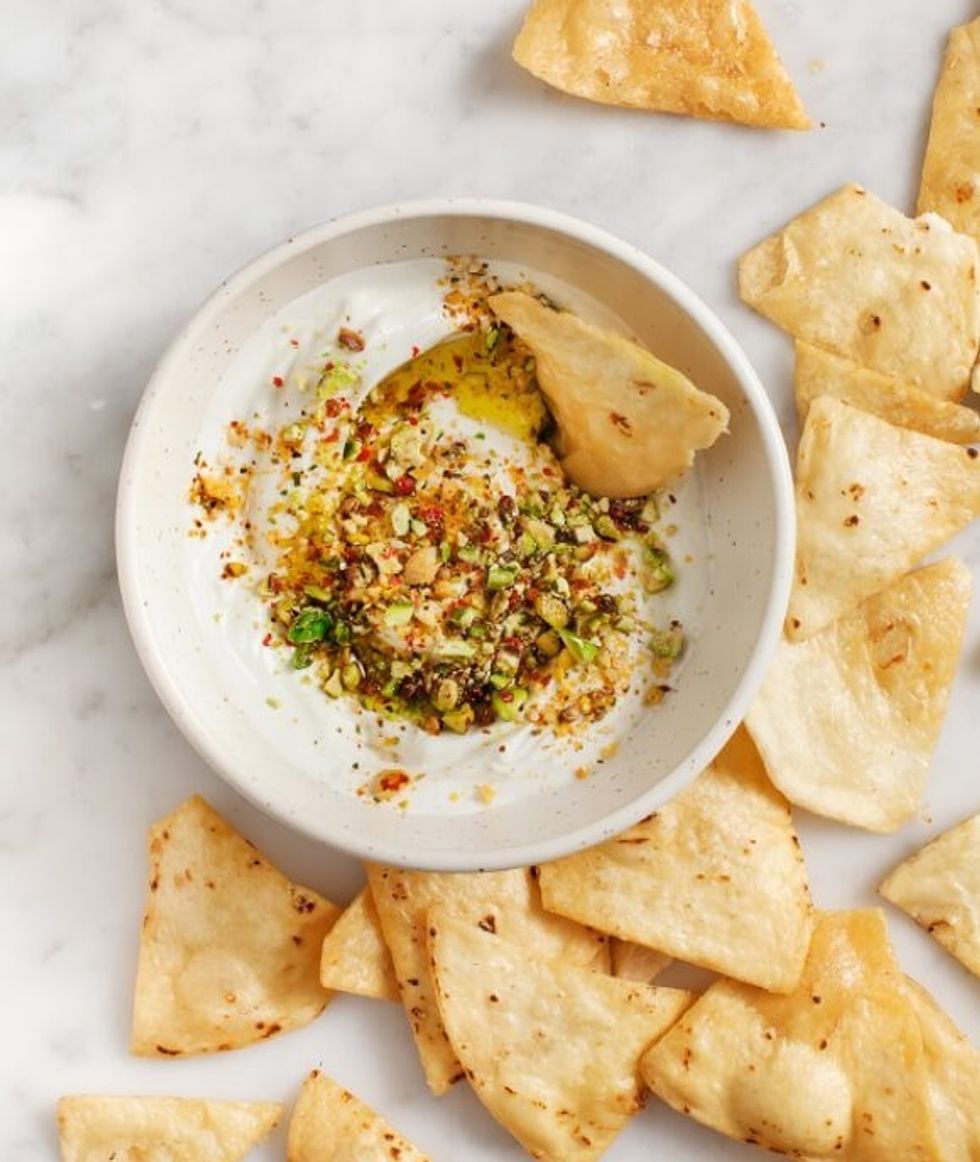 Dukkah Spiced Yogurt and Pita ChipsLove & Lemons
6.) Warm Artichoke-Olive Dip
Artichoke dip is a classic that's usually served in a bread bowl. This version by Bon Appetit combines artichokes with fresh basil, a green olive tapenade, and a garlic-herb cheese, and it's absolutely mouth watering. Serve with a side of garlic-rubbed, crusty bread for an appetizer. It'll be a crowd favorite.
Serves: 10 Prep Time: 15 mins Cook Time: 30 mins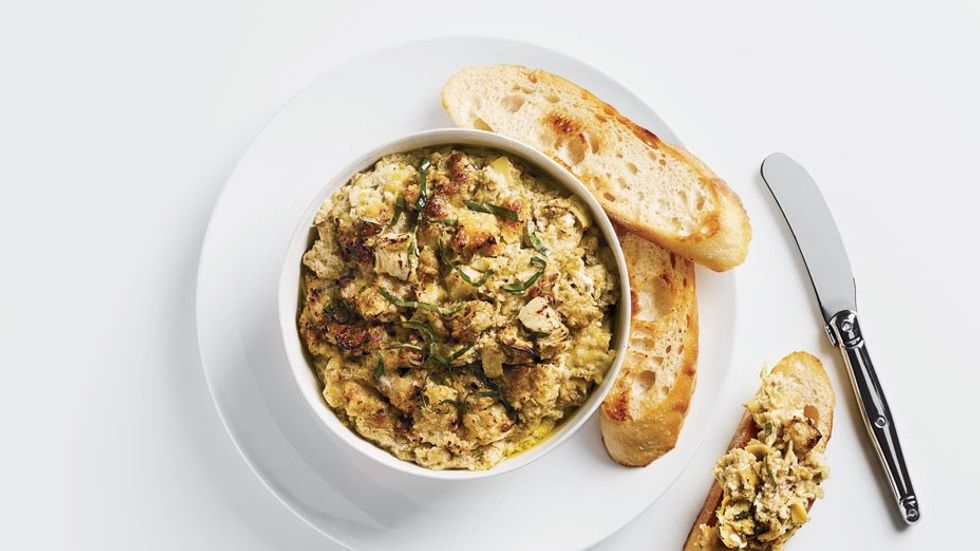 Warm Artichoke Olive Dip with Crostini Bon Appetit
7.) Pumpkin Goat Cheese Dip with Caramelized Onions
Pumpkin. Goat Cheese. Caramelized Onions. It's hard to go wrong with this simple but delicious ingredient combination. This dip is tangy, sweet, and savory. It's perfect for serving at a holiday party or during the fall and winter months when pumpkins are in season and full of flavor.
You can serve this dip by Running to The Kitchen either hot or cold. It's good both ways! Top it with pumpkin seeds and dig in with apple slices.
Recipe by Running to The Kitchen
Serves: 4-5 Prep Time: 5 mins Cook Time: 20 mins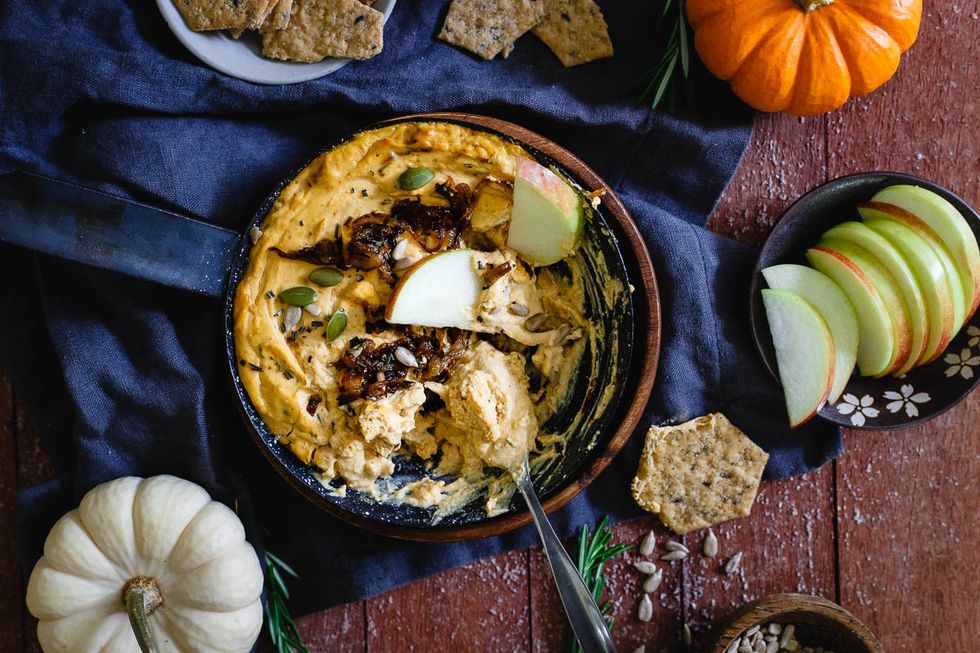 Pumpkin Goat Cheese and Caramelized Onion Dip with Sliced ApplesRunning to The Kitchen
8.) Avocado Feta Dip
If you're looking a dip that's as easy as throwing a few ingredients in a food processor try this recipe by Green Valley Kitchen. When you think of using avocados for a dip, guacamole is what usually comes to mind. Avocados are the perfect creamy base for whipping up a lot tasty dips though. All you need to throw this one together is ripe avocados, salty feta, lemon juice, and a handful of fresh herbs.
Recipe by Green Valley Kitchen
Serves: 4-6 Prep Time: 10 mins Total Time: 10 mins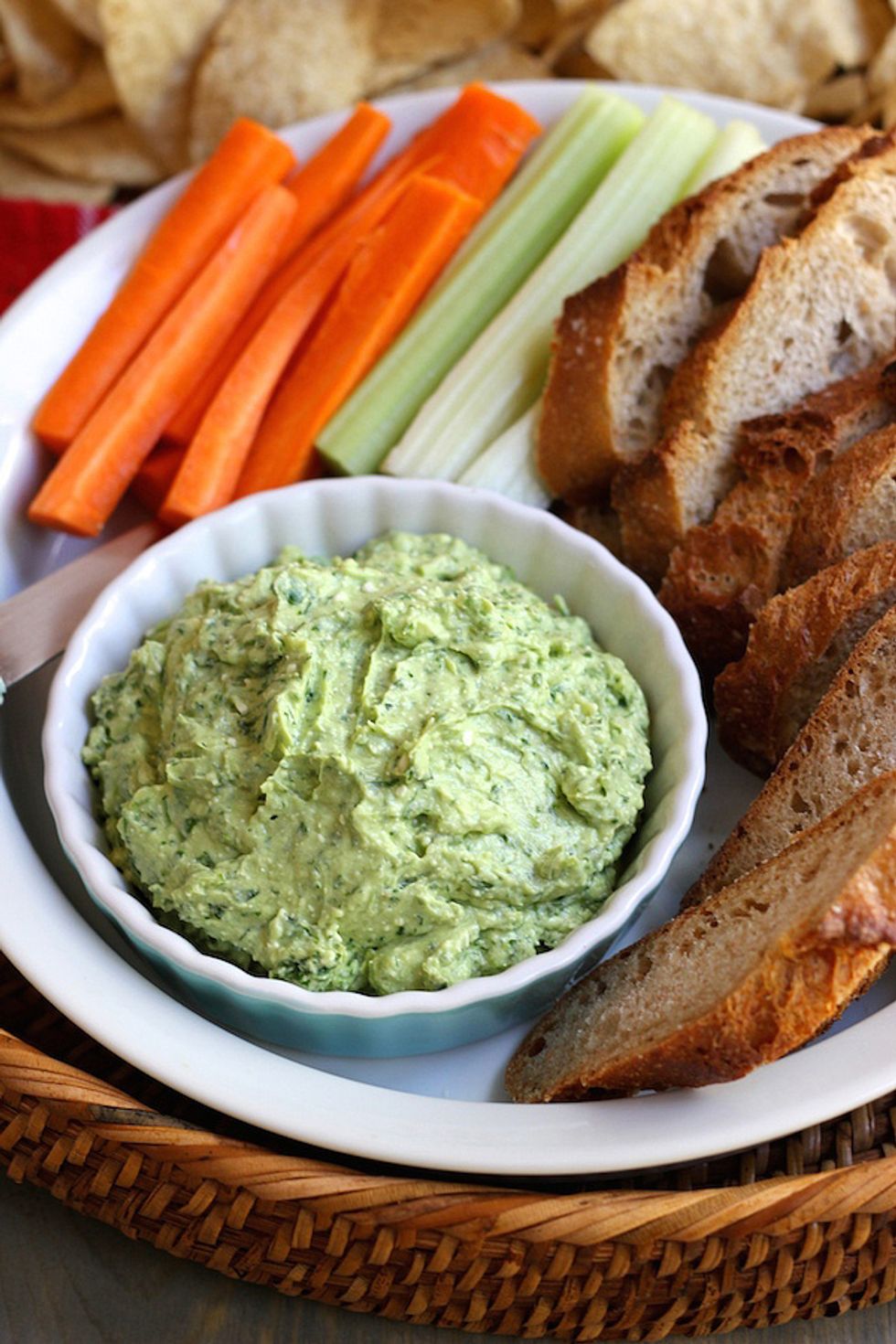 Avocado Feta Dip with Sliced BreadGreen Valley Kitchen
A table of great dips is hard to resist. Don't get in the rut of making the same old thing over and over again. Next time you're having a party update your spread with some of the best dip recipes around.
---
Looking for more recipes? Try these Vegan Avocado Brownies that are just as good as the real thing!