As much as we love summer apparel, every fall it's incredibly invigorating to unpack blazers, boots, and jeans perfect for the smoky chill that cools the air come mid-September. And, of course, it's always enjoyable to walk around outside without sweating off your makeup.
Autumn 2018 is bringing some exciting trends, particularly in denim. All those who have either ignored or rebelled against the skinny jean obsession can rejoice, because now designers are leaning towards more relaxed fits (wide-leg included) with a focus on cuffs. Colored jeans, patchwork, and animal print are also big this season.
If you're looking for a few pieces to spice up your wardrobe, you can't go wrong with a new pair of jeans. Try one of these bad boys on for size!
Wide leg for a tailored look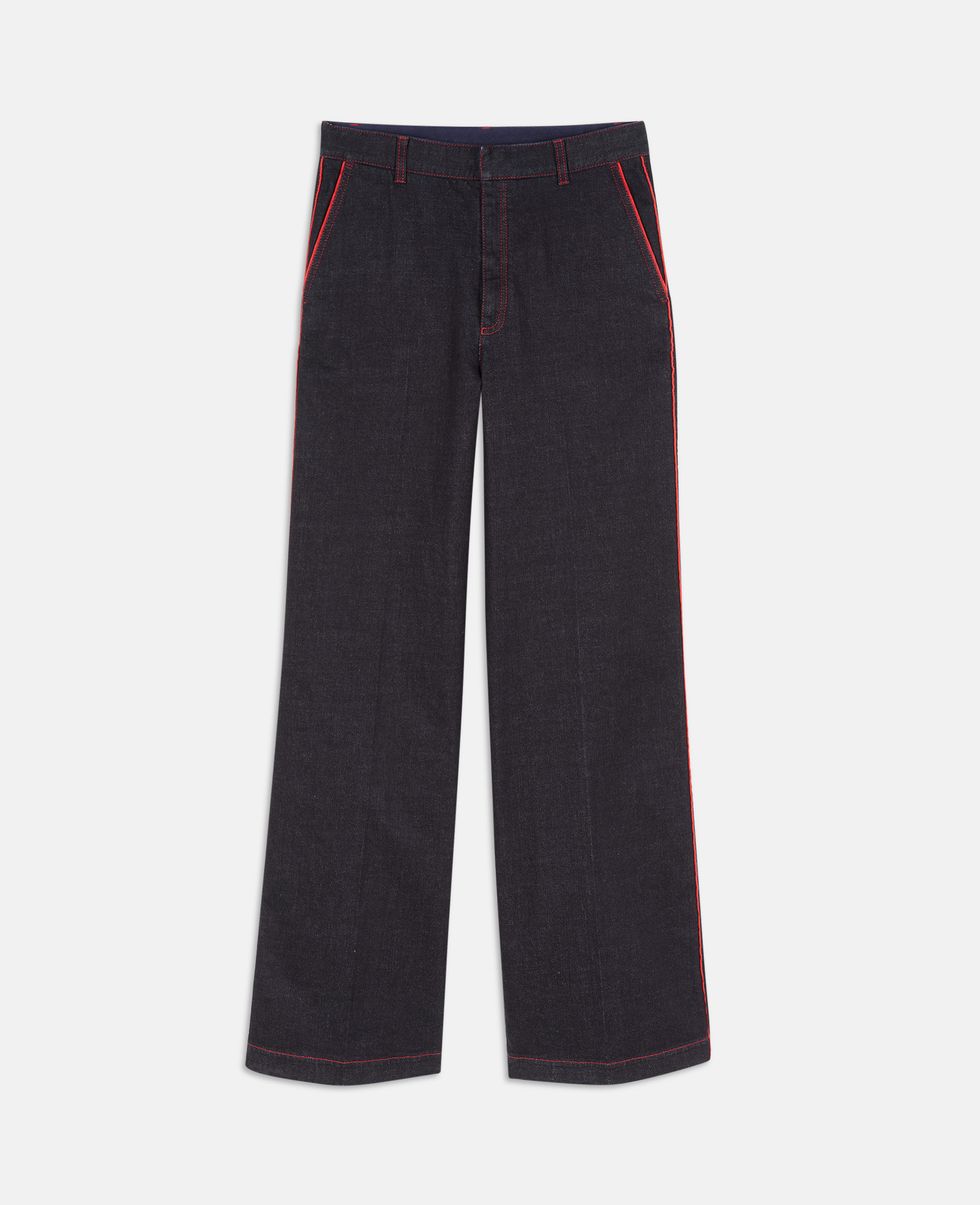 McCartney rocks the trendwww.stellamccartney.com
Give your legs some breathing room with SJYP's high-waisted wide leg jeans. Steve Jung and Yoni Pai started this streetwear inspired brand in 2014 as an offshoot of their Steve J and Yoni P line. K-pop stars and Korean fashion bloggers fell hard for the buzzy styles—SJYP was born as a result of the overwhelming demand for their trendy couture.

Stella McCartney's Flared Raw Denim Jeans are another option for those seeking a sleek, yet relaxed fit. Made from organic cotton (natch) these dark wash jeans feature red piping on the side pockets for added flair and are cut to lengthen even the shortest legs.
Bring on the cuff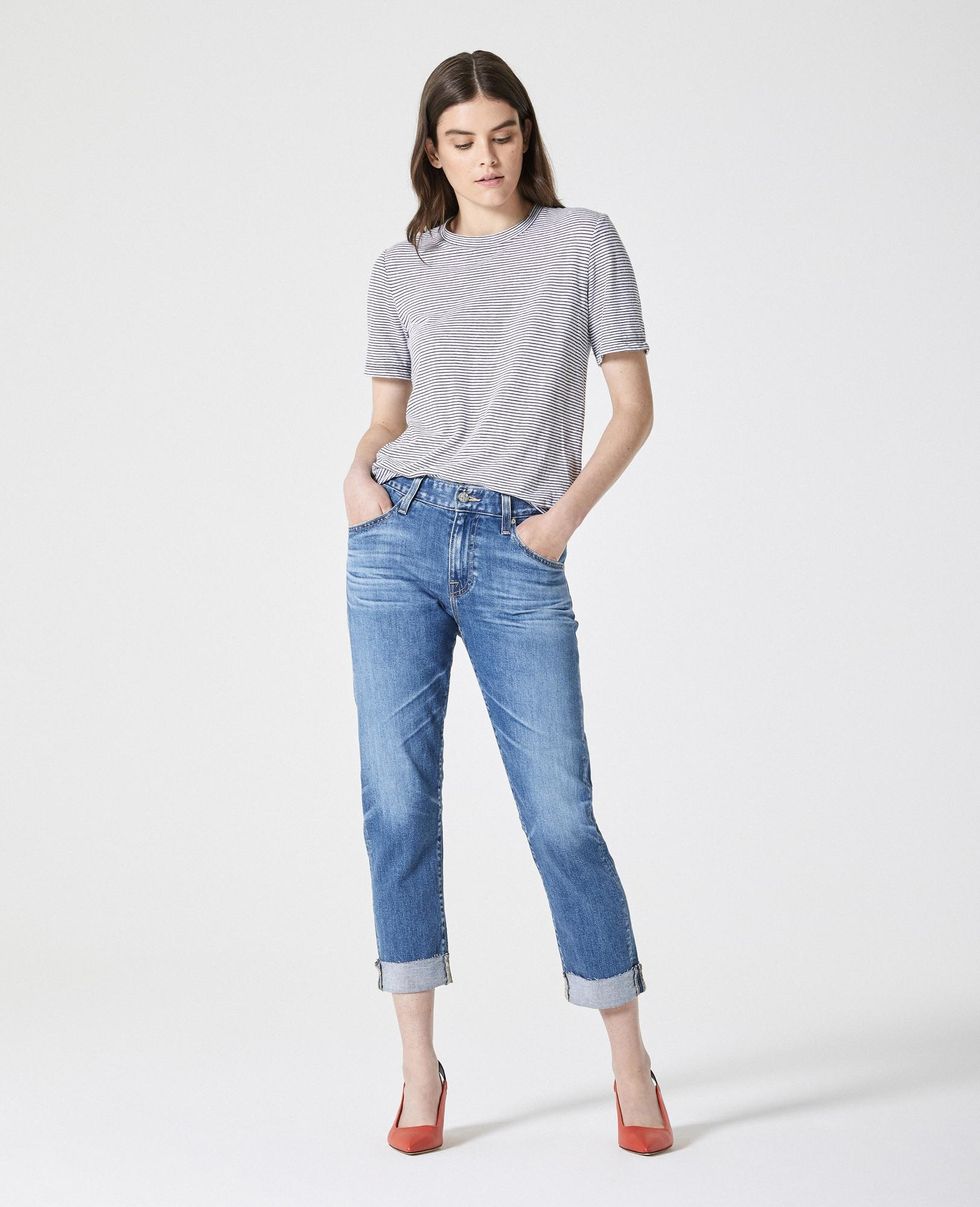 He left his best trait behindwww.agjeans.com
Cuffed styles are an easy way to highlight delicate ankles and fashionable kicks. But they also add a bit of refinement to otherwise casual denim. Pair them with some Oxford brogues (or even heels if you're feeling girly) and you'll be rocking an easy modern look in no time.

For those looking for the perfect relaxed fit, the AG Ex-Boyfriend is your new best friend. (You could always try to snag an actual ex-boyfriend's pair of jeans…but that could get messy.) Jeans that look polished and are as comfortable as your fave pair of sweats? Bring 'em on.
The '90s are back (but, really, did they ever leave?)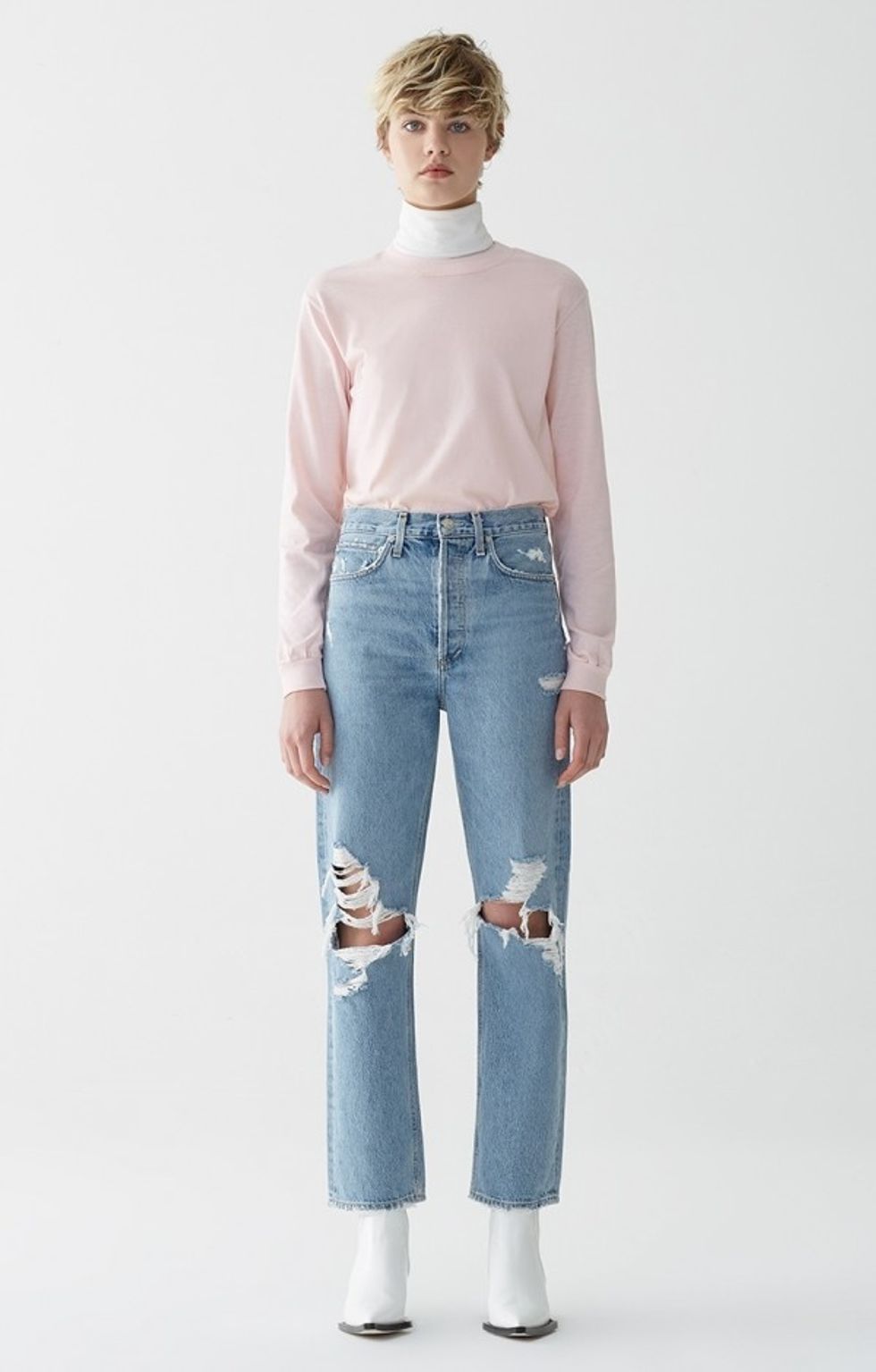 Agolde just won't quitwww.agolde.com
Acid washed jeans, once the uniform of Alanis Morrisette followers everywhere, are back on everyone's must-have list. Agolde 90's Fit Mid Rise Loose Fit in Fall Out jeans are an updated classic for effortless chic. The distressed detailing offsets the tailored high waist and a slightly shorter length means there's plenty of room to show off new fall booties or saucy heels.

If you're a diehard skinny jean fanatic there's still plenty to choose from. American Eagle's Denim X Jegging is not only fashionable and comfy, it also won't hit your wallet too hard. With a light indigo wash that's so pale it's almost ivory, you won't have any trouble pairing these jeans with anything in your closet.
Unleash your wild side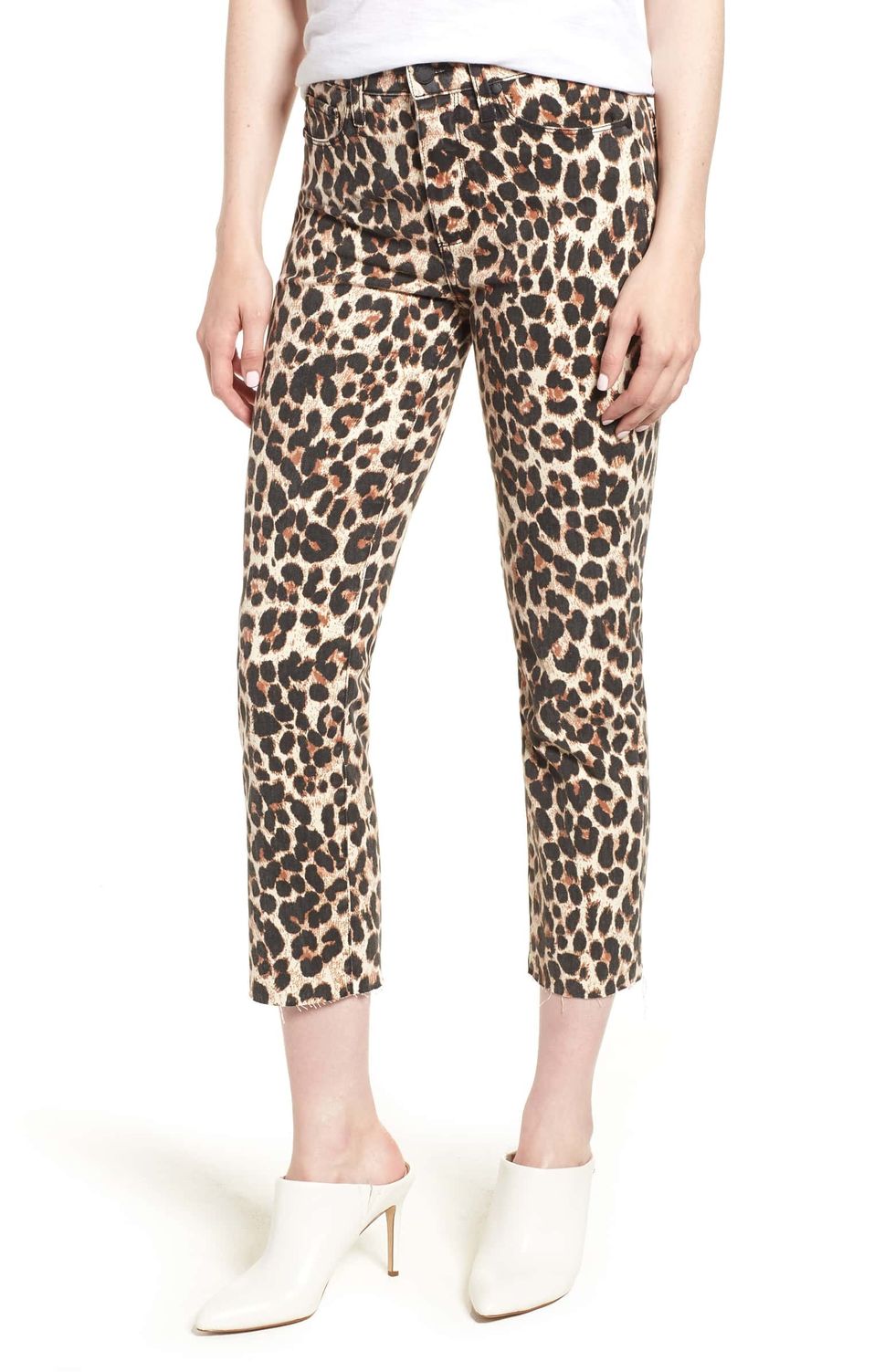 Everyone will hear you roar in your Hoxtonsshop.nordstrom.com
Animal prints usually show up on the runway in some form or another and this year is no exception. If you're looking sport some fierce fashion this autumn, pull on a pair of Paige Hoxton High Waist Ankle Straight Leg Jeans in Sahara Leopard. When paired with a sleek blazer and flats, these tailored high-rise slim fit jeans will work for your 9-5, or slip on some black booties for a night out on the town.

Current/Elliot also makes a mean pair of white leopard-print jeans with a body-conscious fit yet with a waist that's high enough to avoid the dreaded "muffin top."
Patchwork for the indecisive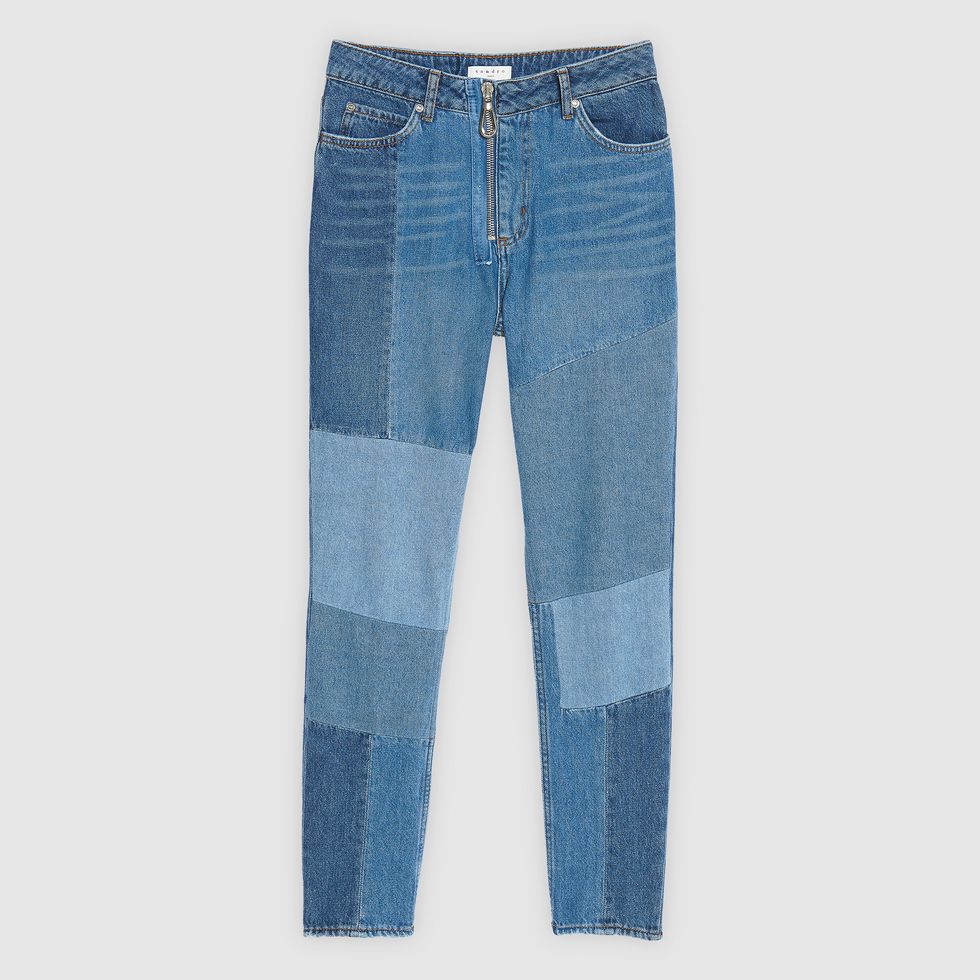 With a sassy zipper for extra creditus.sandro-paris.com
If you're torn between deep indigo and stonewash, these jeans are custom made for you. Patchwork jeans are cropping up all over runways this season and you can find many different styles for every occasion. Try Sandro's high-waisted Patchwork Cotton Jeans with Zip for a look that feels both casual and edgy. The decorative teardrop zipper adds to the appeal, and they hug your curves yet draw attention all the way down your legs.

Not quite ready to shell out a ton of cash for what may be a fly-by-night trend? Gap has you covered with their inexpensive Superdenim Super Skinny Jeans in Patchwork with Fantastiflex. For less than the cost of a night out with the girls you can ride this trend however long you'd like.
Color me fun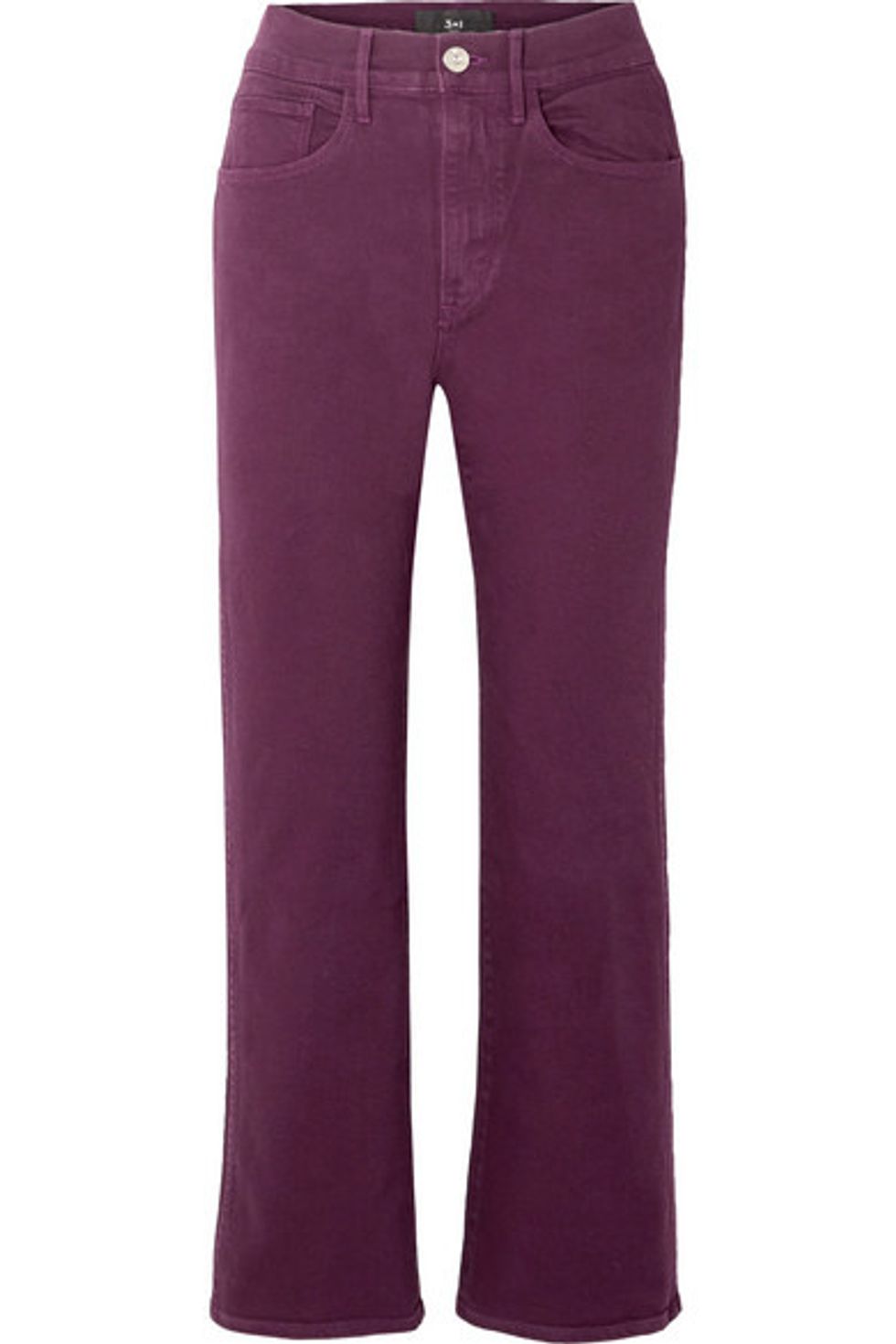 Perfect in purplewww.net-a-porter.com
Animal prints aren't the only bold choice this fall. No longer restricted to summer shorts and dresses, colored jeans are showing up on shelves everywhere. For the perfect plum color that begs to be paired with a supple leather jacket, try the W4 Shelter cropped high-rise flared jeans from 3x1. They're flared (!), a refreshing change from the skinny styles we've all been rocking for so long. If you're dying for a pop of dazzling color, try Rag and Bone's Bull Red skinny jeans. Made with a 28" inseam, these duds match well with an understated top and your favorite casual kicks.
Jeans made for unwinding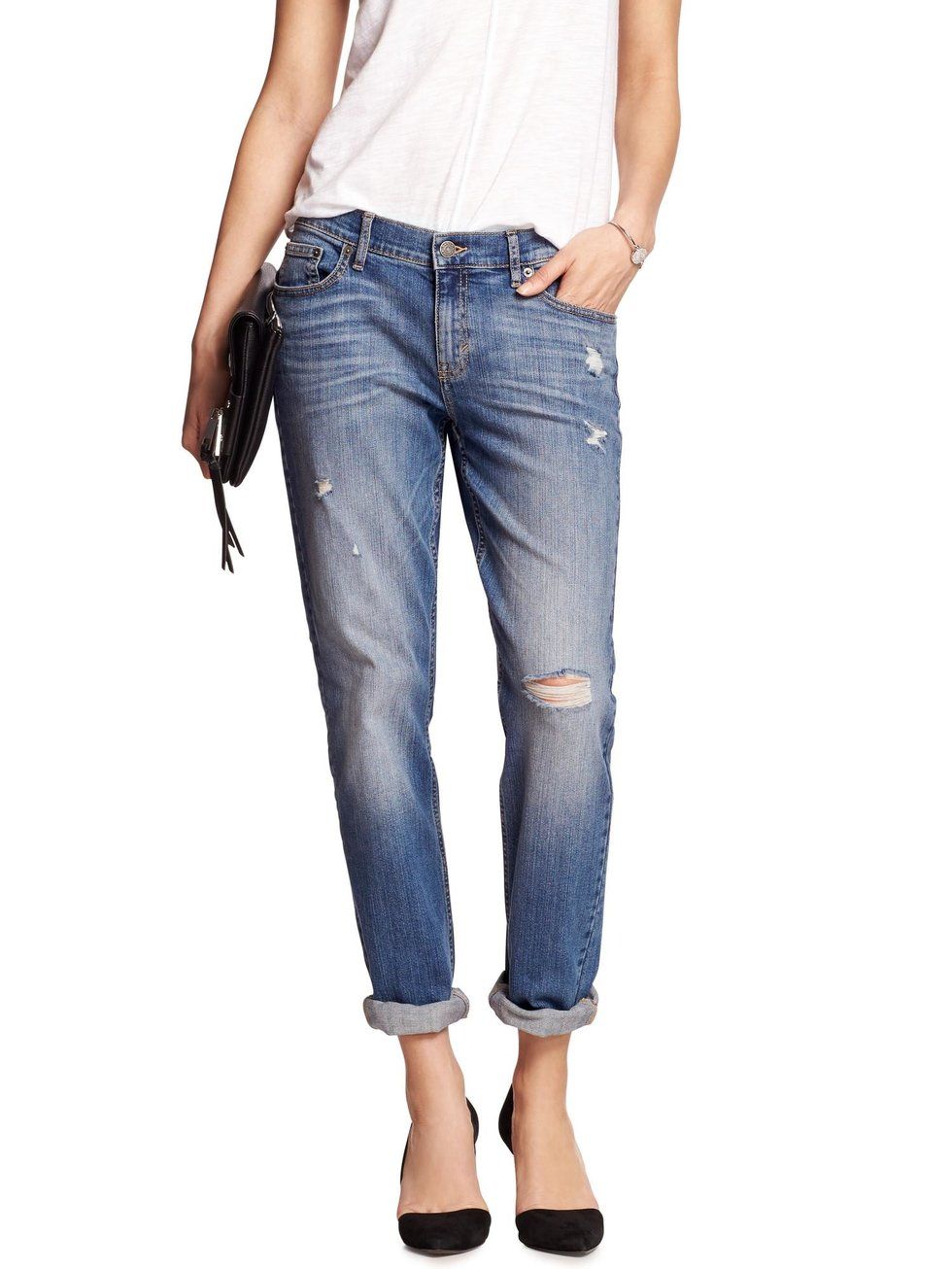 Relaxed and reliablebananarepublicfactory.gapfactory.com
Banana Republic knocks two trends out the park with their Deconstructed Girlfriend Jean. Relaxed fits are en pointe this season, and BR's pair even has a sweet cuff to offset the distressed fabric. If you're still hanging on to your low-riding jeans, this pair sits low on the waist and has a generous fit down to the thighs. It's impossible to feel uptight in jeans this relaxed, but this pair has enough style to prevent you from looking anything but intentionally chill.

While LL Bean is known for their omnipresent tote bags, their Signature Denim Boyfriend Jean is a well-crafted, comfortable, and trendy pair that won't set you back too much financially. And they look great with those cute tote bags!
Jeans are perhaps the greatest fashion invention of all time. Dress them up, dress them down, and reinvent yourself in their inimitable style. This fall take a hip new pair out for a spin and enjoy a bevy of envious onlookers in your wake.