When we think of A-List celebrity status, we think of Brad Pitt. The be-all-and-end-all. Brad Pitt. Just imagine the thousands and thousands of young Brads out there named by starry-eyed mothers who simply adore Mr. Pitt - it's overwhelming.
He was once married to Jennifer Aniston, one of the most stunning, ageless women in Hollywood. When you're Brad Pitt, this is par for the course. Subsequently, he had an even longer, more notable marriage to Hollywood's other leading lady, Angelina Jolie.
---
When you name a famous actor, why is it always Brad Pitt? When you consider the film industry in general, his name is one of the first to come to mind. Probably because of his blockbuster acting career launched with 21 Jump Street - alongside the young and ever-handsome Johnny Depp - and spans three decades.
We're forever enthralled with Brad Pitt. Women want him, men want to be him. He emerged from an era when pretty boys took over the silver screen - Leonardo DiCaprio, Young Johnny Depp, Rob Lowe.
Brad dictates male trends wherever he goes. That's what comes from being the most famous actor in the world.
But we aren't here to talk about the rules of Fight Club or his riveting performance in Once Upon A Time…In Hollywood. This isn't about Inglourious Basterds, Mr. & Mrs. Smith, or any of the 107 films Brad Pitt has graced our theaters with…
It's about Brad Pitt changing red carpet fashion as we know it.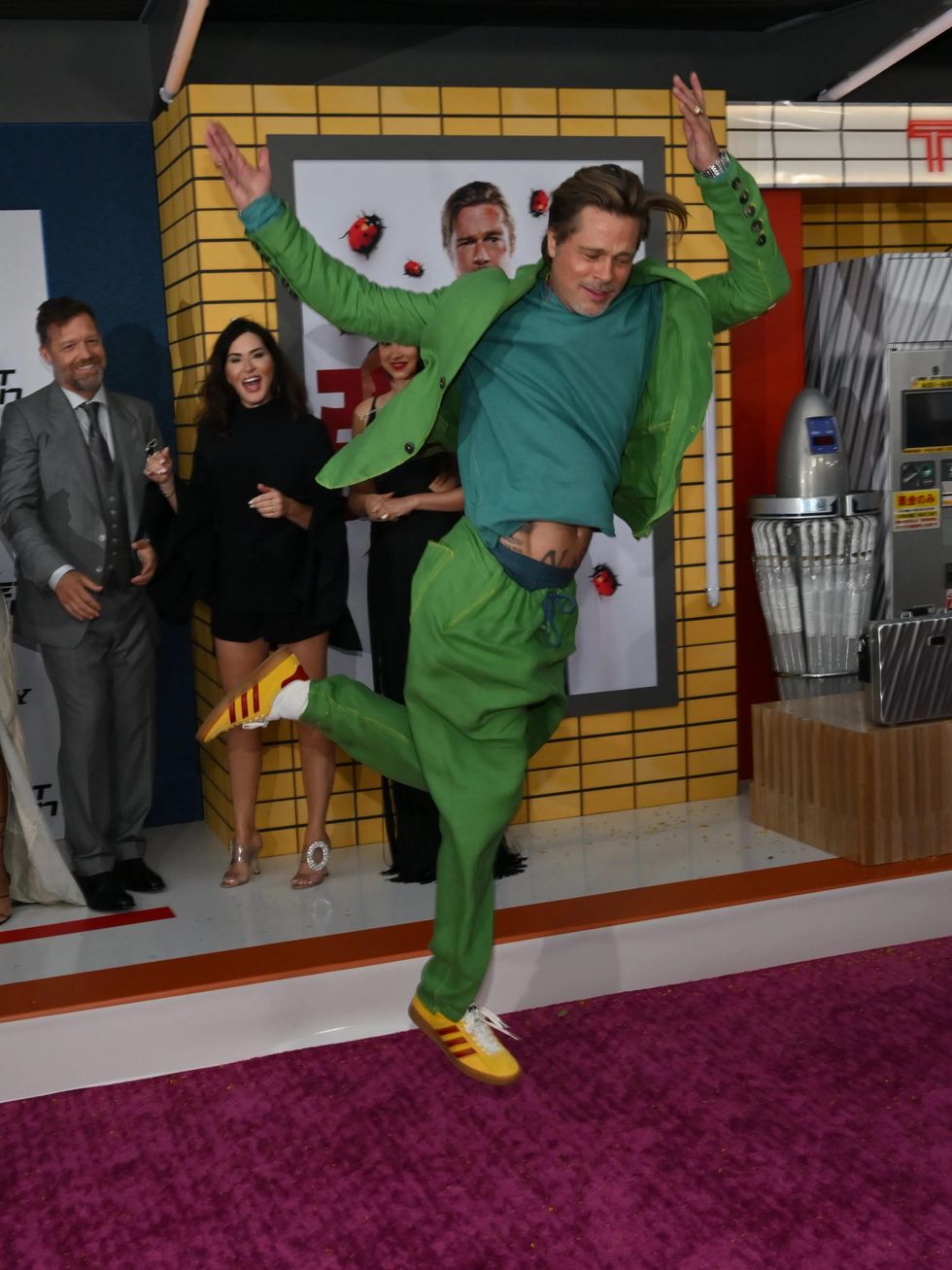 And he managed this during the Bullet Train premiere circuit.
Bullet Train looks like an instant hit. A star-studded cast featuring marquee names like Sandra Bullock, Joey King, Bad Bunny, and Aaron Taylor-Johnson. Not to mention the main event - Brad Pitt as Ladybug, an assassin looking for one peaceful job in a life of chaos.
But people haven't buzzed about the movie as much as they have about Brad Pitt's red carpet behavior. The 58 year old star is blazing a new trail for menswear.
Brad's main point? He's having fun, and you should too.
Fun, vibrant colors. Loose fits. Tracksuits. Monochromatic. SKIRTS.
Brad's served absolute fire fits at Bullet Train premieres around the world. People are literally whispering about what Brad may be rockin' tonight. It's super fun to anticipate his latest red carpet arrivals.
Gone are the crisp, perfectly tailored suits. The same-old-same-old black tuxedo, which can make the garbage man look like a star. Brad Pitt's red carpet fashion is the new wave.
People have grown accustomed to women wearing avant-garde pieces and experimenting with fashion on the red carpet…but what about men?
Sure, the Met Gala is a place to avoid the bland suit-and-tie uniform. But in a world where we celebrate gender fluidity and your audacious fashion sense, it's time we hold red carpet fashion to a fresh standard.
It's not just that Brad Pitt looks incredible in these new, fun outfits. It indicates to men around the world that it is okay to strut your stuff in outfits that make you happy and feel your best.
Brad Pitt looks like he's having the time of his life he's dancing it up and making life look less serious, which is how it should be.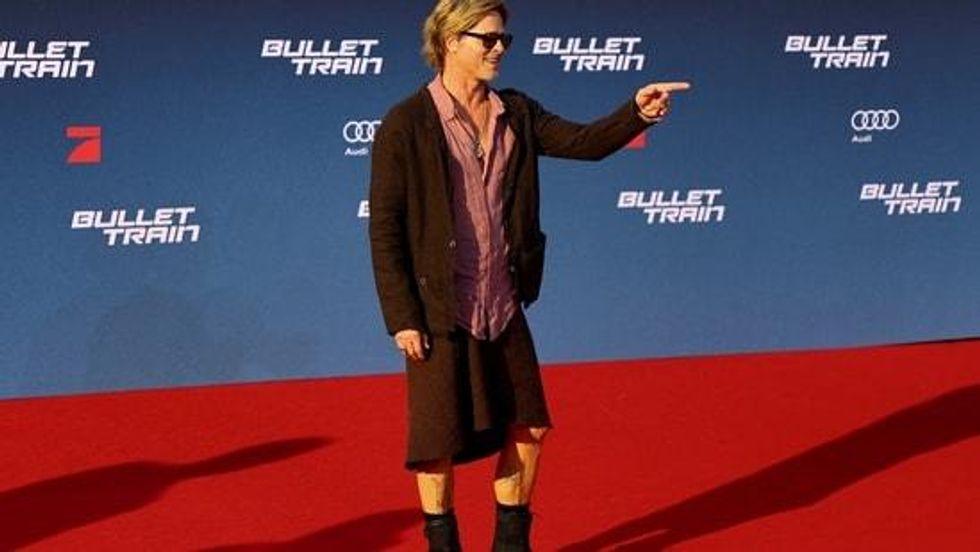 This past year, skirts and dresses on men have been controversial So a massively global star donning one on Berlin's red carpet is astounding. It proves that enlightened male fashion has arrived - finally.
At the end of the day, who cares what someone's wearing? If you wear a piece confidently, then no one can tell you that you look bad.
When asked about his recent red carpet sartorial antics, Brad Pitt gave the most iconic answer possible:
"I don't know! We're all going to die, so let's mess it up," Pitt told Variety.
He is so right. The entire world needs to start living their best lives right this very instant. Gone are the traditional, conforming outfits you think you ought to wear.
Pull on crazy patterns and colors, the pearls, the diamonds, feathers. Shop for those items that put a genuine smile on your face. When it comes to what we wear, there should be no regrets.
Brad Pitt should have a lot of red carpet appearances ahead of him. He's the producer of the Marilyn Monroe biopic, Blonde, starring Ana de Armas coming this September.
I, for one, can't wait to see what he wears to that premiere.