Broccoli is a cruciferous vegetable that shows up in a wide variety of recipes but doesn't get enough shine for how versatile it really is. Simple broccoli can easily be transformed into a delicious side dish, get thrown into a quick stir fry, and add color to a cheesy casserole. This heart-healthy vegetable might even be the one veggie your kids will actually tolerate. As long as the florets are dipped in ranch or topped with cheddar right?

Cruciferous vegetables like broccoli, kale, cauliflower, and Brussel sprouts are packed with anti-inflammatory properties. They're rich in vitamins, minerals, and phytonutrients making them serious inflammation fighters known to help reduce the risk of developing cancer. A study by Nutrition Research even found that eating steamed broccoli on a regular basis reduces cholesterol and can prevent cardiovascular disease.
Steaming may be the healthiest way to prepare broccoli, but there are so many other delicious ways to enjoy it. You can roast broccoli to crispy perfection, saute it with butter and lemon, puree it into a creamy soup, and even eat it raw in a salad. Broccoli makes the perfect side dish to proteins like fish, poultry, and steak. It also fills out vegetarian recipes that can stand alone.
Here are 5 different ways to prepare broccoli.
Steamed
Steaming broccoli isn't just the healthiest way to eat it, it's also the easiest way to prepare it. You can quickly steam broccoli in the microwave, but the stovetop method is best for retaining the most nutritional content and getting the best texture. To steam broccoli on the stove, simply fill a large pot with a few inches of water. Once the water's boiled place a steamer basket on top and fill it with the broccoli florets. Cover and steam for about 5-8 minutes.
You'll know the broccoli is done when a knife can easily pass through, but the outside of the stem should still feel slightly firm. Steamed broccoli should be crisp and slightly tender, not so soft that it melts in your mouth.
Recipe:Butter Steamed Broccoli with Peppery Bread Crumbs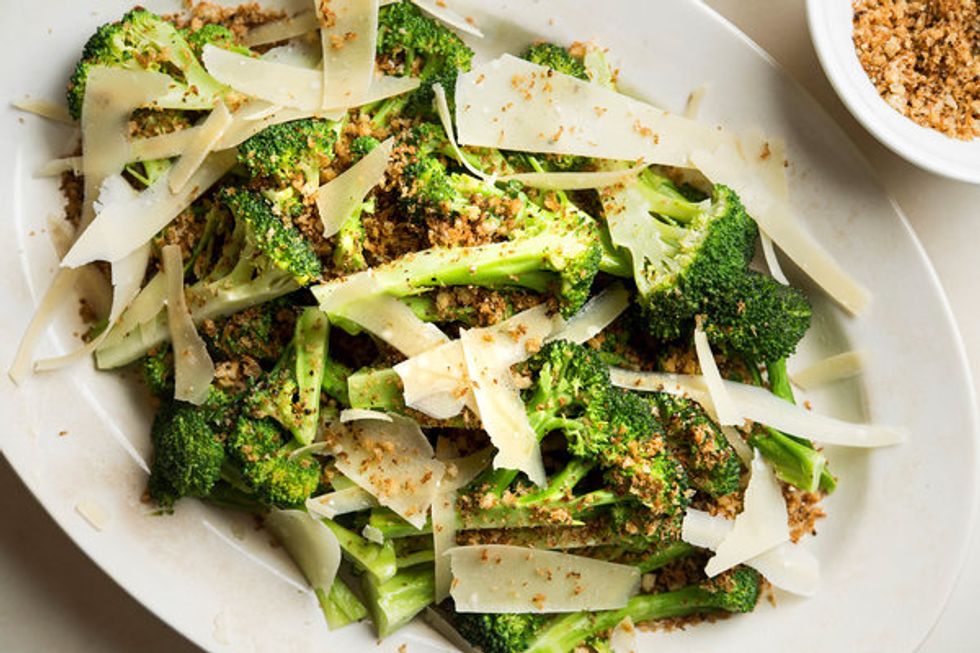 Steamed Broccoli with Butter and Brad CrumbsThe New York Times
Sautéed
Sautéing broccoli is quick and easy. It's also a great way to add broccoli into a fuller dish like shrimp and broccoli. For sautéing make sure you have a good skillet that can be heated to high temperatures. A cast iron or stainless steel skillet works well.
Heat a tablespoon of your favorite oil over medium heat in your skillet and then add your broccoli florets. You can also try sautéing the broccoli stems like in the Bon Appetit recipe below. Sautee the broccoli for about 3-4 minutes until all sides are slightly browned. Drizzle the finished product with a vinaigrette or try deglazing the pan by adding in a splash of chicken stock, white wine, and lemon juice before removing from the heat.
Recipe:Sauteed Broccoli Stems with Floret Vinaigrette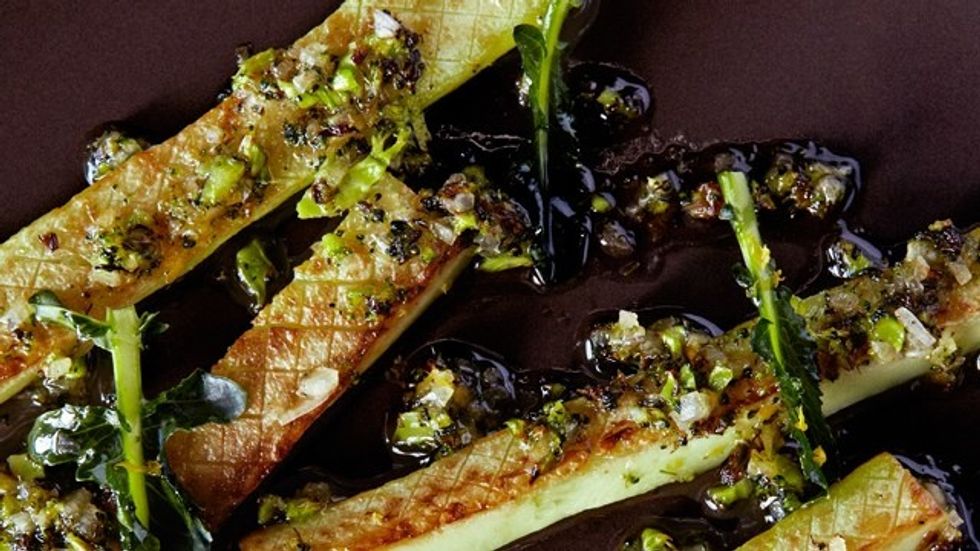 Sautéed Broccoli Stems with Floret VinaigretteBon Appetit
Roasted
Roasting broccoli is my favorite way to prepare it. You can throw the florets on a sheet pan, drizzle with olive oil, set a timer, and forget it. You can even roast broccoli with other veggies and proteins for easy, healthy sheet pan dinners. Try roasting broccoli with salmon or chicken.
Cranking the oven temperature up to 425 or even 450 F ensures your broccoli will roast until crispy perfection. You also want to make sure you use a sheet pan and spread the florets out evenly to get that delicious browning around the edges.
Drizzle the broccoli pieces with about a tablespoon of olive oil and a teaspoon of salt. Let it roast for 8 minutes until you see some browning. After 8 minutes, shake the pan to prevent the broccoli from sticking and then roast for another 5 minutes.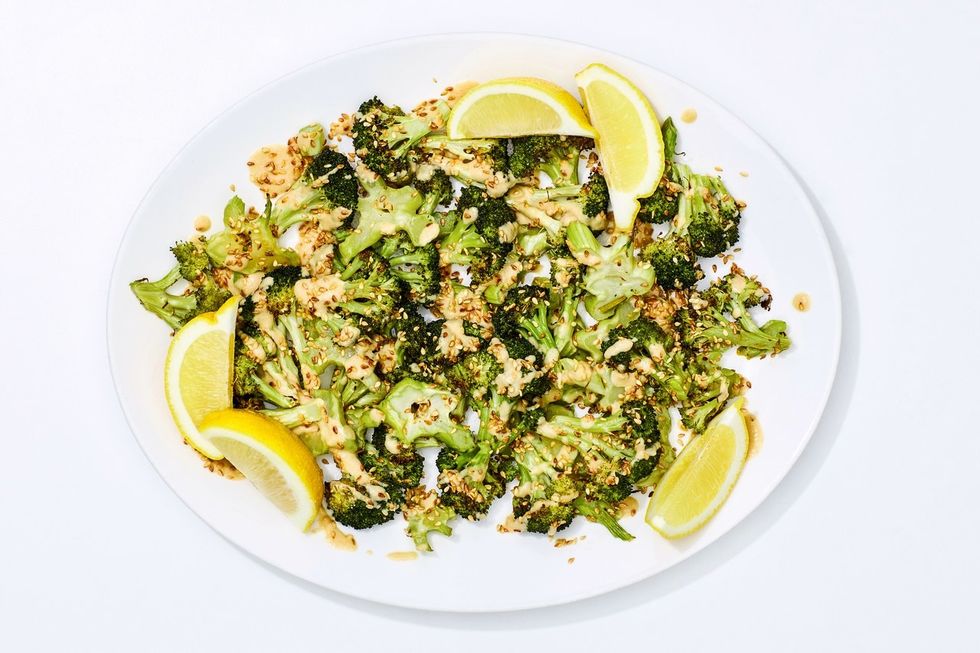 Roasted Broccoli with Tahini Bon Appetit/Basically
You don't even need to cook broccoli to enjoy it. Finely chopped raw broccoli florets or thinly slice stems make a delicious crunchy salad. Just don't forget to wash your veggies with cold water before eating them. Vegetables are actually more likely to pass food borne illnesses than poultry.
Try tossing raw broccoli in a creamy dressing and topping with cranberries, almonds, and marinated red onions. You can even add grilled chicken, shrimp, or steak to the recipe below to make it hearty enough to serve alone. If you're vegetarian and looking to add more protein try adding in chickpeas.
Recipe: Cranberry Almond Broccoli Salad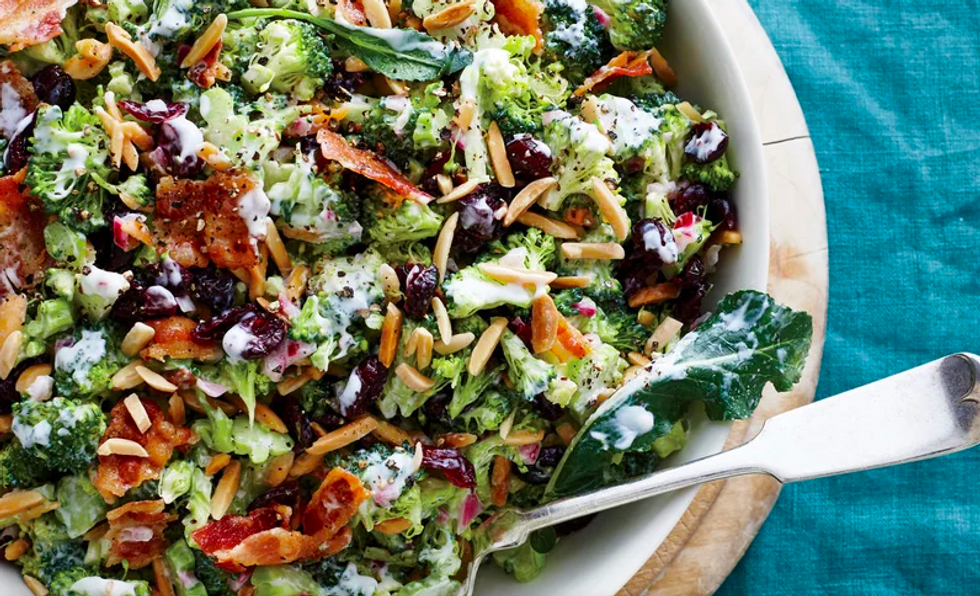 Raw Broccoli Salad with Cranberries and AlmondsMy Recipes
Pureed
Broccoli and cheddar is a classic combination, but you don't have to just enjoy it steamed or roasted. You can also puree cooked broccoli with olive oil, a few extra veggies, and a little stock for an easy, healthy soup. The key to a good broccoli soup is making sure the florets are cooked thoroughly before blending.
The recipe below combines cooked onions, celery, broccoli, and garlic with water for a light, creamy soup. It's served with a side of cheddar crisps for a healthier twist on a classic combination. You can also try this cleansing, winter broccoli soup if you're looking to detox.
Recipe:Creamy Broccoli Soup with Cheddar Crisps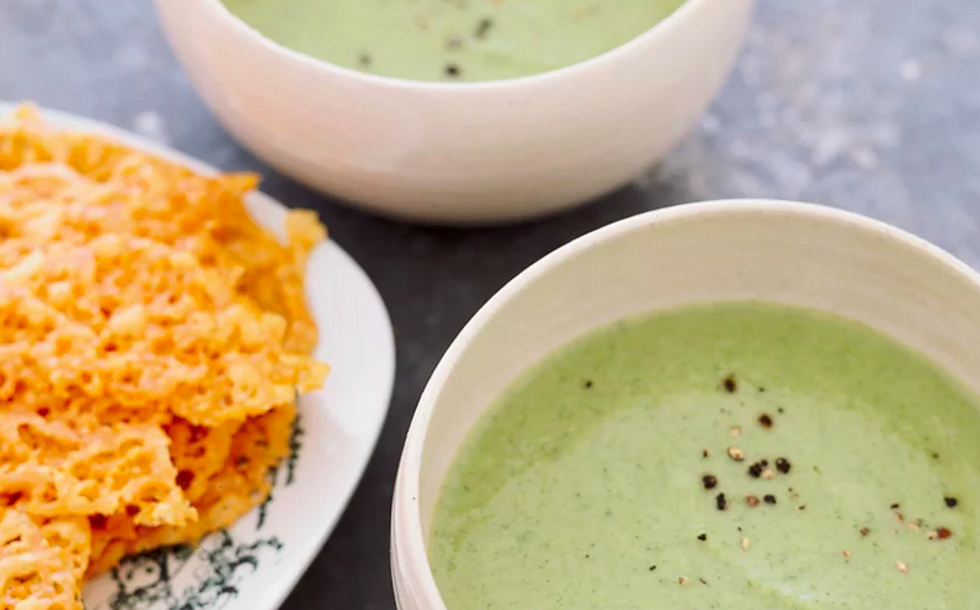 Creamy Broccoli Soup with Cheddar CrispsFood and Wine Magazine
While most recipes call for you to use just the florets, broccoli stalks are also delicious and incredibly versatile. You can add them raw to salads by peeling off the tough outer layer and then thinly slicing the inside. Or steam the stalks and add them to soups, salads, and frittatas.