Fresh green juices and smoothies are a refreshing way to give your body a boost of nutrients during the warmer months, but when you want to cleanse, or even just fill up with a light, easy-to-digest meal during the winter, reaching for a cold drink just doesn't sound as satisfying.
Enter the soup cleanse.
Overindulging in rich meals during the holiday season, managing deadlines at the same time as your in-laws, traveling more than usual. The stress that comes with the hustle and bustle of end of the year celebrations can put your body into a sluggish, over-exerted state. Detoxing with warming, winter soups is a great way to nourish your body and give your digestive system a break.
Adding cleansing soups into your winter diet doesn't mean you have to give up chewing real food for days at time either. If you're disciplined enough to stick to a 2-4 day soup cleanse your body will likely thank you at the end of it. Your skin might be even look a little glow-ier. But, you can just as easily help clear the cobwebs of all that holiday indulging by substituting a detoxing winter soup for your regular lunch or dinner.
Just like you might reach for a green juice once a day, a healing soup can be an great way to pack more nutrients into you diet. Because soups usually focus on vegetables instead of fruit, they're also packed with fiber and lower on the glycemic scale. Below are 5 delicious, winter soup recipes that cleanse and nourish.
If you're not in the mood to make your own soup at home try a healthy (and super convenient) meal delivery service like Splendid Spoon or Daily Harvest. Although, all of these delicious, healing recipes are easy and quick to whip up yourself.
Broccoli Detox Soup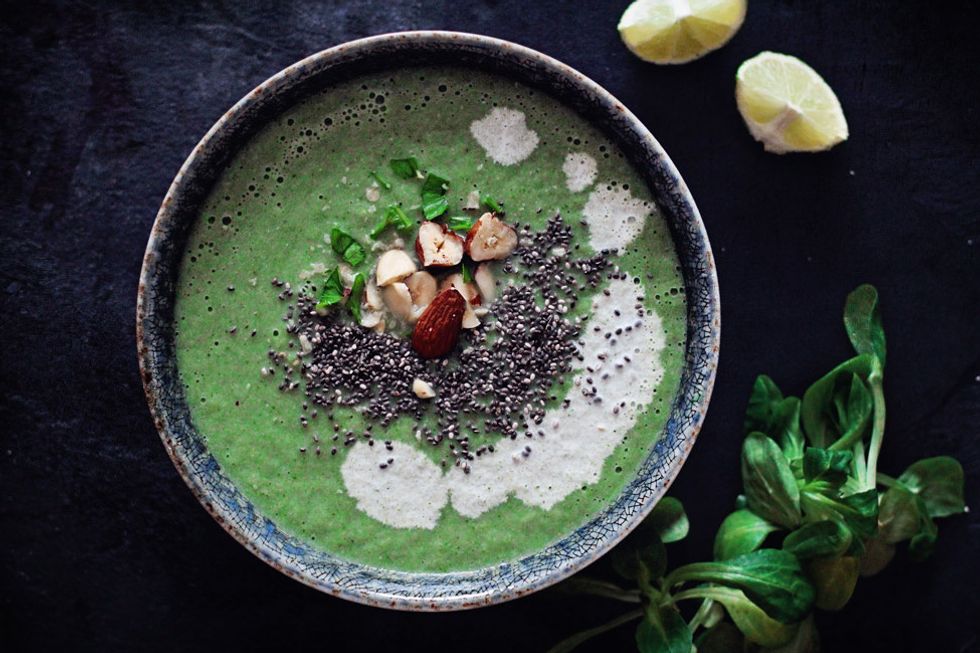 Brocolli Detox SoupThe Awesome Green
This beautiful green soup looks like a green smoothie in a bowl, but it's actually a warm, nourishing winter meal. It's packed with fiber, vitamins, and minerals that will help alkalize and reboot your body. Although it might not look like it, parsnips and carrots are included in the recipe and help make it filling enough to enjoy as a meal. Top with chia seeds, almonds, or any other seed and nut combination that you love!

Thai Curry Soup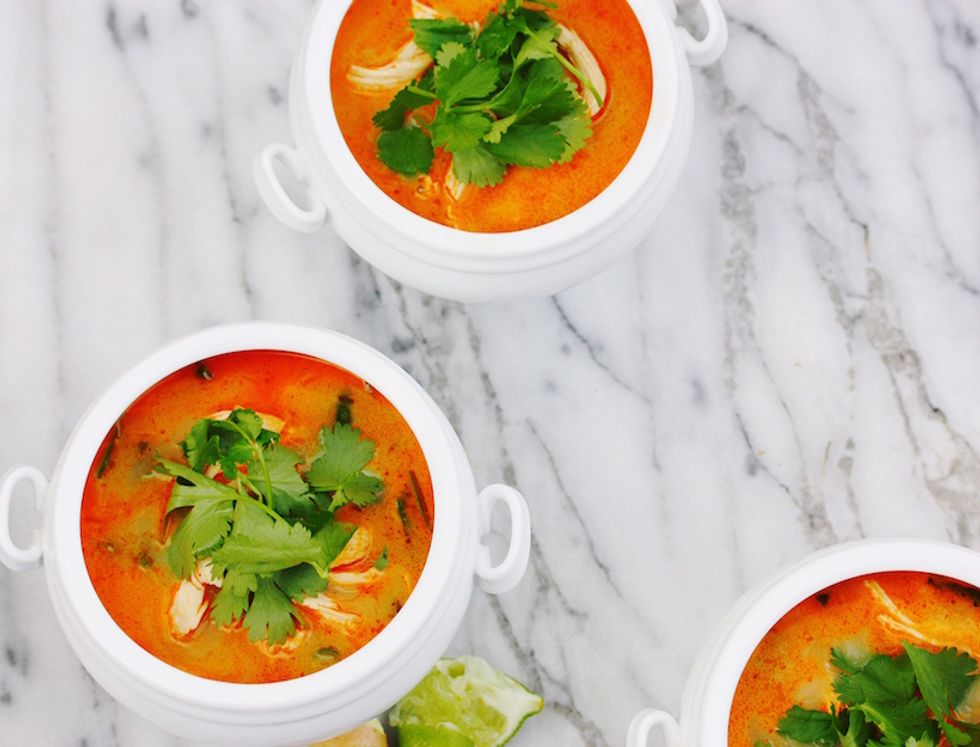 Clean thai Curry SoupGOOP
Curry soup on a cleanse? Yes! Spices and herbs like curry powder, turmeric, cilantro, and basil can actually help detoxify your body. A little extra spice is also known to make you feel fuller, faster. This detoxing recipe from GOOP is part of a winter cleanse meal plan and is so delicious. It's gluten free and completely meat free. If you wanted to bulk this recipe up you could easily add in organic-free range chicken or shrimp. Although taking a break from meat during a cleanse, helps your digestive system heal.
Beet Detox Soup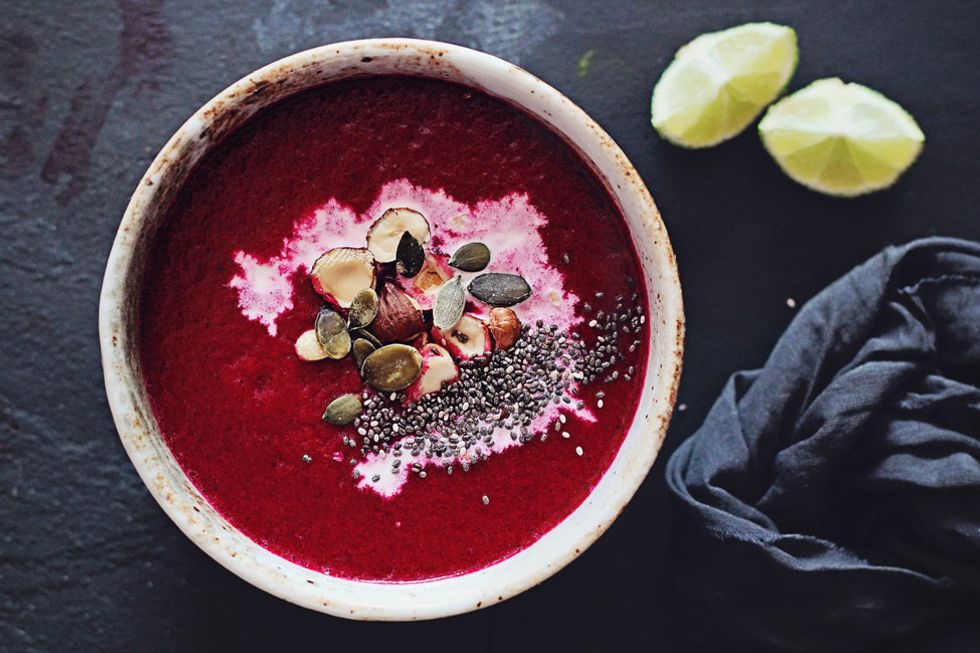 Beet Detox SoupThe Awesome Green
Here's another beautiful soup, totally worthy of insta-graming. Beets are a powerful detoxing root vegetable and give this nourishing soup a vibrant pink color. You only need 8 ingredients and about 15 minutes of actual prep time to whip this recipe up. Beets, carrots, leeks, onions, garlic, coconut oil, vegetable broth, and a pinch of sea salt are cooked down and then blended for a creamy, smooth consistency. Top with sunflower seeds, pumpkin seeds, chia seeds and a dash of coconut milk.
Leek and Celery Soup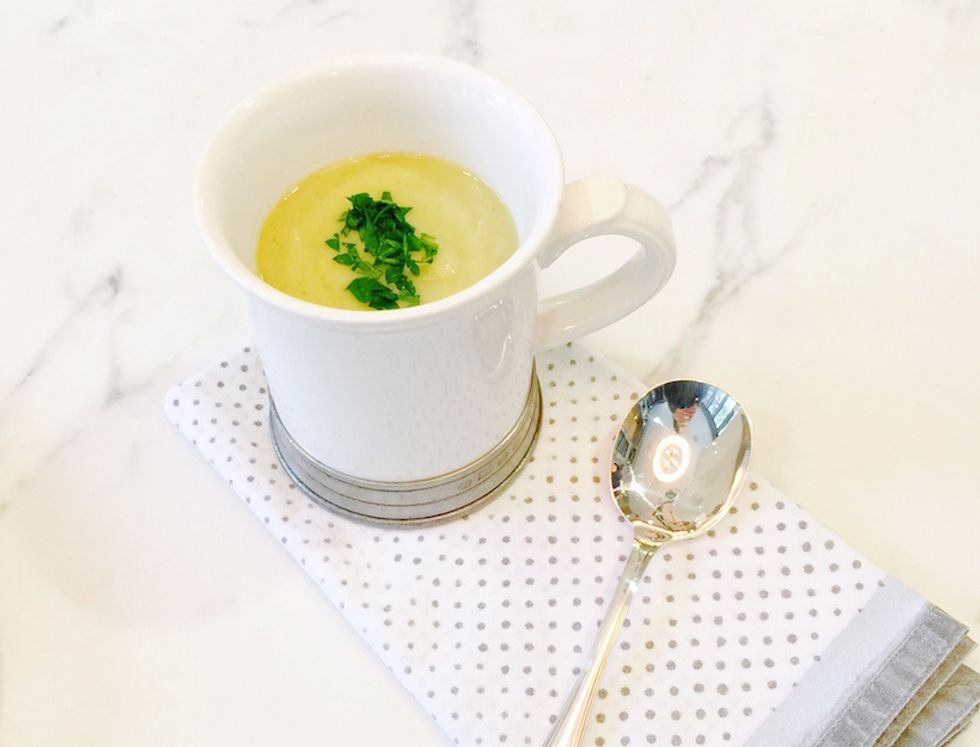 Leak and Celery Root SoupGOOP
This cleansing soup recipe is a lighter take on a classic vichyssoise. Potatoes are replaced with leeks and combined with celery root, thyme, garlic, chicken stock, olive oil, lemon juice, and sea salt. It's simple, healing, and very light. Serve it with a side salad if you want a fuller meal.
Healing Carrot Soup
By Hello Glow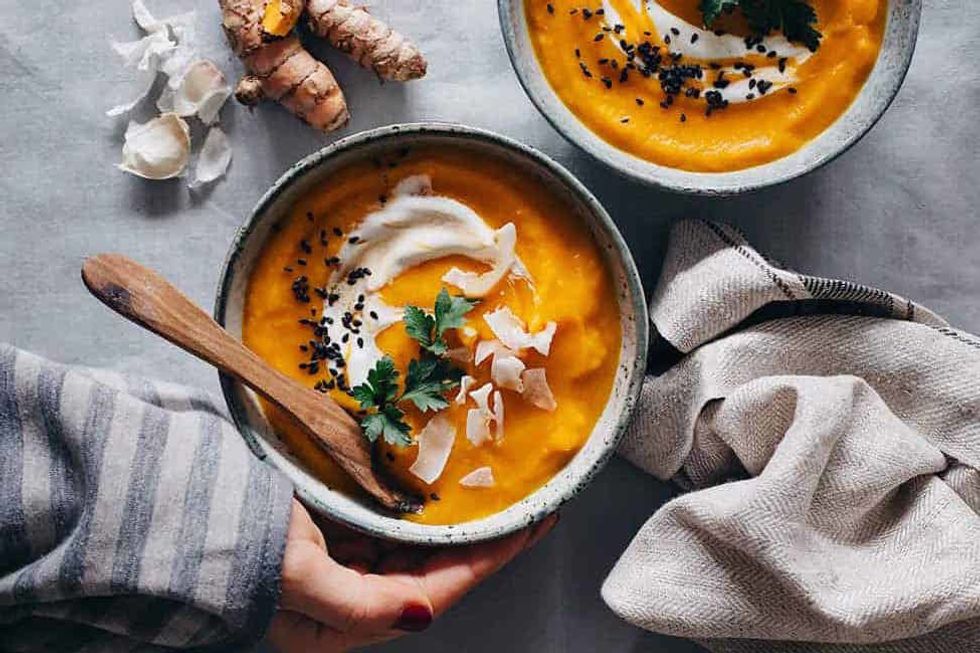 Healing Carrot SoupHello Glow
Healing ingredients like turmeric, ginger, seaweed, shiitake, and herbs like basil, mint, and sage make this recipe a powerhouse of nutrition. The carrot base also makes it hearty enough to fill you up. It only takes about 20 minutes, including cook time, to make this recipe from start to finish. If your suffering from a cold or sore throat, this healing soup will help you recover.