For far too long, skincare has been considered a feminine pursuit. But no more. The Golden Age of men's personal care products has arrived. Beyond beard oils and pomades, there's a fresh influx of products that target a wide range of male skincare concerns.
---
Whether you're looking to address a certain aesthetic issue or simply elevate from drugstore bar soap to luxe products, there's a whole other world of emergent skincare brands for you — yes, you! — to experience.
I know what you're thinking. You don't want to waste exorbitant amounts of time, you want a simple routine, and you're cool with what you're already doing. But what if you can level up your routine, so you look and feel great without adding extra steps to your morning?
With the new body and hair care line from Cardon, you can have it all.
As it turns out, doing the bare minimum gets you the bare minimum. You may think those drugstore products are quick-n-easy, but they just don't cut it. They might keep you clean (enough), but they don't prevent acne, dryness, or hair loss. In some cases, they make these things worse.
Cardon's innovative line of body and hair products treat your skin and hair while streamlining your routine. These high-powered products address all your issues, such as: dryness, oily skin & pores, hair loss, wrinkles & lines, dark spots, signs of aging, and breakouts.
This game-changing hair body care brand champions the male grooming space through a modern approach that delivers premium, affordable skin care products that work on all skin types.
Incorporating natural and effective ingredients that include niacinamide, yeast, and green tea extract, this line features a hair strengthening shampoo and conditioner and a deep cleansing body wash that soothes, smooths, and hydrates the skin, scalp, and hair.
I had the opportunity to dig deeper into all things Cardon when I spoke with CEO and Co-Founder Narae Chung about the evolution of male personal care.
"Our research and customer feedback shows that our male audience has a need for products that can complete their self-care routine. However, High-quality products at an affordable, readily available price were hard to come by. Cardon has helped fill this need and lessen the gap in affordable, top-notch male body care products," Narae said.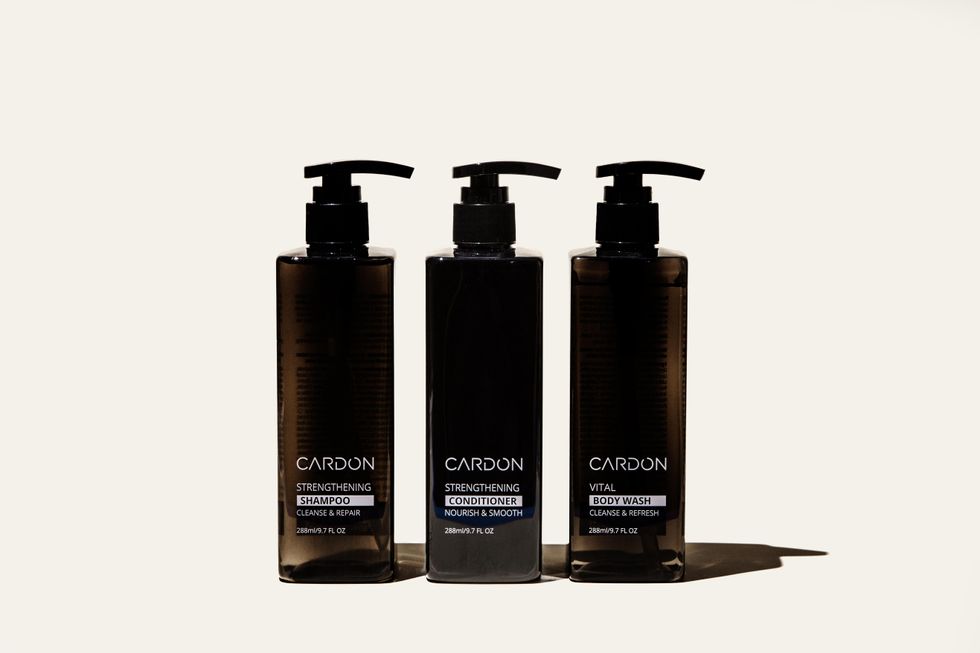 via Cardon
Read on to find out how:
What inspired this hair and bodycare line?
With every Cardon product, the ideation starts the same. We identify an unmet need in our target consumer through customer surveys and market data and begin formulating products to meet these needs.
Through direct customer feedback, we understood that Cardon's customers want more than just skincare products. They want brands to complete their entire personal care routine, rather than just their skincare routine.
Our target customers experience early signs of hair loss as well as body odor issues. These customers did not feel there were effective methods to treat these products on the market. In turn, we turned to traditional Korean ingredients and practices to tackle these concerns directly.
What improvements does this line promise for both hair and body? How is it effective for both?
The body and hair care line is curated to treat men's specific needs related to issues such as body odor and hair loss. Our Strengthening Shampoo and Strengthening Conditioner are designed for men with receding and thinning hair so they can gain thicker, stronger, and fuller hair.
The Vital Body Wash helps with body acne and body odor. Popular skincare ingredients such as niacinamide, salicylic acid, green tea, and more ensure the most efficacious products possible. This combination is extremely effective in helping you look, feel, and smell your best.
What are this line's standout ingredients?
The Vital Body Wash leverages green tea extract and seaberry/sea buckthorn to help with inflammatory issues, protects the skin, reduces sebum, and has antioxidants that leave the skin feeling fully refreshed.
Cardon's Strengthening Shampoo and Conditioner have salicylic acid, which helps balance scalp oil levels, and inflammation and exfoliate dead skin cells that prevent flaking from the scalp. Niacinamide soothes and smooths the scalp surface while boosting circulation to the hair follicles–in turn promoting hair growth, strength, and retention.
Why should men invest in body care? Are we seeing a new era in which they are?
It's no secret that the male personal care industry is booming. According to Allied Market Research, this market will hit $47B this year. While skincare plays a large part in this, it's important to understand that body care plays a substantial part of an all-encompassing health and wellness regimen.
Investing in body care is investing in a 360-degree approach to self-care. And don't forget that your air care is critical to a solid personal care routine as it can serve as a first impression and a way for you to express their look.
Explore these routine changing products below and never look back: