Calling all ye Nap Dresses of olde: Spring is here and it's time to take your Nap Dress out of hiding and bring it back into style.
---
We're living in apocalyptic times. Yes, for the obvious reasons, but also for the smaller, daily ways in which overbuying has gotten its grubby little hands on us. Our consumerist impulses dictate our lives. We buy what we think we should, we work to the point of burnout to buy more, and we do it all on a dying planet as we stand by and watch our social structures crumble on the nightly news.
If this sounds dire, it's because it is. Most days, I do my silly daily tasks, I find joy in the small things, and I get through the day. But sometimes, along with the small everyday absurdities I'm reminded of larger, obvious horrors. When you take a step back from your life, you can see it more clearly. Things that have been deeply normalized are suddenly cast in a new light and they seem bonkers.
For example, I get weekly notifications on my phone notifying me of my screen time. Most of us receive this notice, glance at it in horror, then immediately block it. But when I actually think about that number, I'm unspeakably troubled by how much time I wasted scrolling through social media. All the books I haven't read, all the friends I haven't called, all the super caloric meals I ordered in because I was too busy to cook. This is what I'd sacrificed for an absurd amount of time spent scrolling through feeds of frivolous people I could care less about.
When I open my closet doors, I get the exact same existential torment. Should I have the gall to open my mouth and mindlessly proclaim that I have nothing to wear, I immediately remind myself that, if anything, I have too much to wear. Raised on MTV Cribs reruns and Celebrity Closet tours, I've internalized the idea that excess is the norm — especially when it comes to stuff.
Part of what feeds into this false narrative is the quickly moving trendscape. As soon as I buy clothes, I feel like they're already out of style. And with the influence of social media — particularly TikTok — we're cycling through trends faster than ever. In fact, we're not even dealing with trends anymore, we're dealing with "microtrends."
According to Stylecaster, "micro-trends generally have a much shorter shelf life than more general seasonal trends. That said, they still lend themselves to larger overall aesthetics, like the resurgence of Y2K-inspired apparel or the sudden popularity of '70s-esque maximalist colors and prints."
While there are overarching themes to these fashion "flashes" that captivate the internet, there's still pressure to adhere to the latest moment's exact fancies as they pass. Take the Miu Miu Skirt which recently exploded across every editorial shoot and magazine cover. For two weeks, everyone was wearing those damn skirts. But now, silence on the Miu Miu front. It's most advantageous to capitalize on a trend right as it hits. If you get the timing right, you prove that you're on the cutting edge. But if you miss the ride, it feels fatal — not to mention foolish.
This desire to show your fealty to the whims of fashion is what props up the fast fashion industry. Fast fashion instantaneously spins trends around, feeding into a vicious cycle where we can desire, possess what we desire, then discard all in a matter of weeks. If this irrational concept doesn't signal the apocalypse, nothing does.
One way to combat this is to reject the pressure to blindly follow trends. Rather than shopping online for the hottest arrivals, shop your closet. Rediscover pieces that never had enough love. Shop last season's looks from your own wardrobe and give them new life. Don't attempt to keep up with the industry's short-lived fancies, slow down and make the clothes you already have last.
One of my favorite trends over the past few years is the emergence of sleepwear as a daytime wear. No longer is sleepwear just for the darkness of your room, it has emerged as a whimsical expression of our best, though exhausted selves. To me, sleepwear signifies the ultimate comfort. Sometimes I need that just to make it through the day, even if I have errands to run and Zoom meetings to attend.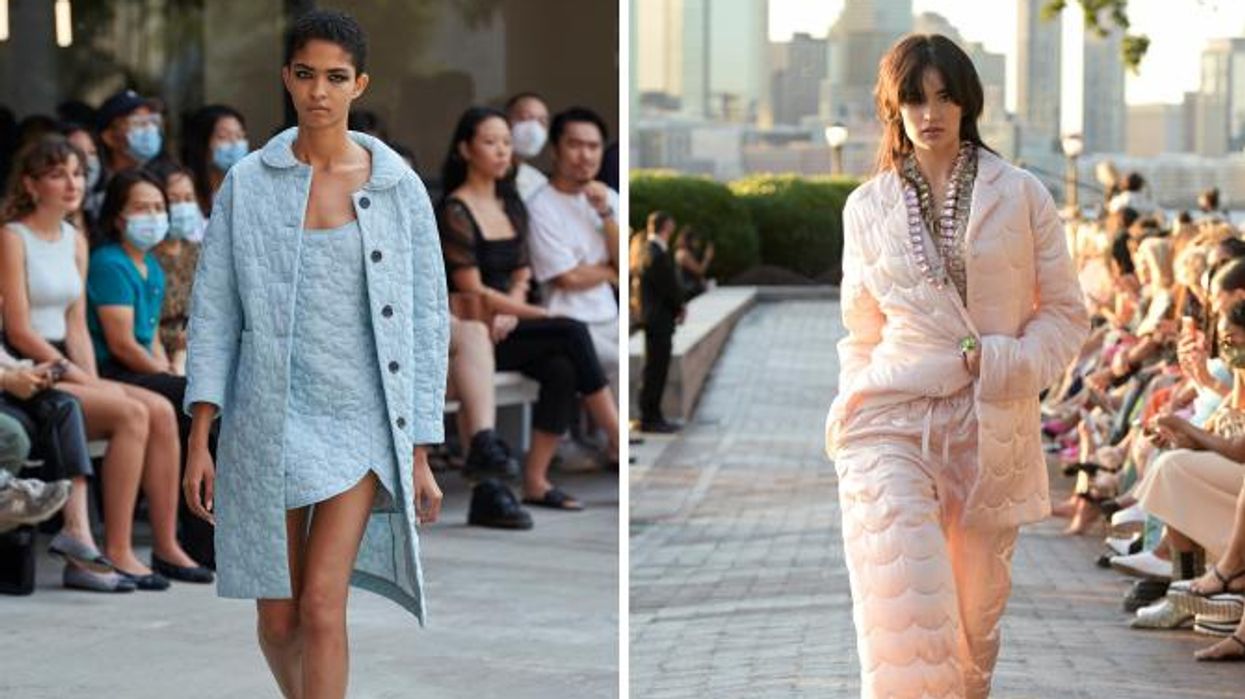 These mattress inspired sets are the perfect examples of loungewear as a trend
Even better, sleepwear is truly timeless. From slip dresses to silky PJ sets and even a classic, striped cotton ensemble, I like to look and feel as if I could go out or stay in no matter where the moment takes me. Rather than re-buying new iterations of the things I like, I always-always shop my closet first. Hence, bringing out last year's nap dresses and styling them for this spring.
Only when I'm sure I have nothing to repurpose do I buy new items. When I do, I opt for timeless silhouettes and good-quality materials that I will wear again and again — and revel in them.
My go-to for all my loungewear and sleepwear needs is NAP Loungewear.
NAP Loungewearwants to inspire its customers to break free from the hustle and bustle of everyday life, hit pause as enthusiastically as they might hit the snooze button. It's not just okay to take a breather, with NAP Loungewear, it's encouraged. They create garments that inspire you to relax and immerse in their comfort and aesthetics. It is a designer brand that represents modernity, simplicity, and fashion. Simply, they seek to serve that modern woman who strives to be her authentic self, a woman who strives for freedom and abundance without compromising her natural demeanor.
NAP Loungewearis devoted to producing high-quality loungewear and home products that you can wear in the sheets or the streets. Their signature elements include skin-friendly fabrics, soft draping, and minimalist silhouettes designed for ladies who love themselves, desire freedom, and are passionate about high-quality things. Composed of concise, smooth, and multi-layered elements, NAP Loungewear gives fashion a more delicate sense. Shift your focus away from the outside world and turn to your roots and embrace your tranquil essence.
If that sounds like the philosophy for you, join me in filling my closet with timeless, versatile pieces from NAP Loungewear. Plus, you can now get10% off sitewide!
Here are a few pieces I have my eye on: