Home Chef Vs. Blue Apron Vs. Dinnerly — Which Is The Best Meal Kit On The Market?


Home Chef is a meal delivery service that has a number of meal options, including Oven Ready meals.
They offer 30+ mouth-watering recipes each week, which are completely customizable
Currently Our friends at Home Chef are extending a special offer to our readers! Follow this link to get 18 Free Meals!
Read how Home Chef compares to Blue Apron and Dinnerly
Cooking dinner every night should be a simple task. But brainstorming new recipes, shopping for the ingredients, roasting the vegetables, and even plating up can be very time-consuming. Especially after a busy day, the last thing you want to do is be in the kitchen.
Our editors face the same struggles and have been searching for a solution beyond takeout — because, let's be honest, it's just not worth the outrageous price tag. We finally settled on meal kits.
Meal kits are an excellent option for convenience. They send you pre-packaged ingredients right to your doorstep and offer a variety of recipes, so there are always new recipes and flavors to try. We asked around, and the most popular are Home Chef, Blue Apron, and Dinnerly. We put them to the test to see which of them is the best.
Key Similarities:
All send pre-portioned ingredients right to your door
All offer a variety of chef-created recipes each week
All offer flexible subscription services
Key Differences:
Home Chef and Blue Apron offer Oven-Ready meals | Dinnerly doesn't
Home Chef allows you to customize your meals | Blue Apron and Dinnerly don't
Home Chef has the highest customer satisfaction rate among leading meal kit companies* | Blue Apron and Dinnerly have average ratings
Home Chef offerings are individually priced | Blue Apron and Dinnerly have a set price per portion
Home Chef: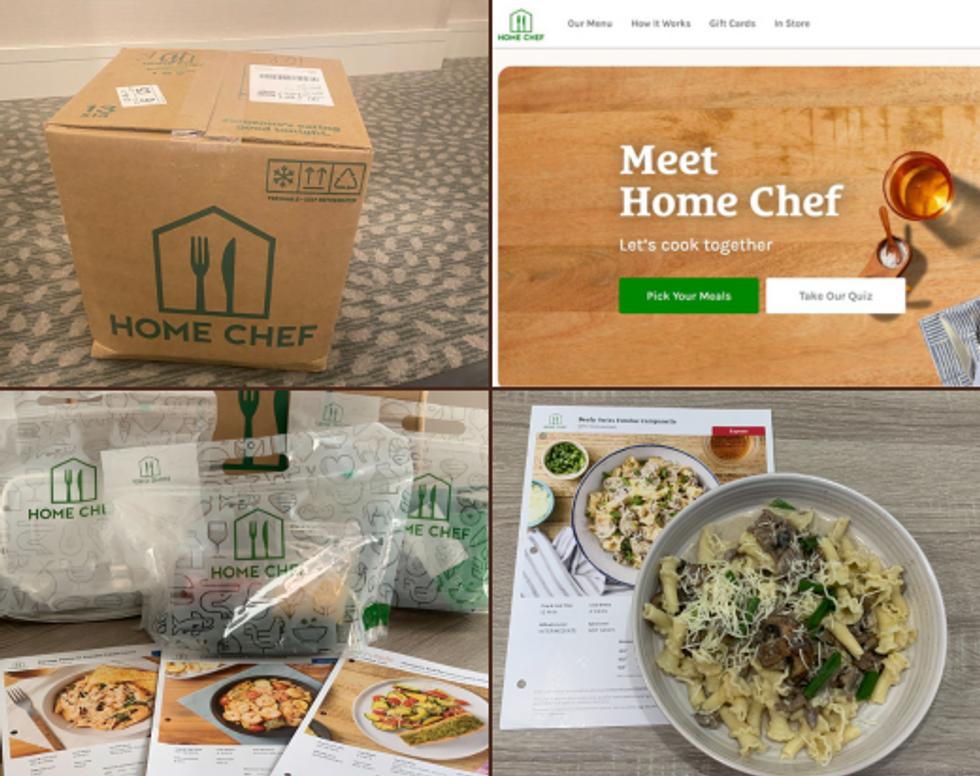 Home Chefhas a number of meal options — you can select the number of people you are cooking for (2, 4, or 6), and the amount of recipes (between 2-6) you would like to receive each week. They send you pre-portioned ingredients with easy-to-follow recipe cards to create delicious home-cooked meals. There are Oven-Ready options that require very little preparation and Fast & Fresh meals that you can simply pop in the microwave. What's truly excellent is that their meals are fully customizable, meaning you can upgrade, swap, or double up on the protein you prefer.
Home Chef's menu offers 30+ mouth-watering recipes a week and includes everything from breakfasts, lunches, and dinners to snacks. They even have delish smoothies and chocolate cold brew lattes.
We started with the Spicy Roasted Red Pepper Pasta with Pepperoni and Peas — incredible. The pasta is al dente and the spicy red pepper goes perfectly with the pepperoni. Home Chef's Culinary Collection features gourmet meals like Honey Mustard-Glazed Salmon with Almond and Herb Rice Pilaf. We were thrilled to see that you can customize your meals and switch out proteins like sirloin steaks, USDA choice New York strip steak, salmon filets, or boneless skinless chicken breasts.
Home Chef's Oven-Ready meals — prepared in less than 10 minutes! — are ideal for any busy professional. With 7 meals each week, they beat their competitors hands down. And their portion sizes are excellent, so you never have to worry about those late-night munchies.
Blue Apron:
Blue Apron is a meal kit that prides itself on quality. Choose up to 4 meals a week for either 2- or 4-persons. However, they don't have individualized options, and their weekly rotating menu has a mere 16 recipes. There are Heat & Eat meals such as Soy-Miso Chicken & Udon Noodles with Bok Choy & Mushrooms, which are ready in about 5 minutes.
Their box arrives with all the ingredients for all the recipes in a jumble — and not separated out in individual bags like Home Chef. And since some recipes require the same ingredients, you need to be extra careful to get the portioning right. This reduces the convenience aspect that meal kits promise.
Despite that, we gave Blue Apron's Seared Salmon & Walnut-Cilantro Sauce with Vegetable Barley a try. Although it tasted fine, it took 35+ minutes to prepare, and the portion size was smaller than expected. We've even seen a few customer complaints about how the recipes aren't designed for beginners or busy professionals.
Dinnerly:
Dinnerly aims to provide quick, affordable meals that anybody can create with their super-easy, kid-friendly recipes. They have 2- or 4-person plans with up to 6 recipes a week. Within the meal kit space, they have the most variety at 100+ meals a week. But we found this just makes the whole ordering process a real hassle.
Their box arrived on time with fresh ingredients, and we couldn't wait to start cooking the Chimichurri Beef Bowl. It was okay, but with only 6 ingredients, it tasted bland. Plus, Dinnerly doesn't carry oven-ready meals like Home Chef or Blue Apron.
Home Chef
Pre-portioned Ingredients Delivered To Your Door
Wide Range of Delicious Customizable Meals
Claim Your Offer Now!
Final Thoughts:
All three meal kits provide a quick-and-easy solution to home-cooked meals, but Home Chef is a true standout. Blue Apron and Dinnerly have their pros, but ultimately it was Home Chef's exceptional customizable plans that cater to all tastes and preferences that convinced us.
With meals starting at only $7.99 and the fact that they're #1 in Customer Satisfaction among leading meal kit companies, Home Chef is a great way to enjoy flavorful, home-cooked meals night after night.
If you're looking for an affordable and convenient solution to whip up delicious, wholesome dinners, give Home Chef a try.
*US Grocery Benchmark Study, April 2020, Market Force Information, Inc.