We can't help it — we want what we want . And sometimes, you want a designer bag. Or designer shoes. Or a designer sweater vest you saw on Emma Chamberlain — we've all been there.
---
Whether you're influenced by social media, are looking to elevate your style with investment pieces or want to treat yourself — look no further. Here's how to indulge your expensive taste without breaking your budget.
Practice Discernment
Nothing is forever — especially in fashion. It's one of the fickle industries in the world. What's trendy now can be cheugy tomorrow. And with microtrends and fashion, many shoppers are so used to jumping on every bandwagon and then letting their purchases languish in the back of their closets after one wear when the trend is over.
But, unless you have unlimited supplies of cash (in which case … what are you doing on this article?), you cannot apply this same principle to designer clothing. Credit card debt is not the answer. Using discernment is. While you may desperately want the new it-bag of the season right now, imagine yourself in a few months. Will you still want it? How will it fit in with the rest of your closet? Would you still covet it if no one knew you had it? Or do you just want to parade around as proof you're participating in a trend?
Be brutally honest with yourself. If you think you're falling victim to a trend, wait a little longer, then ask yourself these questions again. But if you're sure you'll pine after this item forever, then you should be okay with waiting a little while to cobble together the funds. Right? But how do you get that cash together? Onto the next step.
Do Your Research
For the love of God, do not just walk into a designer store, point at the item you want, and whip out your credit card. This isn't Pretty Woman (unless it is … in which case, again, what are you doing on this article?). Instead, put your sleuthing skills to use for more than Instagram stalking. Look for designer clothing you can afford, think last season. Scour the internet for markdowns, discounts, and promotional offers. Price matching is your new best friend. You can almost always get the same item for cheaper if you just know where to look.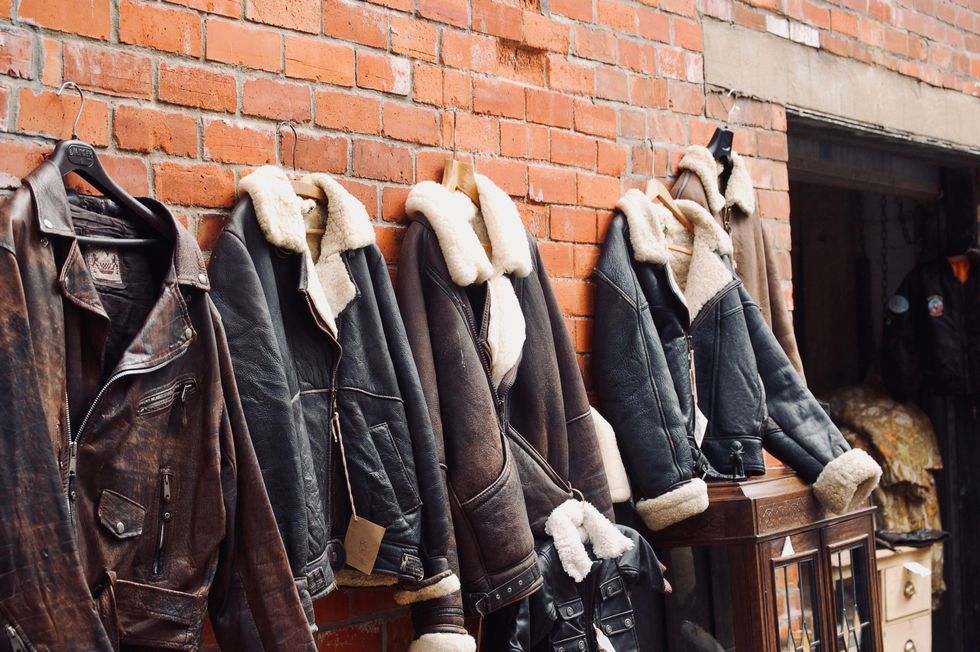 A good deal is hard to find Photo by Tessa Simpson on Unsplash
Consider Secondhand
Pre-loved is the new new. Not only is secondhand a more sustainable way to shop, but it can also make your designer grails considerably more affordable. Are you picturing the hours of your youth spent scouring Goodwill or Beacon's Closet for something, anything, you could take home and brag about? Yeah, I've been there too. But these days, shopping secondhand is much less tiresome and much more fruitful. Sites like Vestaire or The Real Real or even ThredUp and Depop make it easy for you to sort through the mess and find exactly what you're looking for from a more curated selection.
Know Where to Shop
Dedicated to shopping new? Can't wait until next season for your wishlist items to go on consignment sites? Hope is not lost! The saying "designer doesn't go on sale" is no longer true. Even the hottest brands can be found at a discount. And yes, I mean in-season collections.
Introducing: The Outnet. The Outnet is my secret to shopping designer at a discount. They take surplus, in-season collections and sell them to you for way less. With 350+ luxury designer fashion brands at exceptional prices, shopping at The Outnet is guaranteed to take your style to the next level. You're welcome.
And while the prices might still be steep, they are much more affordable than retail prices. Plus, you can save your favorite picks and then check back around sale season. Black Friday and New Year's sales are usually a blowout. Start those sinking funds now.
All products featured are independently selected by our editors. Things you buy through our links may earn us a commission.