Could HelloFresh Be More Affordable Than The Supermarket? Here's What We Found
Everywhere you look, there's a new food trend, and we've recently seen a lot about meal kits .
With pre-portioned ingredients, simple recipe cards, and home delivery, it's a practical and easy option. And with the promise of a delicious home-cooked meal every time, why not hop on the trend?
Meal kits are more affordable than take-away and other delivery services, and you have more control over what you eat. One meal kit that's cropping up everywhere is HelloFresh.
We decided to test it out to see how it compares to the usual routine of driving to the shops and buying ingredients for our go-to recipes.
HelloFresh Review
HelloFresh does not disappoint. It's a simple sign-up, everything's fresh and our delivery arrived on time. Plus, everything was delicious! Their weekly rotating menu hosts a huge variety of plans including Classic, Vegetarian, Family-Friendly, Calorie Smart, Quick & Easy, Carb Smart, Flexitarian, and Protein Rich.
The best part about HelloFresh is that cooking only takes 6 easy steps thanks to the pre-portioned ingredients and easy-to-follow recipe cards. Who knew you could make Caribbean Beef Rissoles & Coconut Sauce with Carrot-Spinach Couscous & Corn Salsa in only 30 minutes?!
The kids favourite has to be Smoked Cheddar Beef Burger with Bacon Jam, Oregano Fries & Béarnaise. With their special discount, you can get each serve from just $5.00 - that's way cheaper than buying the ingredients from the supermarket!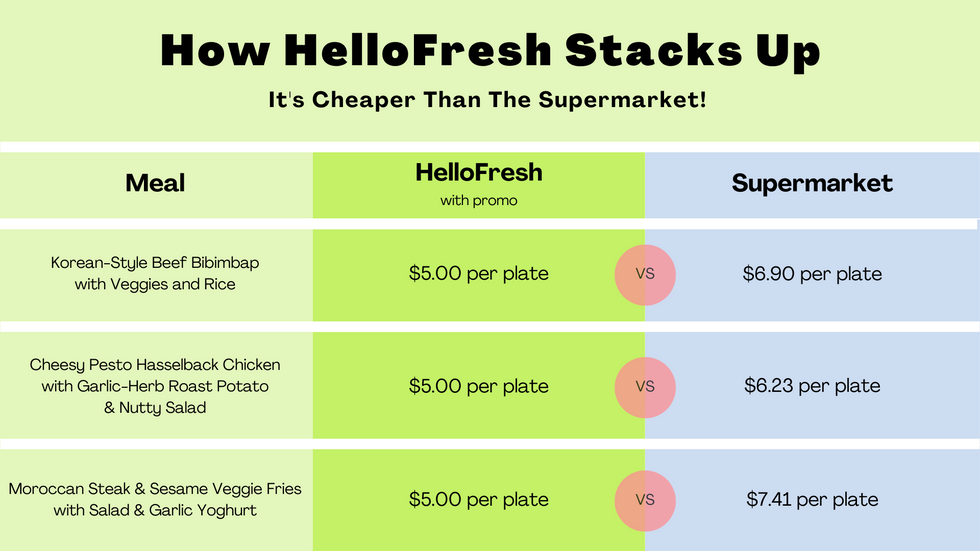 Cheaper than a trip to the shops?
With HelloFresh, you get to skip meal planning which is a huge benefit. Plus, often you're paying more at the supermarket, and you end up with a lot of wasted packaging and ingredients.
Faster than the supermarket?
Going to the supermarket always takes longer than you plan. First you spend 20 minutes finding a parking, and then you waste time in the aisles trying to find a specific ingredient; then you still have to drive home and cook! It's definitely faster getting all the recipes and pre-portioned ingredients delivered to your door with HelloFresh.
There's also no measuring or guesswork necessary and very little prep work overall with HelloFresh. This makes HelloFresh meals quick and easy, and ensures portion control while reducing food waste.
Conclusion
The freedom to choose from a menu of global cuisines means we have delicious home cooked dinners that are so, so much better than a takeaway or anything we'd buy and prep ourselves.
We're really happy to have found a meal kit that is convenient and affordable. HelloFresh is suitable for anyone – families, couples, and individuals too.
The folks at HelloFresh are extending a special offer to our readers! Follow this link to get HelloFresh meals from just $5.00 per serve.
Offer Expires In