Bras inspire the same near-religious fervor as skin care products. Once you've found something that makes you look and feel better than ever, you become a true believer, a proselytizer for the cause. When the no-budge sports bra/comfy wireless bralette/sexy balconette of your dreams comes into your life, you want to spread the good news. Hear ye, hear ye!
First thing's first: If you can, we highly recommend going to a bricks-and-mortar bra store to get properly fitted. A lingerie specialist can come into the dressing room with you and assess the way your current bra fits. Whether it's riding up in back, is hooked on the last row of hook-eyes, or has gaps of dead air at the top of the cups, a bra fit specialist will know how to size you to fix the problem. And, she'll be familiar with the sizing quirks of each brand.
Once you know your size, we've done the dressing room leg work and scoured the internet to find your favorite new bras. Behold! Our comprehensive list of the best bras out there—whatever your bra needs.
The Best T-Shirt Bras
ThirdLove 24/7 Classic T-Shirt Bra, $68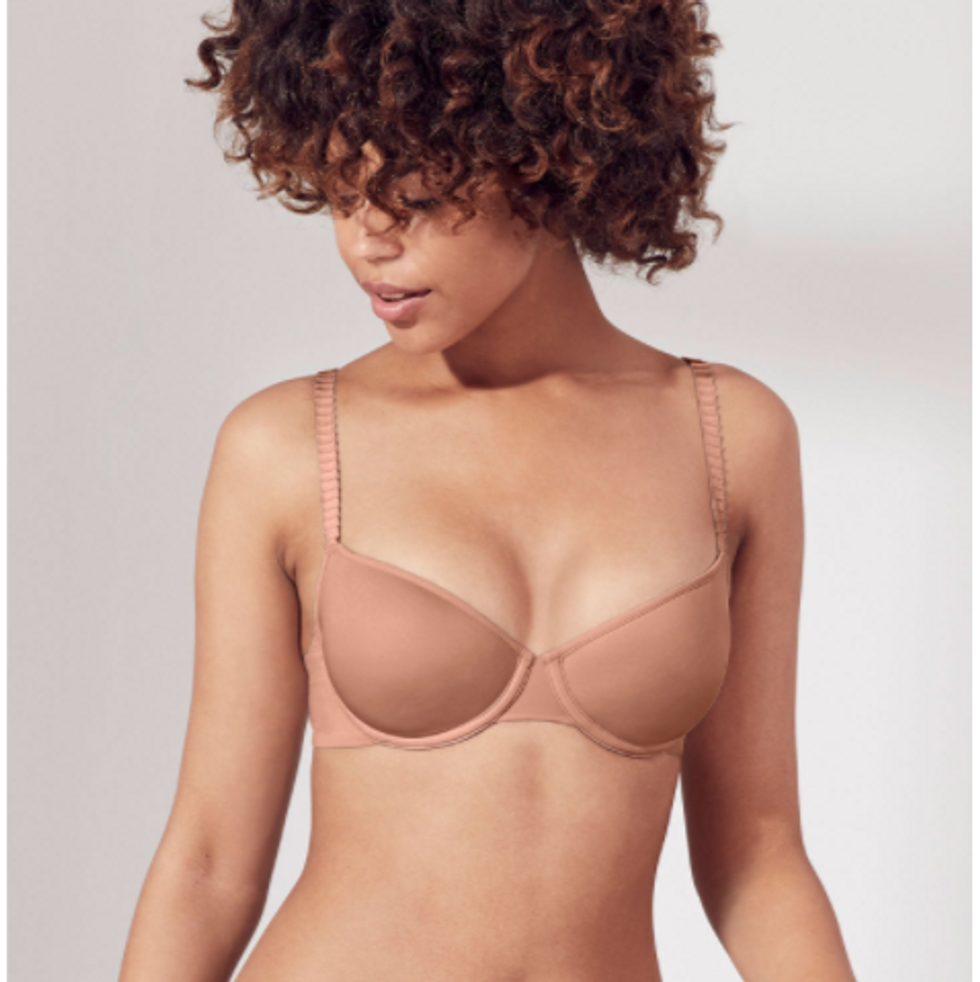 What we say: The online world has gone crazy for internet-only bra disruptor brand ThirdLove. We love the ease of the online fit quiz, the wide array of sizes, the ultra-thin memory cup foam cups that keep nips from showing through, and those pretty pleated straps.
What reviewers say: "This is the first bra I've purchased from ThirdLove or online period. I was skeptical we'd get it right the first time, but everything fits like a glove." "Truly the most comfortable bra I've ever worn — the hype was real."
Calvin Klein Perfectly Fit Lightly Lined Memory Touch T-shirt Bra, $46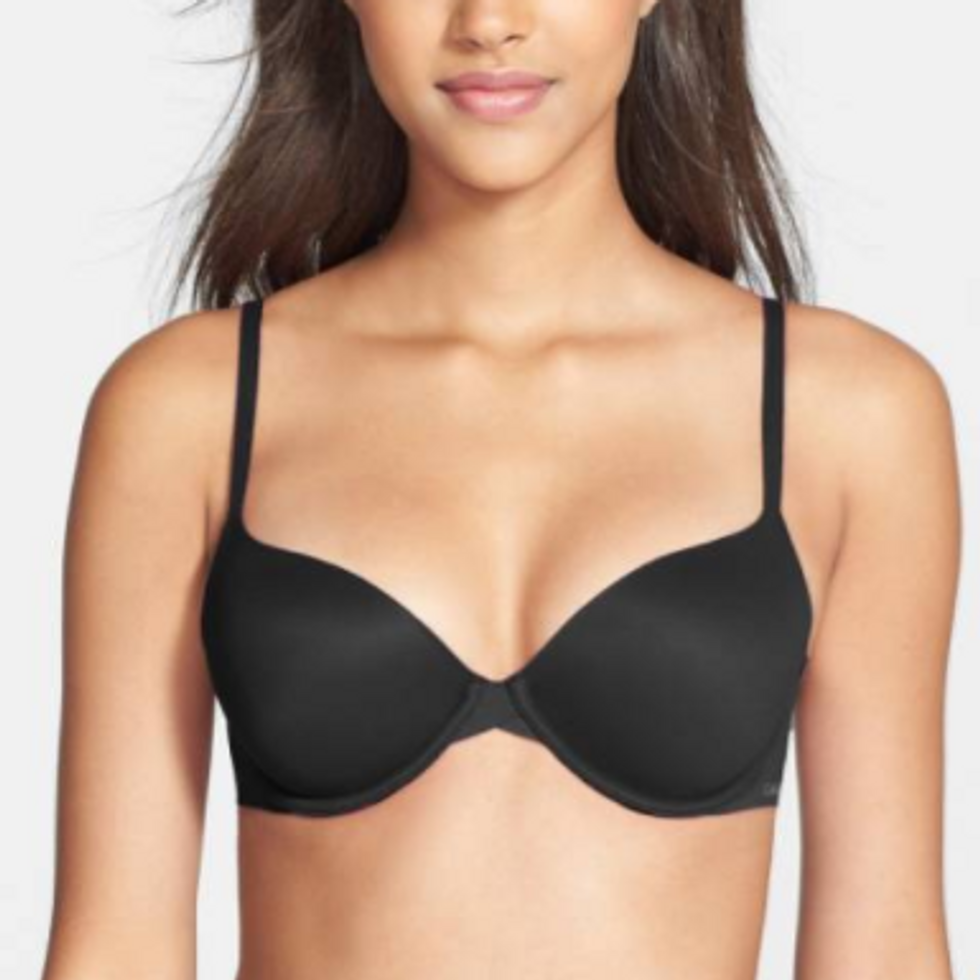 What we say about this bra: Lightly lined, molded microfiber cups create a smooth, contoured shape to wear under everything. Comes in a wide-ish range of sizes from A-DDD.
What reviewers say: "So, I have big boobs and a small frame. After trying every fricking bra on the face of the planet only to find my boobs half-inside some contraption that seems like it holds Easter eggs or alien heads, with enough padding to be classified as combat gear, I was ecstatic to find these bras. I can easily say at 22 years old this is the first bra that has ever actually fit me. Not only that but as a bonus, it comes in colors that aren't beige (I know, I know, you have big boobs — and YES you can actually own a bra that doesn't look like peacock vomit)."
The Best Wireless Bra
The bras you want to binge-watch and run errands in.
True & Co. True Body Scoop Neck Bra, $44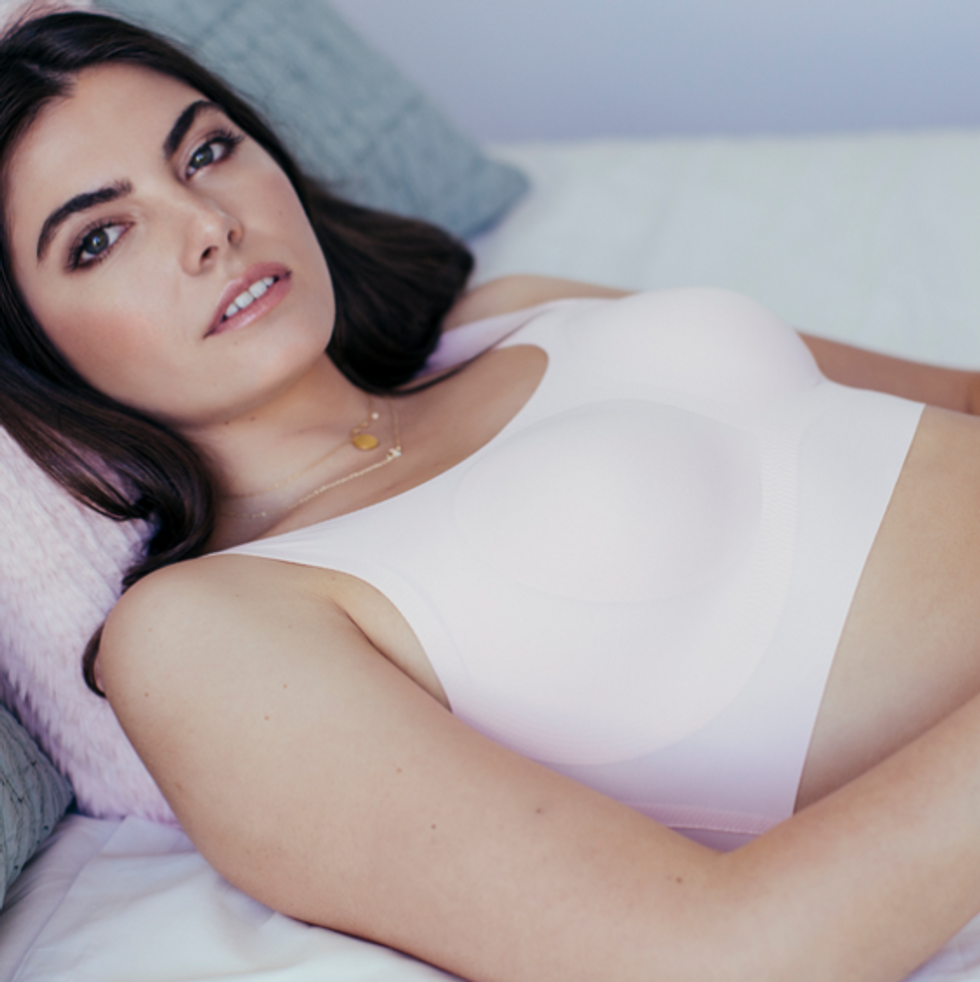 What we say: When you saw the ads on Facebook and Pinterest, you probably wondered why all the fuss for such an ugly bra. We love that True&Co. knows this bra isn't winning any beauty contests: "90% of the True&Co. Team hated the look of this bra at first," the site says, but "90% of them are wearing it regularly now." The proof is in the lighter-than-air fit that features removable modesty pads. It also comes in a V-neck style and a "lift" style for an added boost.
What reviewers say: "I had to see what the hype was all about. This bra really is amazing. I have started using this bra under scrubs at work instead of sports bras, and it gives me a small amount of shape/curve and flows nicely under scrub material. I almost feel like I'm not wearing a bra at all! Very non-constricting and comfortable." "Not an exaggeration — this bra changed my life."
The Best Balconette Bras
Bras pretty enough for a date, practical enough for the office—and way better than a push-up
Panache Clara Bra, $68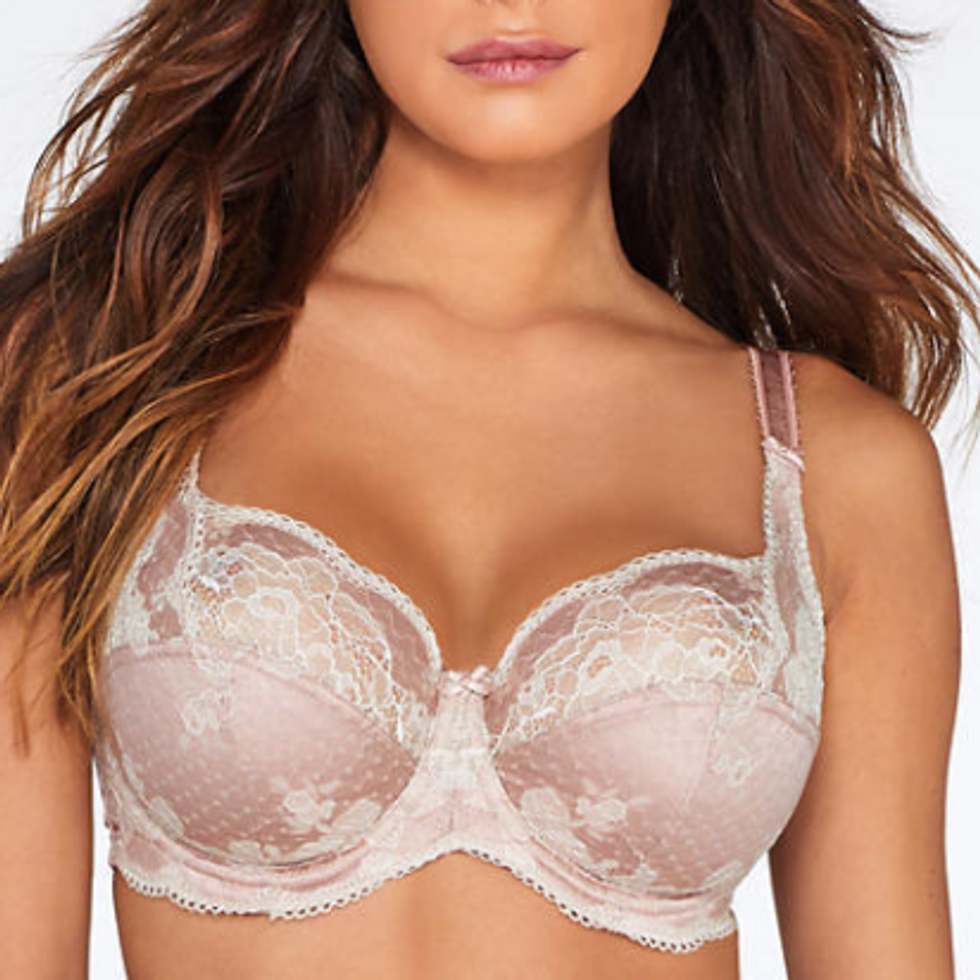 What we say: The fabric and lace look and feel luxe, but the mesh-lined cups function like a much homelier workhorse.
What the reviewers say: "I've never loved a bra before. I absolutely love this bra! It is comfortable, and I've never looked so good in my clothing."
ThirdLove 24/7™ Lace Balconette Bra, $76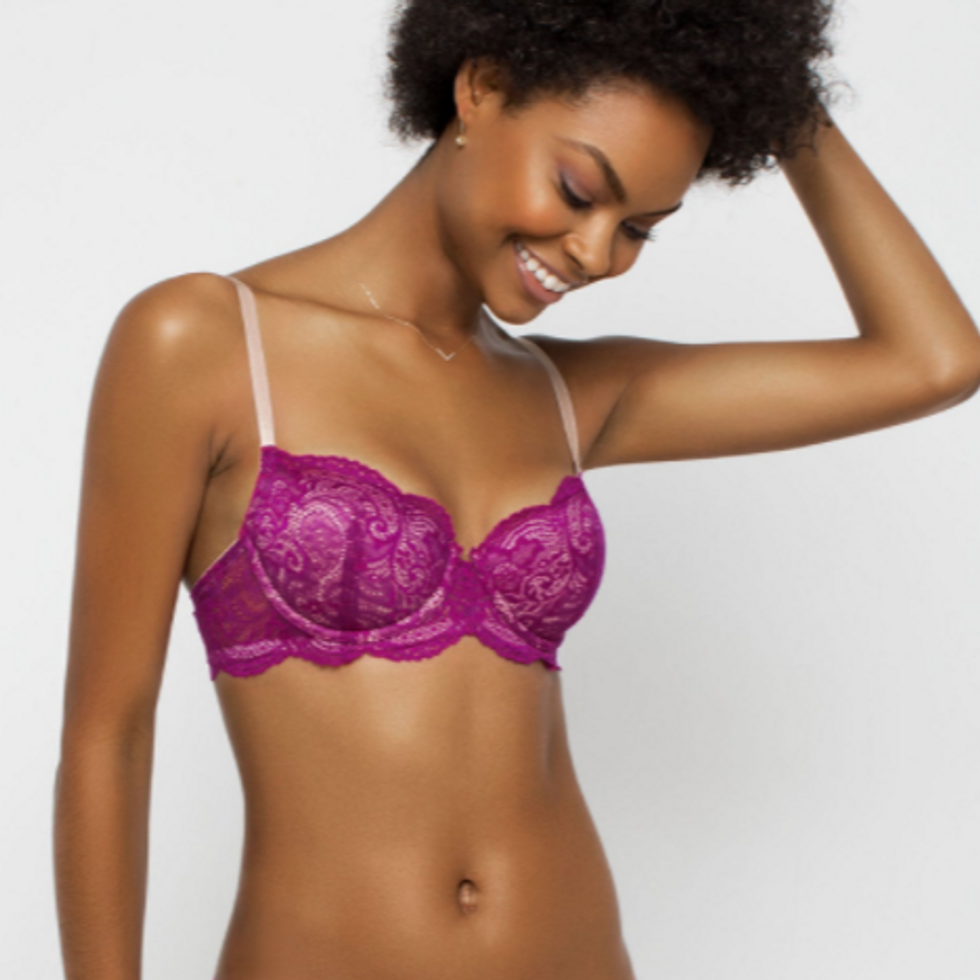 What we say: The balconette silhouette lifts with zero padding and feels pretty and feminine in soft—not scratchy!—lace.
What the reviewers say: "This bra makes me feel super sexy and it's comfortable enough to wear all day long. Love it!" "Seriously the best bra ever! I feel so pretty in it and it fits amazingly. I usually rush to take off my bra the moment I get home from work. Not anymore! This thing is so comfortable that I actually leave it on until I'm ready to go to bed. And even then, I could probably sleep in it. I always wondered why Carrie on Sex in the City slept with a bra. Now I know. It was a Third Love Balconette bra!"
The Best Bra for that '70s Jane Birkin Vibe
Sometimes a little nipple is a lot sexy
Wacoal Halo Lace Convertible Bra, $48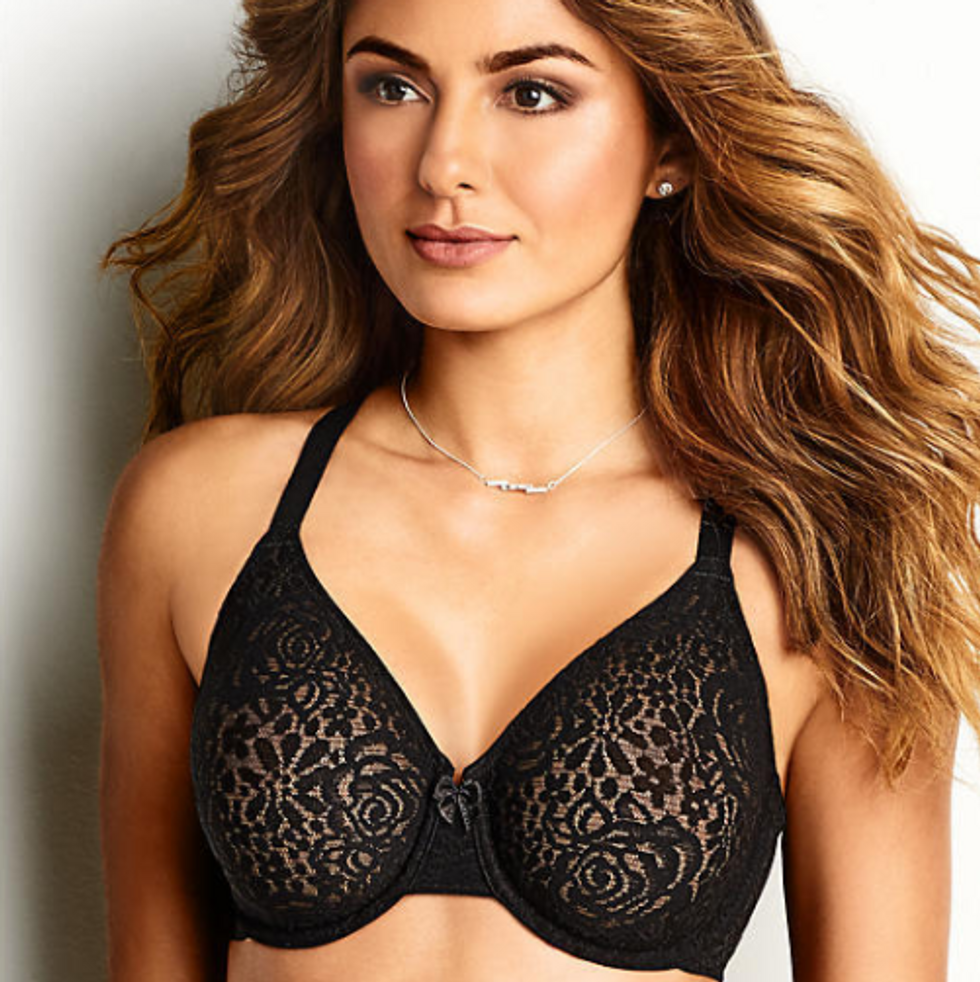 What we say: When you want to look like you're going braless but don't want to actually, you know, go braless, this unlined underwire stretch-lace bra offers supportive, yet natural shape.
What the reviewers say: "My favorite bra ever. I wear 32DDD, which is a difficult size to find. Wacoal always comes through for me, and I hit the jackpot with this one. It's incredibly comfortable, supportive without added padding, and looks smooth under my clothes."
"It is completely irreplaceable for hot/humid summer weather where lined bras feel like pure torture. I've fallen asleep in it and woken up not even bothered because it basically feels like nothing on. It's nice to sometimes have a more natural breast shape than all the molded and padded cups that have been the norm for years now. It looks like my own breasts but a bit better, and not jiggling everywhere. This is perfect if you need medium support but like a more natural look."
The Best All-Around Bra for Larger Breasts
This bra should have its own Facebook fan page
Chantelle Intimates Rive Gauche Underwire Bra, $88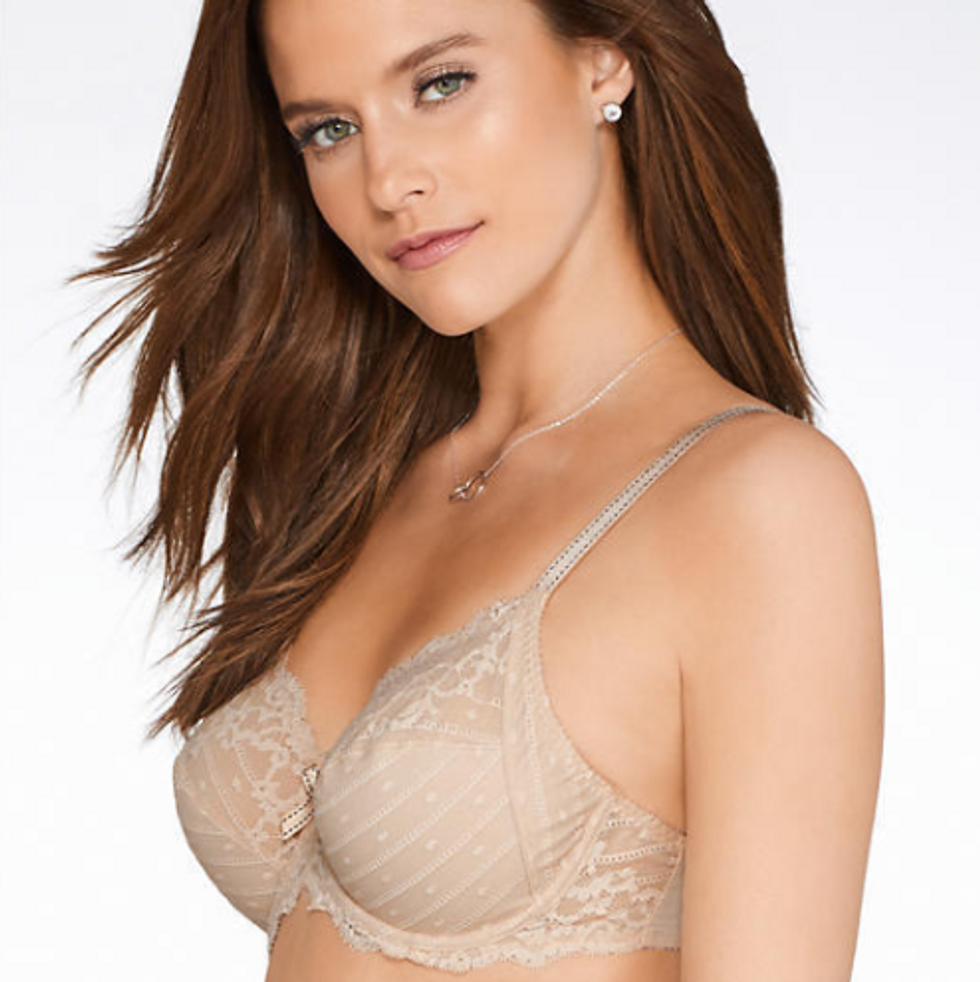 What we say: The lacy, three-part construction of this bra manages to be feminine and supportive, and in its black iteration has a fetching French vibe.
What reviewers say: "This is the best bra you will ever own. I used to live and die by padded bras for the lift, support, and balance (I have some asymmetry), but this bra really does the job and actually works overtime."
The Best Plunge Bra
Where comfort meets sexy
Natori Feathers Plunge Bra, $68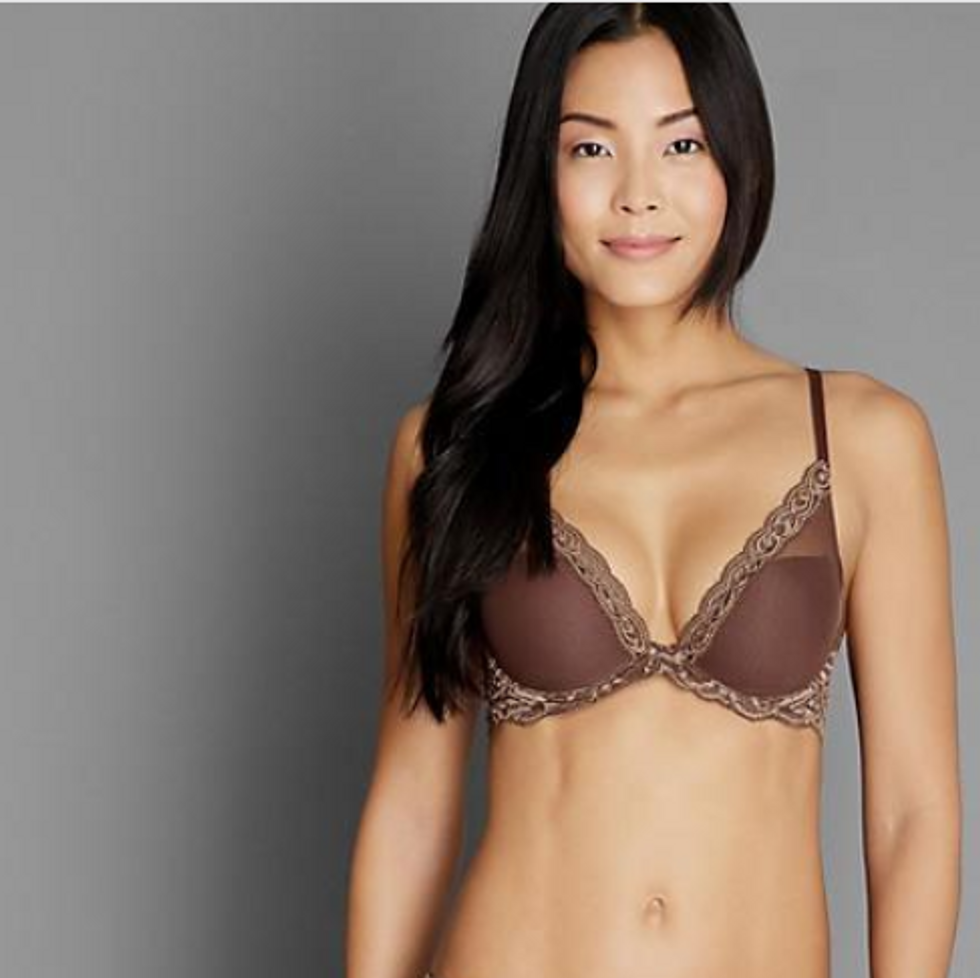 What we say: This t-shirt style bra features light contour pads that offer a natural lift. The plunge-style looks great with v-necks, and the sheer insets and feather applique appeal to our feminine side.
What reviewers say: "Hands down you will never find a better fitting bra." "The Natori Feathers is my everyday go-to bra for its support, comfort, and versatility." "I now own this bra in 3 colors; it's that amazing. This bra looks and feels incredible; you scarcely feel it at all when it's on."
Insider fit tip: "This bra is best for those with a shallow shape and broad roots." The cups run shallow, so order up a cup size.
The Best Strapless Bras
Because spaghetti straps are back
Maidenform Natural Boost Strapless Multi-Way, $42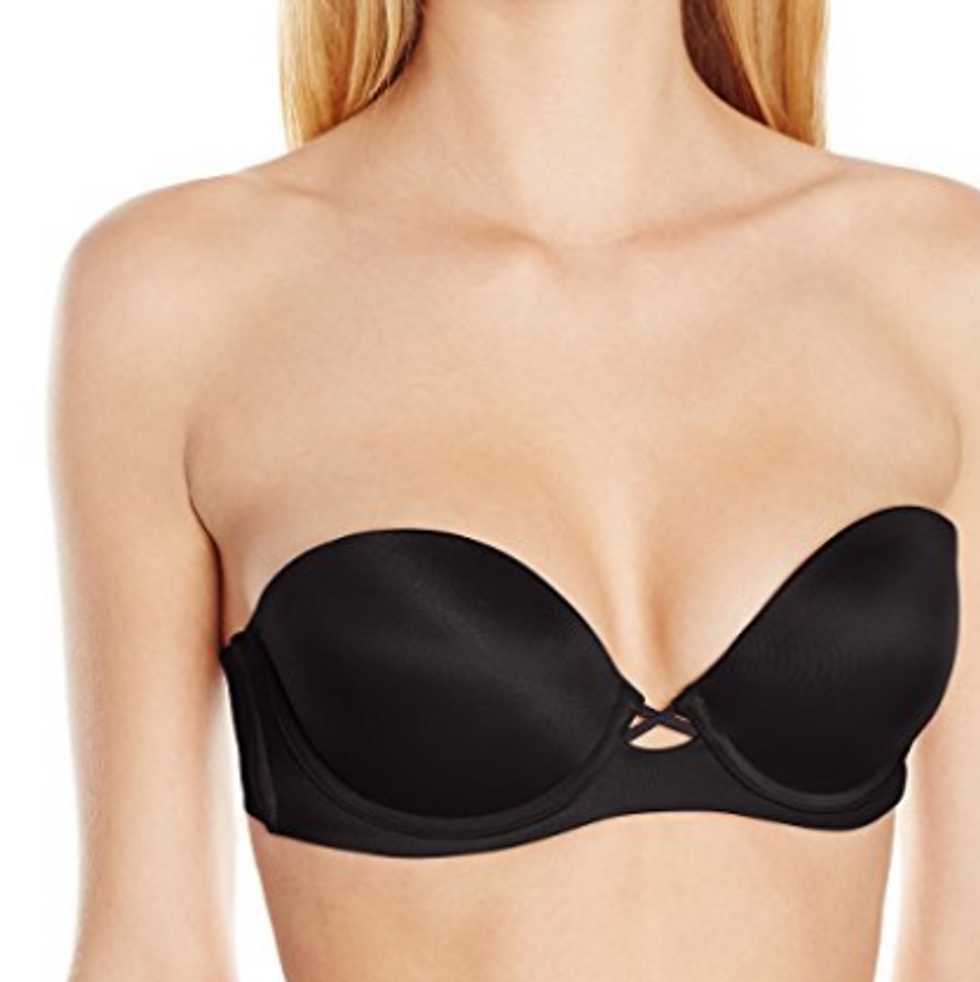 What we say: The strapless bra has come a long way since we went to the prom. This one won't slip or require tugging, nor will it give you uni-boob. Plus, it comes with removable straps.
What reviewers say: "I recently lost my costly and well-built strapless bra and almost cried dreading how hard it would be to find another. This one met all my expectations and I couldn't be happier. This bra has the support without squishing your breasts like others do. I love the lift it provides and it doesn't slip around at all. This isn't going anywhere even if you dance like no one's watching and sweat a lot."
Wacoal Red Carpet Convertible Strapless Bra, $65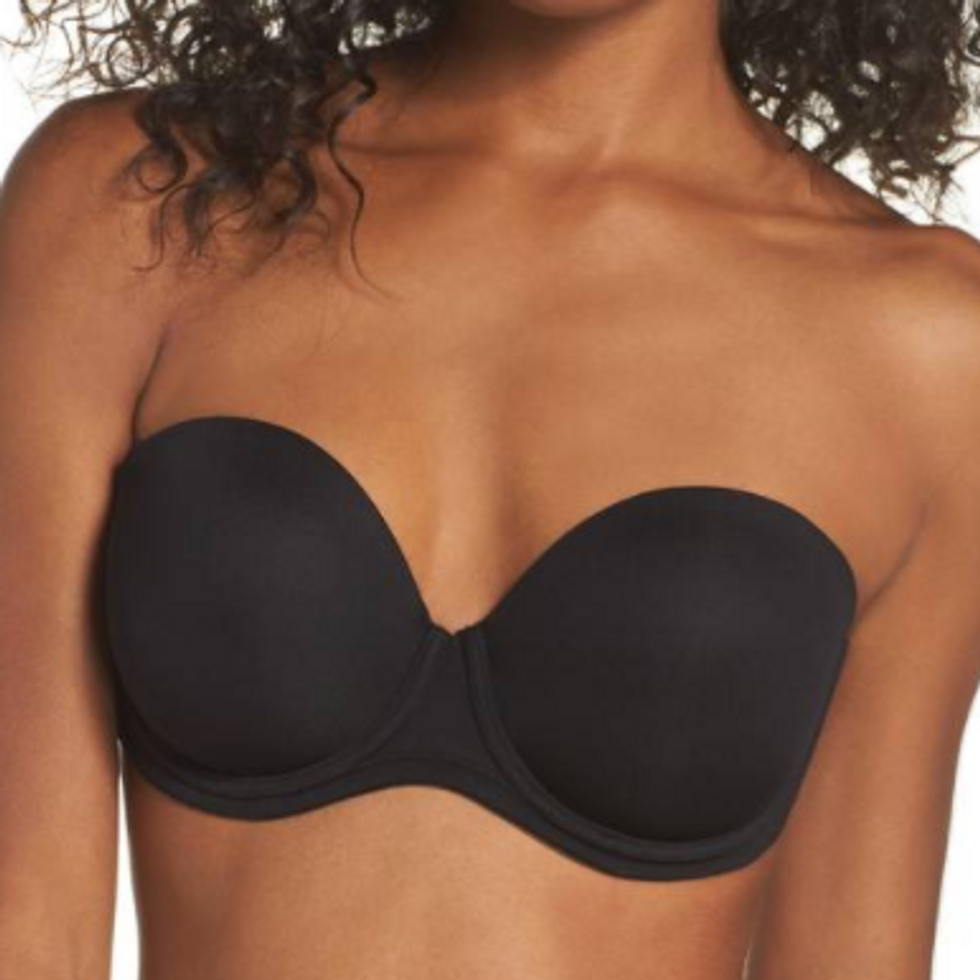 What we say: This seamless strapless bra accomplishes the seemingly impossible—not budging or sliding down to your waist for sizes from 30DD–42DDD.
What reviewers say: "This is the most comfortable strapless bra I've ever owned. I've had it in the nude for about a year and finally decided I needed it in black too. It's the best!" "I didn't believe all the great reviews until I tried it for myself. I could not be more in love."
Best Sports Bra
Run, dance, spin and namaste—with zero bounce
Panache Women's Underwire Sports Bra, $70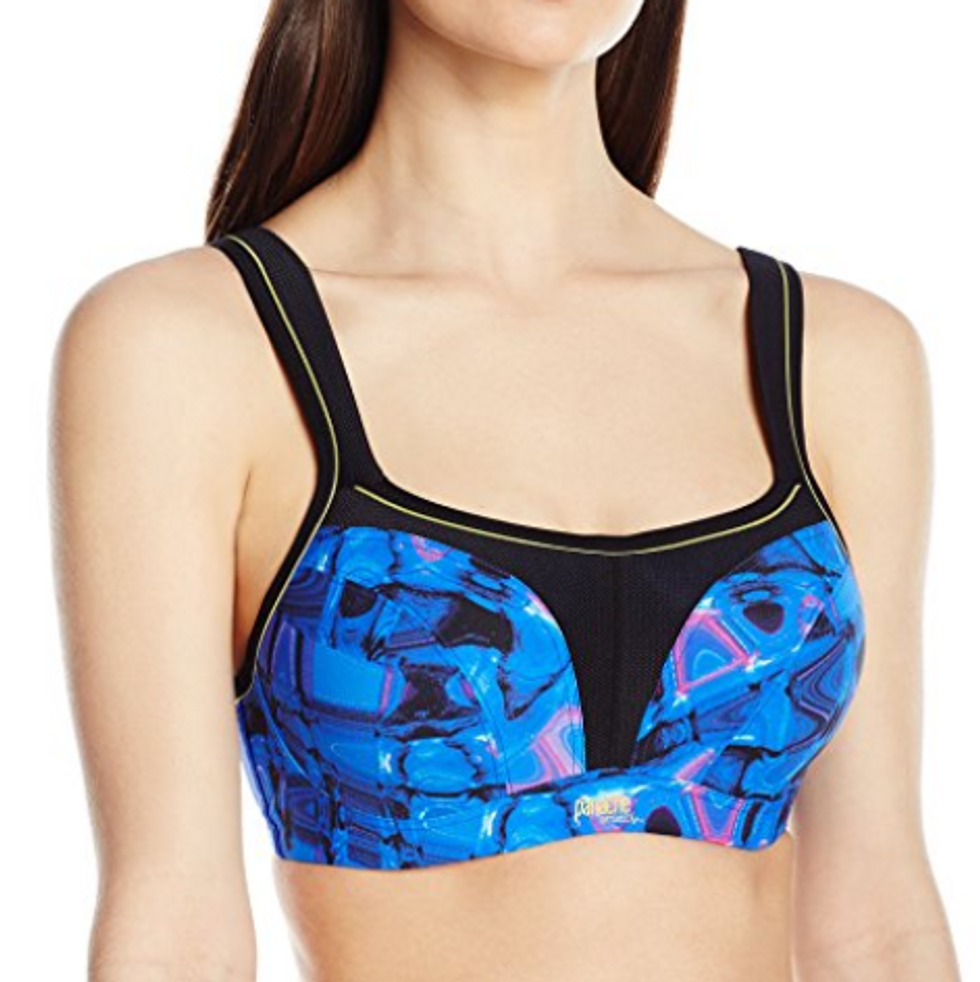 What we say: The swear-by sports bra for full-busted fitness queens comes in an array of cute colors and reduces bounce by 83%.
What the reviewers say: "No seriously, this sports bra is hands down the best sports bra I have ever owned. How much do I love it? This is the 7th one I've purchased and I'm getting ready to order another."
Got a bra that deserves its moment in the spotlight? Tell us what we missed!