New York Fashion Week is the official start of fall in my book. In early September, celebrities leave their vacation homes in the Hamptons and return to New York City for brand-sponsored events, fashion shows, and the US Open. It's the best time to people-watch in the city as well — you get a full preview of the upcoming fashion trends
and
you may see a celeb.
---
And while Coco Gauff, Timothee Chalamet, and Kylie Jenner were the main events of the Open, I had my eyes set on the models. Yes, you can find clothing trends around every corner during Fashion Week…but don't forget that every part of the model's look is curated for trendsetting.
That's right, Hailey Bieber isn't the only one who can dictate the nail trend-scape. By paying attention to celebrity hair and makeup artists' social media feeds, and checking out how models like Kendall Jenner were styled, I'm able to see what the next hottest trends will be.
You've probably already started to catch onto some of them- the wet look is surging further into superstardom thanks to Sofia Richie Grainge, and more recently shown on Jason Wu and Chuks Collin's runway models. Or maybe you're more of a fan of the ribbon addition, tying it into your ponytail or weaving it into a braid- as seen at Christian Siriano and Collina Strada.
Either way, we have insights from celeb stylists like the iconic Adam Reed- who has styled the likes of Harry Styles and Reese Witherspoon - so we all can recreate the runway look. Here are the best tips and trends I've gathered from NYFW hair and makeup gurus.
Slick Back Style 
Whether you choose the Sofia Richie bun or a ponytail, the slick back look is perfect for the days when you don't want to do anything to your hair…but still want to look sleek and polished. With a bit of styling cream or hair mask, a special comb, and some elastics, you can keep the flyaways at bay while engaging in the balletcore trend.
Adam Reed recommends the ballet bun,
"A move on from the classic chignon, the Ballet Bun has seen an update, still ultimately soft and feminine we are seeing different textures and placement whilst the most modern update is totally pin-less and is secured using thick round elastic."
The Birkin and Loren Haircuts
THE FACES OF OTHERS:

Jane Birkin. pic.twitter.com/cgHE6XCl8F
— Distracted Film (@distractedfilm) May 22, 2020
With tons of textured layers and perhaps a curtain bang addition, the look inspired by Jane Birkin never goes out of style. Or, go shorter with a chic chopped bob inspired by Sophia Loren. Adam Reed recommends his ARKIVE Haircare The Mastery Liquid Hairspray and The Scene Setter Hybrid Pomade to help achieve these styles.
"Taking inspiration from the ultimate cool girl, this really is the most copied hair ever. It's nonchalant and undone and works around the classic Cool Girl Fringe. It's heavy with a soft feathered edge, with a shattered single-length body, The Birkin will never go out of fashion."
Glossy, Clear Nails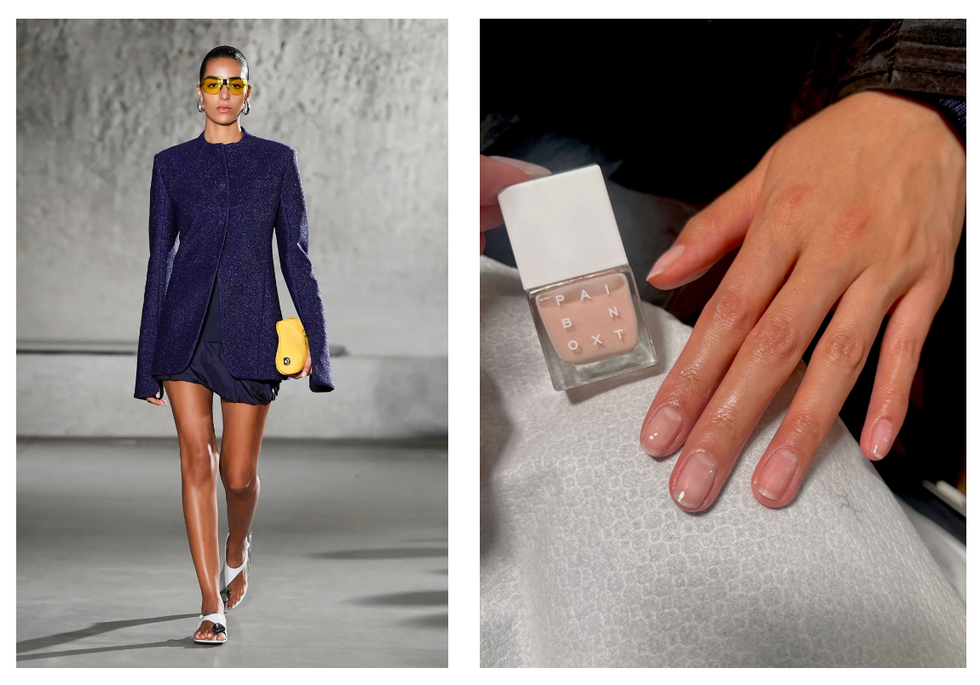 Paintbox Nails at Tory Burch SS24
Paintbox Nails, Note PR
Nothing says clean and polished like a clear coat on your nails. With the colder months coming, a natural, sleek look is all the rage. Paintbox Nails was a fan favorite during NYFW- with features in KHAITE, 3.1 Phillip Lim, LAPOINTE, and Tory Burch.
To preview Tory Burch's holiday collection, they teased Paintbox's new nude shade, Like Quartz, and topped it with the clear coat "Like Glass." It's the perfect combo for those who want a nail shade that grows out nicely and matches all of your outfits. Timeless.
Jet Black Hair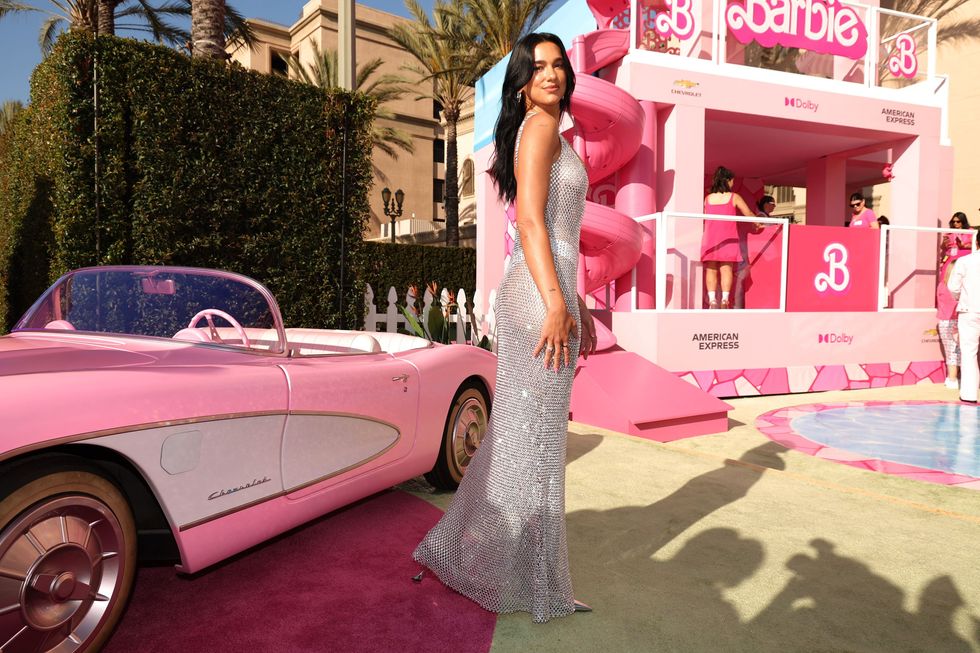 Dua Lipa at the Barbie premiere
Eric Charbonneau/Shutterstock
While highlights are summer's favorite hair trend, darker tones tend to be popular when everyone's skin is devoid of extra melanin. Hair as dark as the Kardashians and Dua Lipa's is the ultimate goal this season…and NYFW 2023 proved that.
Reed's rec? "The coolest and deepest of blacks, almost ink-like, that offers shine and fluidity, whilst naturally enhancing the skin's softer tone."