Rejuvenate Your Bedroom With The Bed, By Thuma
Once it started getting warmer out, I figured that it was time I did a bit of spring cleaning. After working at home for the past year, I couldn't help but feel trapped in my apartment. But with the days getting longer and the weather getting warmer, I felt like a little tidying up would relieve some of my restlessness.
I went through every nook and cranny, bagging old clothes I never wore and dust busting every little thing in sight. Even though my apartment was cleaner, it still felt a bit shabby. Granted, I bought a ton of my furniture second-hand so it wasn't exactly in the best shape, but that's when I realized that some of my furniture needed a serious upgrade!
Nothing was broken beyond repair, and I didn't have the time or energy to re-do my entire place. I wanted to find the right piece that would make a big change to space with the least amount of effort (I may be lazy, but I'm also pragmatic). I decided to start with my bedroom given that the entire room is chock full of hand-me downs and chipped fixtures.
At first, I thought about buying a new dresser, especially since my old mid-century cabinet wasn't exactly pretty. But once I sat down on my bed to think about it, I couldn't help but notice the creaking of my bed frame. I bent over and saw that the frame was practically falling apart.
That's why I decided to start with buying a brand new bed frame. Of course, the question quickly became what bed frame should I buy? I wanted something that would last a while, and be a nice accent in my bedroom, but that was timeless enough to never go out of style.
After doing a cursory search for the best bed frame online, I stumbled across a brand called Thumaand the platform bed which they simply called The Bed. It was described as the "perfect platform bed frame," so I couldn't help but feel intrigued. Still, I needed to try it for myself and with their 100 night risk free trial, I had zero qualms about making the purchase.
Once The Bed arrived, I was surprised to see how thoughtful the construction was. I'm used to old metal bed frames that end up rusting and falling apart, but The Bed uses a timeless technique called Japanese Joinery which creates a bed that minimizes noise and is easy to assemble (without excess metal hardware).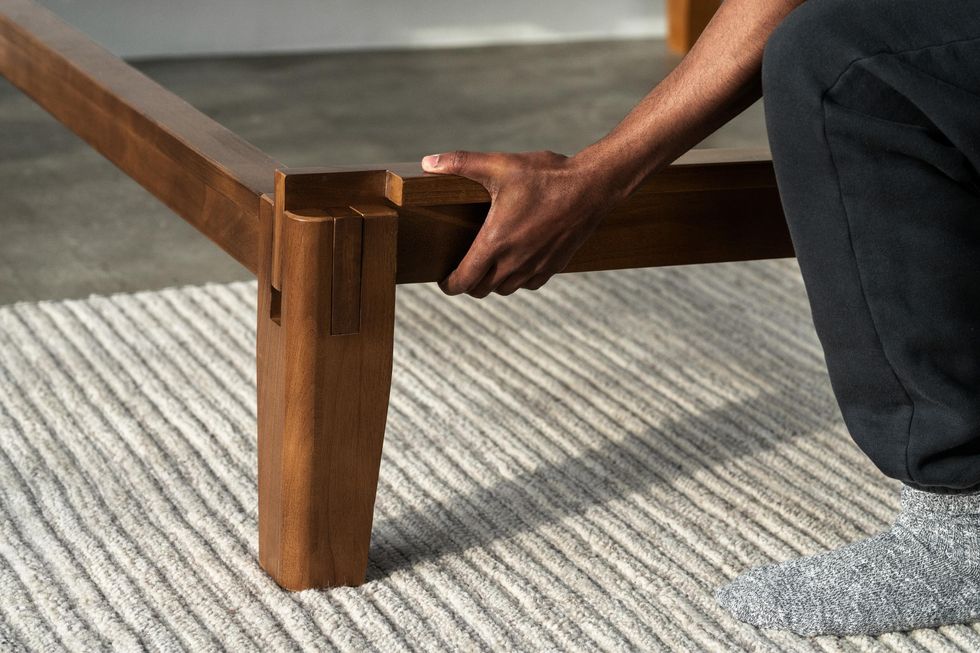 In fact, I assembled it in just under 30 minutes. The Bed is also Greenguard Gold certified, having met some of the world's most intensive chemical emissions standards after rigorous testing. It's made from 100% upcycled rubberwood in a neutral walnut color that will last a lifetime.

It was really cool, and I loved the look of it, but I was still worried it would be like every other bed frame I'd ever had. That was until I actually used The Bed that I realized how much of a difference it made in my day-to-day. The Pillowboard ended up being my favorite feature since the supportive foam backing let me convert my bed into a comfortable lounging environment. It has a choice of two interchangeable and washable linen-weave covers which are available in a Light Linen and Dark Charcoal. I also loved how much space the low-profile frame offered with a 9" clearance that helped me declutter my room even further!
But what was The Bed like to sleep in? In short, it was amazing. I always thought that a good night's sleep was only dependent on your mattress, but now I realize that a good bed frame is just as important. The Bed is strong, breathable, and sturdy thanks to its equally spaced slats and is designed to provide optimal support for your mattress.
I was honestly blown away with how much of a difference The Bed made. Instead of looking like a shabby amalgamation of hand-me downs, my bedroom finally looks put together. It's actually crazy how a single change can make such a big difference. Not only that, but I'm spending more time in my room now and I definitely don't feel trapped like I used to. The Bed, By Thuma literally opened up my room, and for the first time in a long time, I'm sleeping easy.