You usually crave a bowl of soup during the chilly winter months to warm you up, but what about a chilled soup during the summer to help cool you down? Soup tends to take a backseat to fresh fruit and vegetable salads when it comes to showing off the freshness of summer produce. But don't rule out chilled soups! They're surprisingly delicious, quick to make, and easy to digest.
Cold soups are a healthy meal on their own and can make the perfect start to a summer dinner party. Pair them with a side salad, some fresh bread, and a glass of cold wine for a simple but delicious meal. Gazpacho is great, but don't forget to try these other summer favorites.
Here are three refreshing soups to help you beat the heat and make the most of summer's fresh produce while it's still ripe:

Chilled Corn Soup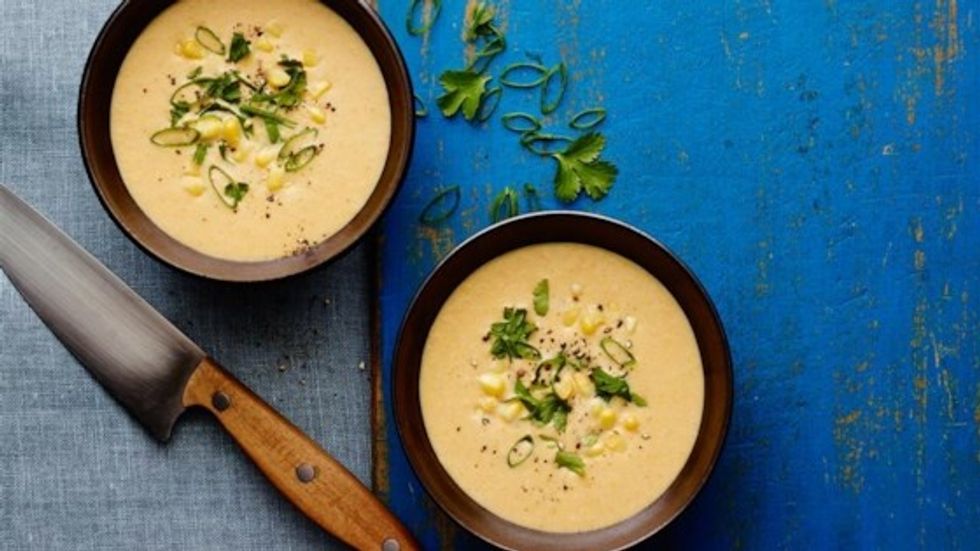 Chilled Corn SoupSandyG/All Recipes
This chilled corn soup is a tasty way to make the most of all the sweet corn available during the summer season. It only takes 25 mins to whip up this recipe, but be sure to let the finished soup chill for at least an hour before serving. Although 4-6 hours to chill is ideal.
To get a beautiful, bright yellow color choose ripe yellow corn and grill the corn on the cob before cutting off the kernels. Serve this summer soup with a piece of crusty bread for dipping and side of prosciutto wrapped melon with mint. To drink? Try a full bodied white wine like Chardonnay.
Recipe bySandyG for All Recipes
Serves: 4 Prep Time: 20 mins Total Time: 1 hour 25 mins
Ingredients:
1 tablespoon olive oil
1 clove garlic, smashed and peeled
2 green onions, white and tender green parts separated and chopped
3/4 teaspoon ground coriander
3/4 teaspoon cumin
3/4 teaspoon chipotle chile powder
3 cups fresh corn kernels (from fresh ears of corn or frozen corn, thawed)
1 cup buttermilk
1/2 cup water
1/2 teaspoon salt
¼ cup of chopped cilantro
Directions:
Heat oil in a skillet over medium-low heat. Cook garlic, white parts of onions, coriander, cumin, and chile powder, stirring, until garlic and onions are tender, about 3 minutes. Add corn and cook, stirring occasionally, until tender, about 2 minutes.
Transfer mixture to a blender. Add buttermilk, water, and salt and puree until smooth. Strain through a fine-mesh sieve, pressing on solids to extract as much liquid as possible. Discard solids. Chill at least 1 hour.
Serve chilled, garnished with green parts of onions and cilantro (if using).
Cold Pea Soup with Herbed Oil Drizzle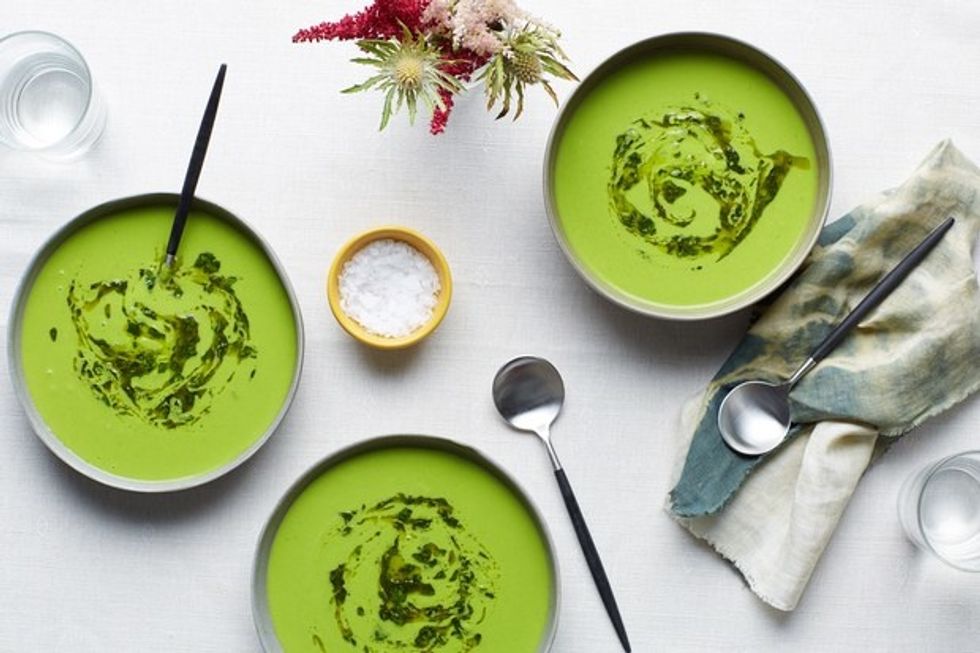 Cold Pea Soup with Herbed Oil DrizzleChelsea Kyle/Epicurious
Here's a vibrant green soup from Epicurious that looks and tastes like summer. This cold pea soup is a beautiful start to any dinner party. It's light, creamy, and refreshing. The herb oil is a delicious complement to the soup, but feel free to skip it and top with fresh chopped herbs instead.
You can easily make this soup in the fall and winter too. Just substitute fresh peas for a frozen bag from the grocery store. Serve this soup with a fresh watermelon, feta, mint salad and a cold glass of Sauvignon Blanc.
Recipe byAnna Stockwell for Epicurious
Serves: 6 Prep Time: 35 mins Total Time: 1 hour plus chilling
Ingredients:
3 tablespoons unsalted butter
1 medium onion, chopped
1 1/2 teaspoons kosher salt, plus more to taste
2 (16-ounce) bags frozen sweet peas (6 cups)
1 cup plain Greek yogurt
Freshly ground black pepper
1/2 cup Herbed Olive Oil
Directions:
Melt butter in a large heavy pot over medium heat. Add onion and cook, stirring often, until softened but not browned, 6–8 minutes. Add 1 1/2 teaspoons salt and 2 cups water, stir to combine, and bring to a boil. Add peas and cook, stirring occasionally, until just tender, about 2 minutes.
Remove pot from heat and stir in yogurt. Purée soup in a blender or in the pot using an immersion blender, thinning with water if soup is too thick, until smooth. Season with salt and pepper and let cool to room temperature. Transfer to a resealable container, cover, and chill at least 2 hours or up to overnight.
Divide soup among bowls and top each with a swirl of Herbed Olive Oil.
Chilled Watermelon Soup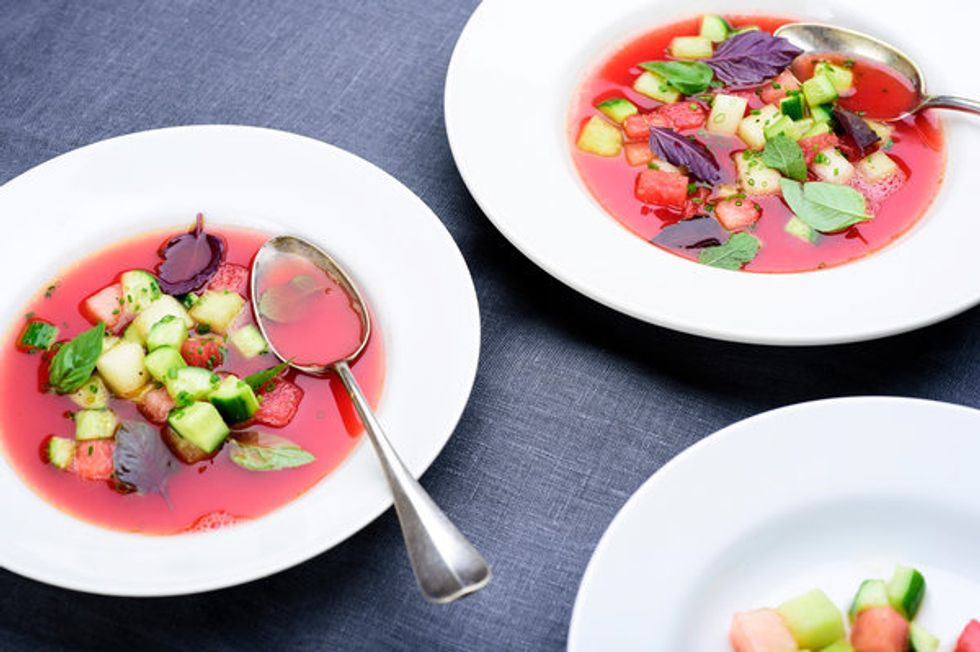 Chilled Watermelon SoupThe New York Times
Fruit soup? Yes! Cool down on a scorching hot day with this gazpacho-like, chilled watermelon soup. It's a sweet, cooling way to enjoy fresh fruit this summer.
This recipe from The New York Times takes the sweetness of watermelon and mixes it with fresh herbs, cucumber, honeydew melons, olive oil, lime juice, salt, and kick of spice from cayenne and red pepper flakes. Serve it with a delicious summer crostini and a glass of rosé or white zinfandel. Cheers!
Recipe by David Tanis for The New York Times
Serves: 4-6 Total Time: 30 mins plus chilling
Ingredients:
7 cups diced watermelon, cut into 1-inch cubes
Salt and pepper
Pinch of cayenne
1 tablespoon red wine vinegar or sherry vinegar
4 tablespoons fresh lime juice, plus lime wedges for serving
2 cups diced honeydew melon or cantaloupe, cut into 1-inch cubes
2 cups diced cucumber, cut into 1-inch cubes
2 tablespoons extra-virgin olive oil
2 tablespoons snipped chives
Handful of small basil leaves
Handful of small mint leaves
Pinch of crushed red pepper(optional)
Pinch of flaky salt such as Maldon or fleur de sel (optional)
Directions:
Put 5 cups of diced watermelon in a food processor or blender and blitz to a purée. Strain purée through a fine-meshed sieve into a bowl. You should have about 4 cups purée. Season with salt and pepper and cayenne, 1 tablespoon vinegar and 2 tablespoons lime juice. Taste and adjust seasoning. Chill bowl on ice or refrigerate.
To serve, place remaining diced watermelon, honeydew melon and cucumber in a small mixing bowl. Toss with a little salt and pepper, 2 tablespoons lime juice and 2 tablespoons olive oil. Divide mixture evenly into chilled soup bowls.
Ladle watermelon purée into each bowl. Sprinkle with chives, basil and mint. Add a sprinkle of crushed red pepper and flaky salt if desired. Pass lime wedges separately.
These soups get better overnight in the fridge and keep fresh for a few days. Make a big batch at the beginning of the week and you'll have a healthy, refreshing lunch or dinner on hand. Want more easy recipes? Don't let your crudités get lonely with these tasty dips.