In a world of luxury items, we are no strangers to high-end fashion brands intermingling with mass-market fashion. Hermès, once known for producing saddles, eventually made their way into the world with their bags. Louis Vuitton, the luggage empire, is now a leading face in fashion weeks everywhere. Tiffany, however, has stuck to jewelry.
---
Tiffany's robin's egg blue demeanor and solid silver have satisfied customers for countless years. But recently, they've decided to market to a different, younger demographic. Look no further than their most recent attempt with the "1837 Collection" collaboration with Nike for the 40th anniversary of the Air Force 1.
For Nike, it's another score. For Tiffany, it leaves questions. The brand, acquired by LVMH in 2021, has hailed multiple collabs with big names like Jay-Z & Beyonce, Hailey Bieber, and Blackpink's Rosé in an attempt to reach a younger generation of sales. Yet, longtime Tiffany fans have had an issue with most of these campaigns.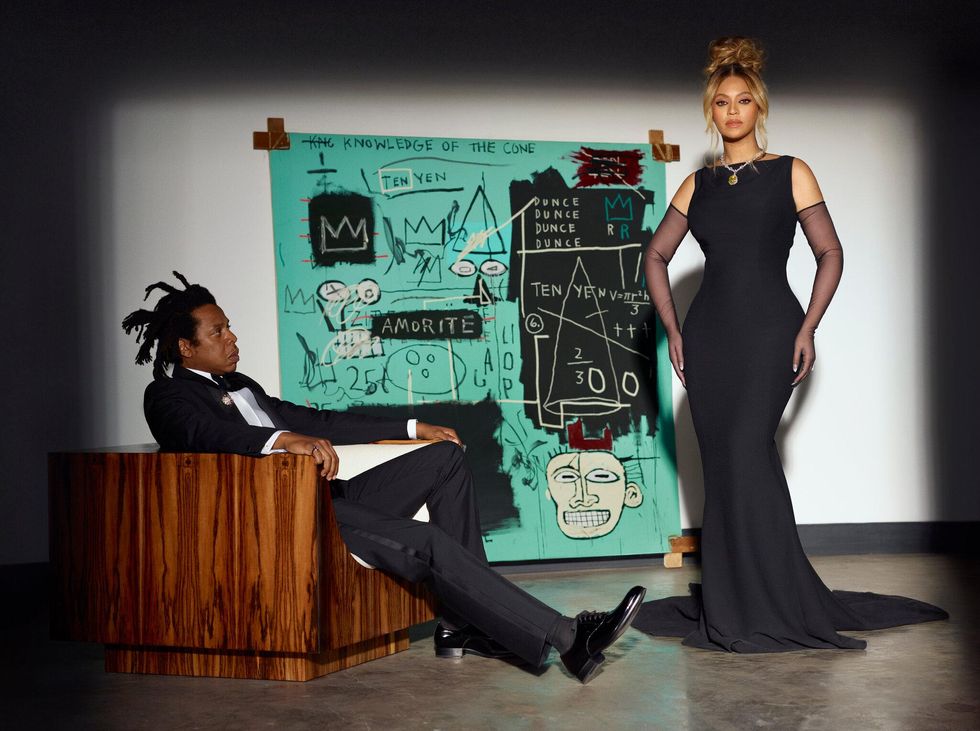 Jay-Z and Beyonce for Tiffany
Tiffany & Co.
The $400 AF1 is all black leather with a robin's egg blue swoosh, complete with a Tiffany silver shoe horn, silver brush, attachable silver whistle, and laces. Dropping on March 3, the resale value already rests at $1,850 on StockX. And while Nike has successfully collabed with other LVMH brands like Dior and Louis Vuitton, Tiffany's take on the iconic Nike classic falls short.
The shoe itself does little to represent Tiffany's brand identity. The shoe buckle on the laces is leather when there is a clear opportunity to incorporate Tiffany's well-known silver. The predominantly black leather is no ode to anything about the brand. People are saying they're trying too hard to appeal to sneakerheads, suggesting buying the shoe to melt down the silver appliques.
It's not Tiffany's only grasp at relevancy with a younger crowd this year, either. The brand released a sold-out NFT, solidifying the notion that they are aiming for a new audience. It follows the controversial "Not Your Mother's Tiffany" campaign from July 2021.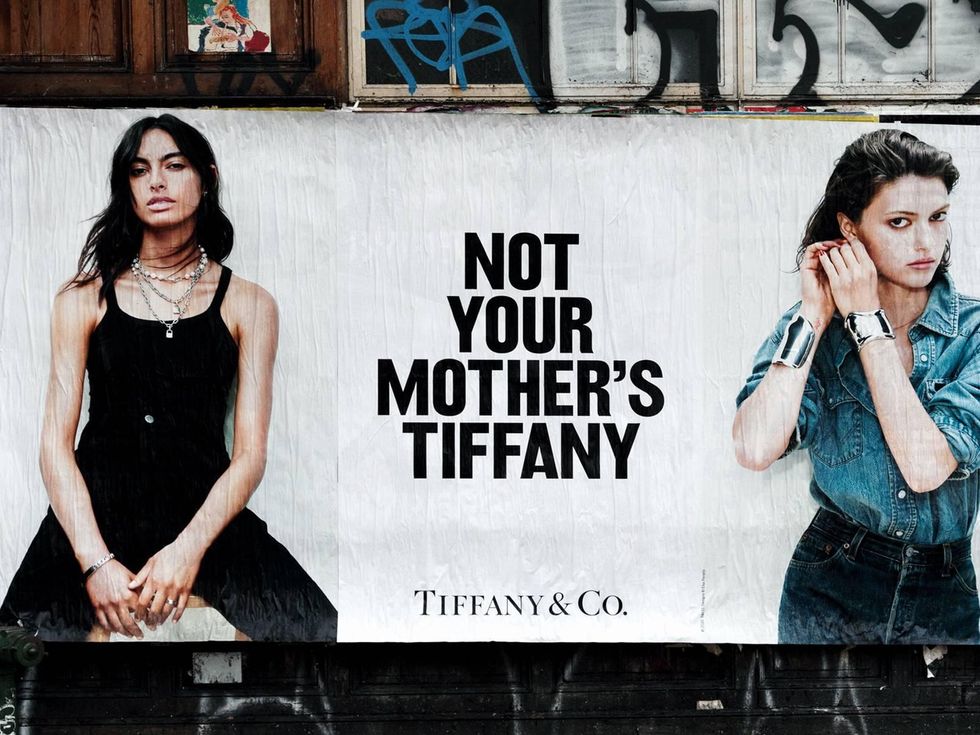 Campaign by Sharif Hamza, street photography Maxwell Schiano for Tiffany.
The campaign brandished buildings with billboards of models against a plain backdrop sporting t-shirts and loose denim. Accompanying the new, edgy look were slogans like "tell us again silver's dated…we dare you." The idea? They're no longer the Tiffany's that your mother wore…they're cool now.
But the longtime supporters of the silver jewelry titan took offense. Why alienate one sector of consumers to appeal to another? What was wrong with your mother buying Tiffany? And what was wrong with the classic, luxurious feel that Tiffany once provided?
Just like Victoria's Secret taking away the Angels to promote diversity, Tiffany missed the point. People love the timeless look of Tiffany, and they don't care that their mother owned it. People's mothers own Cartier and every girl out there still wants the LOVE bracelet. They want a solid brand identity that doesn't mold to a specific age range.
We've seen plenty of examples of successful rebrands in recent years. The return of "dad shoes" like New Balance, ASICS, and Crocs have all been welcomed with open arms. Brands you once declared dead are resurrected.
And yet, surprisingly, Tiffany is still raking in the cash. They reported a record year in 2022 with the high jewelry revenue doubling. However, every campaign is alienating a potential customer.
When you think about Tiffany's, you think of Audrey Hepburn-esque luxury. So why are they trying so hard to change that? Maybe they're losing customers in the older age range and feel they need to force their way into younger markets by any means necessary. Or maybe they're just too out of touch to realize that no one likes a copycat.
With creative director Ruba Abu-Nimah stepping down this year only two years after being appointed, it's tough to imagine how Tiffany will mold their brand identity. While fans are calling for embracing tradition and sticking to what they know, Tiffany appears to be doing just fine on their own.