Ever wonder what kind of prep goes into looking red carpet ready? I definitely have! The closest I've gotten to it was prom. If you've gone, you know the extra preparation makes all the difference in creating a look that will last all night. Being red carpet ready surely has to be the same kind of feeling except more elevated! Having your look survive a long awards ceremony, after parties, and more must involve a pretty extensive team. I spoke to the lovely Broadway producer Jessica Rose Brunish about her process and I'm excited to give you the inside scoop.

Jessica mainly attends Broadway opening nights but also has attended the Grammys, Emmys, SAG Awards, and various Regional Theatre Awards. I wondered what Jess may start with in picking a look for these big nights. She is being photographed all night, so it's important that she choose wisely! Jessica said she always starts with the dress. In choosing her dress, Jessica first considers the formality of the event and whether she wants to go long or short and chooses from there. Shoes are next for Jessica. She says, "I feel like the shoes can make an outfit. They add personality to the style." While she isn't partial to any designers, she is currently "in love with" Kobi Halperin for her dresses. Looking to snag a piece by Kobi Halperin? Jessica told me that their evening designs are available exclusively at Neiman Marcus. For shoes, Jessica is partial to her Christian Louboutin heels and Rene Caovilla heels. She remarked that "the red or sparkle soles work for [me.]"
One of my favorite looks Jessica Rose Brunish has rocked on the red carpet, is the slick pant and top set she wore to the opening night of Hello Dolly on Broadway starring Bette Midler. Jessica, a classic beauty herself, seems to favor the classics. I felt like her Hello Dolly look was a really unique red carpet moment for her and I wanted to know more about how she likes to shake things up. Jessica says, "I like to try new looks. I am always looking for different subtle ways to coordinate with Corey." She told me that one of their most popular looks was a white ensemble splattered in paint that they designed themselves. Jessica also loves to play with different hairstyles and go outside her usual sometimes. She said, "when you are lucky enough to attend many formal events, it feels good to reach out of the normal/comfort zone and try to break the mold a little." Before Jessica decides on a look, she always gets her official stylist to approve along with her husband, then sends a shot to her bestie Monica Rodrigues for her input.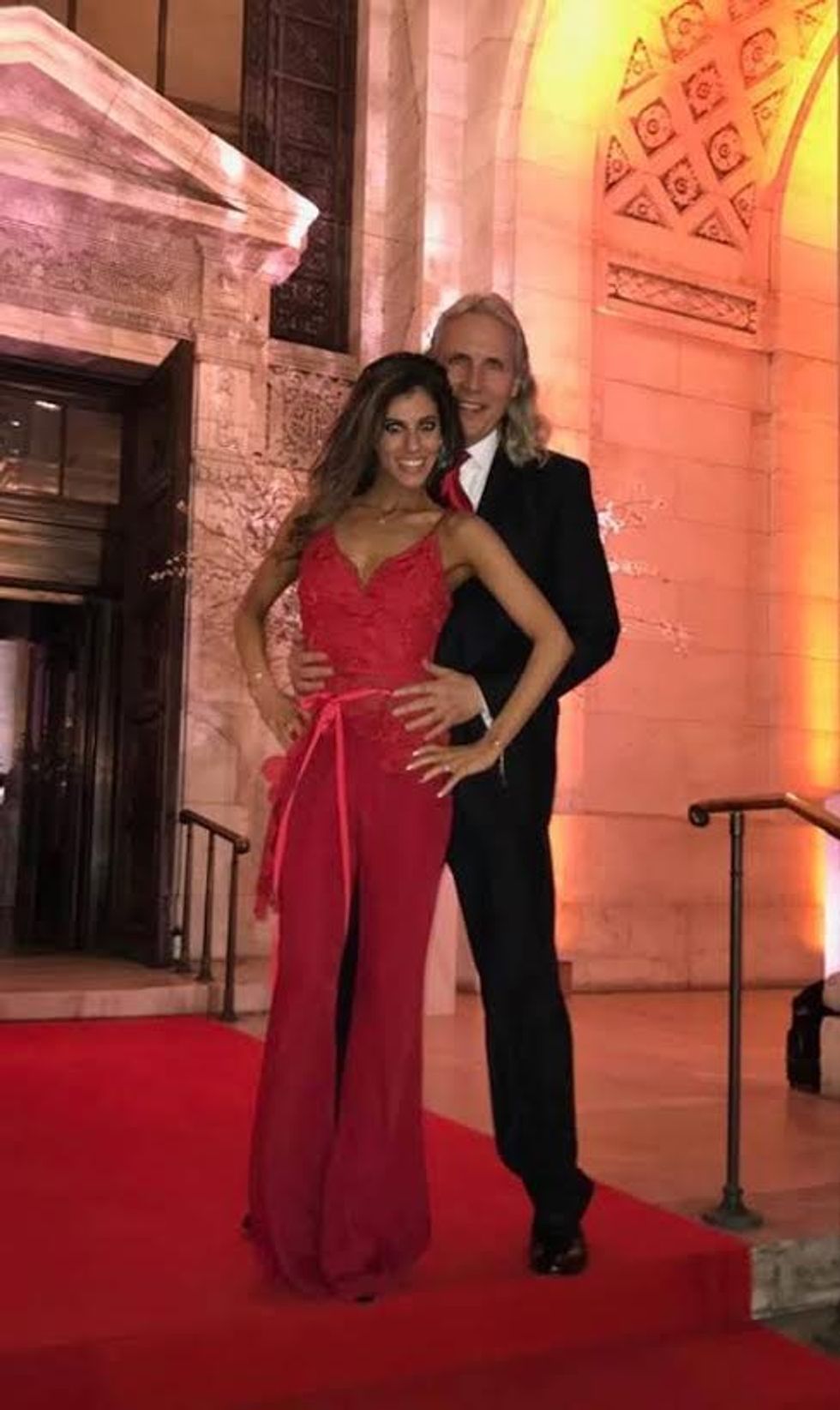 Hello Dolly Opening NightPhoto provided by Jessica Rose Brunish and Corey Brunish
Jessica's red carpet prep starts the day before with her manicure. Her go-to spot is tenoverten with resident nail artist Frances Liang. Frances always does intricate nail art to match Jessica's gorgeous dresses. Day of, Jessica likes to sleep in so she looks rested and then continues her morning with a workout at Physique 57. After her workout, she feels ready for the long day ahead and goes to her hair and makeup appointments. Right before getting dressed, Jessica makes sure to have a nutritious meal as most events last around five hours and she doesn't get to eat until getting to the after party. After getting dressed it's all about finishing touches and details. Jessica makes sure her husband Corey's bow tie is straight and they take their traditional first photo in the lobby of their building thanks to their patient and accommodating doorman Danny.
Jessica equally loves the preparation, enjoying the event, and reflecting on the evening! She gave me one last inside pro tip which is to make sure that your jewlery is cleaned before you hit the red carpet. Those small details are easy to miss and when you spend the evening in front of a camera it's important to look on point which no doubt Jessica Rose Brunish nails every single time.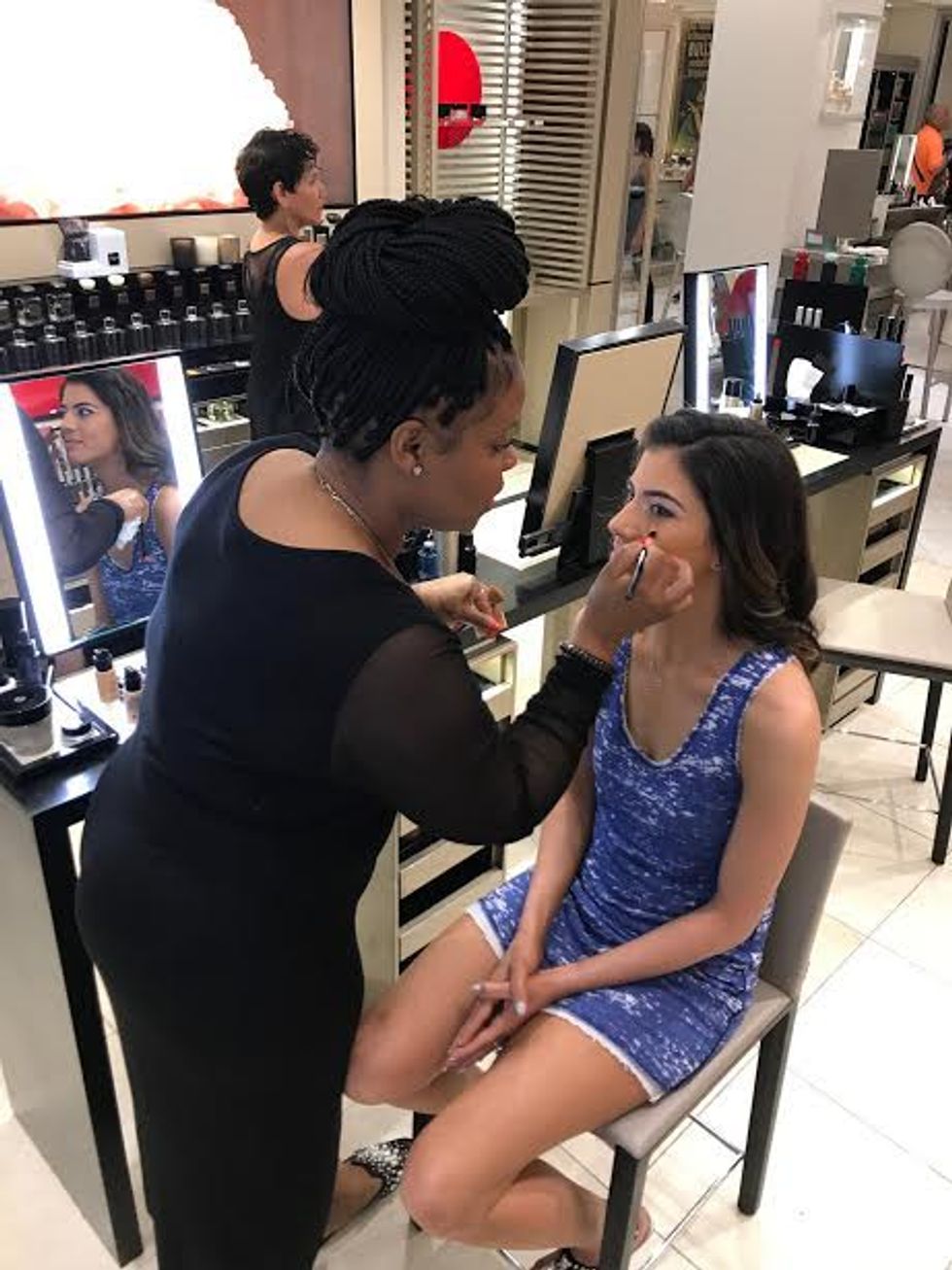 Jessica Rose Brunish in the makeup chair getting Tonys ready.Photo by Corey Brunish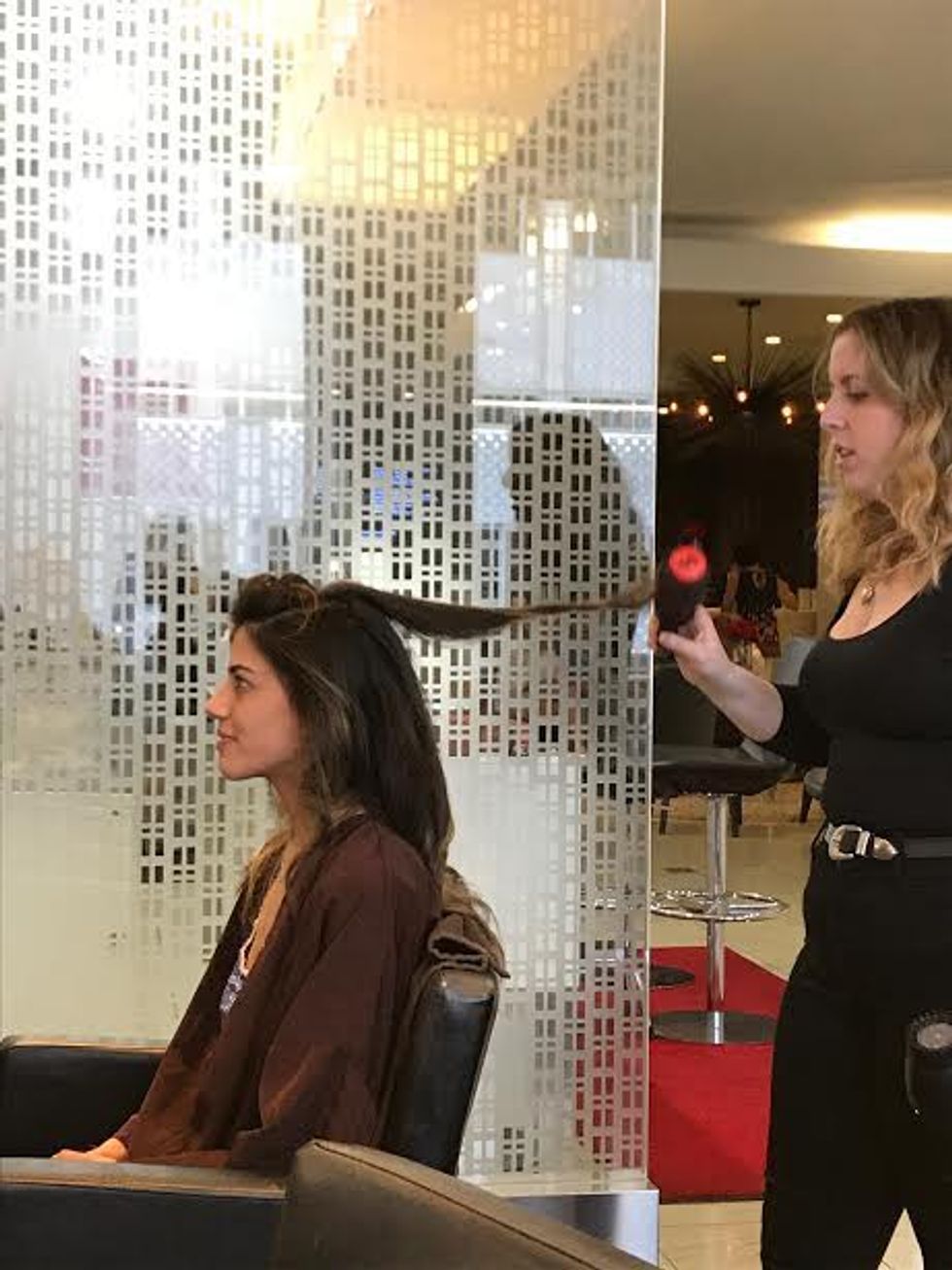 Jessica Rose Brunish gets her hair done before the Tonys.Photo by Corey Brunish