Your swimsuit defines your summer.
Whether it's a high-cut one-piece from American Apparel or a velvet TRIANGL two piece, there's a magic to slipping one on for the first sunny day of many. In classic New York fashion, we start getting ready for this two month long affair as soon as the flowers start to bloom. We know it can be hard to have the patience finding the perfect suit. That's why we've compiled some of our favorites, all ranging in price point, cut and fit, so there's something that will flatter everyone. It's spring time and we think you should take advantage of these swim deals right here, right now.
Gooseberry Intimates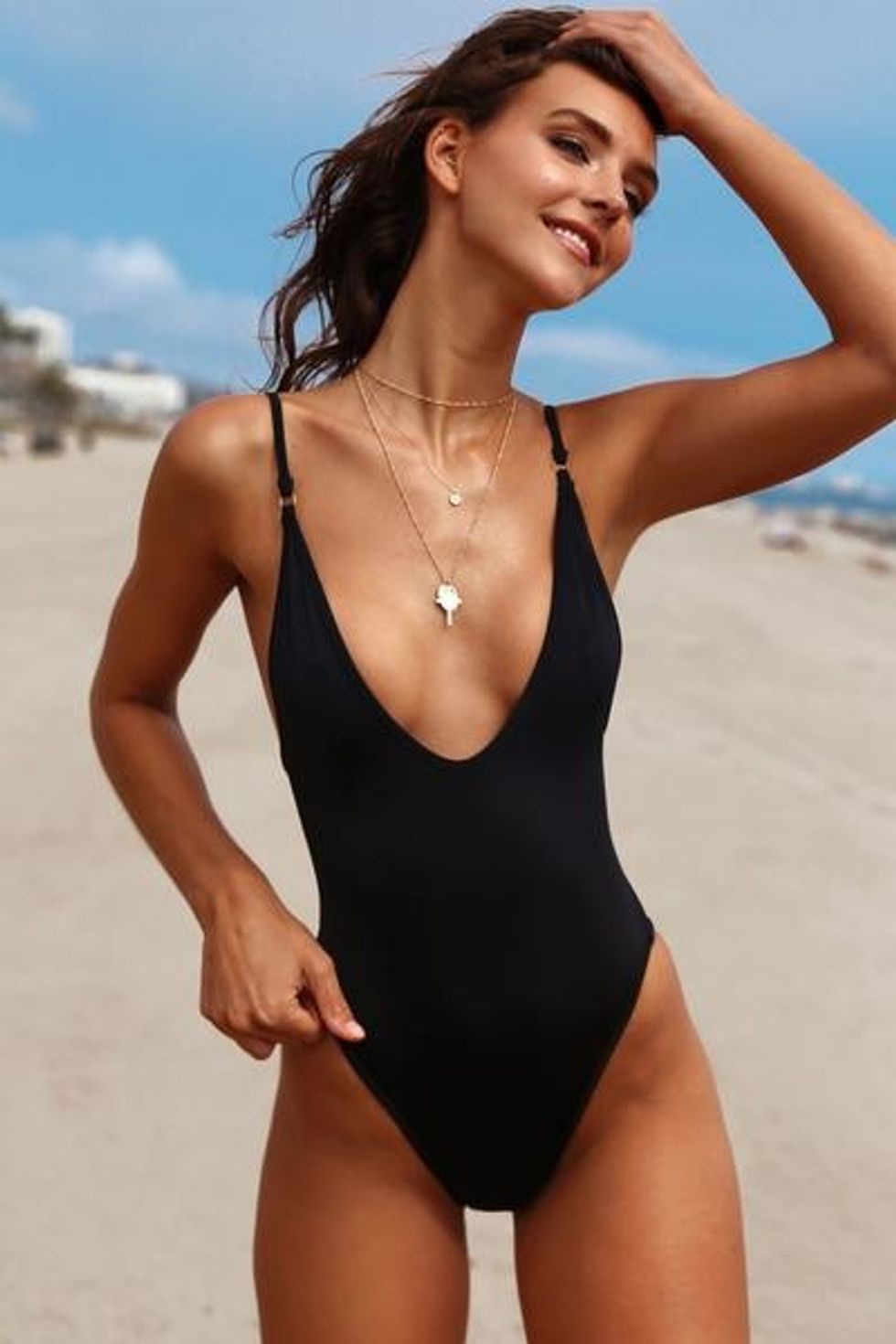 So Chic Long Island, $99
Gooseberry Intimates is a French lingerie label who's made a name for themselves for their intricate, femme-empowering designs. While they are known for their lingerie first and foremost, their seaside swim collection is as beautiful as it is high quality. What's even better is that they've just launched a collaboration with Instagram model Gypsyone, with sleek and sexy silhouettes in muted jewel tones. What's not to love?

Madewell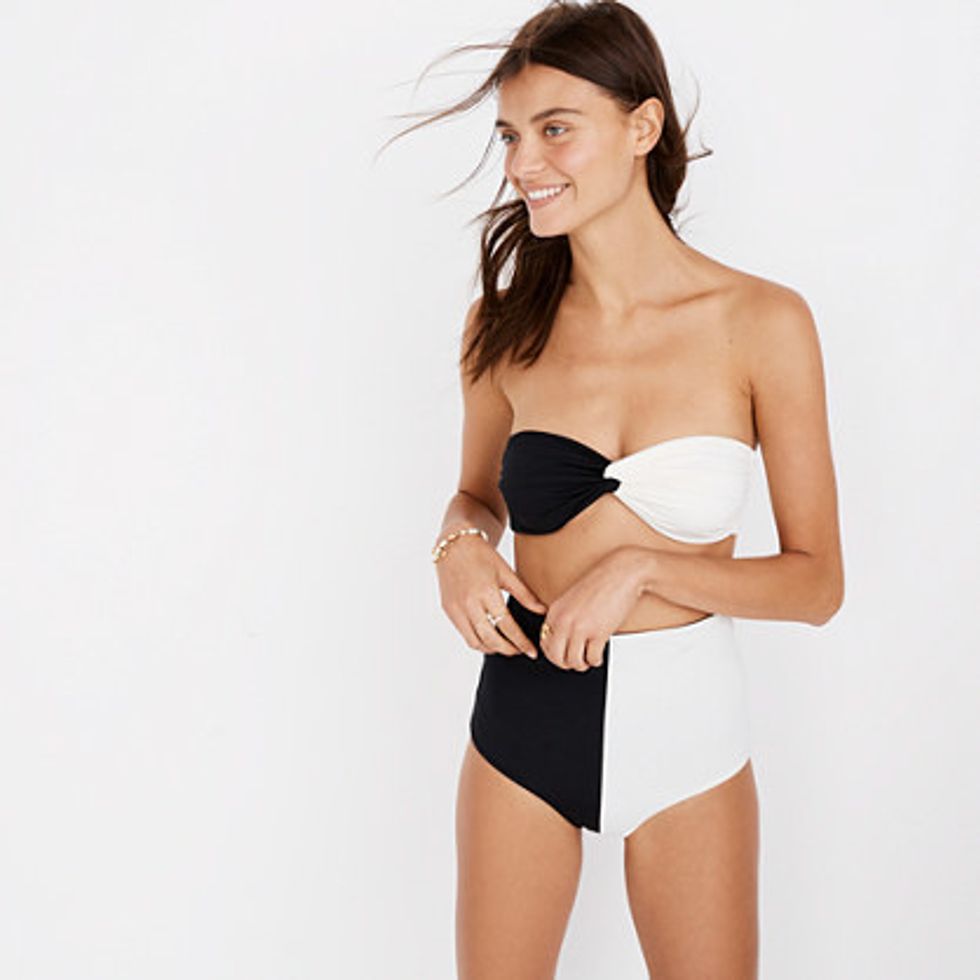 Mara Hoffman® Lydia High-waist Bikini in colorblock, $145
Madewell is the fresher, younger sister of J. Crew who are known for their denim, but little do you know, they have quite the swimwear collection as well. From exclusive Mara Hoffman to a collab with Tavik, they have a variety of pieces that are versatile enough to wear all summer long. The charming, almost tomboy-ish ease of Madewell lends itself to this collection as well, with muted and sophisticated colors. It's probably ideal if your one and only destination is the Hamptons (take that what you will!). We're particularly fond of this Hoffman split color block two-piece that's as super cool as it is effortless.
Malia Mills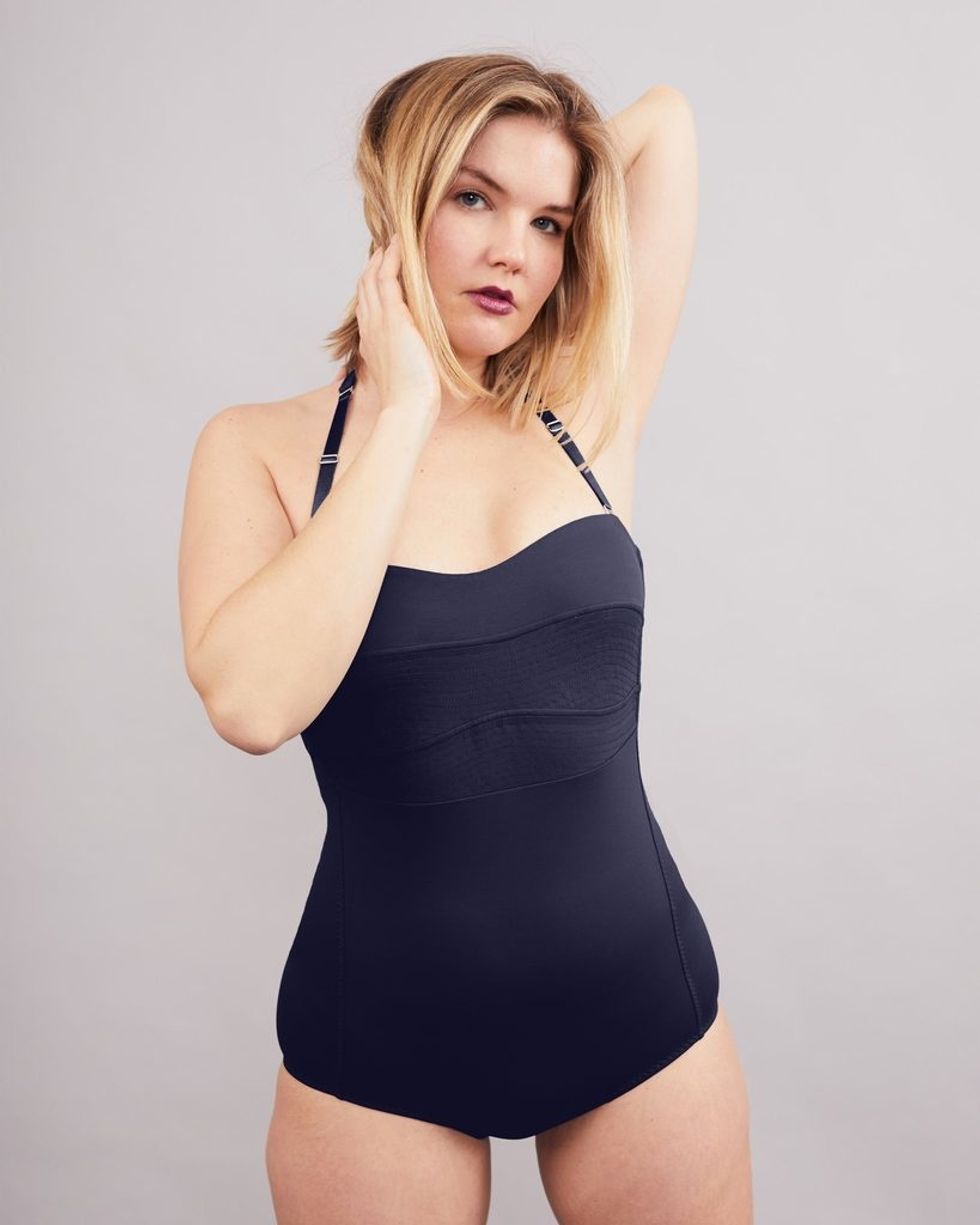 Tribute maillot in signature black
, $395
This Honolulu-born brand brings us a sleek swimwear line full of higher-end, versatile pieces. Prices vary from $150 to $400, but one of these pieces is a timeless investment that will give you endless summers to come. We're particularly fond of the silhouette of this maillot one-piece, which can easily be dressed up with a swingy skirt for a night of dancing.
Solid & Striped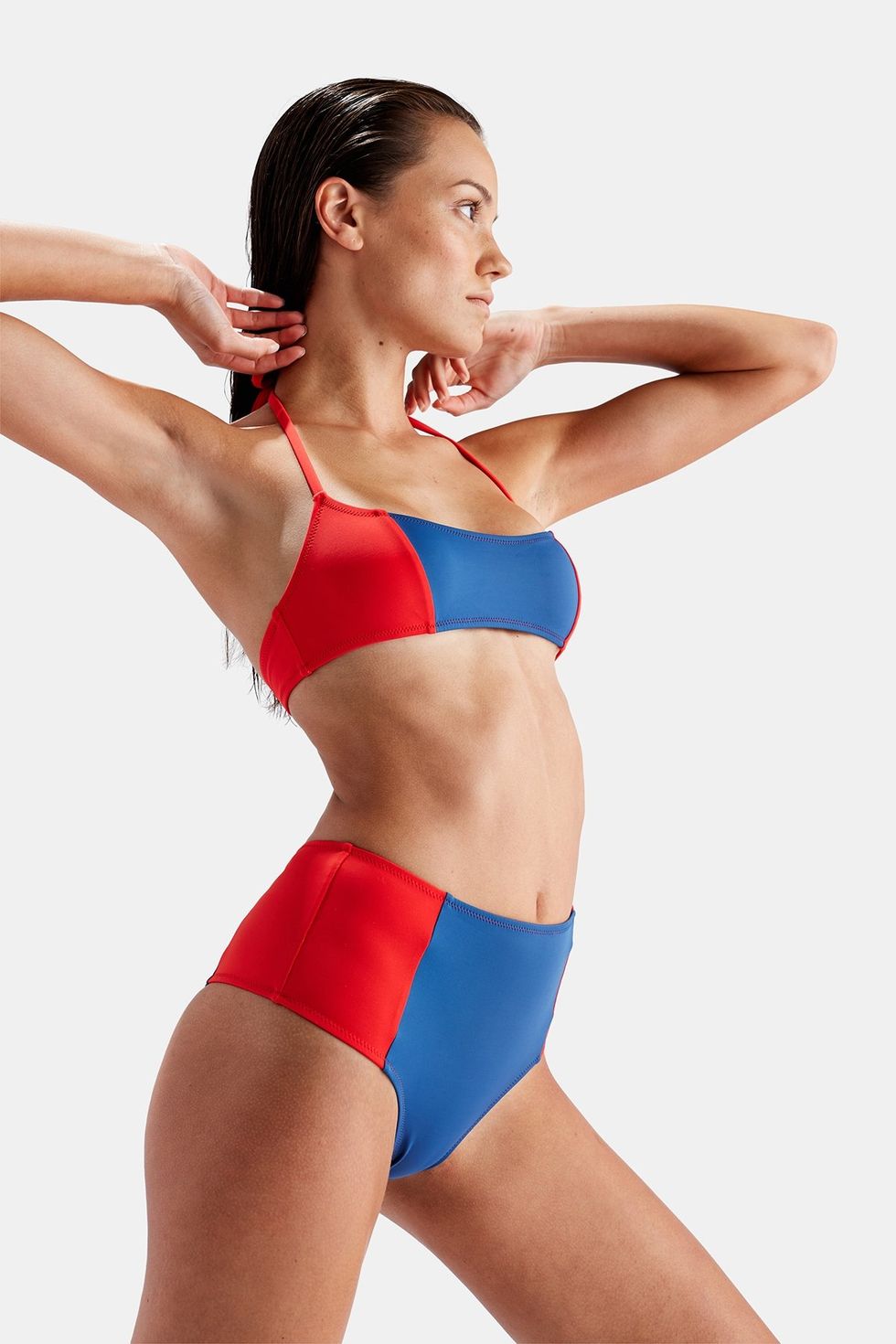 The Jessica Top in Red Slate, $88
Solid & Striped is a staple in every woman's closet. They are, as best described by Shopbop, "dreamed up in the Hamptons beach town of Water Mill, New York, Solid & Striped swimwear combines classic beach-ready silhouettes with a preppy-chic aesthetic." If you're looking for a particular style, chances are Solid & Striped has an option you'll love. Colorblocking is going to be a big statement this summer, which is why we really like this suit in Red Slate.
J. Crew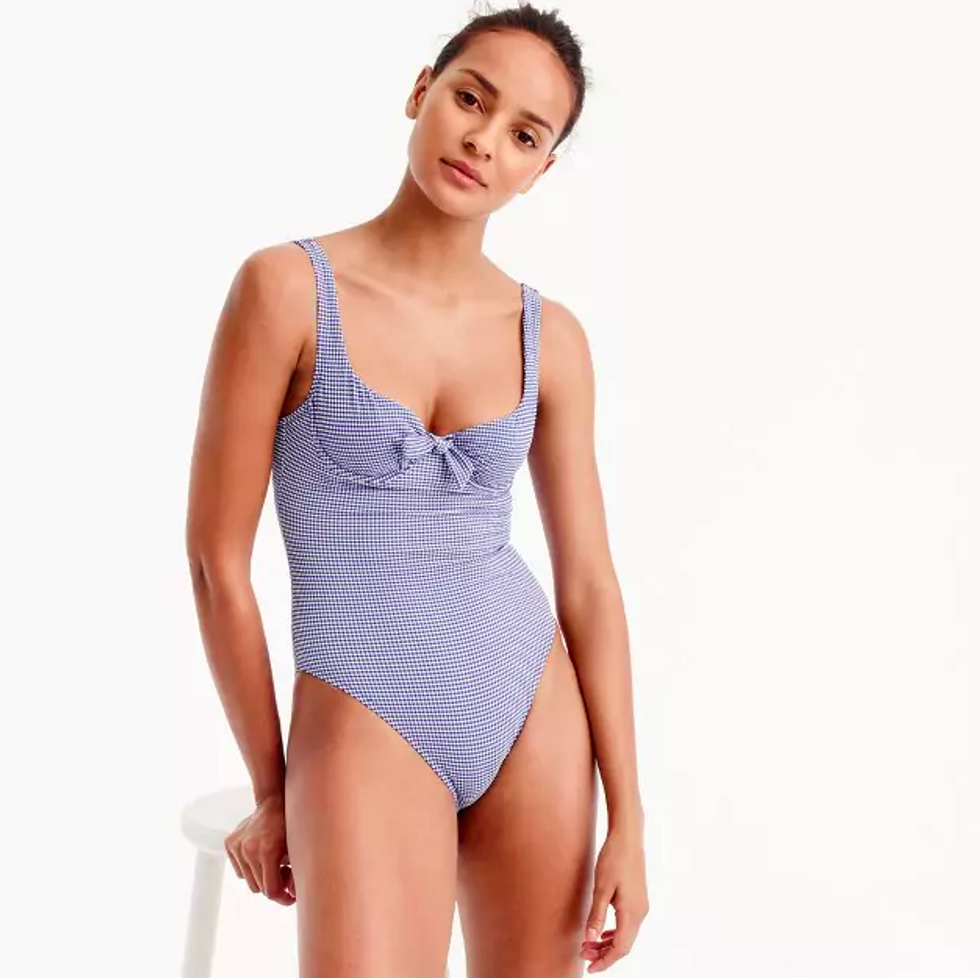 One-piece swimsuit in tiny gingham, $118
J. Crew's swimwear line is an effortless reflection of the ethos of the brand - classic, smart, and chic. This particular gingham number is inspired by vintage Crew swimwear, offering underwire support and a classic neckline. (Psst: it's currently 30% off with the code DIYUMSN.)
COS Swim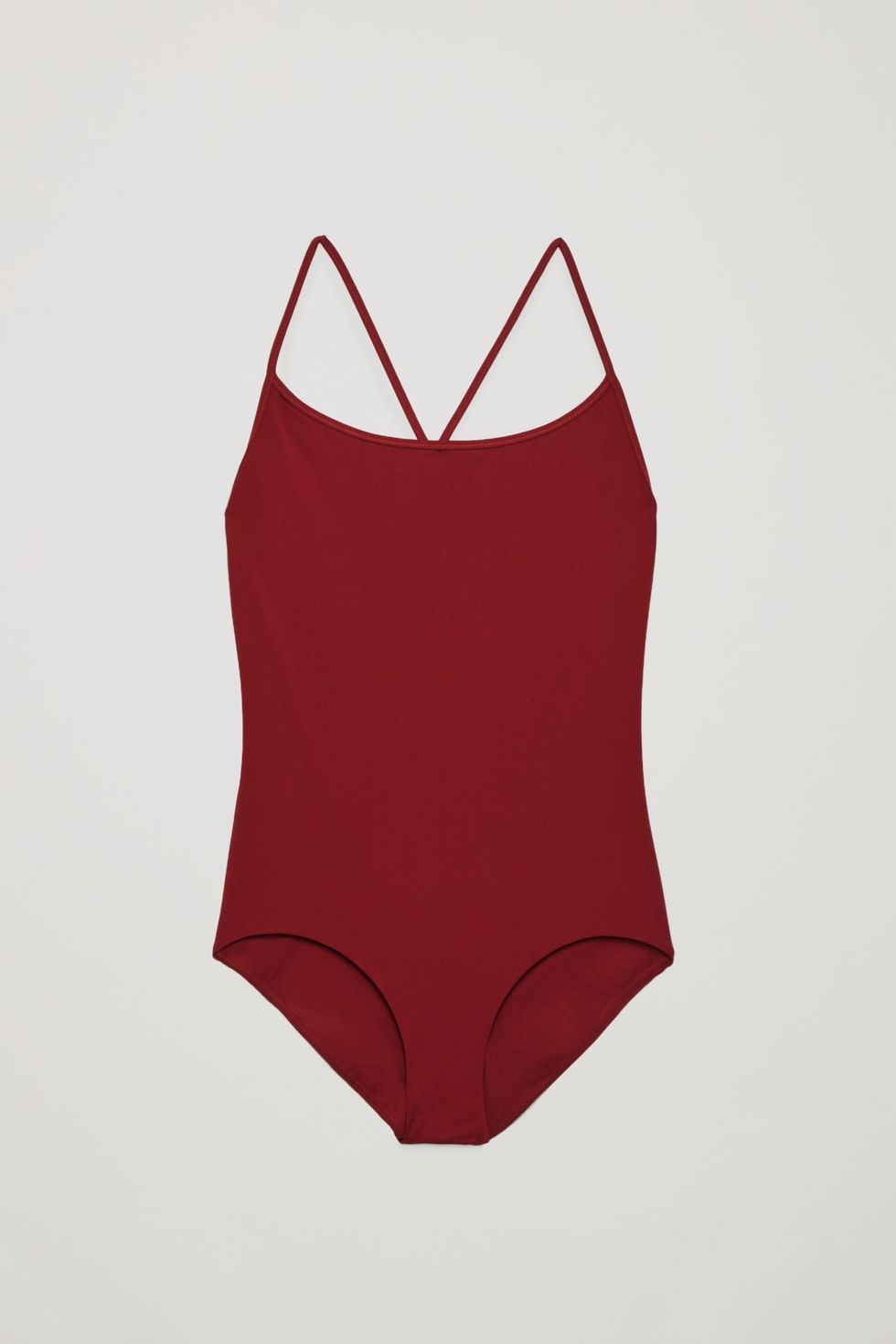 Crossover swimsuit, $49
COS swim is as minimalistic as it is cool. The streamlined collection has a variety of classic shapes in deep jewel tones, like this crossover swimsuit in a burgundy red. It seems so easy to perfect to us that we can envision an entire summer with just this number on.
Shopbop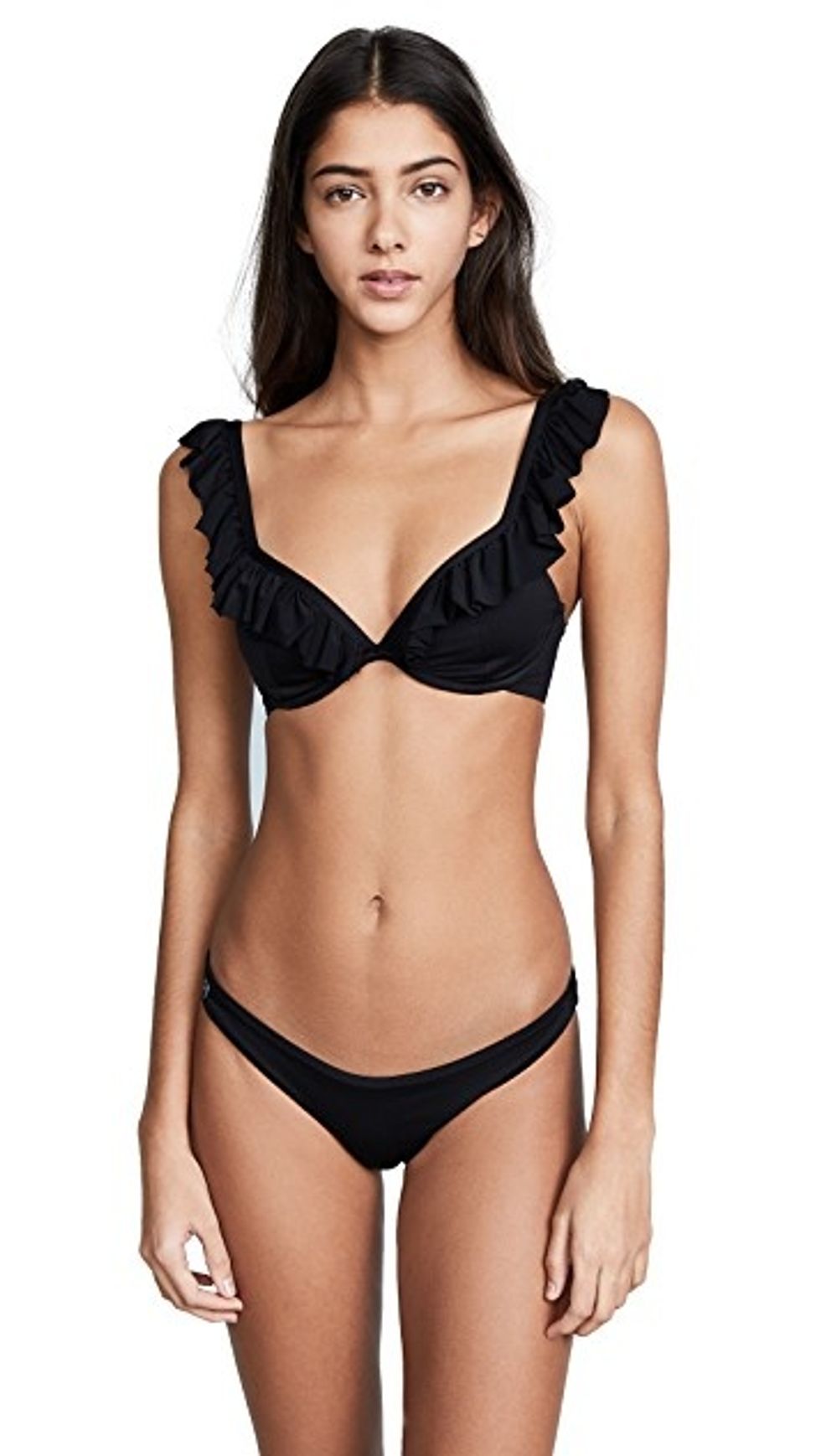 Meteorite Swell Top, $69
Shopbop offers a variety of brands from all over the world, like Tory Burch, Marysia Swim, and Vitamin A. They make it easy to find a style that you know you'll be comfortable in. The ruffling of this Meteorite Swell top is so modern yet classic, and it would compliment any heart-shaped shades and a coconut drink as well as you can imagine.
Aerie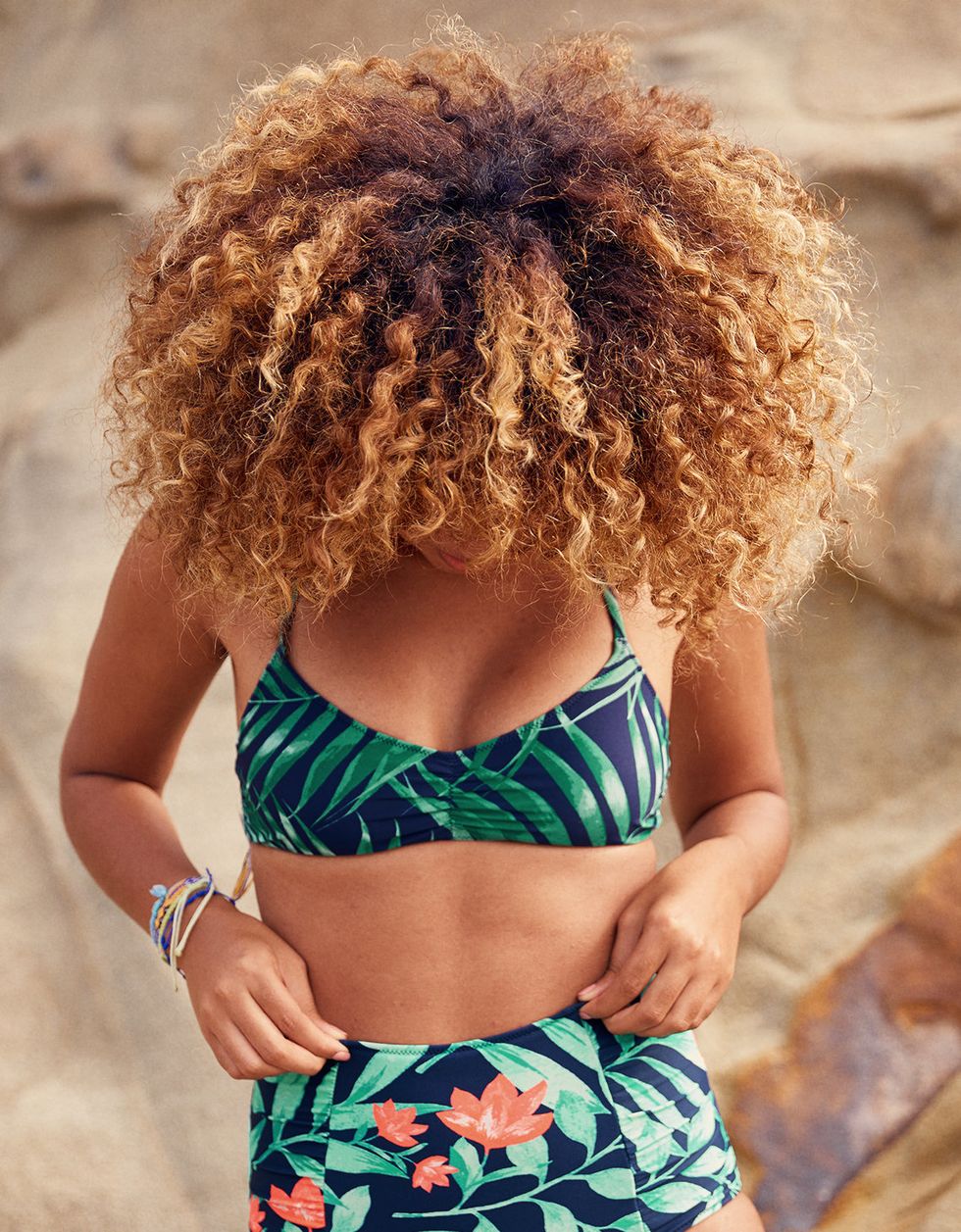 We love Aerie for their easy and comfy intimates, laidback attitude, and insanely affordable swimwear. How cute is this jungle print scoop top that's only 20 bucks? Aerie swim is always an easygoing choice, especially with their variety of top sizes (those are, sadly, a rarity). Aerie's fit and style expert Jenny Altman did a style session for their blog, with a how-to on finding the best suit for your body type. "Let's face it – while the prospect of warmer days or a sunny vacay is always exciting, so many of us dread heading to the fitting room with an armful of bathing suits to try on. The trick to making your shopping experience a good one is to remember a few helpful tips!"

American Apparel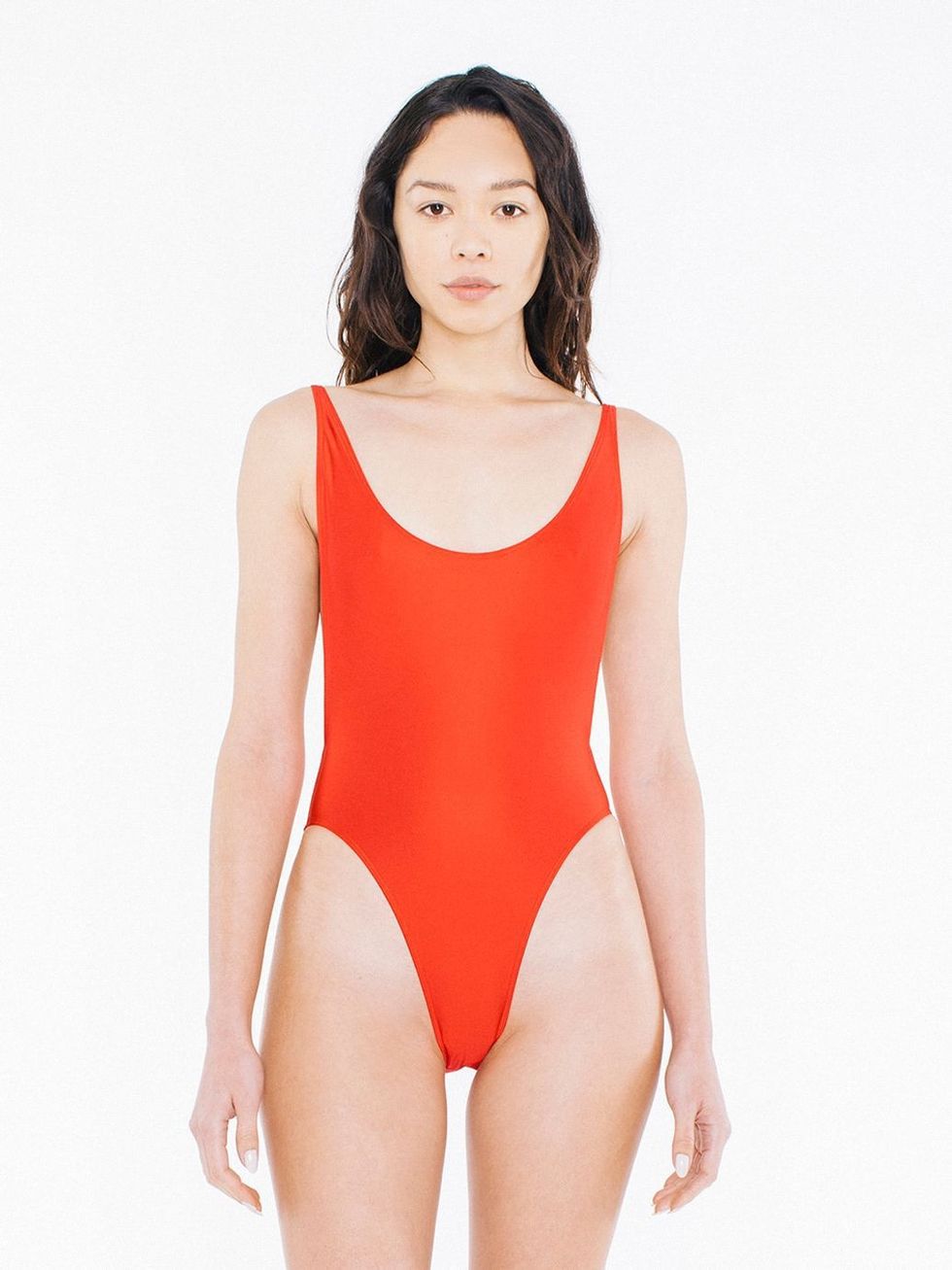 The Nylon Tricot High-cut One Piece in Poppy, $46
The LA-based brand made a name for themselves with their provocative and scantily clad ad's, which instantly made their swimwear collection a hit. With high-cut one pieces straight from the 80's and shiny nylon two-pieces, there's so much to plan your summer days in that you just might walk away with 4 of these. We're really digging the sleek and iconic silhouette of the High-cut Tricot piece, with a dash of poppy to warm up any outfit.
TRIANGL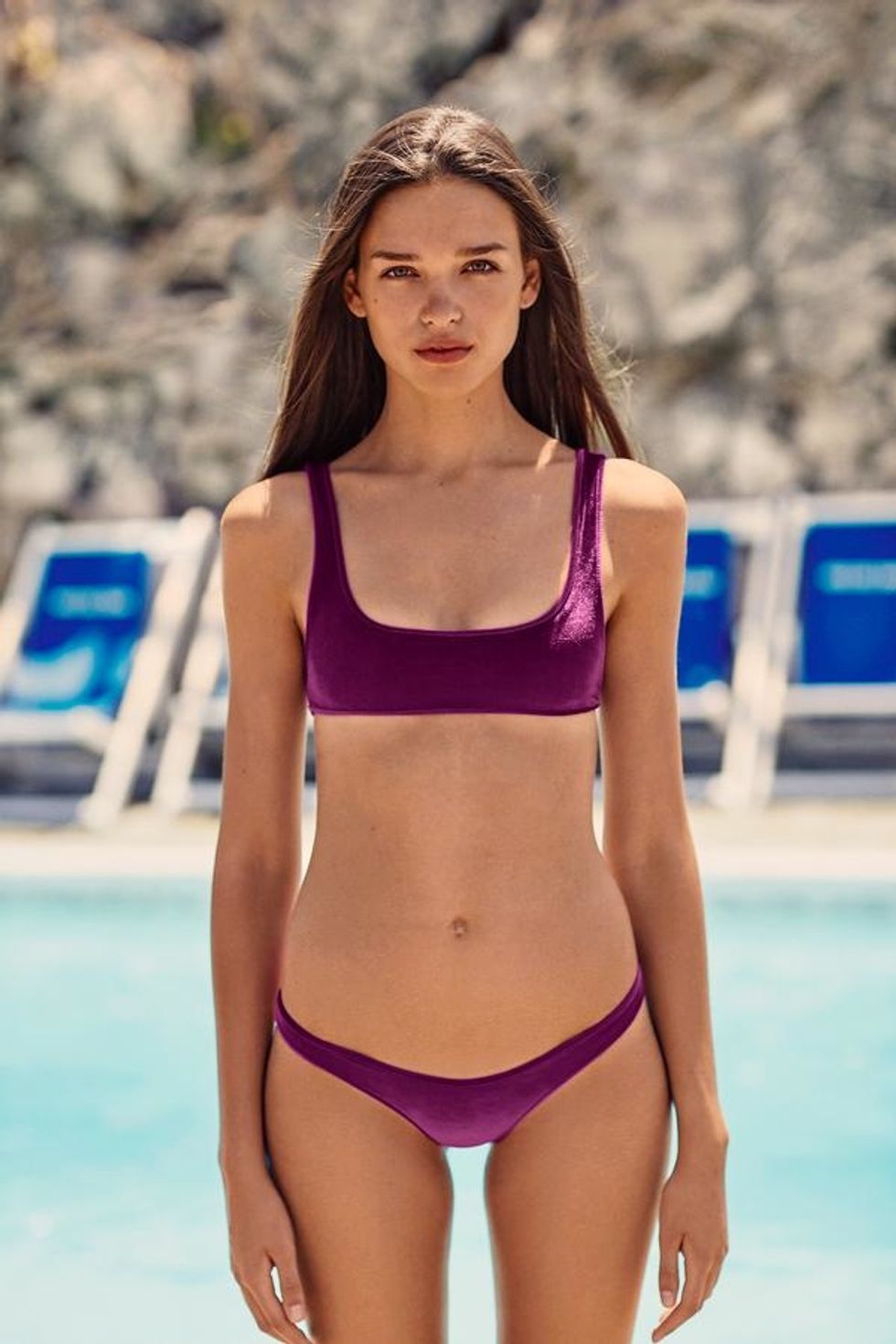 MIMI in Velvet, $89
If you have an Instagram account, chances are you've seen one of your favorite style bloggers in one of TRIANGL's geometric suits. Their designs are fresh, innovative and almost a unique embodiment of the Australian fashion scene, where it is headquartered by entrepreneur and designer Erin Deering. We're really into how universal the brand can feel, with classic cuts and fresh colors that will make anyone's summer their best summer. This Mimi suit in velvet is not only cool, it's one of its kind.