Valentine's Day is polarizing. Some people relish in the romance of a day devoted to gifts and flowers. Others write it off as a Hallmark holiday designed to reinforce conventional notions of romantic partnership. Let's agree that it's a lot of things, but most importantly, it's a good excuse to shop.
The fact is, Americans spend over $19 billion on Valentine's Day, according to the National Retail Federation. Why not use some of that money on yourself? Hey, there's nothing wrong with being your own Valentine, and parading around on February 14th in an outfit that makes you feel as fabulous as you are. The best part is you don't need to spend a fortune. We scoured retailers and found some of the best deals on Valentine's Day outfits that you can wear pretty much year round.
But back to V-day itself. No matter what your plans are, you want your outfit to broadcast how you feel about yourself, and send the right signals to whomever you choose to celebrate with this holiday. Whether you're hitting the town with friends, hunkering down with a new crush or still figuring out what you plan to do, it all starts with finding the look that captures your vibe for the night. So before you freak out about what you're doing this Valentine's Day, focus on the more pressing (and more pleasurable) question: What are you wearing? Here are some options...
The "I Like You, But Whatever" Outfit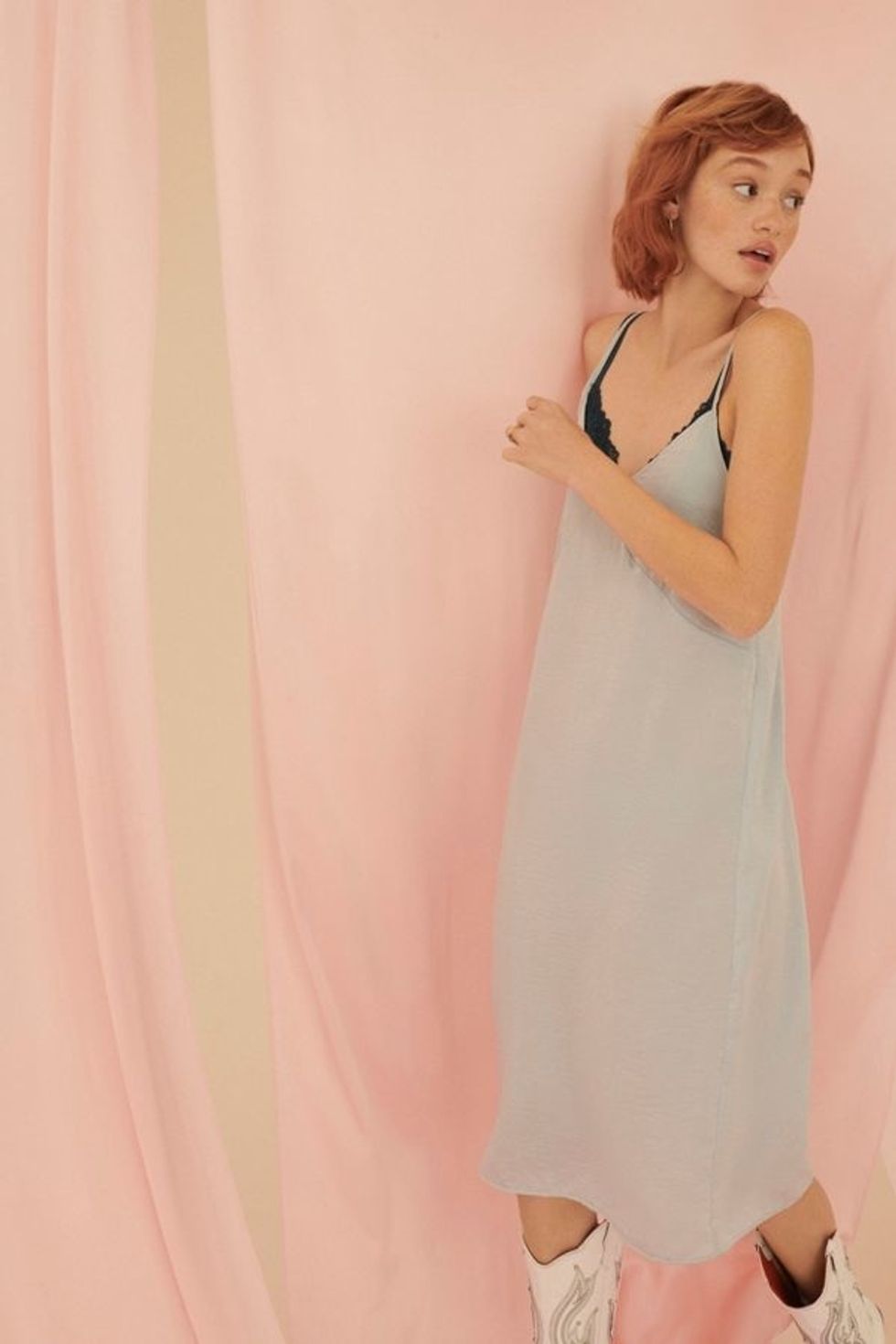 Urban Renewal Remnants Silky Midi Slip Dress, $59.00, UO
The best fashion to come out of the '90s is the slip dress as outerwear. (Thank you Courtney Love.) It's sexy, it's comfortable and, when paired with some cowboy boots or a pair of converse, it's almost as casual as a pair of jeans. If you want to seem like you just threw something on that happens to be a little skin-baring and flirtatious, this is your go-to.

The "Let's Go Somewhere Fabulous" Look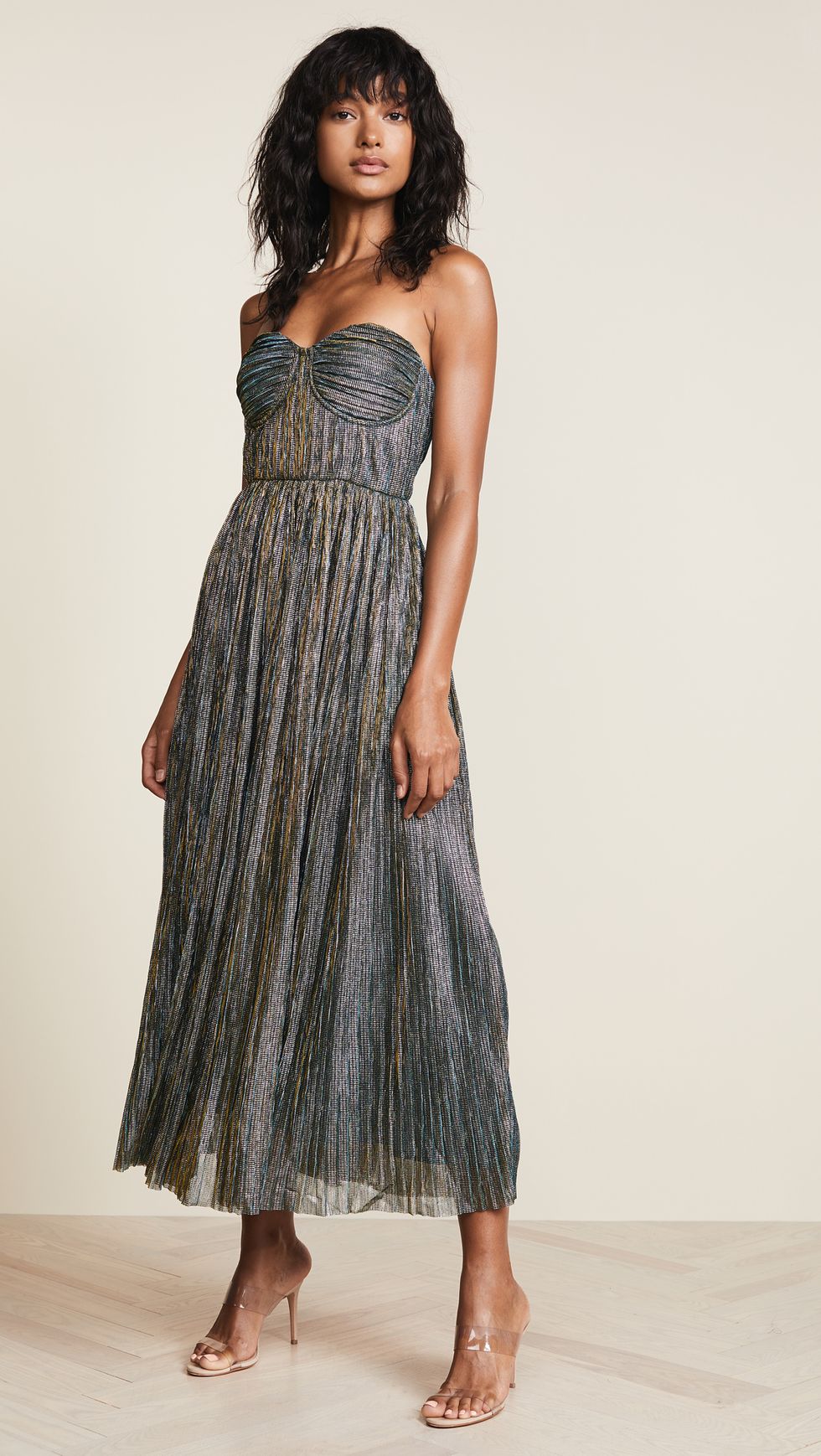 Glamorous Metallic Strapless Dress, $96, ShopBop
Valentine's Day is the other New Year's. If you want to send the message to your date, or just do it up with your best friends, the UK-based designer Glamourous has your number. This metallic mesh strapless look is all you need to feel like the jaw-dropping lady you are and let your partner(s)-in-crime know you are ready to do this night up.

The "I Feel Cozy, But I Look Amazing" Outfit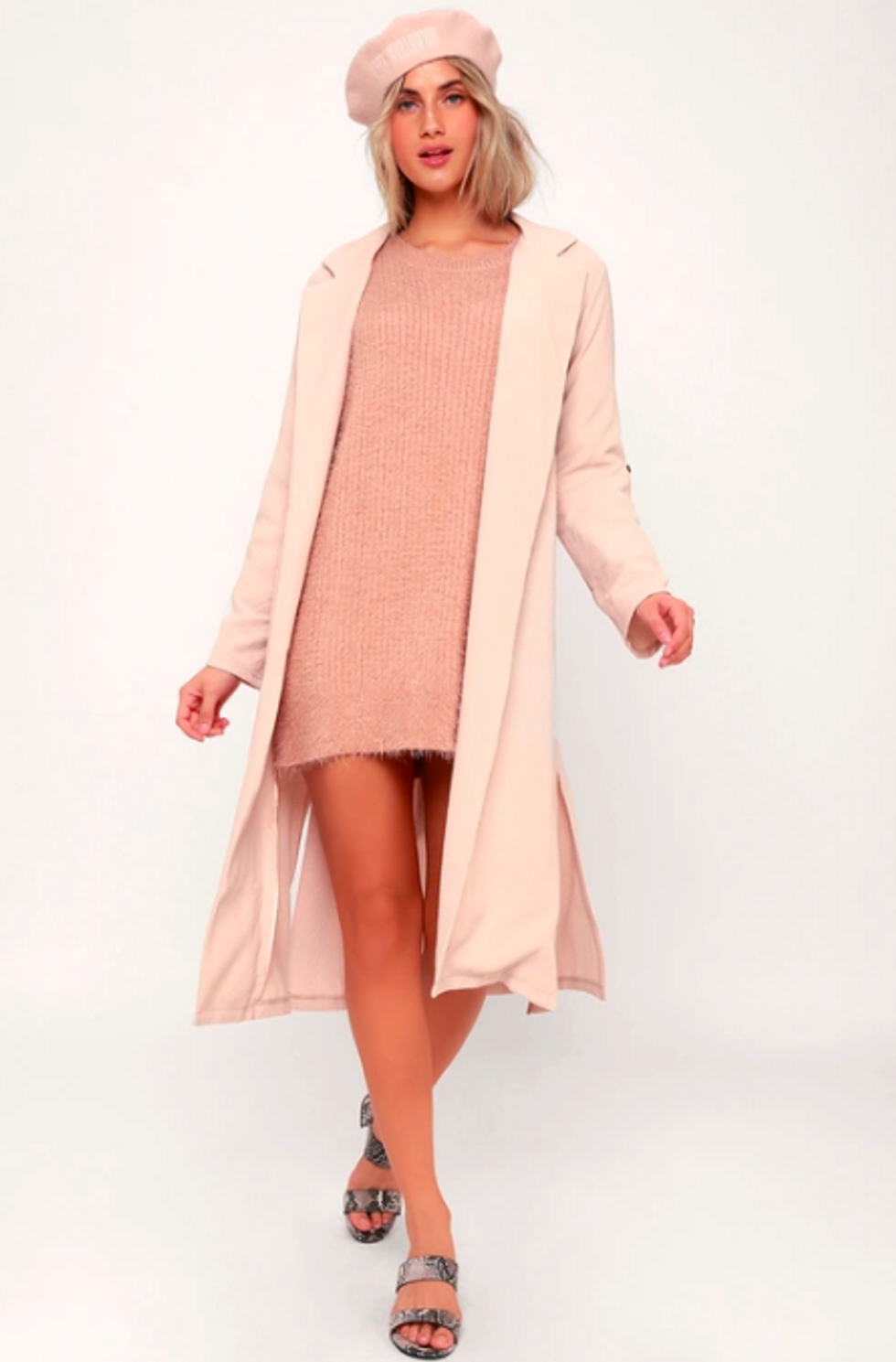 Slater Blush Pink Fuzzy Sweater Dress, $51.85, Lulus
The oversized sweater is already this season's biggest trend. But if you want to step it up a notch, embrace the fuzzy sweater dress. Pair it with your favorite boots and a pair of tights for a cozy, casual night in. For a high-fashion take, throw on a blush overcoat (Lulus has one for $72) and a matching beret ($18 at Francescas.com), and your romantic winter look is complete.
The "I Just Came From Work, But Yeah, I'm Awesome" Dress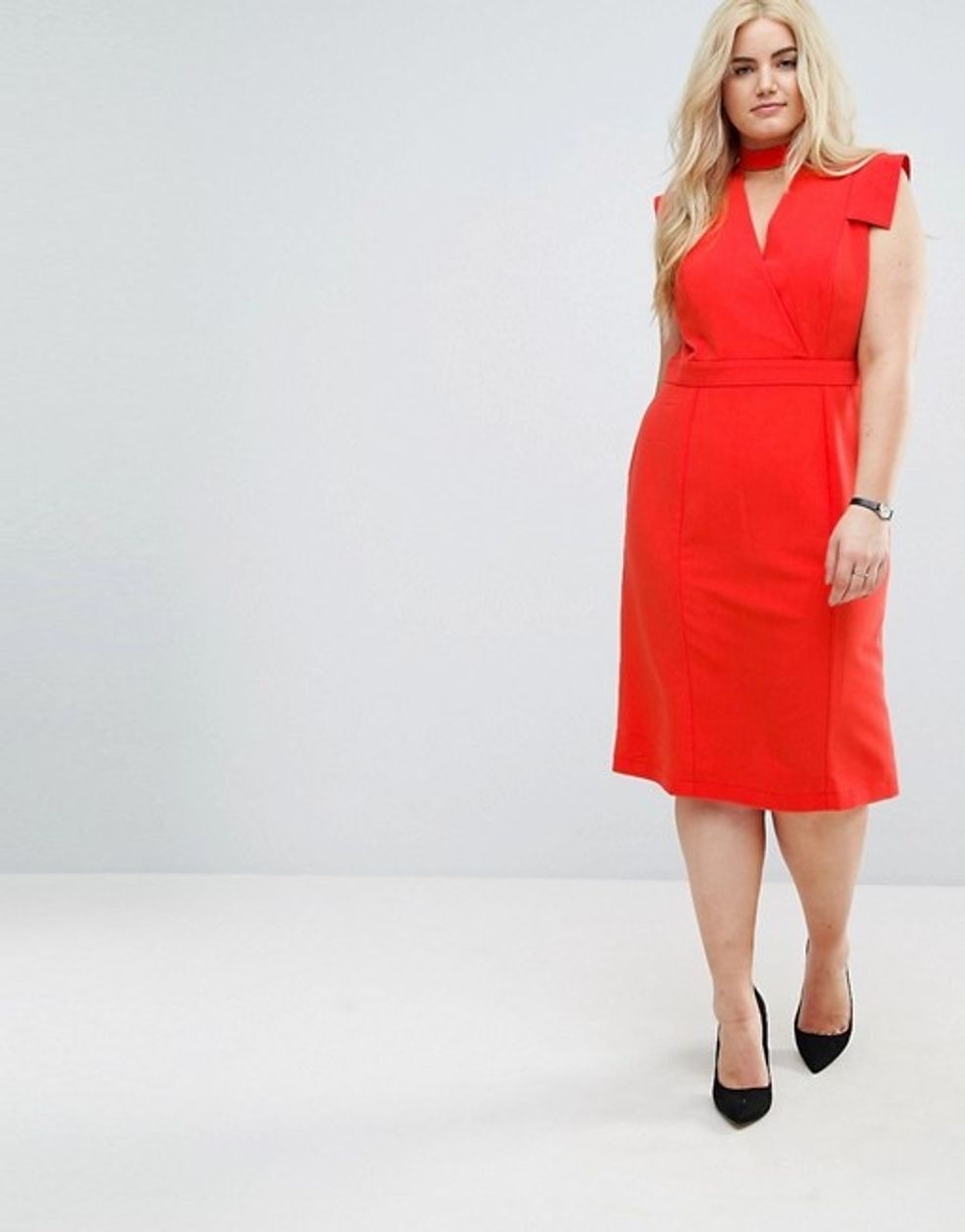 ASOS CURVE Wrap Front Pencil Midi Dress, $20, ASOS
Pair this structured wrap dress with a blazer for the office, and then go bare-armed when you hit the town. The bright red color is a nod to the heart of the holiday, while the sharp sleeves and cut-out neckline avoid looking too cutesy. You are a woman on Valentine's Day: roar.
The 'I Don't Care What We Do As Long As It's Fun" Look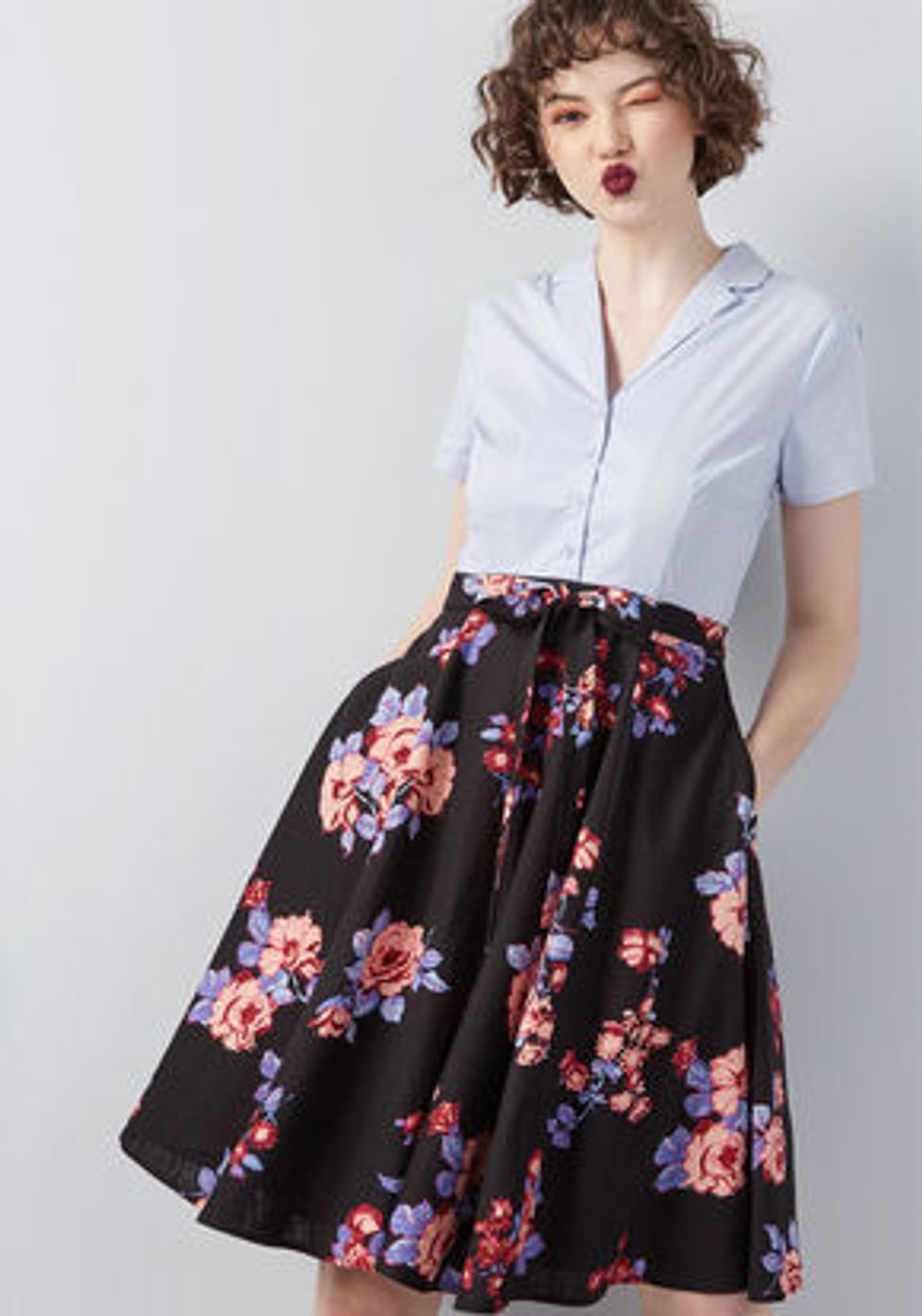 It Takes Two Shirt Dress, $89, Modcloth

Modcloth's retro-inspired look is business on top, party on the bottom. The shirt is crisp, casual and chic. The floral skirt is totally flirtatious and primed for a '50s dance party. Wear this and you'll be ready for whatever comes your way on the big day.
The "I'm Kind of a Rock Star" Outfit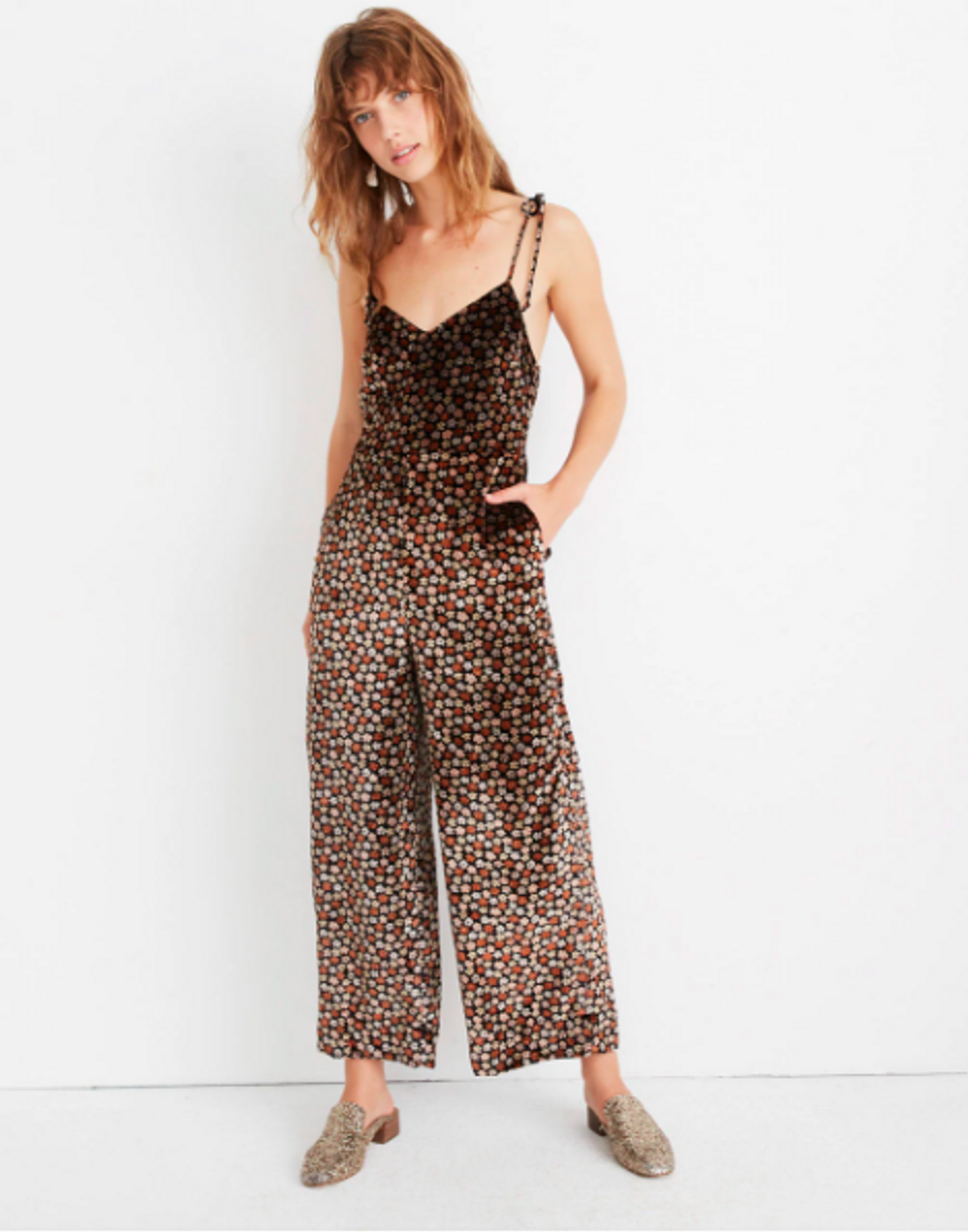 Velvet Thistle Cami Jumpsuit in Petite Blooms, $99.99, Madewell
A velvet print jumpsuit with spaghetti string ties? Yes, you are Stevie Nicks. Pair it with some gold necklaces and a set of kickass dangly earrings and you will be ready for anything, whether it's a candlelit dinner or an arena full of screaming fans.
The "Let's Do This Valentine's Day Thing" Dress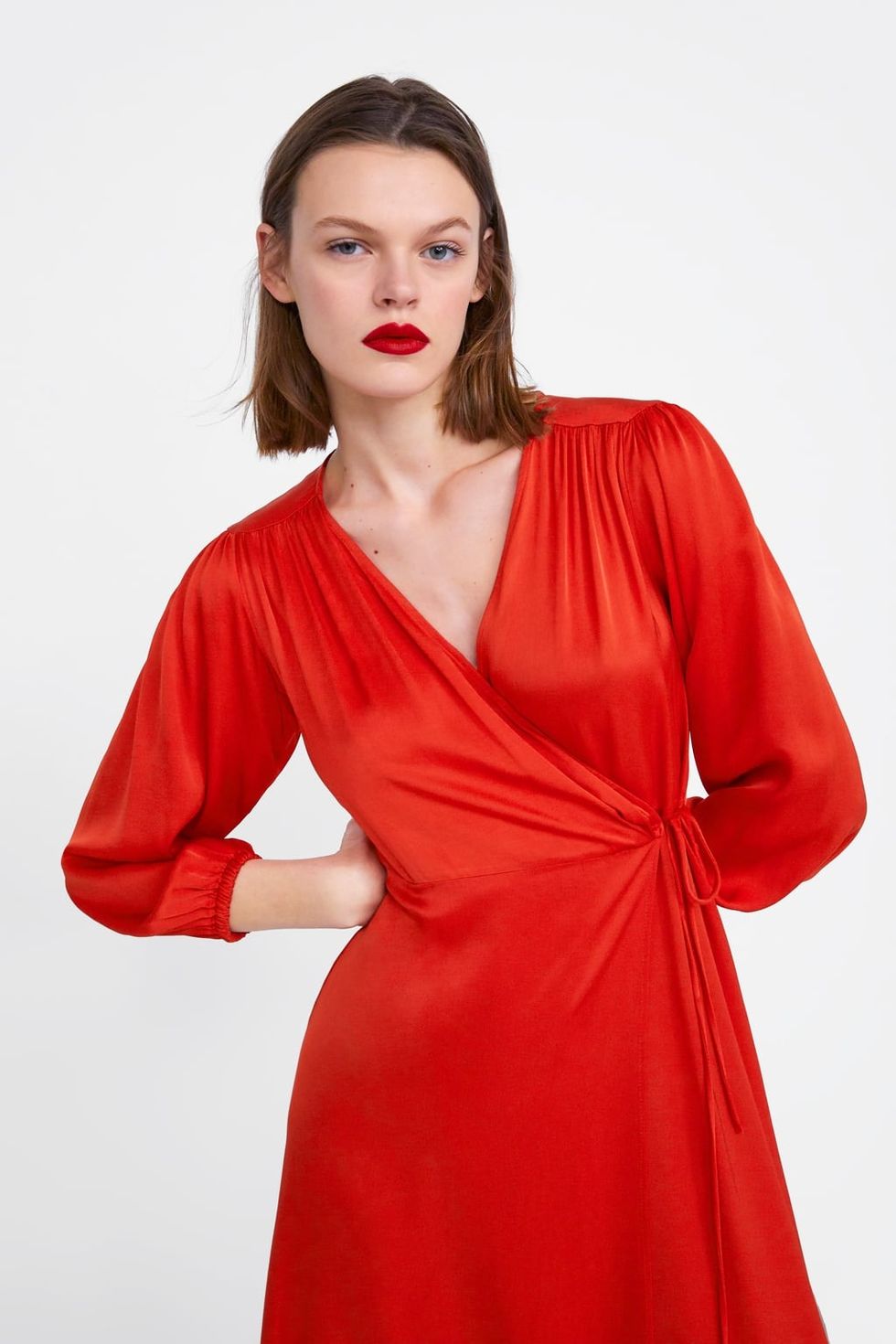 Satin Dress, $69.90, Zara
So you love Valentine's Day and you want the world—or, at least, that special someone—to know it. This is your look. The satin ruby red midi dress is old Hollywood meets the disco era, and perfect for anyone who's ready to make a statement on February 14th. Pull on some black, high-heeled boots (Zappos has a pair for $79) or a pair of red-piped spectator heels ($51.95 at Yandy) and bring the look home with a bright red lip stain. You want heads to turn? You got it.
Let's make this V-day all about loving yourself. Forget the flowers and the candy. Instead, treat yourself to an outfit that makes you feel like a million bucks (but doesn't cost that much). You're so very worth it.