Tis' the season for holiday baking and sipping on eggnog. Having a batch of holiday cookies and eggnog on hand can make everyday in December feel little more festive. Especially on cold, snowy afternoons. Holiday cookies and eggnog are usually made with eggs and cows milk, but the recipes below are all vegan!
It's quick and easy to whip up these delicious recipes.Think chai spiced snickerdoodles, pecan pie cookies, and a vegan avocado peppermint eggnog. These recipes are so good even the non-vegans will be happy to indulge in them.
Chai Spiced Snickerdoodles
By The PPK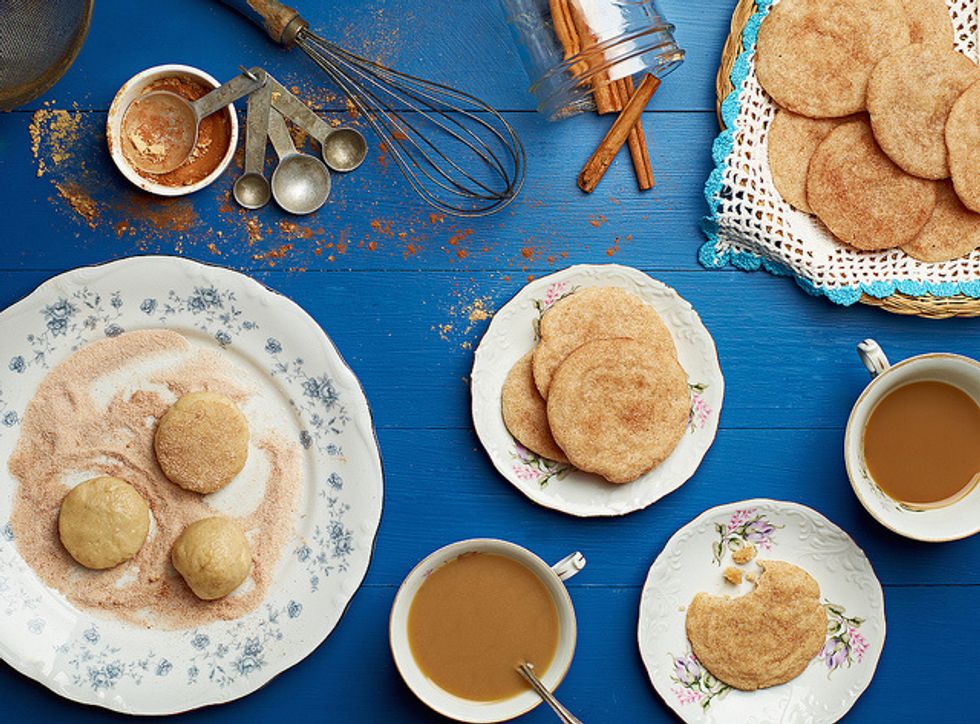 Vegan chai spiced snickerdoodle cookiesThe Post Punk Kitchen
A stack of brown, buttery snickerdoodle cookies is a classic holiday treat. This recipe from The Post Punk Kitchen, replaces cows milk with your favorite non dairy alternative. You can use almond milk, coconut milk, or even hemp. Here's a breakdown of the latest and greatest milk alternatives on the market.
These delicious vegan snickerdoodles have a crunchy, sugary top and are spiced up with chai, ginger, cardamon, and cloves. They're a great vegan cookie to make during the holiday season, but delicious all autumn and winter long. When they're done baking, dust them with extra spices or get creative and decorate them with holiday themed piping.
Jam and Sunflower Seed Cookies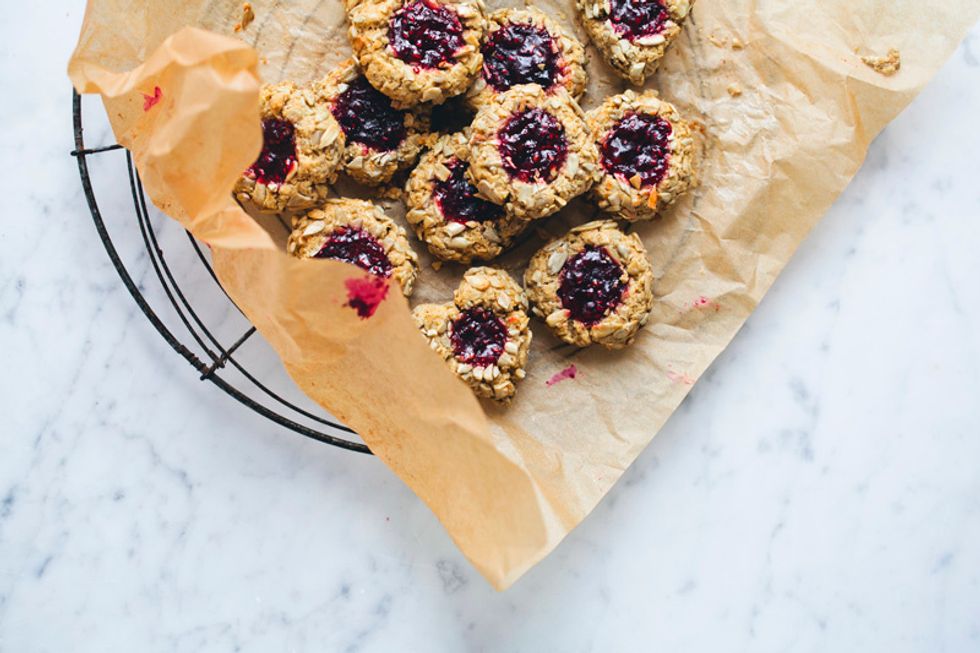 Vegan jam and sunflower seed cookiesGreen Kitchen Stories
These festive looking jam and sunflower seed cookies are vegan, gluten free, and nut free. Green Kitchen Stories is one of the best vegan cooking blogs and for good reason. I'm not even a full time vegan and I've loved every recipe I've tried.
Oats, crushed sunflower seeds, buckwheat flour, arrowroot powder, maple syrup, and vegan butter are used to make the base of the cookie. For the topping, you'll need to combine raspberry jam with prune jam. Although you could also substitute for your favorite jam instead. Try making your own homemade jam with the Green Kitchen stories recipe, or go with the store bought kind to save time.
Pecan Pie Cookies
By The Vegan 8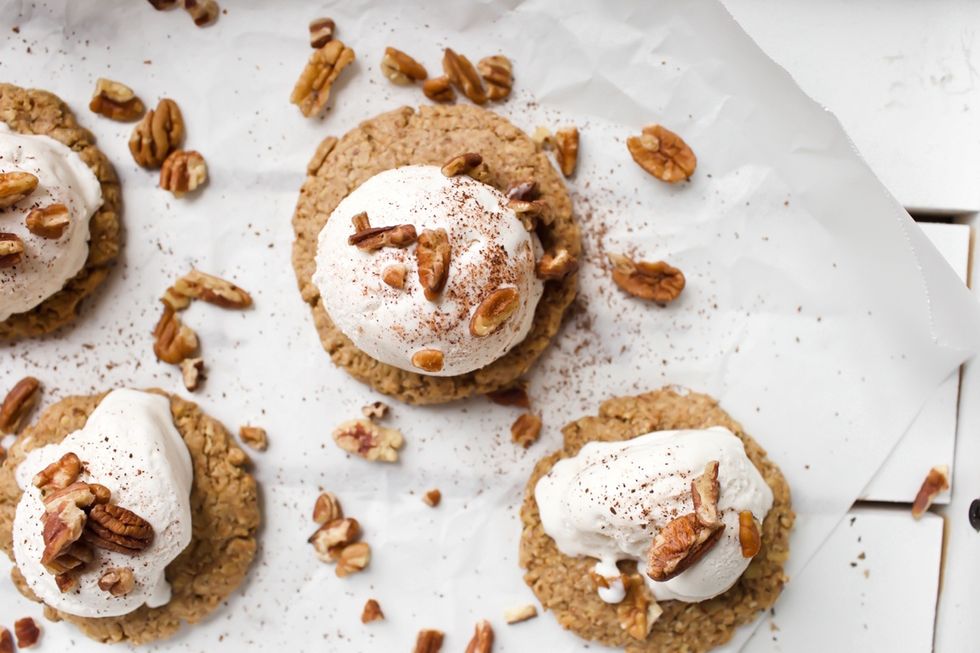 Vegan pecan pie cookiesThe Vegan 8
You have to try these vegan pecan pie cookies this holiday season. They're made with just 6 ingredients and are much easier and healthier than a traditional pecan pie. These cookies are also gluten free, oil free, and yet soft and delicious. All you need to make them is oats, pecans, maple syrup, ground flaxseed, coconut sugars, and vanilla extract.
They also only take 20 minutes to whip up. Top them with vegan whipped cream and few extra pecans. The Vegan 8 recommends the So Delicious Light Coco Whip brand.
Gingerbread Cookies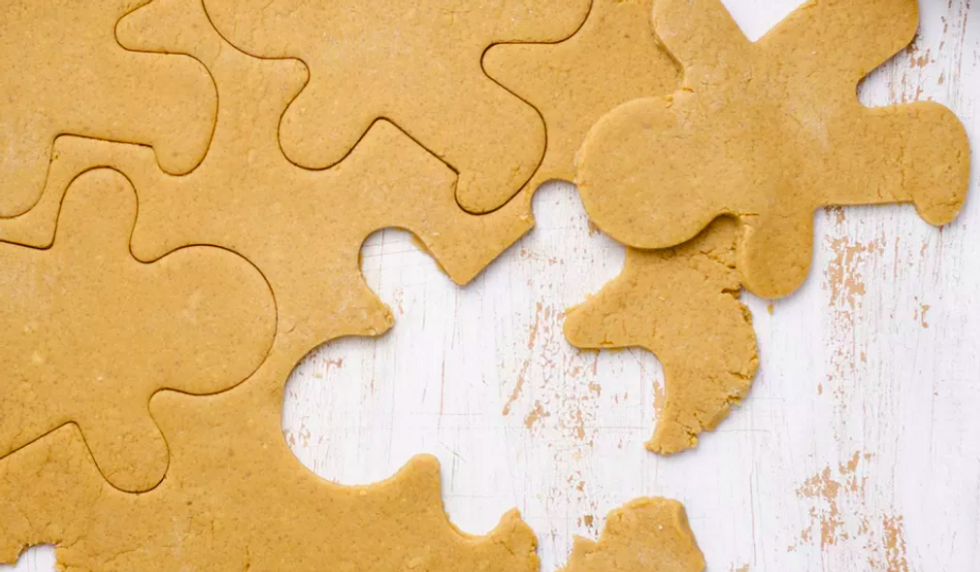 Vegan gingerbread cookiesThe Spruce Eats
Gingerbread cookies are perhaps the most traditional holiday cookie to make. This vegan recipe from the Spruce Eats manages to get the texture just right with a vegan egg replacement and a vegan margarine. While the texture is comparable to the real gingerbread cookies, these ones are cholesterol free!
They're sweetened and spiced with molasses, cinnamon, ginger, cloves and nutmeg. The dough needs to chill for at least an hour before baking though. It easiest to make the dough the night before so it can chill in the fridge overnight. Here's a five minute vegan buttercream icing recipe to use for decorating.
Pumpkin Pie Sugar Cookies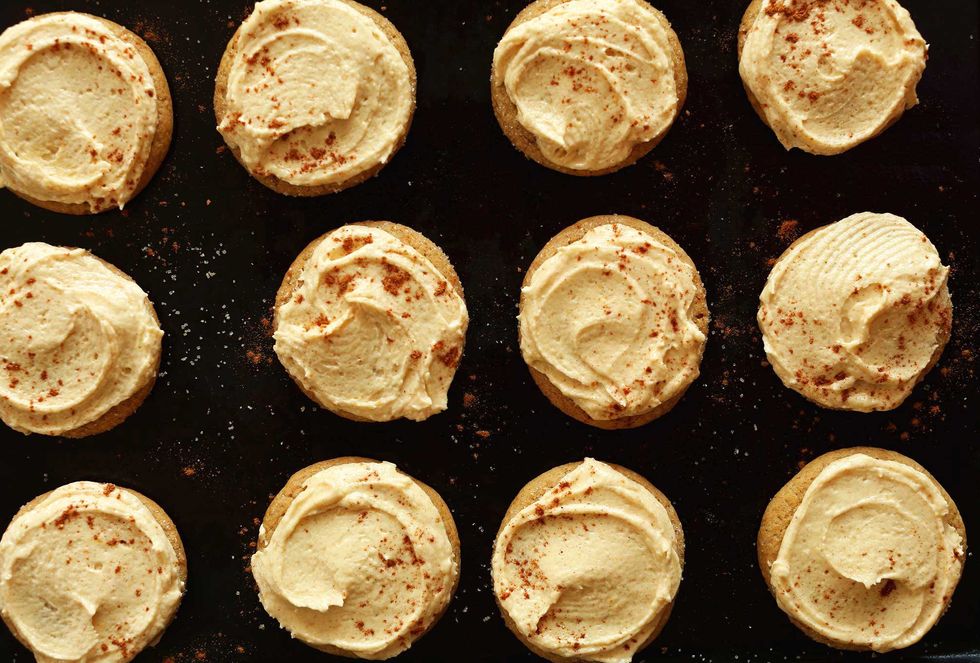 Vegan pumpkin sugar cookiesThe Minimalist Kitchen
These vegan sugar cookies are taken up a notch with the addition of pumpkin. They're tender, fluffy, crispy around the edges and totally free of eggs and dairy. This recipe from the Minimalist Baker is also super simple. From start to finishing, including baking and the time it takes to make the frosting, you'll be done in under an hour.

You can choose to eat them plain like a traditional sugar cookie. Or top them with the delicious vegan buttercream frosting. The frosting is made with vegan pumpkin butter. Yum!
Simple Vegan Eggnog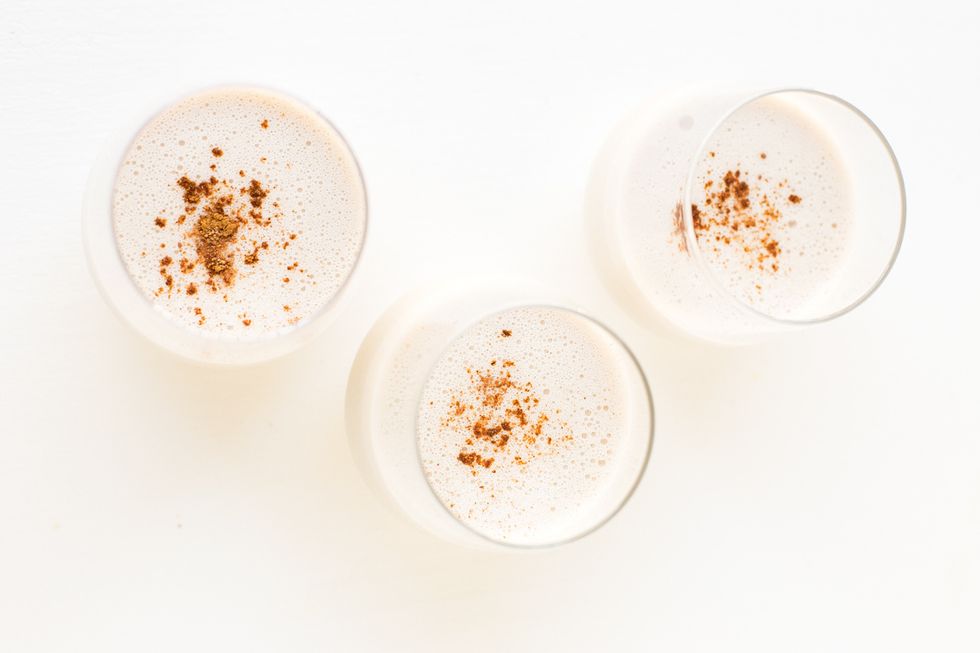 Easy vegan eggnogSimple vegan blog
Sipping on eggnog during the holidays is a yearly tradition for a lot of people. This vegan eggnog recipe is non alcoholic, healthy, and couldn't be simpler to make. If you do want to spike your drink, a little rum, bourbon, or brandy would go well with the other flavors.
This recipe calls for coconut milk to get the creamiest texture. You could easily substitute for another plant based milk though. Cashew milk is good option. All you need to make this drink recipe is a creamy plant based milk, raw cashews, maple syrup, nutmeg, and cinnamon.
Bourbon Spiced Vegan Eggnog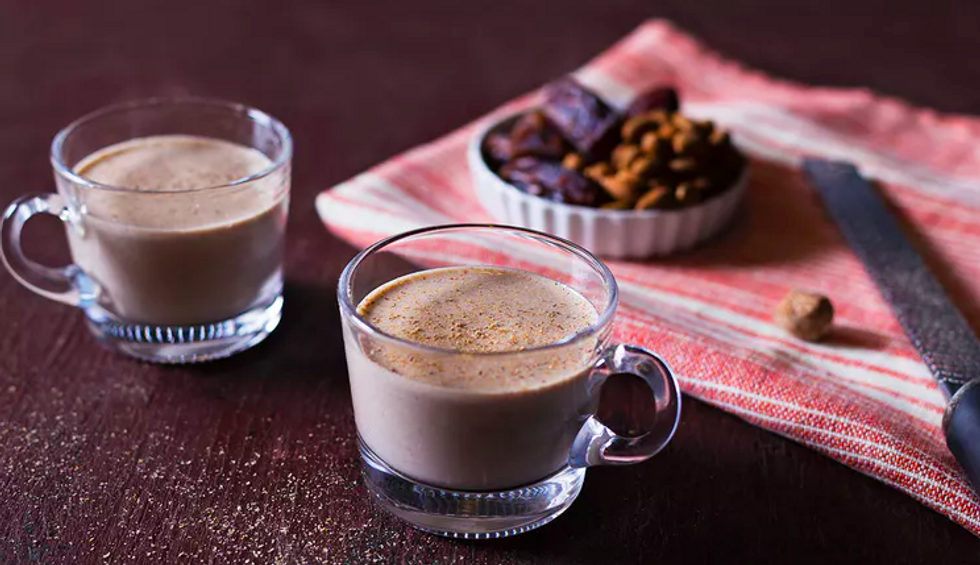 Bourbon spiced vegan eggnogThe Tasting Table
Here's a vegan eggnog recipe that uses almond milk instead of coconut or cashew milk. It's l smooth, perfectly spiced and spiked with bourbon. Instead of using regular sugar this recipe substitutes with coconut sugars for a healthier alternative.
From start to finish it only takes about 10 minutes to make this eggnog. You'll need almond milk, cashews, cinnamon, nutmeg, cloves, cardamom, coconut sugars, and your favorite bourbon. You can also swap the bourbon for rum or brandy.
Avocado Peppermint Eggnog
By Oh She Glows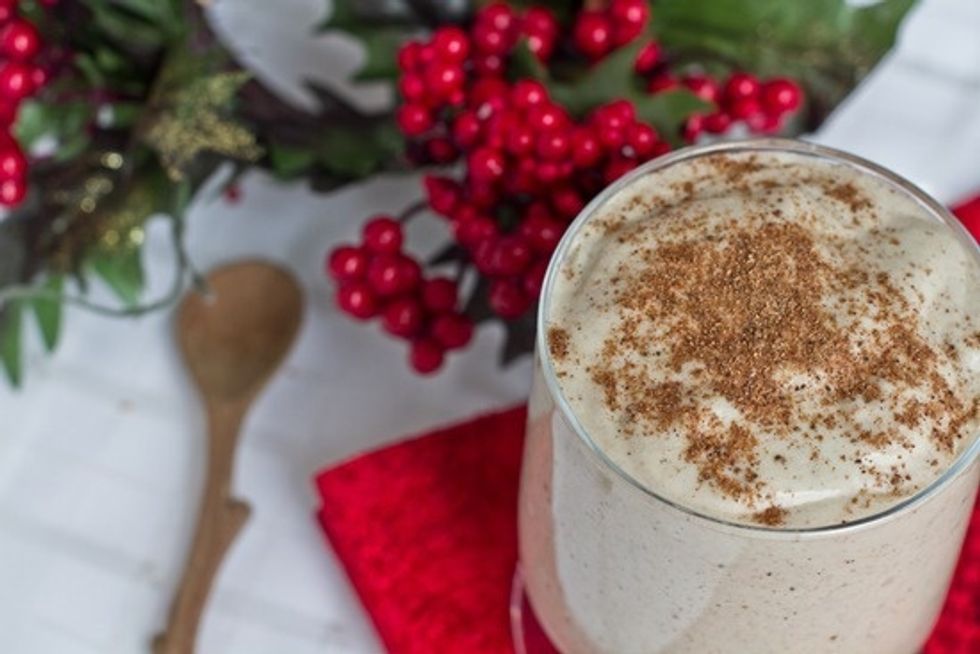 Vegan avocado peppermint eggnog Oh She Glows
Avocado in your eggnog? Yes! This surprising ingredient helps get the creamy consistency that eggnog is suppose to have. It's rich and indulgent and honestly could also work as a festive smoothie recipe if you skip the bourbon.
To make this recipe you'll need ½ an avocado, a banana, coconut milk, almond milk, lemon juice, maple syrup, nutmeg, cloves, cinnamon, and vanilla extract. Throw all the ingredients in a blender for 10 seconds and you're done. It's that easy!