We know you're busy. Between juggling deadlines, remembering to water your indoor plants, and settling disputes between coworkers or kids it's easy to feel like you don't have the time or energy to cook during the work week. Ordering take out or popping in another frozen meal might sound a whole lot faster than whipping up a home-cooked dinner, but the truth is there are plenty of delicious and healthy recipes you can make in the about the same amount of time it takes to heat that leftover pad thai.
Healthy meals, made at home with minimal ingredients can be ready in as little as 15 minutes!
When you're bordering on hangry after coming home from a long day of work, try one of the 5 delicious and super fast recipes below. These 15 minute dinners are so easy to throw together; you can even get your kids involved, or at least manage to make dinner at lightning speed between tantrums.
Grilled skirt steak and pesto butter, tilapia with oranges and couscous, and shrimp tacos with spicy chipotle slaw. All of these recipes focus on health and convenience. They're rich in veggies, protein, healthy fats, and whole grains. Whether you're a vegan, vegetarian, pescatarian, or adding more red meat to your diet to enhance your sex life we've got a fast, tasty weeknight meal that you'll love.
Here are 5 tasty, 15-minute recipes that are full of flavor for those nights when you're short on time.
15 Minute Zucchini Pasta with Poached Egg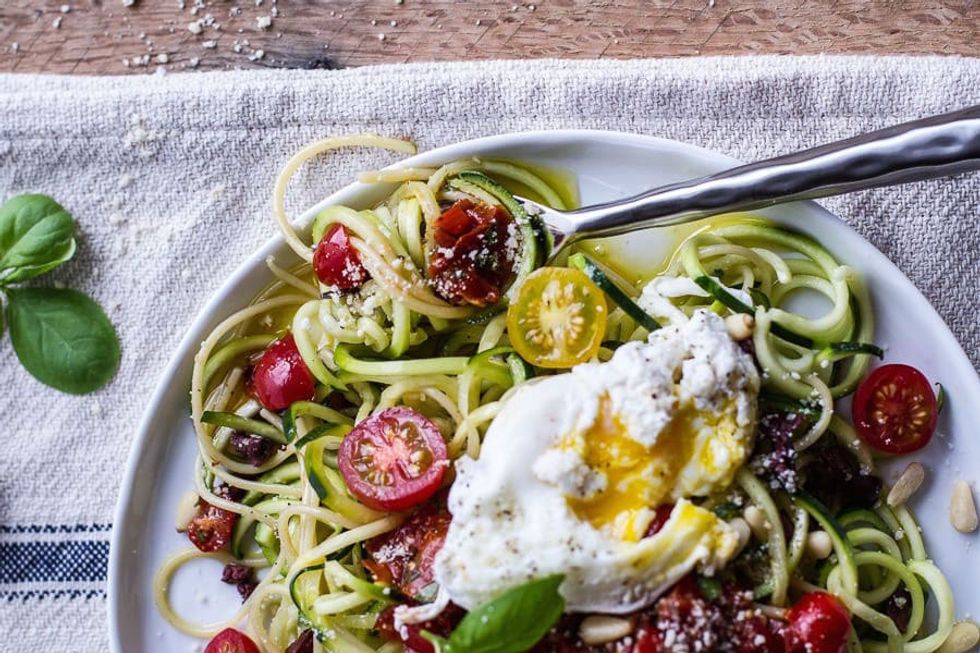 15 Minute Zucchini Pasta RecipeThe Half Baked Harvest
When a meal only takes 15 minutes to make and is incredibly healthy for you, it's easy to underestimate how delicious it's also going to taste. This quick vegetable pasta from The Half Baked Harvest uses a spiralizer to make fresh zucchini noodles. The zucchini pasta is tossed with an heirloom cherry tomato sauce and topped with basil, pine nuts, and a poached egg. If you're vegan, you can easily leave the poached egg off of this recipe and top with pan-fried tofu instead.
15 Minute Shrimp Tacos with Spicy Chipotle Slaw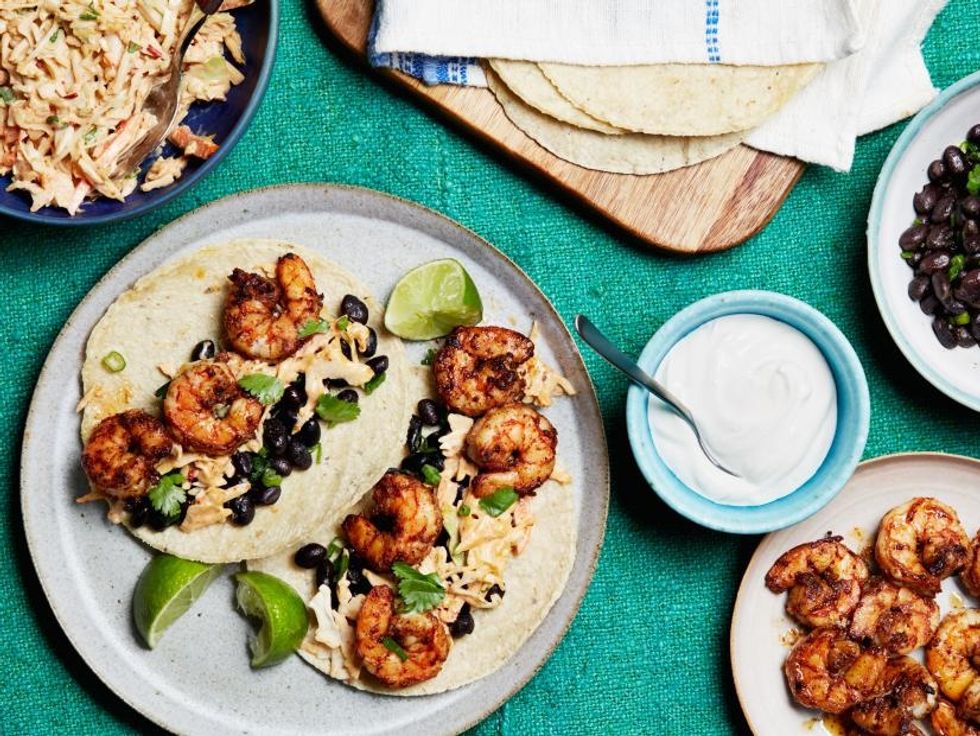 15 Minute Taco RecipeThe Food Network
Tacos are one of my favorite meals to throw together when I'm short on time, but craving a dinner that's also full of flavor. Fresh or thawed shrimp cook in as little as 2-3 minutes, making it the perfect protein to top your tacos with after a long day of work. Canned beans and a pre-cut red and white cabbage mix make this recipe from The Food Network fast and convenient. A smooth, homemade chipotle sauce is mixed into the cabbage to make a zesty slaw. You can have this recipe on the table in under 15 minutes.

15 Minute Mushroom Soup with Apple and Walnut Croutes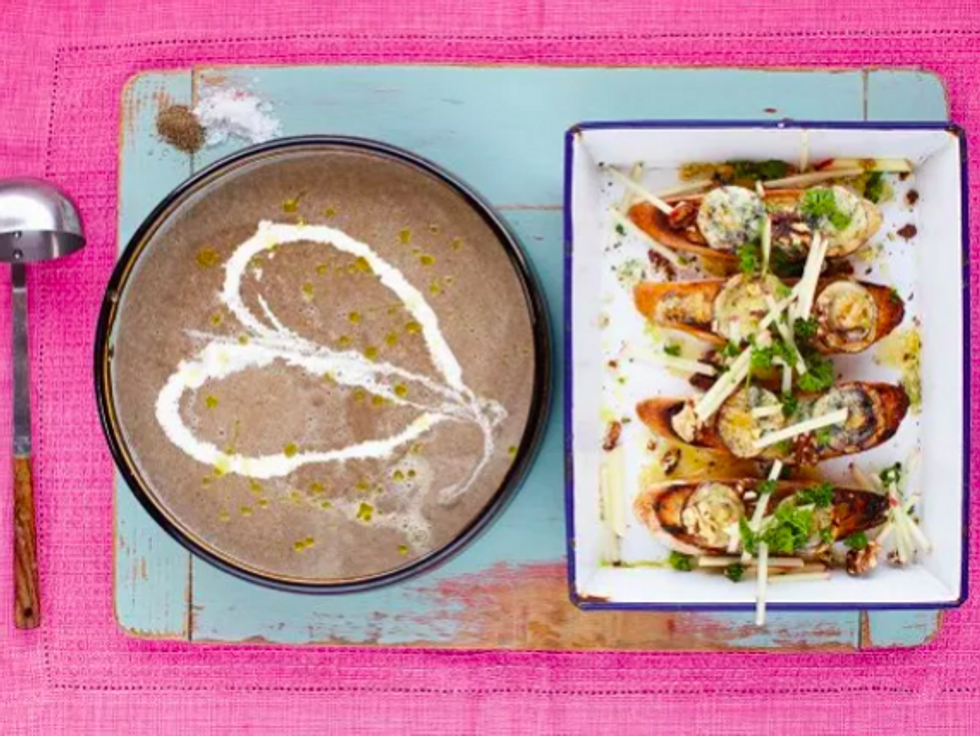 15 Minute Mushroom Soup RecipeJaime Oliver
Jamie Oliver proves that it's possible to make a fancy looking soup in under 15 minutes. This mushroom soup uses vegetable stock cubes and adds pre-boiled water to the pot of simmer vegetables to save time. While the recipe calls for 1 tablespoon of fresh cream, you could easily substitute for a tablespoon of coconut milk instead for a vegan and vegetarian-friendly version. Serve with a side of croutons topped with stilton, apples, and walnuts. Yum!
15 Minute Skirt Steak with Pesto Butter & Asparagus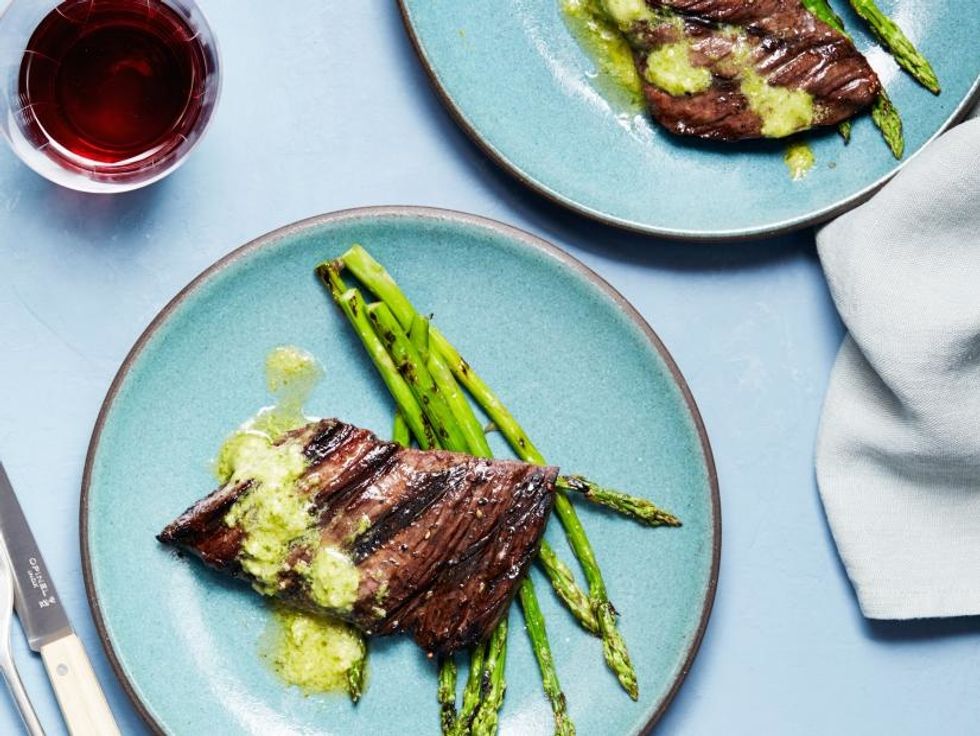 15 Minute Steak and Asparagus RecipeThe Food Network
If you don't live in a climate where you can break out your grill just yet, you can easily make this recipe under a broiler instead. Just set it to high and put both the steak and asparagus on a sheet pan. Grilled skirt steak and asparagus are ready in under 10 minutes and then topped with a 2 ingredient pesto butter. This meal is simple, light, and will likely help increase your sex drive.
Tilapia with Orange, Tomatoes, Garlic & Couscous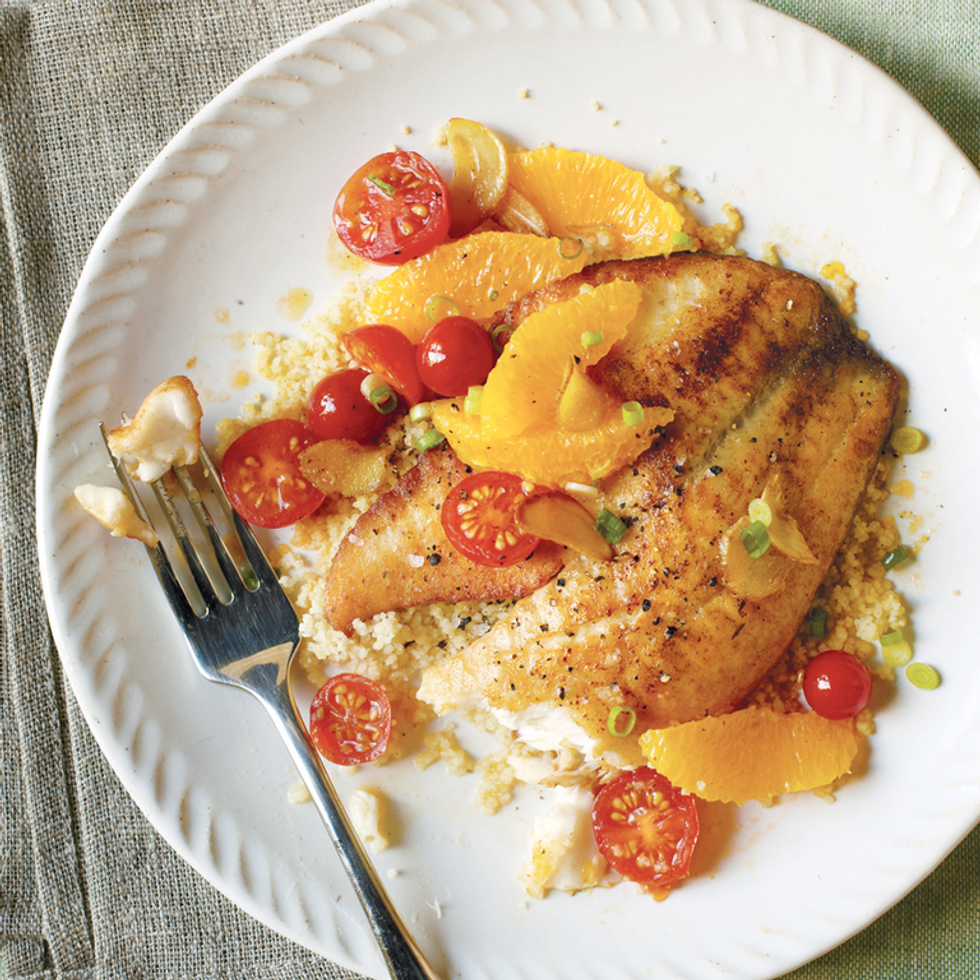 15 Minute Tilapia RecipePrevention Magazine
Here's another light, healthy dinner idea from Prevention Magazine. Pan seared tilapia and couscous are ready in under 15 minutes and topped with a lightly sautéed cherry tomato, ginger, garlic, and orange mix. To make sure the tilapia is cooked thoroughly use a cast iron skillet. This will help it cook more evenly. You'll know you're fish is ready when it's slightly flaky and opaque.