Update: Wednesday, June 15th
Hailey Bieber's skincare brand, Rhode Skincare , has finally launched with 3 products. Each product claims to help support hydration and restore the moisture barrier to give you Hailey's signature glazed, clean look.
This first drop of products includes just the essentials: a serum, a cream, and a lip balm.
1. Peptide Glazing Fluid : a hydrating serum-gel hybrid you can wear morning, noon, and night for thirst-quenching hydration and visibly glazed skin (talk about the #CleanLook)
2. Barrier Restore Cream: a thick cream to pump your skin full of moisture-replenishing ingredients to heal and protect your moisture barrier.
3. Peptide Lip Treatment: It's about the details! This nourishing, peptide-rich lip treatment gives much-needed, long-lasting hydration to some of the most sensitive skin on your face.
Shop now at RhodeSkin.com
Original:
Every day, a new TikTok beauty trend emerges. Some are more salient than others. Most are based on anecdotal experience — usually that of one already-conventionally attractive person touting some random product or ritual as their "secret" — rather than fact. And therefore, most fade away in a matter of days.
Don't get me wrong, there are rare gems on TikTok. Some beauty discoveries I've made on the platform are now integral to my daily routine. However, I tend to step away when single tips and tricks turn into full-blown "trends" "looks" and the inevitable "add-to-cart". The difference is in the details: while a tip/trick works for anyone embodying any aesthetics, a "look" is an aesthetic unto itself.
Part of what defines TikTok, and Gen Z as a culture, is the power to make little things emblematic of an entire movement. For example, the straight leg vs skinny jeans debate was so compelling because it was — in a way — true. Millennials are drawn to skinny jeans while Gen Zers prefer wider leg cuts. Although millennials took this categorization as criticism, Gen Z's whole thing is compartmentalizing personality types based on aesthetics.
While this may have some roadblocks, it speaks to how Gen Zers find community through shared interests and styles. To Gen Z, people who are like you are the people who like what you like. In this way, certain clothing trends, accessories, or beauty looks tell the story of what you're like, who you are, and what your whole vibe is.
This explains the emergence of trends like 2021's #ThatGirl and now the #CleanLook on TikTok. Beauty phenomena such as soap brows and slicked-back buns have taken on a life of their own in this new persona: The Clean Girl.
Don't be confused. This Clean Girl Look has nothing to do with "clean beauty," a phenomenon that champions toxin-free, natural beauty products. It has little to do with basic hygiene and actual cleanliness — though I would hope that's implicit. No, the Clean Girl Look trending on TikTok is just about looking clean, aka put together, minimal, effortless.
The Cut describes the aspirational look for this trend perfectly: "Unlike no-makeup makeup looks of yore, the "Clean Look" goes a step further by extending past the face to become a whole vibe. The beauty look is framed by Gen Z's face-baring middle part, accessorized with minimalist gold jewelry, paired with neutral monochrome clothing, and sometimes topped with sizable sunglasses with very dark lenses. Basically, the end result should look like paparazzi shots of Hailey Bieber out and about."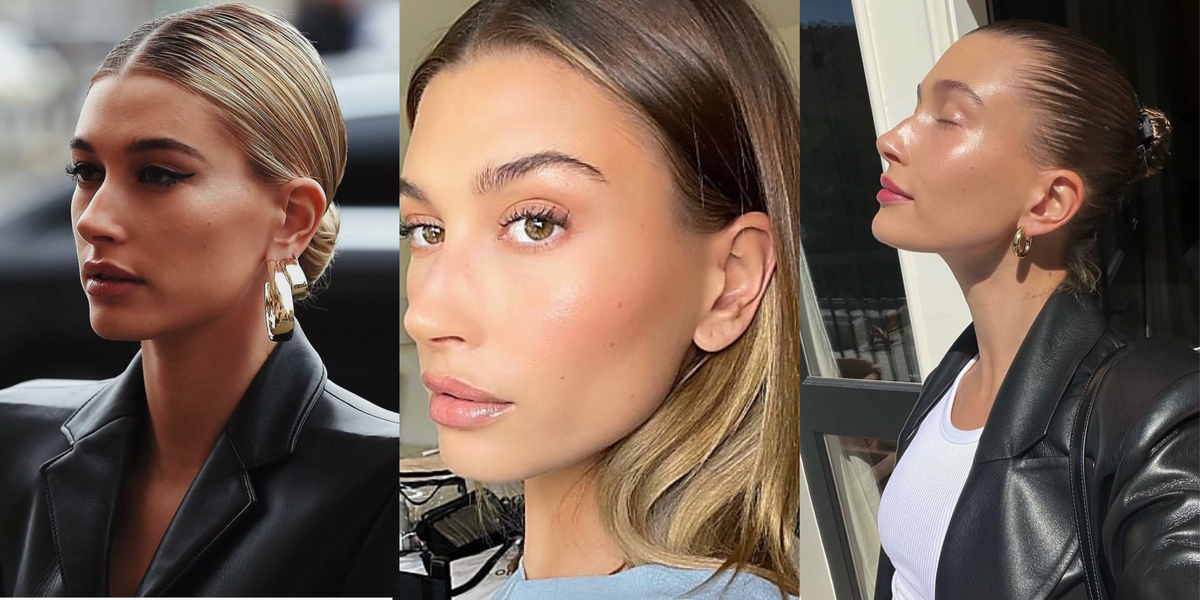 Hailey Bieber embodying the #CleanLook or Clean Aesthetic
If this sounds deceptively simple, it's because it is . How can clean be an aesthetic? Really, it's just a rebranding of many trends we're already familiar with: a combination of no-makeup makeup and model-off-duty style. Championed by models, celebrities, and other professional hot people, these old trends were valorized as being "classic" and moralized as less fake. In Zoe Kravitz's Vogue Beauty Secrets video — a platform where claims like this are often made — Kravitz championed the simplistic no-makeup makeup look for its ability to "highlight what you like about yourself" as opposed to "covering up what you don't like. Easy to say when you look like Zoe Kravitz . But I don't have to tell you — most of us don't.
An Allure Beauty article breaks down the trouble with this aesthetic: "People aren't really demanding clean-look tutorials because they don't understand how slicked-back hair works or that tinted sunscreen exists. It's because the primary people who go viral or are known for emulating the clean look have straight or wavy hair, clear skin, naturally full brows, and are — you guessed it — young, white (or light-skinned), thin, and conventionally attractive. If you ask me, the world can't get over this so-called new trend because people are subconsciously concerned that they don't look supernaturally hot with little else but hair gel, mascara, and lip balm. The trend seems to be less about the makeup itself and more about creating the illusion of filter-free flawlessness (which doesn't exist)."
And there you have it: the clean beauty trend isn't anything but the same old beauty standards repeating themselves over and over again.
But this trend has hands. So much so that this cleanliness thing has leapt beyond TikTok soap brow tutorials and into the beauty market — oh, the sweet smell of capitalism in the morning.
Brands are popping up to cater to it, most notably Hailey Bieber's skincare brand: Rhode. Named after her middle name, Hailey's new skincare line has yet to be launched, but already has hundreds of thousands of followers on Instagram. As one of the faces of the "clean" beauty look, Miss Bieber is capitalizing on her coveted clear skin and telling us we, too, can have it. All we have to do is buy it directly from her.
During a recent cover story with Allure , Bieber reveals the inspiration behind the brand — using words that permeate the #CleanLook hashtag without even knowing it — seemingly . "Bieber is aiming for an aesthetic where natural beauty is prioritized and that makes the products feel "cool and attainable." She says, "I was really intentional about creating images that felt like they were drawing you in, in a way that felt like it looks healthy, it looks real, it looks inviting."
For Bieber, perfectly dewy and clear skin might be "real" and "natural," and this is the promise of the Clean Look from the ultimate Clean Girl. But how many of us can attain that?
The pandemic pushed many people to embrace the less-is-more phenomenon, but did this lead to coveted Hailey Bieber-esque coolness? In a Washington Post article, Los Angeles-based dermatologist Ivy Lee attributes this collective realization to the power of the pause . "When the pandemic hit and we had forced shutdowns of hair salons, nail salons and MedSpas that used to be routine for a lot of men and women, it caused us all to reflect on these aspects of our lives, these habits . . . and think, is this really necessary?" Lee says. "What am I doing this for? Am I doing this for the perception of beauty? Am I doing this for self-care and relaxation?"
Skincare grew simpler and more effective. According to Anthony Rossi — a dermatologist and assistant attending physician at Memorial Sloan Kettering Cancer Center and New York Presbyterian Hospital "people who haven't broken out with acne for a while are now paying more attention." Rossi also asserts that people are reaping the same benefits by choosing "cleaner, easier beauty regimens."
So while people are paring back their routines, I sincerely doubt the actual Clean Girl aesthetic is feasible for everyone. What is attainable, according to the experts, is actual hygiene. Thoughtful routines using thoughtful products will go way further, in the long run, to make you feel "clean" in a way that prioritizes self-care rather than mere outward appearance.
Some brands focus on this rather than manicured versions touted on TikTok. For example, Rihanna's Fenty Skin makes skincare easy and accessible. Emrata's Loops Beauty has skincare masks that are more sustainable. Lenny Kravitz just released an organic tooth care line that seems to say "dental hygiene is cool again." And brands like Quip — which have been around for a while — are taking strides in hygiene innovation.
With 25% off sitewide , there's never been a better time to try Quip .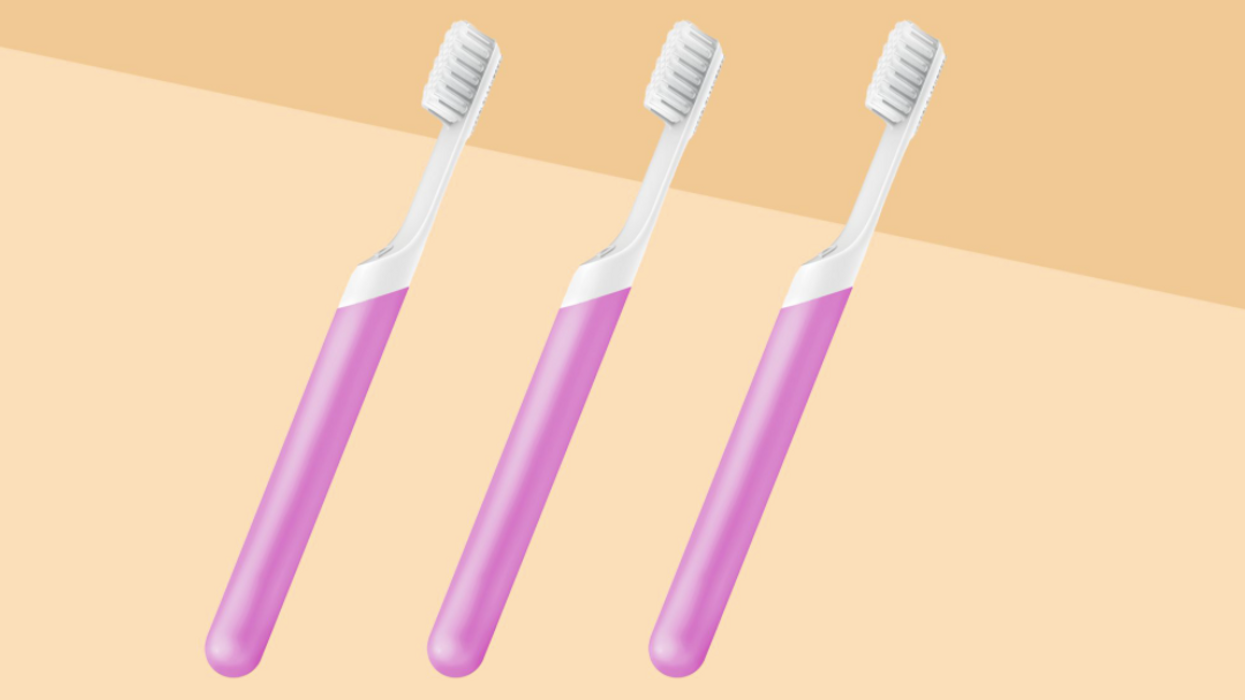 Quip 's hottest product is a sleek electric toothbrush, which was created by dentists and designers. It has a slim hangle, soft-bristle brush head, timed sonic vibrations, guiding pulses, and a 3-month battery life. This is unlike any electronic toothbrush you've ever tried — gentle, but effective. Sleek, not bulky.
Round out your oral hygiene routine with Quip 's toothpaste, mouthwash, and gum to so your teeth stay healthy, strong, and — most importantly — clean.
At the end of the day, taking care of the basics is the most sustainable and trend-defying way to look and feel your best. Quip provides a winning smile worthy of TikTok fame — without all the extra effort.