As the unofficial face of the #CleanLook on TikTok, and the official face of her own Gen-Z-approved, glowy skincare brand Rhode, it's hard to think of a more influential figure in the beauty and makeup world than Hailey Bieber.
---
The beauty mogul takes an approach to skincare and beauty that is favored by TikTok-using Gen Z and the new age consumers who want honest, accessible content and products that actually work. No more smoke and mirrors. No more overproduced commercials. TikTokers want to see their favorite influencers and celebs sitting down and sharing the products they actually use.
It's why Alix Earle reached such heights of success by posting about her acne journey and popularizing the GRWM (Get Ready With Me) TikTok style. It's why Sofia Richie's makeup videos get almost as many views as her wedding videos. And it's why we can't get enough of Hailey Bieber — she doesn't just promote her own products but also shares her current faves with her audience. Who dutifully add to cart.
As a member of the very online, very-influenced masses, I could easily buy a product a day just based on all the new products that go viral. However, that's not a sustainable way to buy or use makeup and skincare. So, instead, I try my best to exercise self-control and only pull the trigger on products by thoughtful brands. Usually, these are brands that use good, effective ingredients and care about the planet, diversity and inclusion, and their customers.
But of course, the biggest determining factor for brands I trust is if they receive rave reviews from people I trust. Whether in real life or on the internet, it makes no difference — though it helps if it's both.
A brand that has been popping up on Hailey Bieber's favorites for YEARS is Tower 28.
Tower 28 started as a makeup brand and has since branched into skincare. After their founder's journey with eczema and sensitive skin, their products are formulated not just to cover up your skin, but also to help it heal and prevent irritation. Their products have the National Eczema Association's Seal of Acceptance.
One of their biggest hero products is the SOS Rescue Spray. A favorite of Queen Hailey herself, this product popularized the use of hypochlorous acid for sensitive skin.
One of my favorite products is their SunnyDays Tinted sunscreen — which is pretty much the only product I wear in the summer. This tinted SPF provides lightweight, buildable coverage and the most perfect, creamy consistency that is non-comedogenic and contains serum-like skincare ingredients.
It helps that it was formulated with the help of celebrity makeup artist Kirin Bhatty. And now, Kirin Bhatty is back in the lab with Tower 28 to unveil their latest launch: Swipe Serum Concealer.
See thewroar-assets-auto.rbl.ms
This medium-coverage serum concealer is a game-changer for everyone who hates using concealer. Never blotchy or cakey, this medium coverage concealer is featherlight on your skin and provides coverage or highlights to your skin while feeling breathable and buildable.
I tried it and I can say I'm already obsessed. Another addition to my low-maintenance, natural-looking summer look.
According to Kirin Bhatty: "I'm obsessed with Tower 28's new Swipe Concealers! Not only are they thoughtfully formulated to work beautifully across a wide range of skin types and tones, but the texture and coverage payoff is truly unique. It's lightweight yet buildable, combining the hydration and texture of those skincare-like concealers with higher coverage performance. That killer combo is why I've been loving it so much for my clients, who often want something that really works and is comfy and weightless on the skin."
You can now pick up this revolutionary serum concealer on Tower 28 and on Sephora!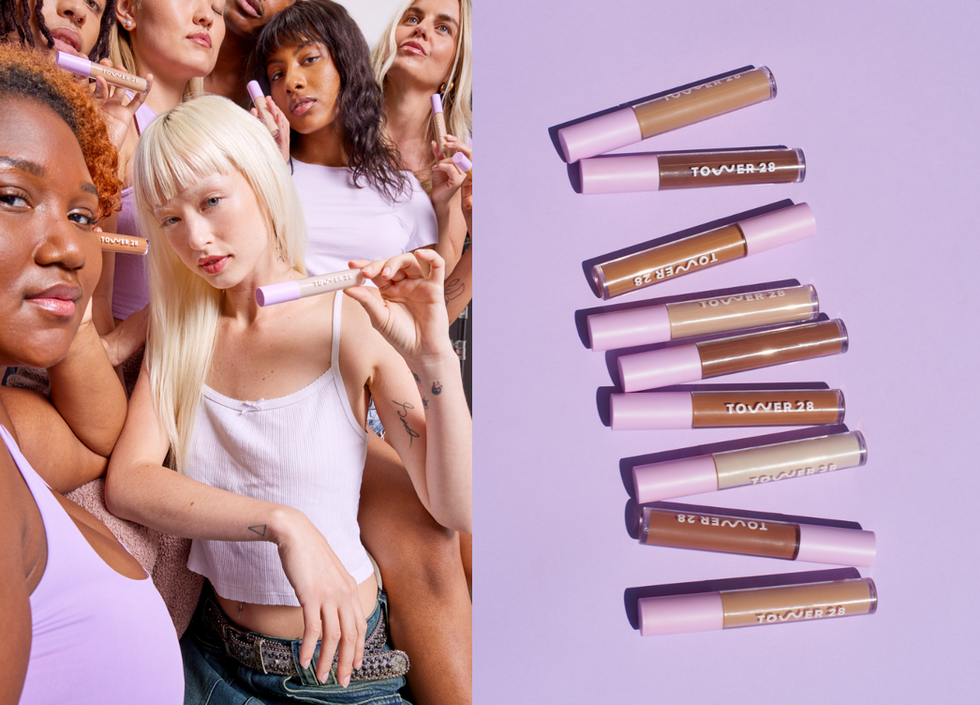 via Tower 28